One of the most important things every pregnant woman needs to take care of is making sure that her body is comfortable. This is why pregnancy pillows are designed. They help pregnant women to get more restful sleep. Yet, choosing the best pregnancy pillows can be a confusing task for many. There are so many types of pregnancy pillows out there that it can be a challenge to decide on which one will be best for you and your needs. However, you should not overlook the importance of the best maternity pillows in any case. Using the best pillow for pregnancy will not only offer you better sleep but will also help to improve your overall well-being.
What are the Best Pillows for Pregnant Women?
The best pillow for pregnancy is one that will allow you to sleep comfortably and potentially help you avoid health issues like back pain. It can take the strain off your back and make you more comfortable during the different stages of pregnancy. There are several different kinds of pillows in the market, and they all have pros and cons. We have rounded up the 11 best pregnancy pillows in 2021 to help you find the right one.
1. Boppy Total Body Pregnancy Pillow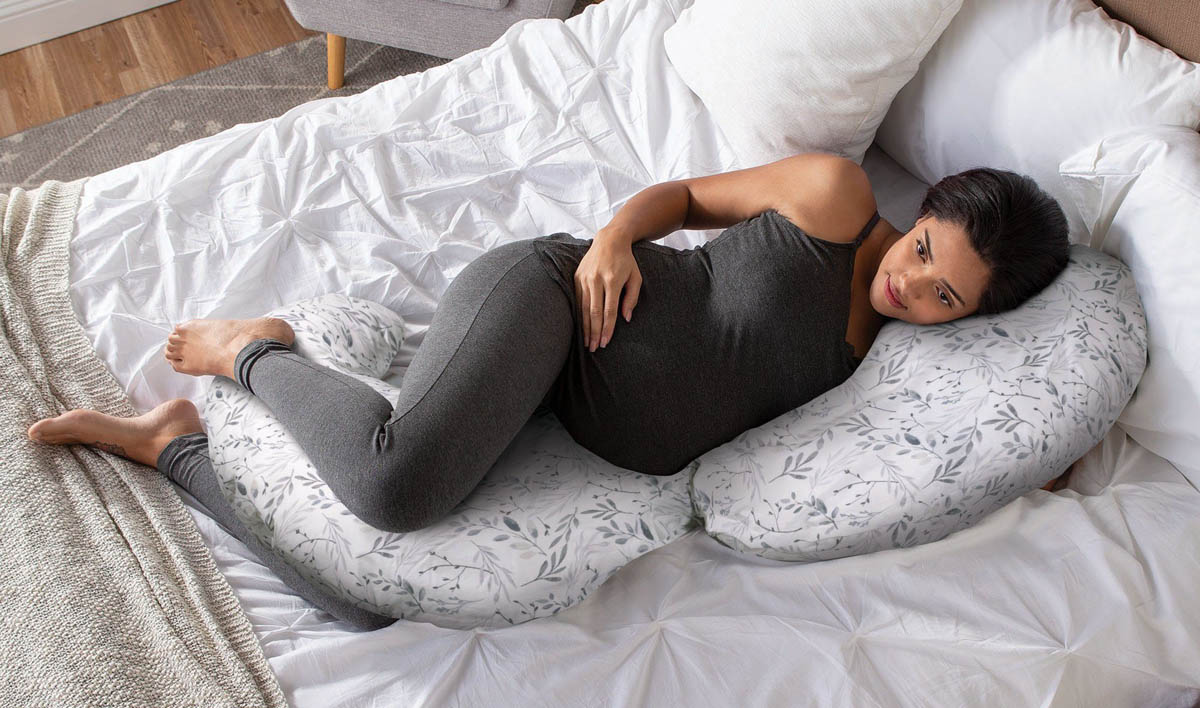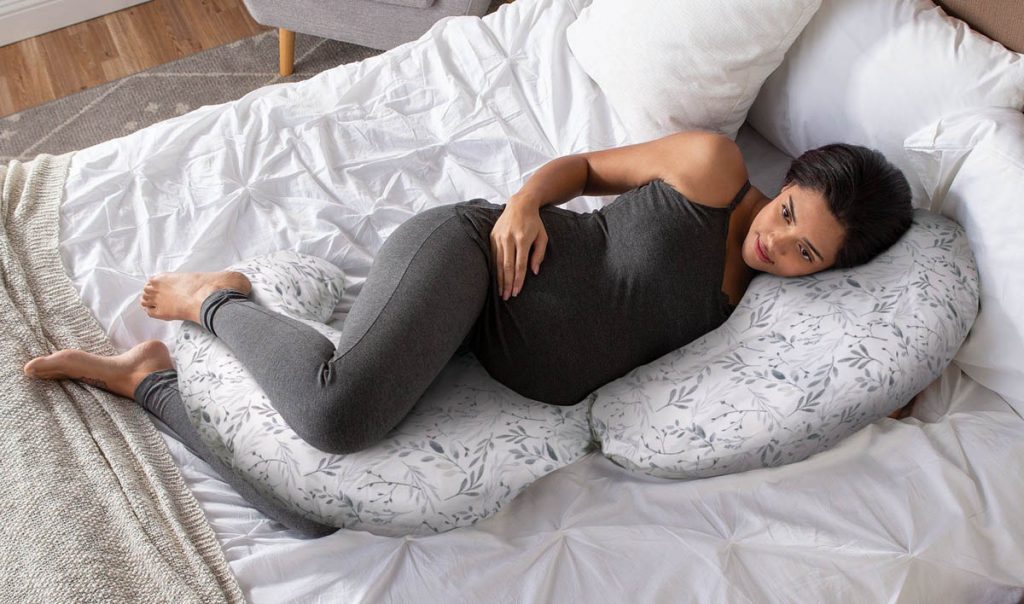 One of the Best Maternity Pillows
The Boppy Slipcovered Total Body Pregnancy Pillow is a type of c shaped pregnancy pillow that is the best option to provide comfort to pregnant women. The boppy slipcovered total body pregnancy pillow supports the body and allows for easier sleeping and resting of the mother while pregnant. This pillow is 48 inches in length and pregnant women can use it even for sitting and relaxing during the daytime.
The boppy slipcovered total body pillow features the same classic shape, size, and feel as the original but comes with a removable slipcover for easy cleaning. It is perfect to complement your growing bump. The slipcover, which can be removed for easy laundering, is available in a variety of colors to match any decor.
This pillow is designed to give you support at each stage of your pregnancy, from your first trimester up until you give birth. Thus, if you want a comfortable, breathable, and best pillow for pregnancy to help you sleep at night, this might be the one for you.
Price: Starting at $50
Specifications:
Fill- 100% Virgin polyester
Warranty- 1-year limited warranty
Firmness- Medium
Weight- 5 Pounds
Highlights:
Provides head to toe support to pregnant women
Contoured shape design for complete body comfort
Easy to cradle growing baby bump
Good for side sleeping and lounging both
Pros:
Great price point
Removable slipcover
Supports postpartum recovery
Breathable material
Cons:
Can be a little firmer
Not for additional back support
---
2. Leacho Snoogle Pregnancy Pillow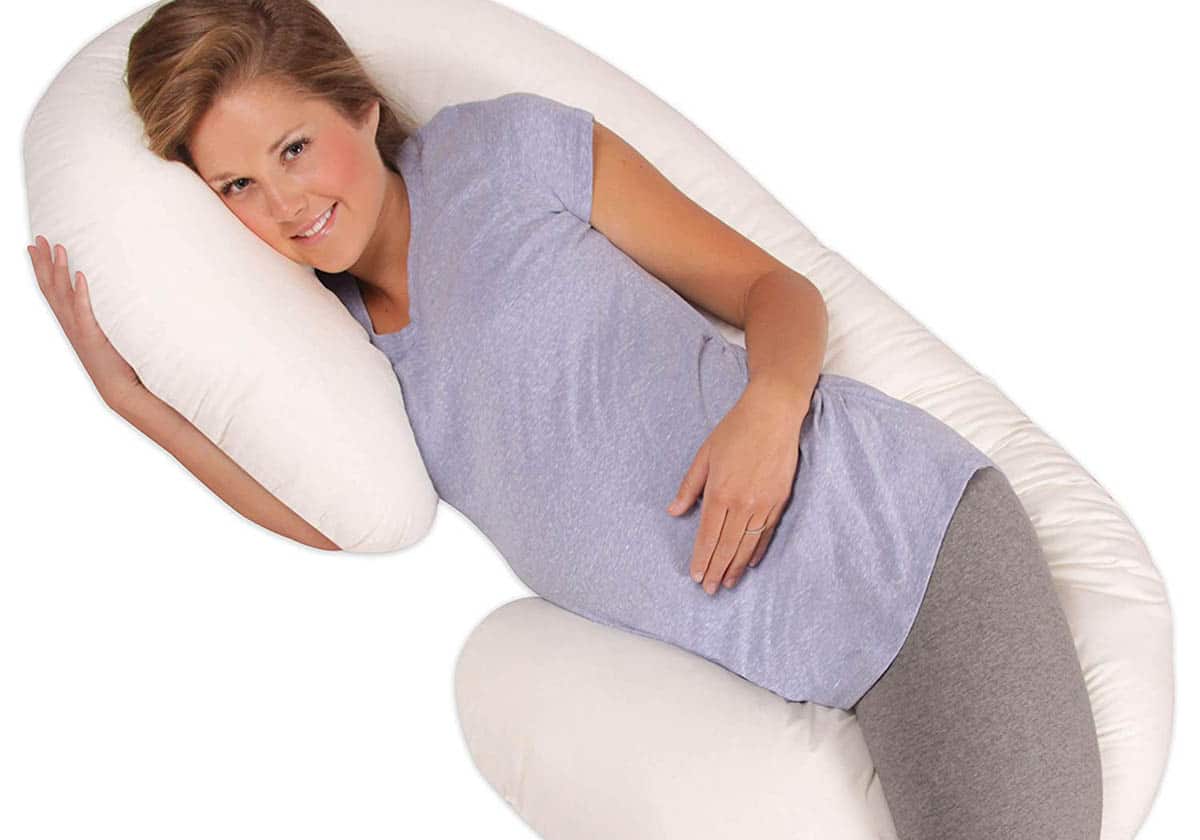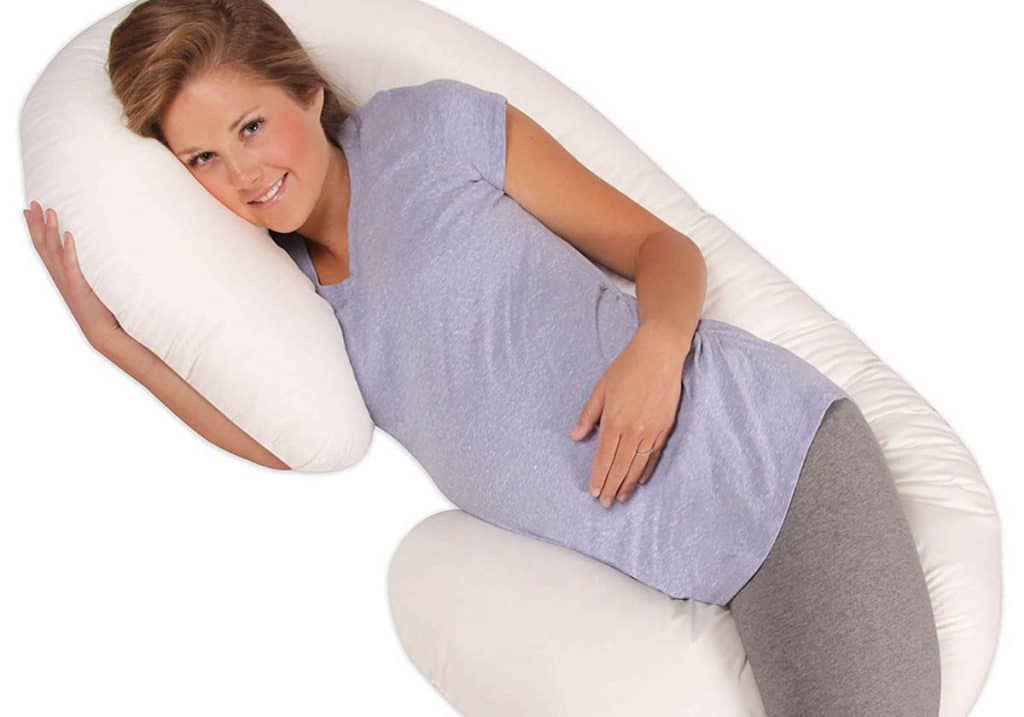 Best C Shaped Pregnancy Pillow
The Leacho Snoogle Pregnancy Pillow is an absolute must-have for any expectant mother. This is one of the comfy pregnancy pillows for a good night's sleep that is designed to help reduce the stress and pain that the many changes during this period can bring by allowing you to sleep soundly, comfortably, and in the best position possible.
This pregnancy pillow targets multiple areas of the body, including the hips, back, belly, and head. The shape of the Snoogle pregnancy pillow is unique, which makes it ideal during pregnancy and after childbirth. Besides the support, the Leacho Snoogle body pillow comes with a removable cover that can be easily removed and washed.
Also, many customers appreciate this pillow for providing support and comfort even after giving birth to the baby. It has helped them to recover from back pains and discomfort and back pain that they use to face earlier.
Price: Starting at $59.99
Specifications:
Fill- Polyester
Warranty- 90-Day Limited Warranty
Firmness- Medium
Weight- 5.5 Pounds
Highlights:
Specifically designed for moms-to-be
The patented design was given by a Registered Nurse
Comes with a machine washable cover
Follows the body's natural contours
Pros:
Good for head and leg support
Available in multiple color options
Flexibility to adjust as needed
Cons:
Pillowcase fabric might not be of high-quality
For certain critics, there isn't enough fill
---
3. PharMeDoc C-Shape Pregnancy Pillow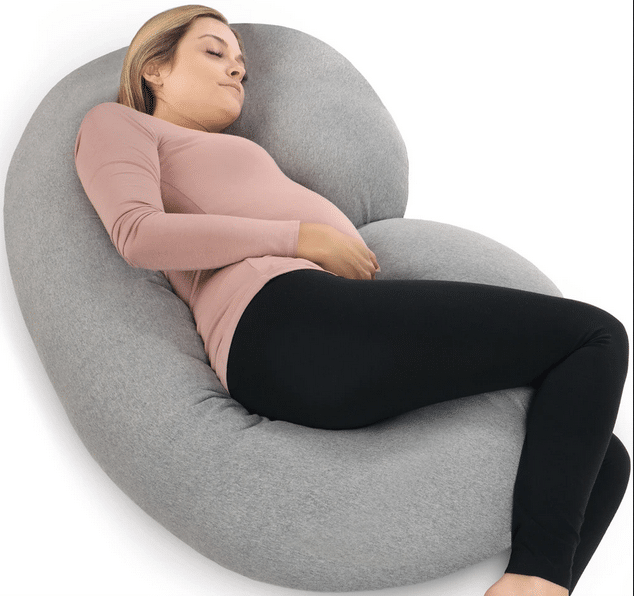 Best Pregnancy Pillow for Back Pain
The PharMeDoc pregnancy pillow is a multipurpose maternity and nursing pillow. It is designed to help alleviate the discomforts that come with pregnancy, such as hip pain, leg pain, sciatica pain, heartburn, sleeplessness. This pillow is known to provide relief to many women who suffer from back pains during the later stages of pregnancy. Thus it is the best pregnancy pillow for back pain.
The pillow is shaped like a "C", and it promotes proper spinal alignment and allows room for the belly to grow. This c shaped pregnancy pillow also provides support for both sides of the body, so that you get a comfortable sleep at night. Not just this, but many women recommend this pillow to be perfect for nursing as well.
PharMeDoc pregnancy pillow comes with a cover that is made up of 100% cotton material and stays soft for longer. This makes the pillow breathable while sleeping. Similar to other pillow covers, this is also machine washable so you do not have to worry about cleaning it.
Price: Starting at $59.99
Specifications:
Fill- Polyester
Warranty- Lifetime limited warranty
Firmness- Medium
Weight- 7.05 Pounds
Highlights:
Offers full-body support to pregnant women
Comes with double-stitch seams
It has a machine washable cover
Made up of super-soft material
Pros:
Comfortable for pregnant women
Adjustable design
Comes with a lifetime warranty
Multi-purpose pillow
Cons:
Might be big
The filling can flatten quickly
---
4. Coop Home Goods Body Pillow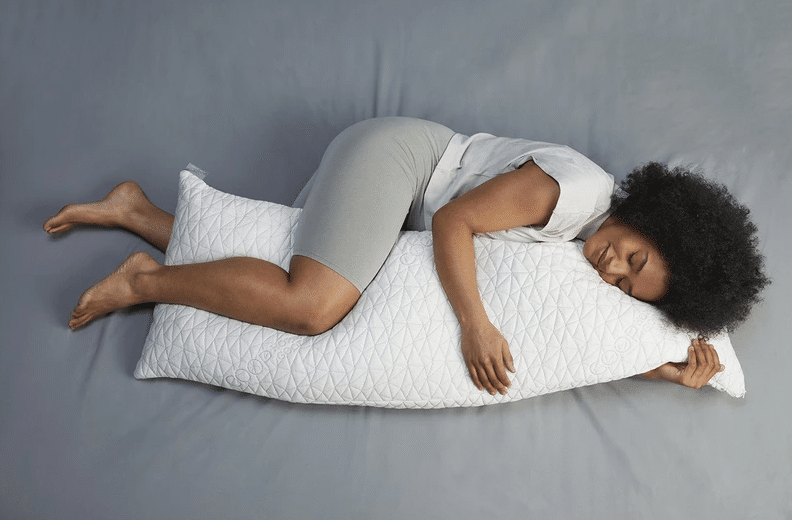 Best Pregnancy Pillow for Pressure Relief
Coop Home Goods makes an extra-large body pillow that has many benefits for pregnant women. Not only is it big, but it is also safe to use. While the design may seem strange, but it is perfect for women who are looking for a pressure relief pillow. It is cheaper that is among the best maternity pillows than the competition, and the quality is higher.
Moreover, as per doctors, sleeping on the side is the best sleeping position for pregnant women. This pillow offers the right amount of comfort to expectant mothers who sleep on their side at night. Thus, it is designed for comfort and support when sleeping on your side or back. The pillow is easy to use and can help you to get a restful night's sleep. It is an affordable option for those women who like to sleep hugging something.
This pillow comes with some extra stuffing. So, in case if you want to adjust the filling, then you can as per your requirements. It features a soft cover that feels nice against your skin and a flexible filling that can be shaped however you like.
Price: Starting at $70
Specifications:
Fill- Memory foam
Warranty- 5-year warranty
Firmness- Medium
Weight- 7.36 Pounds
Highlights:
Pillows are hypoallergenic and do not contain PVC or Vinyl
The pregnancy pillow is CertiPUR-US
Comes with an adjustable filling
The pillow is made up of highly moldable material
Pros:
Provides pressure relief
Breathable
Easy to clean
Encourages side sleeping
Cons:
Take a lot of space
The manufacturer advises using a commercial washer for cleaning
---
5. Queen Rose Full-Body U-Shaped Pregnancy Pillow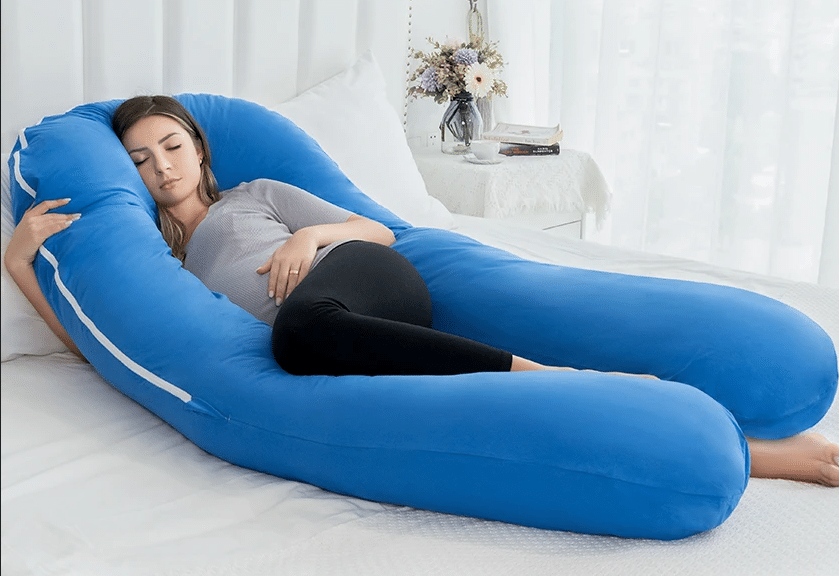 Best U Shaped Pregnancy Pillow
The Queen Rose Full Body Pregnancy Pillow is the best-oversized pregnancy pillow available in the market today. If you are looking to invest in a body pillow that can last throughout your entire pregnancy, this is a great choice. This pillow offers the perfect balance between support and comfort for a great night's sleep while pregnant.
This pregnancy pillow is a popular pick for expecting mothers because it has a U-shape that offers more relief than other pillows. the best part is that the pillow is available in three different lengths choice. These are from 55 inches up to 65 inches. Its ergonomic design makes it possible for expectant mothers to sleep, rest, relax, or sit in a comfortable position.
The pillow comes with a soft cover and is available in different color options. With its pregnancy pillow U shape design, the pillow hugs the entire body, including the back, hips, and knees. Moreover, this pillow supports the curve of your spine while alleviating body aches and pains.
Price: Starting at $70
Specifications:
Fill- Polyester
Warranty- 60-day manufacturer warranty
Firmness- Soft Medium Firm
Weight- 7.7 Pounds
Highlights:
Oversized pregnancy pillow
Comes in three length options
Hypoallergenic cover
Machine washable cover with zipper
Pros:
Both sides of the pillow can be used
Multifunctional pillow
Made from durable material
Provide head support
Cons:
Might be difficult to clean
Bit bulky
---
6. Boppy Pregnancy Wedge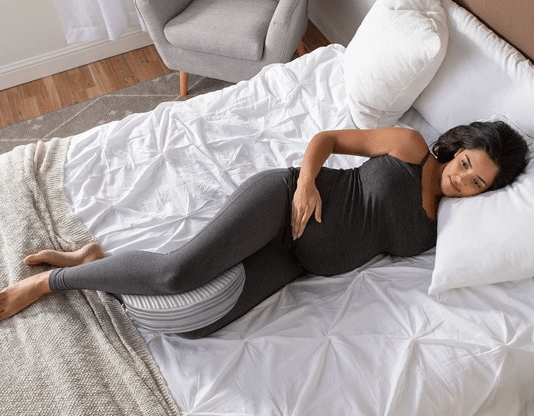 Best Pregnancy Wedge Pillow at Affordable Price
The Boppy Pregnancy Wedge is one of the best maternity pillows for a woman to accommodate her changing body. No matter what side of the bed you sleep on, this wedge will help you find the right position to cushion your back from the strain of pregnancy. You can use this wedge to keep between your knees or under your bump for comfort.
Unlike other pregnancy pillows, this boppy wedge is not heavy at all. It supports the back and belly and makes sleeping more comfortable for the mum-to-be in all stages of her pregnancy. Besides, this wedge pillow is not only good to use at home but while traveling too.
The low price, easy to carry, and compact size of this pregnancy wedge pillow, make it a great alternative to expensive pregnancy pillows. Additionally, the pillow comes with a jersey removable slipcover for easy care.
Price: Starting at $15.99
Specifications:
Fill- Foam
Warranty- 1-year warranty
Firmness- Medium
Weight- 0.6 Pounds
Highlights:
Excellent choice for traveling
Comes with zippered slipcover
Relieve pressure from your growing belly
Provides durable support
Pros:
Lightweight
Perfect for traveling
Supports side sleeping
Easy to position
Cons:
Bit too firm
Small in size
---
7. Nuvu Baby Full Body Pregnancy Pillow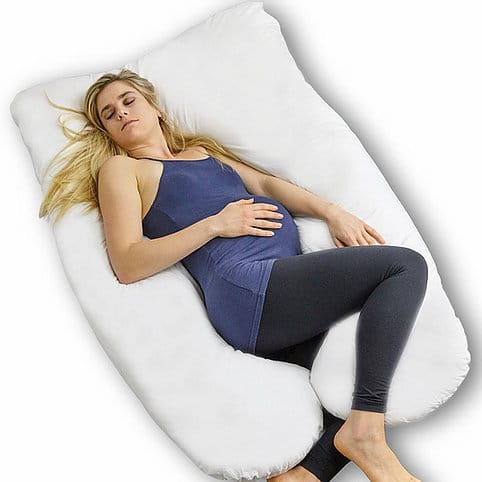 A Must Try Maternity Pillow
The Nuvu baby full-body pregnancy pillow is designed to support your entire body and give your baby the best start in life. The Nuvu pillow is also called "the ultimate pregnancy comfort pillow" and for good reason! If you are pregnant, experiencing back, shoulder, and hip pain, or simply want the utmost comfort for the duration of your pregnancy, then the Nuvu baby full-body pregnancy pillow is the perfect solution.
Although, if you want to know which is best among C Shape vs U Shape Pregnancy Pillow, you can try Nuvu as it is available in both shapes. The pillow is covered with a cotton cover that is machine washable. You can use this pillow both during and after the pregnancy.
This pillow can also help you to get rid of difficulties because of back pains and leg cramps. It is an ergonomically designed pregnancy cushion that will help you to eliminate the use of multiple pillows and get a comfortable sleep at night.
Price: C-shaped pillow starting at $22. U shaped pillow starting at $49
Specifications:
Fill- Polyester
Warranty- 90-day manufacturer warranty
Firmness- Medium soft
Weight- 7.78 Pounds
Highlights:
Made up of soft polyester filling
Provides support to the whole body
Large in size (60 inches by 28 inches)
Available in a C- or U-shaped design
Pros:
Value for money product
Good for sleeping and lounging
Cost-effective
Improves blood circulation
Cons:
Might be less fluffy
The cover gets dirty easily
---
8. Belly Bandit Sleep-On-Side Pregnancy Pillow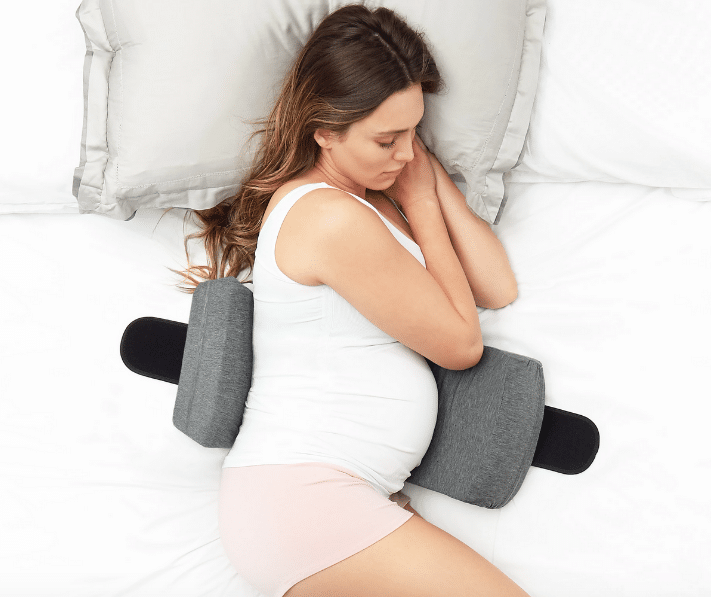 Best Pregnancy Pillow for Side Sleepers
Belly Bandit is a popular brand that manufactures pregnancy pillows. It offers a variety of pillows and accessories, such as maternity belts to help women feel more comfortable during pregnancy. Just like that, sleep on a side pregnancy pillow by belly bandit is a top choice of side sleepers.
Furthermore, it is a patented best maternity pillow that mimics the position your body assumes while you are lying on your side. More specifically, the pillow provides support to your left and right sides from shoulders to knees, the place where women experience the most pain during pregnancy.
With the help of a Belly Bandit S.O.S pillow, many women experienced less back pain, less hip rotation, and better blood circulation while sleeping. The higher wedge prevents you from flipping onto your back by sitting upright behind you, while the flatter wedge caresses and protects your stomach.
Price: Starting at $79.95
Specifications:
Fill- Ployfoam
Warranty- Information not available
Firmness- Medium
Weight- 1.32 Pounds
Highlights:
Designed by OB-GYN
Versatile for lounging
Good for sleeping on 2nd and 3rd trimester
Maintains healthy blood flow
Pros:
Suited for side sleepers
Relieves pressure
Highly portable
Comfortable and supporting to body
Cons:
Small design
Needs adjustment during night
---
9. Meiz U-Shaped Pregnancy Pillow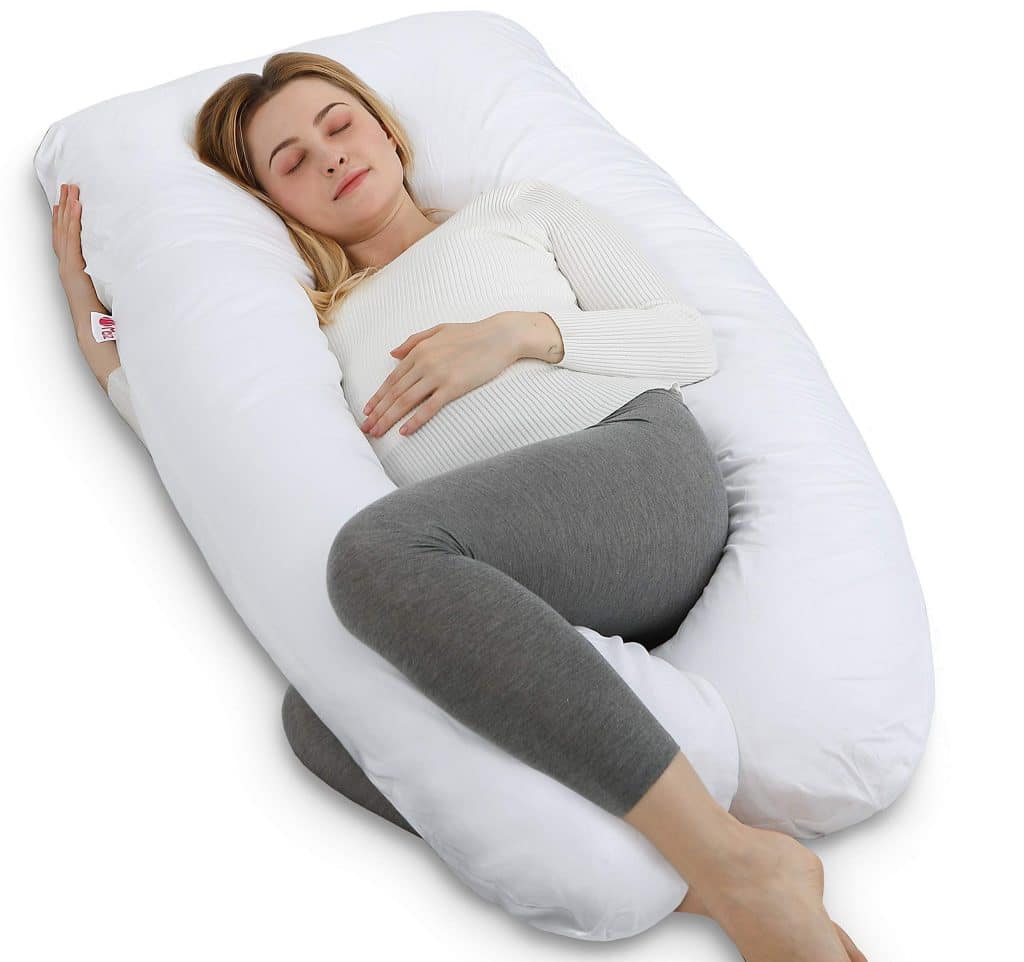 Bet Full-Body U-Shaped Pregnancy Pillow
The full-body pregnancy pillow is most comfortable while sleeping. It supports your back, legs, tummy, and neck. It is also a good companion for breastfeeding mothers and anyone who wants to have better sleep. This Meiz U-Shape Body Pillow is great for pregnancy, sleep, and relaxation.
The Meiz U-shaped Pregnancy Pillow is a large-sized pillow with a total dimension of 55 x 30.7 x 6.3 inches, which is best suited for a taller person. However, it fits all shapes of pregnant women and it can also be used by women to relieve back pain and for breastfeeding.
You can use it to help with backache, hip pain, leg pain, arm pain, and other pregnancy-related discomforts during your second and third trimesters. It provides the perfect combination of comfort, support, and leisure. If you are having a hard time handling a lot of pillows to get a sound sleep at night, you can replace them all with this u shaped pregnancy pillow.
Price: Starting at $60.59
Specifications:
Fill- Polyester fiber filling
Warranty- Information not available
Firmness- Soft
Weight- 3.1 Pounds
Highlights:
Creates best belly support
Come in a washable material
Multi-Functional pregnancy pillow
Cooling pregnancy body pillow cover
Pros:
Provides plenty of coverage
Machine-washable
Best for comfortable sleep
Premium polyester filling
Cons:
Takes a lot of space
Pillow arms might be skinny
---
10. Manta Sleep Body Pillow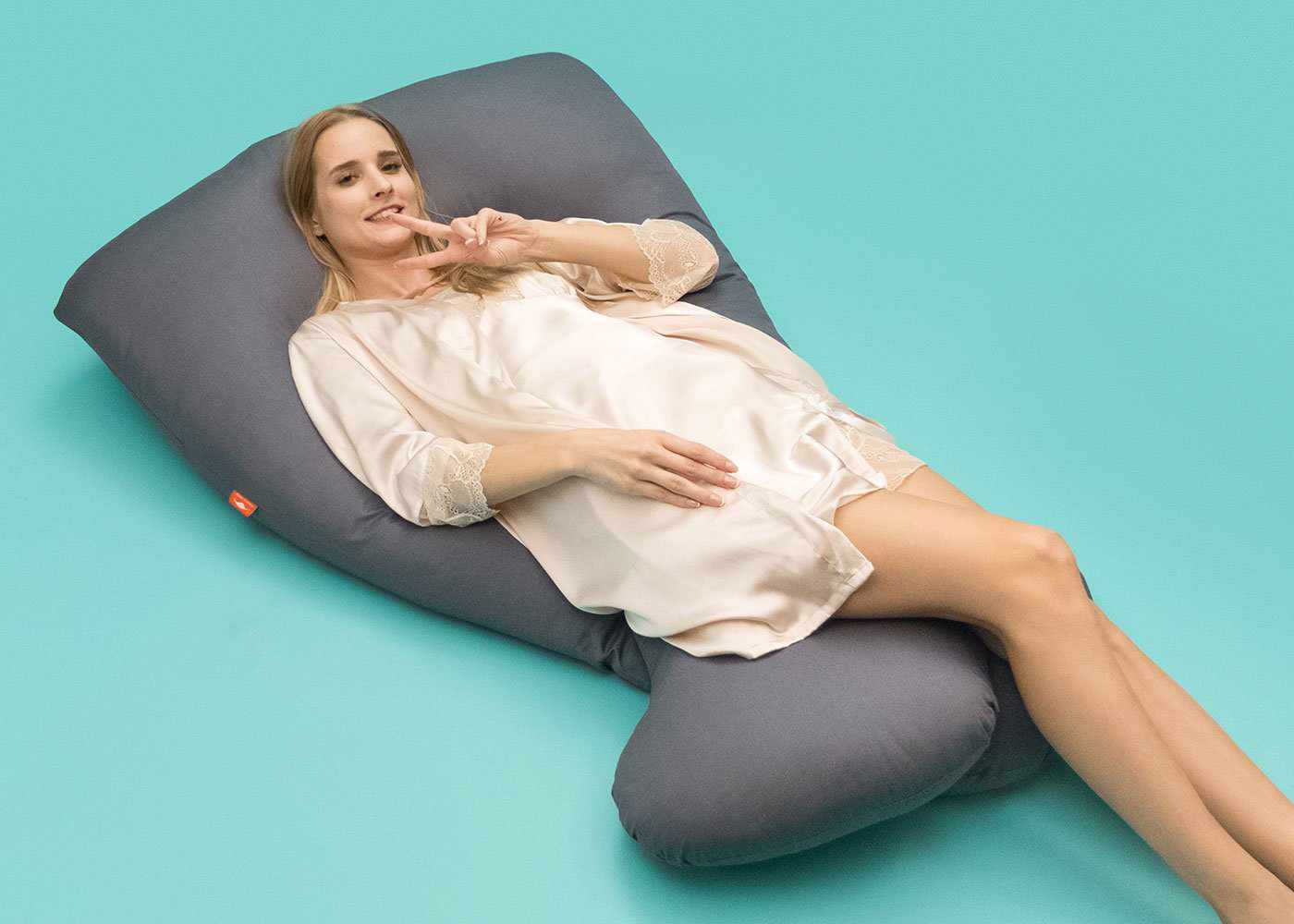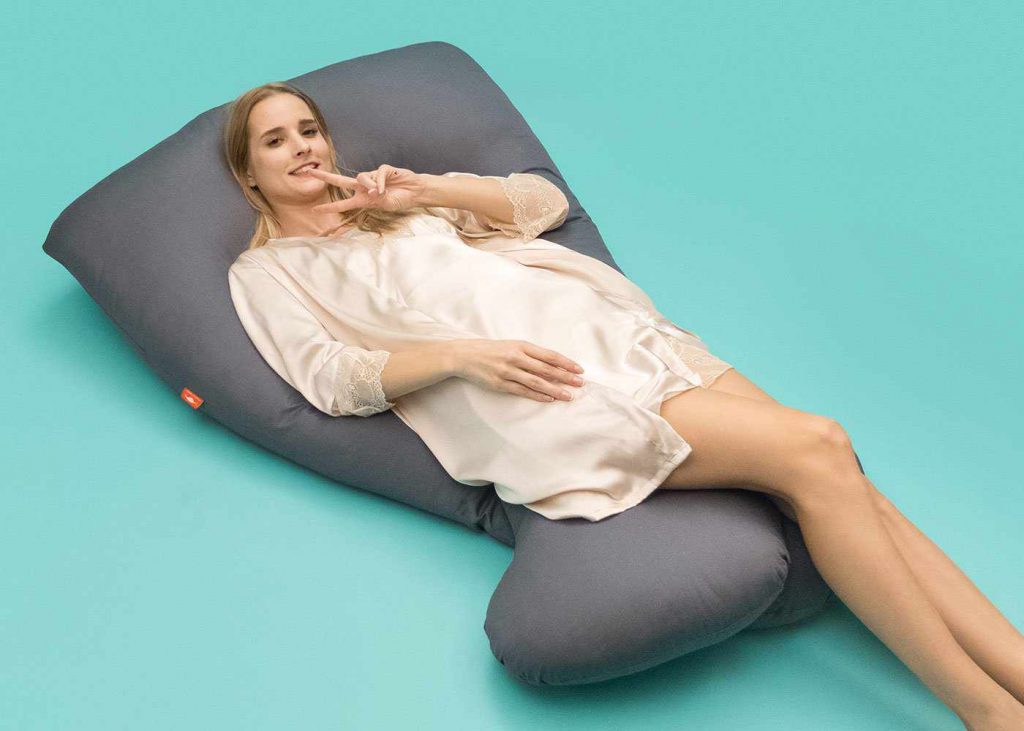 Most Versatile Maternity Pillow
The Manta Sleep Body Pillow is a unique product in the pillow category. Featuring their soft polyester filling, Manta Sleep pillows aim to offer a high-tech, comfortable sleep experience that can be customized to fit needs during pregnancy.
These best pregnancy pillows are not just great support against pains in the neck and back, but also a stress reliever. Getting to sleep has never been easier with this amazing product. It will make sleeping in any position comfortable by providing you with the comfort of having a pillow-shaped body. Not only that, the size of this pillow is just right for you to use on your side, back, or even stomach.
The pillow's multipurpose and flexible designs allow it to be used for taking naps, watching movies, snuggling, relaxing, general lounging. The pillow is firm but also supportive that provides excellent back support and top among the Best pregnancy pillows for a good night's sleep.
Price: Starting at $99.95
Specifications:
Fill- Polyester
Warranty- 6-month limited warranty
Firmness- Medium
Weight- Information not available
Highlights:
Large U-shape pillow
It has soft cushioning
Recommended for those who suffer from sciatica
Comes with a cotton cover
Pros:
Suitable during pregnancy
Helps with joint pains
Supports multi-positional sleep
Easy-to-clean
Cons:
Bit expensive
Limited warranty
---
11. Cozy Bump Pregnancy Pillow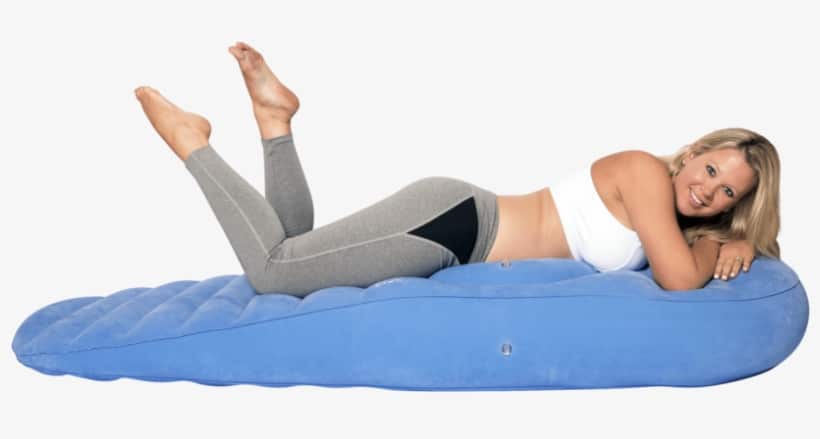 Best Pregnancy Pillow for Stomach Sleepers
The Cozy Bump Pregnancy Pillow is a great way to give you the best rest for an easy pregnancy. It is the best pregnancy pillow that allows you to rest your belly, back & hips comfortably. These pillows are designed to be placed underneath the pregnant woman, allowing her to put her body weight on them to relieve aches and pains brought on by pregnancy.
So, if you are pregnant women who sleep on your stomach, then this cozy bump sleeping pillow is the best fit for you. This the only pregnancy pillow that relaxes blood vessels while sleeping. It helps to relax the upper back muscles while the sleeper sleeps on the stomach. Therefore, it is also considered the best pregnancy pillow for back pain.
Being one of the top-prone pregnancy pillows, this pillow supports the lungs to expand and take in more air. Thus, along with a comfortable sleep and relaxation time, this pillow offers health benefits as well to pregnant women.
Price: Starting at $74.99
Specifications:
Fill- Plastic Material
Warranty- Information not available
Firmness- Medium
Weight- 4.39 pounds
Highlights:
Helps to relieve back pain
It decompresses the lower back
Easy to inflate and deflate
Specially designed for pregnant women
Pros:
Good for stomach sleeping
Adjustable headrest
Offers comfortable sleep
Comes with an adjustable belly rim
Cons:
The turning head might be uncomfortable with this pillow
Best only for stomach sleepers
How To Choosing the Best Pregnancy Pillow?
Choosing the right pillow while pregnant can make a huge difference in your health, comfort, and pregnancy experience overall. Pregnancy pillows can be used throughout your entire pregnancy, but are especially beneficial during the first and last trimester. There are many different shapes and sizes available. These products vary a lot in price, and it can be difficult to choose the right one. The following information will help you find the best pillow for pregnancy that meets your needs and budget.
1. Your Sleeping Position
The first thing to consider while purchasing the best maternity pillows is the sleeping position that you prefer. Your pillow should be able to provide you proper comfort in whichever position you choose. However, according to the research, the most comfortable sleeping position for pregnant women is on their left side. Accordingly, you can choose any of the C and U-shaped pillows that support side sleeping for getting good sleep at night.
2. Choose the Right Size
The size of the pregnancy pillow plays an important role in choosing the best pillow. For this, first, you will have to decide how much space you have to keep the pillow. Some pillows are available in a standard size that can easily fit into a queen-size bed. However, oversized pregnancy pillows are also used to provide extra pushing that can only fit into a king-sized bed.
3. Know About Right Shape
Some of the pillows are used just to provide firm support to your back and are small in size. These are majorly called wedges. Whereas, some are designed to provide full-body support. These are generally classified in C and U-shaped pregnancy pillows. Based on your requirement you can choose any of these.
4. Quality of Material
The quality of the material used to make your pregnancy pillow will have a big impact on your overall sleep experience. Ideally, you want to find a pillow that is made with hypoallergenic materials. Moreover, make sure that you choose a pillow that comes with high breathability and durability. For this, pay attention to the material of the cover of the pillow. Generally, choosing a cotton cover will provide more comfort.
5. Firmness
Depending upon the different types of filling of the pillow, each of them offers a different level of firmness. If you are looking for a super-soft cushion to provide you extra cushioning, then you can choose pillows with polyester fiber filling. Otherwise, for firmer support, foam-based pillows are the best choice.
6. Level of Comfort
Apart from providing proper neck support, pregnancy pillows are known to be comfortable and relaxing. This is because pregnancy pillows wrap around your body, supporting your weight and promoting better blood circulation. The more moldable a pregnancy pillow will be, the more comforting it will be for you.
7. Value for Money
When it comes to shopping for a pregnancy pillow, you need to consider value for money. The key is to find the best pregnancy pillow while staying within your budget. Keep in mind that it is not necessarily true that an expensive pillow will always be more comfortable. You might find the pregnancy pillows for a good night's sleep at an affordable price as well. Therefore, it is important to research properly before buying.
Which Type of Pregnancy Pillow is Best?
If you suffer from back pain or other maternity-related issues, a pregnancy pillow can help provide you with additional support and comfort. But which type of pregnancy pillow is best? There are many different types of pregnancy pillows available in the market, each one offering something a little different to users. Let us know about them:
Wedge Pillows: Wedge is a type of pregnancy pillow. It is designed to support the bump and the back while sleeping. The advantage of a wedge is that it can help you get more sleep and relieve your back pain. The shape of a wedge pillow is similar to that of a triangle and they are generally lightweight and compact. It helps to support your back by lifting your abdomen. Additionally, these pregnancy pillows are available at an affordable price and take less space than other types of pregnancy pillows.
Body Pillows: Body pillows are one of the best aid for pregnant women because it provides the comfort that they need throughout their pregnancy. These types of pillows curve around your body shape and provide support to your back, hips, knees, head, and belly. These are generally U and C-shaped pregnancy pillows. Not only do they provide comfort for you and your baby, but will also help in relieving pressure points on the body that some people have when they sleep.
Full-Length Pillows: Full-length pillows are a type of pregnancy pillow that is designed to be used during the second and third trimesters of pregnancy. These large pillows are intended for women who prefer to sleep on their side and want that extra support to alleviate pain in the hips, lower back, and even the neck. Unlike total body pillows, full-length pillows are straight in shape and are most suitable to provide support and comfort to side sleepers. However, their filling is soft enough to mold in any shape of the body.
Inflatable Pillows: These types of pillows are the best pregnancy pillow for stomach sleepers. They can be adjusted to fit your body and can be used to support you while lying down on your stomach. These pillows are useful for those who have problems with their necks, shoulders, hips, or backs. The air in these pillows makes them more versatile than other options, such as the traditional body pillow. Easy portability and adjustability make these types of pillows to be a popular choice for pregnant women.
Other Pillows: Not just these, but there are kinds of pillows that come in different shapes to provide comfort during pregnancy. One example of such pillows is bean-shaped pregnancy pillows. It is called so because it is shaped like a bean. When using a bean-shaped pregnancy pillow, you can rest comfortably without feeling any pain. The other different types of shapes might include teardrop or barbell shape pillows. These are generally small in size and can be used for multiple purposes.
Why you need a maternity pillow?
Maternity pillows are an excellent way to get some relief from the pains that come with pregnancy. Pregnancy is an exciting time but it can also be a difficult thing for many women. The pains and troubles that come with pregnancy might prevent them from sleeping well at night. The best maternity pillow can provide a lot of support and help relieve the discomforts brought by pregnancy.
Many women complain about how miserable it is to try to sleep on the side with a huge belly. The bump gets in the way and it is practically impossible to find a comfortable position. A pregnancy pillow is an answer to such problems! Maternity pillows offer a host of benefits including:
Maternity pillows support different types of sleeping positions to provide a comfortable sleeping experience to pregnant women.
Pregnancy pillows help in reducing back pains and relieve pressure while sleeping.
Maternity pillows support the growing belly and assist in providing improved comfort for expectant mothers.
These pillows are used to help alleviate the pain of carrying around a baby.
Maternity pillows allow you to sleep better without pressure on your hips, belly, or back.
Pregnancy pillows ensure that pressure is distributed evenly throughout your body.
A right pregnancy pillow can make you sleep better and feel less tired when you wake up in the morning.
Pregnancy pillows help to improve the blood circulation of the body.
These pillows also prevent pregnant women to accidentally roll over their stomachs or back while sleeping.
What do you need to Know Before Purchasing a Pregnancy Pillow?
Along with the changes in your body during pregnancy, your needs change too. You may find yourself restless at night or having trouble getting comfortable to get some sleep. This is why having the best pillow for pregnancy helps you get rest throughout the night. Yet, before purchasing the pregnancy pillows for a sound sleep at night, you should consider few things such as:
Comfort is the Priority
The main motive to purchase a pregnancy pillow is to provide complete comfort to pregnant women. Hence, when you head for buying a maternity pillow make sure it fulfills this requirement. A majority of people choose full-body support pillows such as U or C-shaped pregnancy pillows so that it helps women to get a good night's sleep.
Check For Softness
Another thing to consider is how much pillows vary in terms of firmness. For some women, a pregnancy pillow that is too firm will not provide adequate support. A pregnancy pillow that is too soft, on the other hand, may result in the head and neck being pushed forward. Thus, maintain a balance between too firm and too soft pillows for better support.
Know About Warranty
Before buying the pillow for pregnancy, check the details about the warranty period offered by the manufacturer. It will help you deal with the case of receiving a defective product. Generally, companies offer 6 months to 1-year warranty of the best maternity pillows.
Ease of Cleaning
One of the biggest benefits that you need to look for when searching for a pregnancy pillow is its ease of cleaning. Make sure that the body pillow for pregnancy is easy to clean and safe to use. However, the pillows with removable and machine washable covers are easier to clean, but they are pricier than non-washable pillows.
Pillow Fabric
Pregnancy pillows are designed with soft cover fabrics and a variety of shapes to help support the expectant mother and her baby. Ideally, pillow fabric should be hypoallergenic, breathable, and sewn from anti-microbial material.
User Reviews
One of the best ways to find out if the product is worthy enough or not is to read customer reviews about the product. User reviews will help you to know about the real-life pros and cons of the particular maternity pillow. You should also read reviews from multiple websites so that you can compare different reviewers' perspectives.
Tips for Getting Better Sleep While Pregnant
Even an extra hour of sleep a night can make a huge difference in how you feel and perform! And if you are pregnant, then you want to make sure you are getting the best sleep possible. With all the changes and aches and pains of pregnancy, getting a good night's sleep may be a challenge. Many factors contribute to good sleep. We have listed down few tips to help you get better sleep during pregnancy:
Prefer Side Sleeping Position
Many parents face a dilemma in deciding on a safe sleeping position during pregnancy. As per doctors, sleeping on the side is the best way to ensure safety and comfort while pregnant. Preferably on the left side. For ease, you can make use of the best pregnancy pillow for side sleepers to provide support to your body.
Choose Correct Mattress
Along with choosing the right pillow, using the best mattress for pregnancy also plays an important role. The right kind of mattress during pregnancy will help you to avoid back pain and other related issues. Your body will have a good support system to prevent it from getting deformed.
Follow Fixed Bed-Time Routine
Following a regular sleep schedule helps you relax and let go of stress. It also keeps your body on and even active, which is important when you are pregnant. Developing a fixed bedtime routine will help you get the most out of the quantity and quality of sleep at night.
Take a Few Short Naps
Napping is a great way to get some relief from your pregnancy symptoms without taking any medication. Not only a short nap in the daytime will improve your sleep during pregnancy, but it will also help you feel refreshed.
Avoid Heavy Night-Meals
Pregnant women should avoid heavy night meals, as it can affect their sleeping patterns. Eating a spicy and heavy meal before bedtime can be difficult for the body to digest and results in restlessness. Thus, taking a balanced and healthy diet in pregnancy is important.
Maintain a Cool Room Temperature
Your room temperature can play a vital role in helping with a healthy pregnancy and your sleeping habits. Sleeping at a cool room temperature can not only help with better sleep during pregnancy, but it can also reduce your risk of gestational diabetes and low birth-weight babies.
You May Also Like :
FAQ's
Can I sleep on my stomach with a pregnancy pillow?
Stomach sleeping is one of the most common positions pregnant women use to ease pressure on their growing baby bump. However, some women find sleeping on their stomachs uncomfortable because of the weight and size of their belly. Although the needs of pregnant women are different from one another, pillows are still extremely useful and come in amazing designs. With the help of pregnancy pillows, expecting mothers can position themselves comfortably at night to avoid pain and morning backaches. Pregnancy pillows can also make things a lot easier for moms-to-be who enjoy sleeping on their sides, or leaning towards their left or right side while in bed. In addition, they also give them extra support when sleeping on their back as the pillow keeps your hips straight and you don't have to worry about rolling over to your stomach anymore while in bed.
Is C shape or U shape pregnancy pillow better?
Many women may question whether they need a U-shaped pregnancy pillow or a C-shaped pregnancy pillow. While these pillows will accomplish the same task, the C-shaped pregnancy pillow has a different design which makes it great for certain body types. Pregnancy pillows can help you cope up with the physical changes and lessen the stress on your body. There are two shapes of pregnancy pillows i.e., U shaped and C shaped. Both of them have different uses so you need to choose one as per your requirements because no one pillow can meet all your needs unless it is adjustable.
How should you sleep with a pregnancy pillow?
A pregnancy pillow is a wonderful and highly recommended pillow to have for the ultimate sleep comfort. These pillows are meant for pregnant women most especially for those who are experiencing pregnancy pains or aches. It helps support the belly and the back making you lie in a very comfortable way. More than that, it will also support your growing body in various ways that would make you sleep more soundly and deeply as compared to before you got pregnant. Sleeping during pregnancy is very different from normal sleeping. Many times women find that they have aches and pains in their bodies while sleeping. This makes it very hard to get any sort of good rest. If you are having trouble sleeping, then make sure that the pregnancy pillow that you purchase gives you the comfort and support that you need. The last thing you want at night is to hurt your neck and back just because you don't have enough support.
Will a pregnancy pillow help me sleep?
Pregnancy pillows are a necessity for those expecting. They offer support in several areas including lower back pain which is known to crash down on expecting mothers during their pregnancy journey. With so many kinds and brands of pregnancy pillows out there, it's natural that you're having trouble choosing the best pregnancy pillow. Some pillows are specifically designed at offering back support to pregnant women. Therefore, these pregnancy pillows will help you sleep well. It is very important for expecting mothers to get enough rest as this will also have a significant effect on their baby's growth and development. If you do not get enough rest and become sleep-deprived, then a serious condition called preterm labor could occur which puts both mother and baby at risk.
How much does a pregnancy pillow cost?
pregnancy pillow cost depends on what kind you are looking for. There are pillows made for back pain, body aches, and leg cramps. There are various types of pillows for pregnant women based on the stage of pregnancy. The price for one can range between $35 to $80. Pregnancy pillows are considered an essential item for pregnant women due to the benefits they provide. They also provide support during breastfeeding when nursing pillows are required. A pregnancy pillow is one of the most valuable assets a pregnant woman can own. A good pregnancy pillow will change how you sleep and how you feel. But these pillows can be expensive, especially with all of the different options available on the market.
Are pregnancy pillows worth it?
Pregnancy pillows are great if comfort is of a premium for you. They are designed to help you feel comfortable while also providing support for your growing body. There are so many out there, though, which can make choosing the perfect one a bit overwhelming. You might get confused about which models are the best pregnancy pillows. Pregnancy pillows have been around for centuries. There are a lot of claims that they make sleeping more comfortable for pregnant women. However, the reviews are mixed. Some reviewers claimed it was wonderful while others were disappointed with their experience of using the pillow.
When should you start using a pregnancy pillow?
Several people want to know when should they start using a pregnancy pillow. There is no specific time when you should start using pregnancy pillows. It depends on your requirement and comfort level. If you're looking for good support during your nine months of pregnancy, just buy one before you get pregnant. If you want to be prepared with the good pillow in advance then start using it at least three months before your expected date of delivery.
Conclusion:
Maternity pillows are wonderful products that can aid you to reduce the discomforts of pregnancy, from back pain to help you sleep better. The added support provided by pregnancy pillows for a good night's sleep can make that nine-month period a lot more comfortable. While there are some important details that you need to pay attention to when buying the best maternity pillow, such as size, shape, and materials used in its filling, the main thing is that it should be comfortable and supportive. Also, do not forget to read customer's reviews if you are purchasing the pregnancy pillow online. By keeping the above information in mind, you will be able to make the right choice of the best pillow for pregnancy.