Pregnancy is a special stage in every woman's life. It is an incredible time where a woman's body goes through a lot of changes. During pregnancy, one of the most common issues is getting a good night's rest. Getting a sound night's sleep is vital for both mother and baby. Yet, countless women struggle with this during pregnancy. The key to a comfortable night's sleep is choosing the best mattress for pregnancy.
It is well known that during pregnancy most women experience a wide range of symptoms, such as nausea, fatigue, heartburn, and discomfort in the back and legs. In such a case, picking the best pregnancy mattress that is firm enough to support your weight and comfortable enough to give you a good night's sleep can help tremendously.
What is the Best Mattress for Pregnant Women?
During pregnancy, women have to deal with rapid weight gain, swollen feet and sometimes they even get heartburn. They have to deal with a lot of discomforts and this is the reason why people are still on the lookout for the best mattress for pregnant women. However, not everyone knows what to look for when buying a mattress for pregnancy. Finding a mattress that can accommodate a pregnant woman's expanding body is not an easy task and requires a lot of research. For ease, we have listed down 11 best mattresses for pregnancy in 2021 that you must have a look at:
1. Layla Hybrid Mattress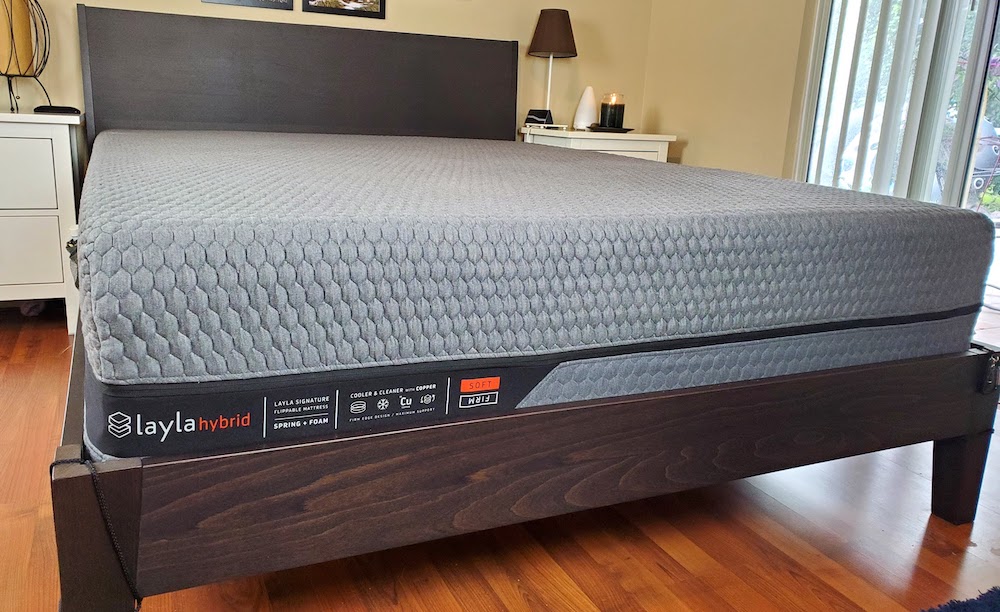 Most Comfortable Mattress for Pregnancy
Layla the most advanced and the best mattress for pregnant women. Layla bed uses the latest breakthroughs in foams and support materials to provide unparalleled comfort and support. It allows you to sleep on the comfortable memory foam layer while having the pressure relief benefits of a pressure-relieving base. The Layla mattress is designed to support all stages of your pregnancy, and beyond.
Being a flippable hybrid mattress, it can be used from both sides and enjoy a different level of firmness whenever you want. The soft side of the mattress can be used if you wish to isolate the motion, otherwise, for easy movements, you can choose to sleep on the firm side.
The cover of this pregnancy mattress is quite breathable and comes with a label for easy identification of the firmness of each side. For durability, it is recommended to dry clean the cover of the mattress. Also, to provide ease of flipping, Vinyl handles are attached to the cover. The combination of its superior support and pressure relief makes it the right choice for the majority of pregnant women.
Price: Ranges from $1,299 to $1,899
Specifications:
Mattress Type- Hybrid
Sizes- Twin, Twin XL, Full, Queen, King, California Queen
Warranty- 10 years
Firmness- Reversible
Trial Period- 120 nights
Highlights:
Mattress supports all kinds of sleeping positions
Provides excellent motion isolation
Good airflow
Apt for changing firmness needs
Pros:
Good for ample edge support
Liberty to choose the firmness
Suited for couples
Relieves pressure
---
2. Saatva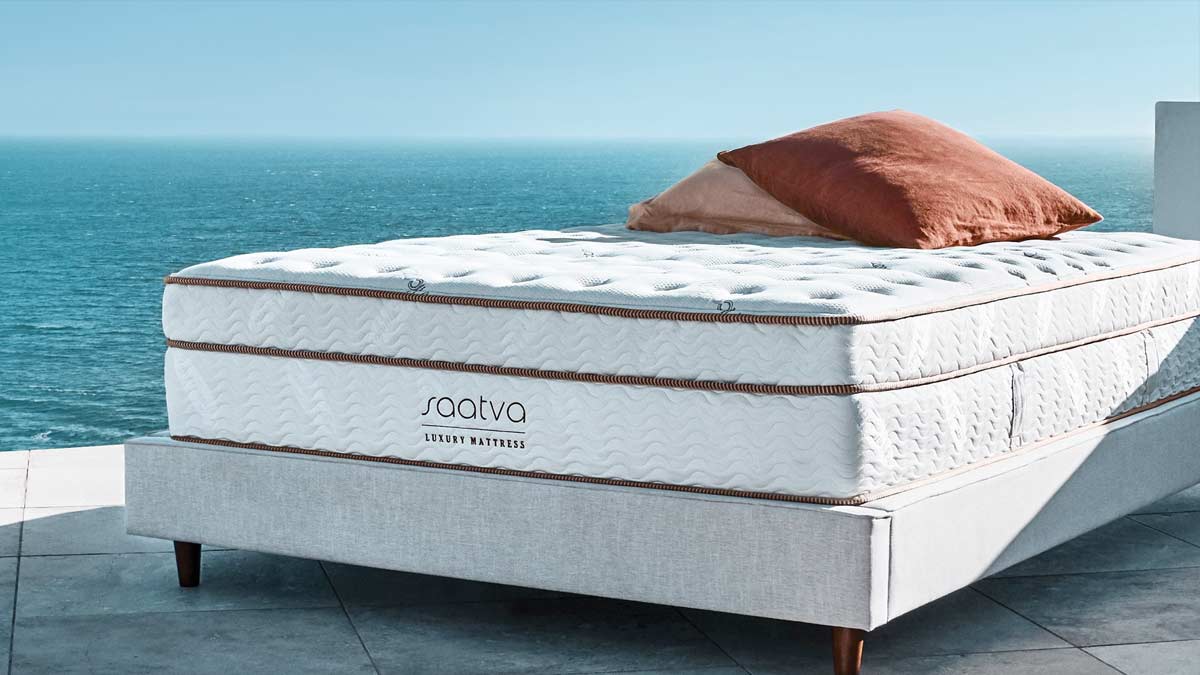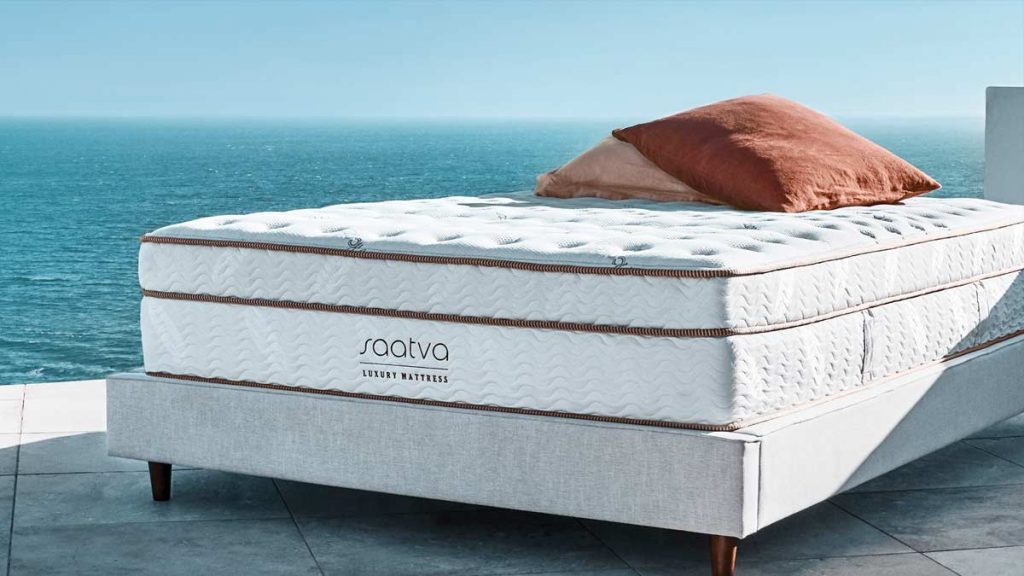 Top in the List of Best Mattress for Pregnancy
Designed for pregnant mothers, this mattress provides the support that a growing baby needs during its development. It is designed with Saatva's natural sleep system that utilizes open-cell technology. These mattresses are made from natural, organic material. With its innovative, high-quality design, added benefits, you will wake up refreshed and ready to take on each new day.
The manufacturers have even paid attention to the cover of the mattress as 100% organic cotton. It has been stitched to perfection. The Saatva Classic Mattress is the most popular and the best mattress for pregnancy that comes in 3 different firmness levels, two height options to accommodate all sleepers. These are soft, medium-firm, and firm. This mattress will also provide proper spinal alignment, which makes it easier for you to move and get up out of bed in the morning.
You can go for soft firmness if you weigh less than 130 pounds and prefer to isolate motions. The medium-firm mattress is suitable if you weigh between 130 and 230 pounds and want contouring and support both. Otherwise, if you weigh more than 230 pounds and want a firm feel, then you can go for a firm mattress. However,
all three versions of the pregnancy mattress allow good airflow due to the core of 13-gauge hourglass coils.
Price: Ranges from $849 – $2,099
Specifications:
Mattress Type- Innerspring
Firmness- Soft, Medium-firm, Firm
Warranty- 15 years
Sizes- Twin, Twin XL, Queen, Full, King, California King, Split King, Split Cal King
Trial Period- 180 nights
Highlights:
Provides best body support
Three firmness options to choose from
Coil-on-coil design for edge support
Free White Glove delivery
The cover is made up of organic cotton
Pros:
Good for spinal alignment
Supports all sleeping positions
Provides pressure relief
180 Nights Trial Period
Cons:
Might experience motion transfer
Doesn't conforms closely enough
---
3. Nectar Mattress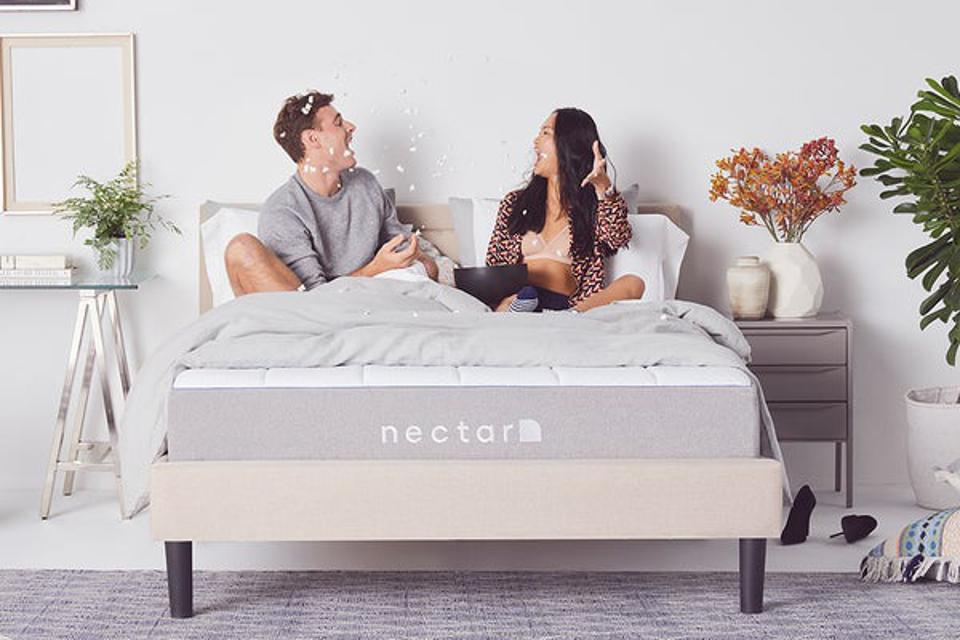 Best Pregnancy Mattress with Medium Firmness
Nectar mattress has made a pregnancy-friendly mattress that can help you through this journey. With the comfort layer of memory foam, the Nectar mattress is one of the most supporting pregnancy mattresses. It provides complete motion isolation with the help of its high-quality material and construction. This pregnancy mattress scores 6 out of 10 in terms of firmness with a thickness of 12 inches.
If you wish to have an undisturbed sleep throughout the night, then this is the best mattress during pregnancy in isolating the motion. The medium firmness of these mattresses makes them a suitable fit for any type of sleeper. You can trust Nectar's foam mattress to give you the best support and pressure relief throughout your pregnancy, helping you get healthy and active for the big day! Preferably if you are somebody who loves deep contouring and cradling surfaces to sleep on, then Nectar mattress is the best choice for you.
Moreover, the cover of the Nectar Mattress is made up of nylon, polyethylene, and polyester. These fabrics are lightweight and breathable. Also, with the anti-slip feature of this cover, there will be no shifting of the mattress during the night. Rest, be assured that with Nectar Mattresses, you will have a most comfortable sleep at night.
Price: Ranges from $499 – $999
Specifications:
Mattress Type- Foam
Firmness- Medium-firm
Warranty- Lifetime
Sizes- Twin, Twin XL, Queen, Full, King, California King
Trial Period- 365 nights
Highlights:
Provides medium-firm feel
Offers balanced support and contouring
A high-value option as pregnancy mattress
Offers a lifetime warranty with 365 days trial period
Pros:
Good for side and back sleepers
An affordable option
Well-suited for couples
Best for people who usually sleep hot
Cons:
Not for light-weight people
Might be uncomfortable for some buyers due to its body-hugging foam
---
4. WinkBeds GravityLux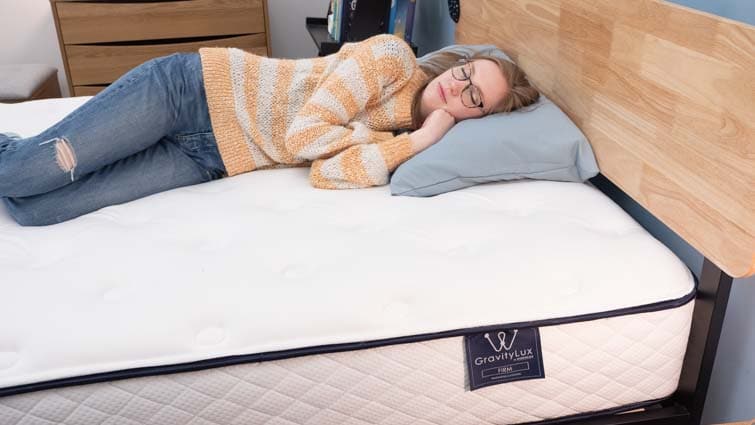 Luxury Mattresses for Pregnant Woman
If you are looking for a premium mattress made specifically for pregnant women and their bodies, then you should check out the WinkBeds GravityLux mattress. The mattress is made from high-quality materials and can handle plenty of weight. It features an extra firm, pressure-relieving base layer, with advanced memory foam that conforms to the contours of a woman's body and provides increased relief for aches and pains associated with pregnancy.
Just like top pregnancy mattresses, this mattress is also available in three types of firmness levels, soft, medium, and firm. If you weigh less than 150 pounds then soft firmness is good for you. For side or back sleepers, medium firmness is a perfect choice. However, if you prefer different sleeping positions at night and weigh more than 130 pounds then a firm type of mattress is suitable for you.
The pregnancy mattress has an absorbent Tencel cover quilted with gel-infused foam. This infused gel adds to the cushioning and provides more comfort to pregnant ladies. Following that, a sheet of AirCell memory foam conforms to the curves of the sleeper, relieving tense muscles and supporting the spine.
Price: Ranges from $1,099 – $1,799
Specifications:
Mattress Type- Foam
Firmness- Soft, Medium, Firm
Warranty- Lifetime
Sizes- Twin, Twin XL, Queen, Full, King, California King
Trial Period- 120 nights
Highlights:
Multiple firmness options available
Good in motion transfer absorption
Contours to the body
Tencel cover for better cooling
Pros:
Best conforming of foam
Good motion isolation
Better firmness
Minimal sinking
Cons:
Might be costly for some buyers
Not bouncy at all
---
5. Tuft & Needle Hybrid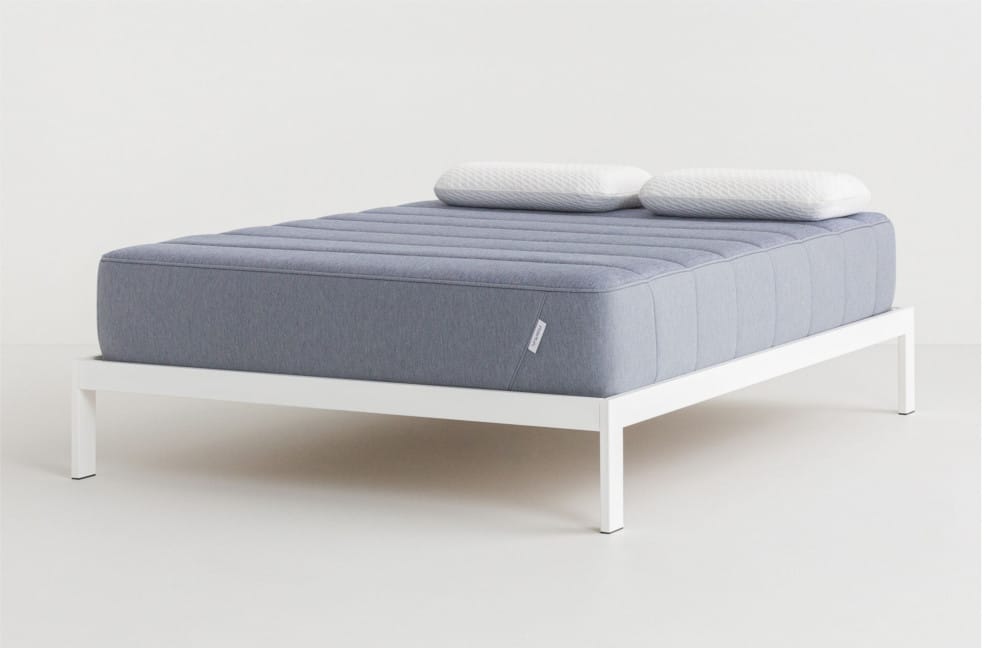 An Affordable Option For Pregnancy Mattress
The Tuft & Needle hybrid mattress is a fantastic choice for pregnant women in search of a supportive but comfortable mattress. This hybrid mattress is constructed with three major layers out of six layers: two made of foam (top layer and bottom layer) and a transitional layer that supports the other layers to improve airflow.
In terms of firmness, Tuft & Needle hybrid mattress scores 5 on a scale of 10. Thus, we can say that some motion may be transferred while sleeping. However, the comfort layer of this pregnancy mattress is made up of foam and micro-coil, helping the mattress to provide a balance between bounce and contouring.
Along with the mattress comes the soft-knit cover. This cover is made from a blend of polyester and micro polyamide. For better comfort and control, you can also purchase the adjustable bed frame that comes as an add-on to these mattresses. This bed frame can be controlled via a remote for changing the sleep position. The luxury features of the adjustable bed frame make this the best mattress during pregnancy.
Price: Ranges from $499 – $999
Specifications:
Mattress Type- Hybrid
Firmness- Medium
Warranty- 10 years
Sizes- Twin, Twin XL, Queen, Full, King, California King
Trial Period- 100 nights
Highlights:
Comes with pressure-relieving foam
Offers medium firmness
Offers support and bounce
Contains layers of adaptive foam
Pros:
Durable mattress
Reduced sagging
Provides mobility
Suited for couples
Cons:
Less body-contouring
More motion transfer
---
6. Casper Wave Hybrid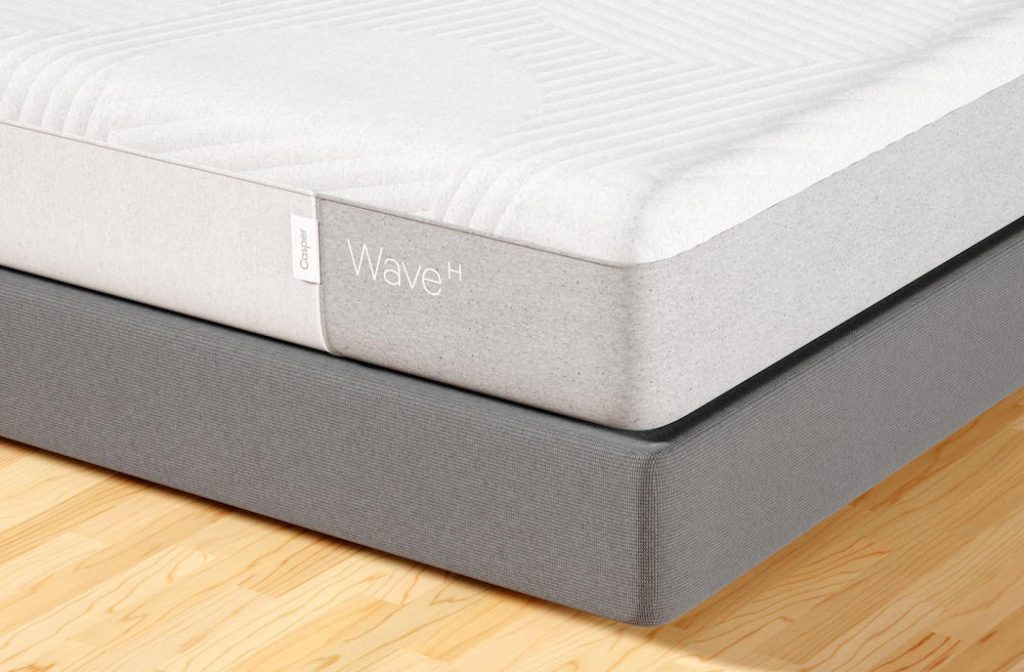 The Best Luxury Pregnancy Mattress
The Casper Wave Hybrid Mattress is the only one on the market that perfectly contours to your unique shape for a better night's sleep. It has an ultra-premium foam and, with its high-density design, it is perfect and the best mattress for pregnant women due to its pressure relief and support.
On top of foam-encased pocketed coils, the Casper Wave Hybrid is a hybrid model of several types of foam layers. The construction of the comfort system of the mattress can be easily classified into three major layers. The first and topmost layer is open-cell polyfoam to provide cushioning and cooling at the same time. After this, a layer of open-cell latex is used to support better air circulation. The bottom layer is zoned memory foam that takes care of the weight of the sleeper's body.
Moreover, to support spinal alignment, a transitional layer lies between the comfort system and the core of the mattress. It contains gel pods that help provide extra support to pregnant women. Customers who choose the Casper Wave Hybrid Mattress have reported that it has helped alleviate back pain from pregnancy.
Price:
Ranges from $1,595 – $3,095
Specifications:
Mattress Type- Hybrid
Firmness- Medium
Warranty- 10 years
Sizes- Twin, Twin XL, Queen, Full, King, California King
Trial Period- 100 nights
Highlights:
The comfort system includes 3 types of foam: polyfoam, memory foam, and latex foam
Made with a cooling gel layer
High-profile support
Provides extra bounce and breathability
Pros:
Good for side and back sleeper
Offers bounce
Suitable for individuals who tend to sleep hot
Prevents overheating
Cons:
Not recommended for people who weigh more than 230 pounds
Does not provide strong edge support
---
7. Loom & Leaf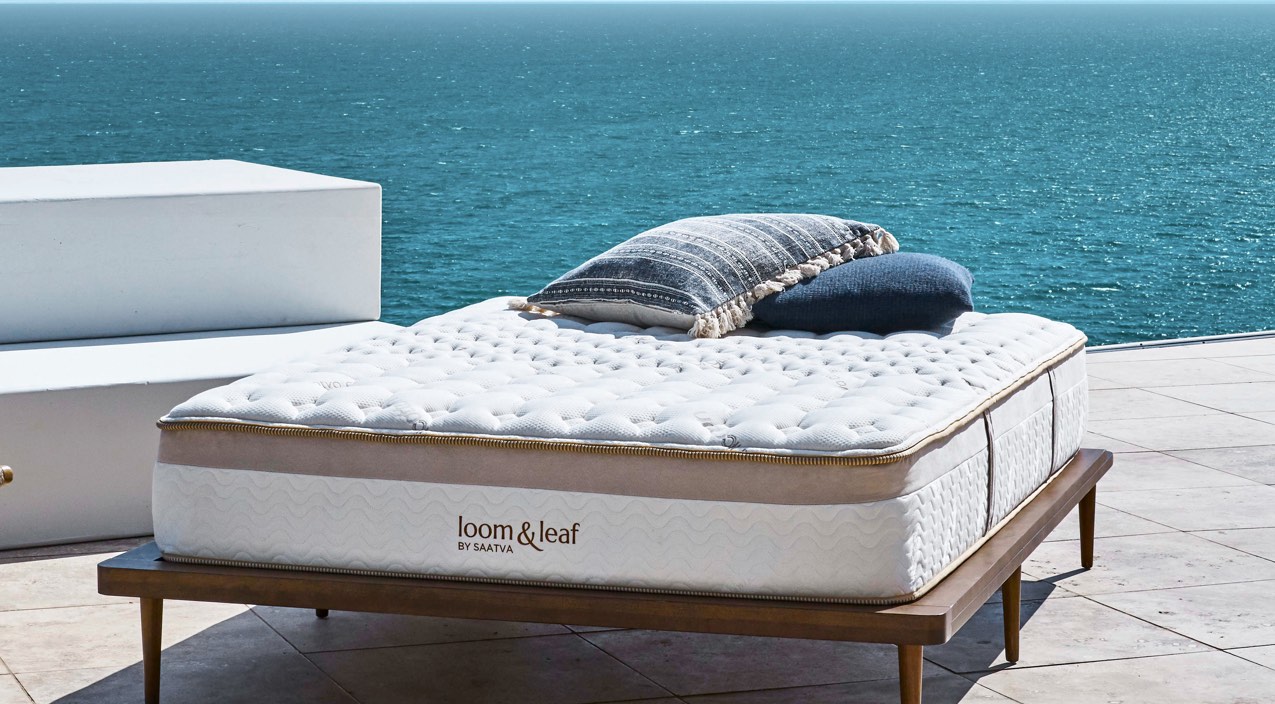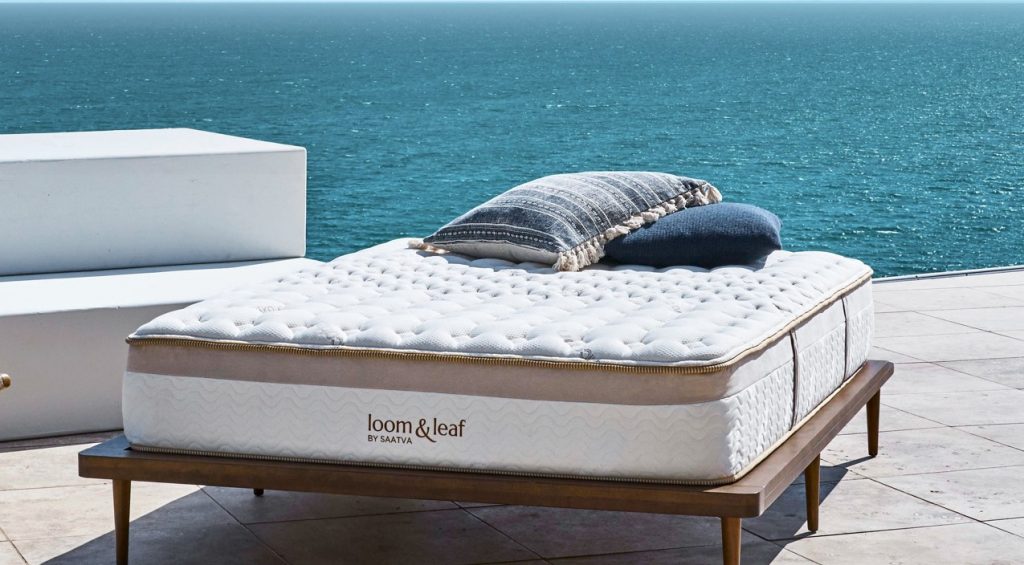 Most Durable Pregnancy Mattress
Loom & Leaf Mattress is given by the popular brand of mattress, Saatva. It is a popular choice for those who are looking for a custom and healthy pregnancy mattress. The Loom & Leaf Mattress is designed to provide the user with comfort and support. For this reason, it has become very popular among parents who are looking to settle their needs regarding the pregnancy.
It comes in two variants of firmness namely Relaxed firm and Firm mattress. The relaxed mattresses have a firmness of 5.5 on a scale of 10, whereas firm mattresses score 8 on the same scale. With a 15-year warranty and a graded density construction, the Loom & Leaf mattress promises to keep you comfortable throughout the night.
All Loom & Leaf mattresses are made with certified foams that have been tested for durability and longevity. The memory foam core provides you with pressure relief while the pocketed coils help to give you support as well as helping to reduce motion transfer.
Price: Ranges from $800 – $2,476
Specifications:
Mattress Type- Foam
Firmness- Relaxed firm, Firm
Warranty- 15 years
Sizes- Twin, Twin XL, Queen, Full, King, California King, Split King, Split Cal King
Trial Period- 180 nights
Highlights:
Offers different firmness options
Comes with Free White Glove delivery
Excellent movement isolation
Good conforming
Pros:
Good for the pregnant woman
Suitable for couples
Suits side and back sleepers
Reduced sinkage
Cons:
Not suitable for very hot sleepers
Lacks strong edge support
---
8. Eight Sleep Pod Pro Mattress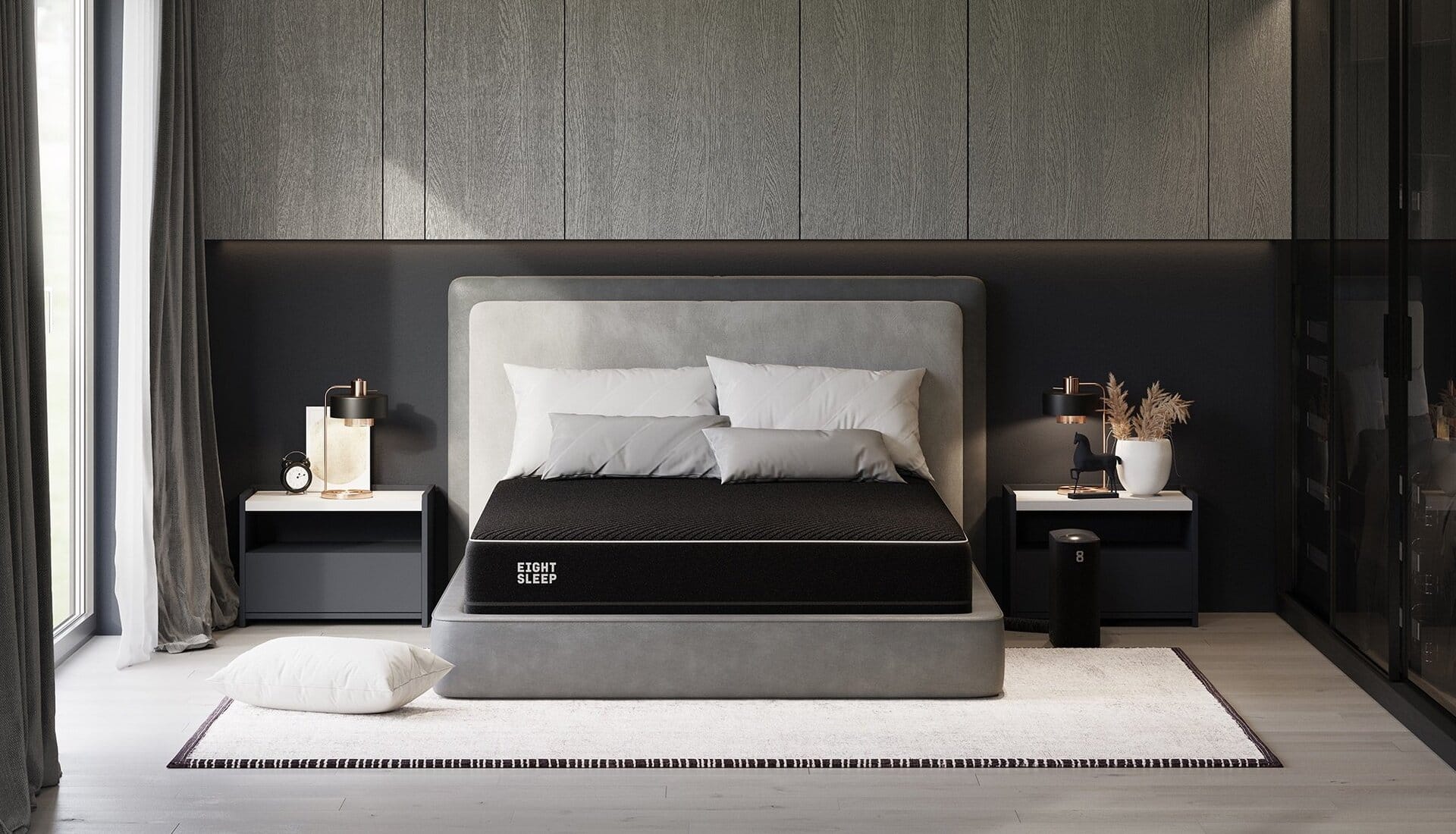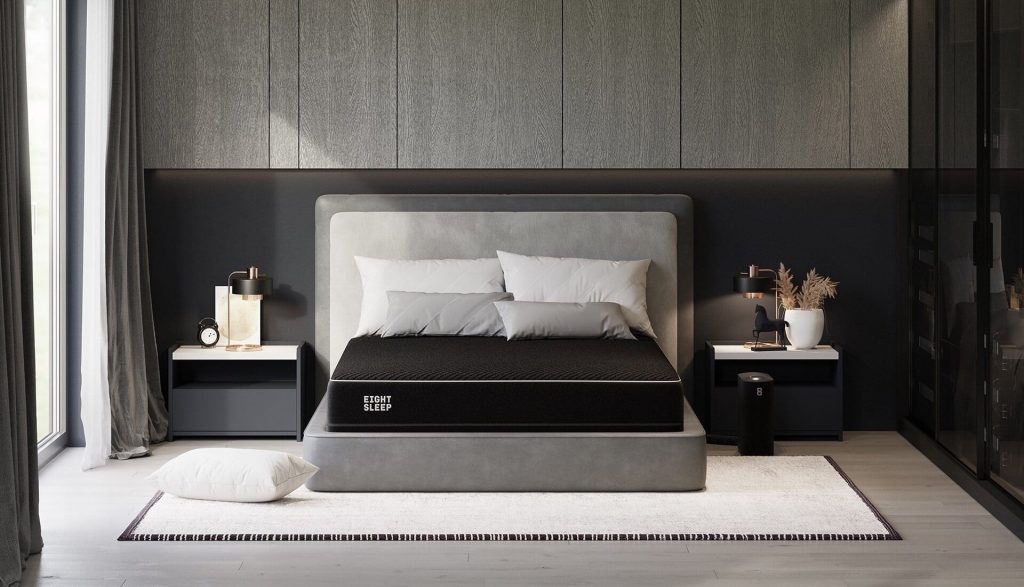 Best Mattress for Pregnant Women with In-Built Sensors
The Eight Sleep Pod Pro mattress combines some of the top foam materials in the industry with a high-quality cover. It is made of airflow polyfoam that is given the mattress a lot of praise from customers. The Pod Pro is designed to provide support for all types of sleepers, including people who prefer to sleep on their side, stomach, and back. The mattress provides just the right amount of firmness and softness to make lying down a pleasant experience.
This mattress includes extra components to provide complete comfort to pregnant women. Such as foam padding with the cover to give a best pregnancy pillow top feel. Talking about the high-tech features of the mattress, there are in-built sensors that are responsible for adjusting the temperature according to the room humidity level.
Not just this, but this is the best pregnancy mattress due to the availability of an app that provides health reports. This report is given based on heart rate, respiratory rates, and much more. However, all these features make this mattress to be a bit expensive. Thus, if you are not looking for advanced facilities in a mattress and have a limited budget, then you can check out other mattresses as well.
Price: Ranges from $2795 – $3495
Specifications:
Mattress Type- Foam
Firmness- Medium
Warranty- 10 years
Sizes- Full, Queen, King, California King
Trial Period- 100 nights
Highlights:
Offers best high-tech features
Comes with ambient sensors
Availability of smart app to track wellness
Active grid cover
Pros:
Support all sleeping position
Works for couples
Enable to track sleeping data
Adjustable temperature controls
Cons:
Very expensive
The active grid has only a two-year warranty
---
9. PlushBeds Botanical Bliss Mattress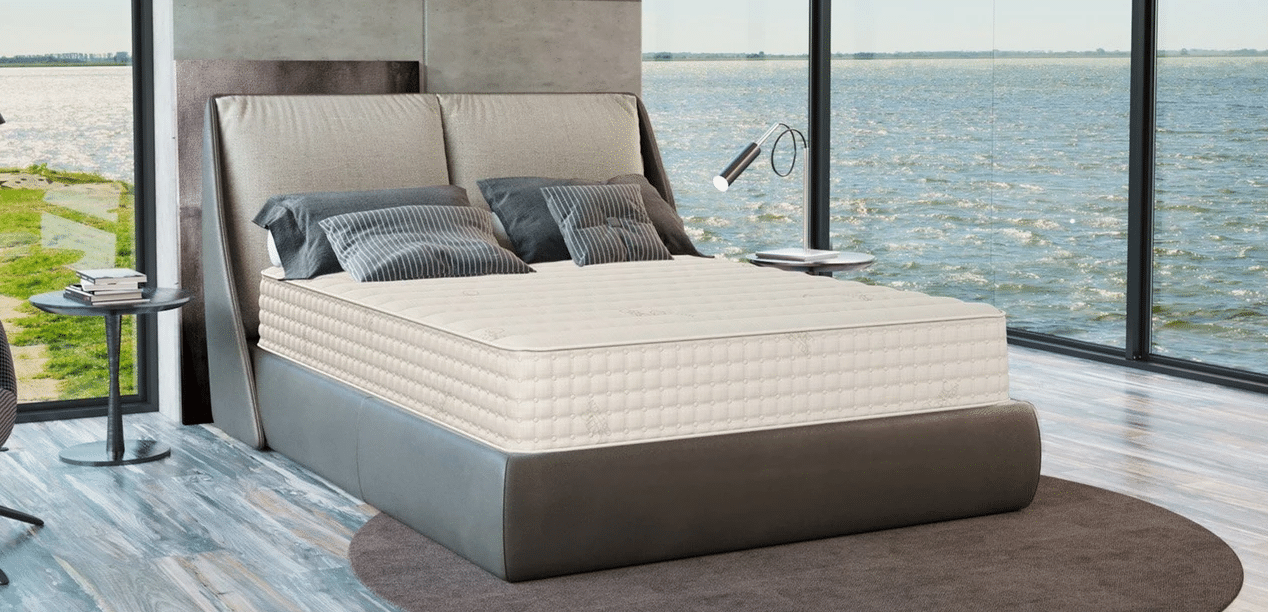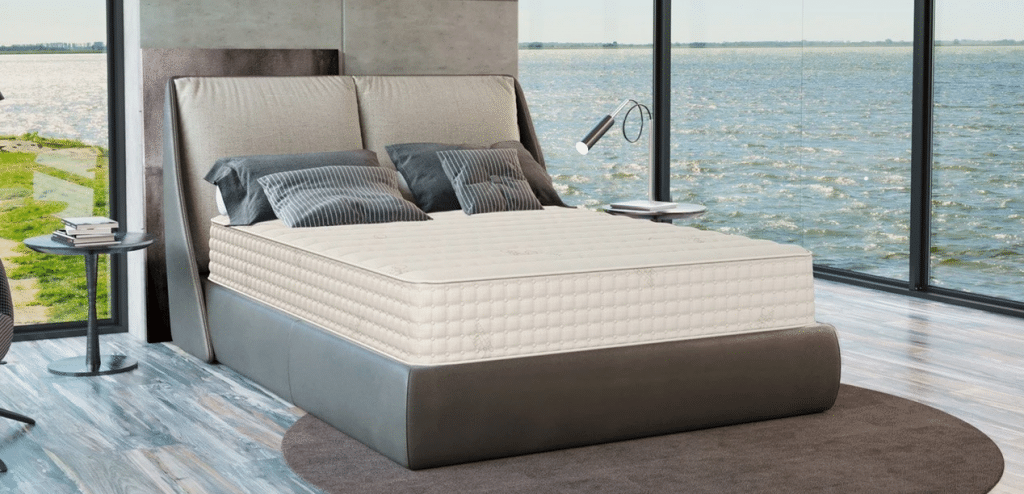 Top Organic Mattress for Pregnant Woman
There are many advantages to owning a quality mattress and PlushBeds offers just that. Botanical Bliss is made of organic ingredients and free of particular chemicals that can be harmful when released into the atmosphere. It combines a supportive base layer of Dunlop latex with a comfortable quilted cover that is made of organic cotton.
Botanical Bliss Organic Memory Foam Mattress is one of the ideal and top pregnancy mattresses choices, with its organic materials and special pregnancy comfort zones. These mattresses are available in two firmness options. One is the Medium Firm, which is suitable if you weigh less than 130 pounds. The second is a Firm mattress that is suitable for sleepers with a weight of more than 130 pounds.
The best part is that all the products of PlushBeds are GOTS certified. Thus you can be sure that the mattress is free from any kind of harmful chemical. So, if you are looking for a pregnancy mattress, you can give it a try on this organic mattress.
Price: Ranges from $1,049 – $2,549
Specifications:
Mattress Type- Latex
Firmness- Medium Firm, Firm
Warranty- 25 years
Sizes- Twin, Twin XL, Queen, Full, King, California King
Trial Period- 100 nights
Highlights:
Made of organic ingredients
Free of harmful chemicals
Two firmness options to choose from
Provides significant edge support
Pros:
Best-fit for the pregnant woman
Generous warranty period
Offer temperature neutrality
Good value for money
Cons:
Might be expensive for some buyers
Heavy mattresses
---
10. Amerisleep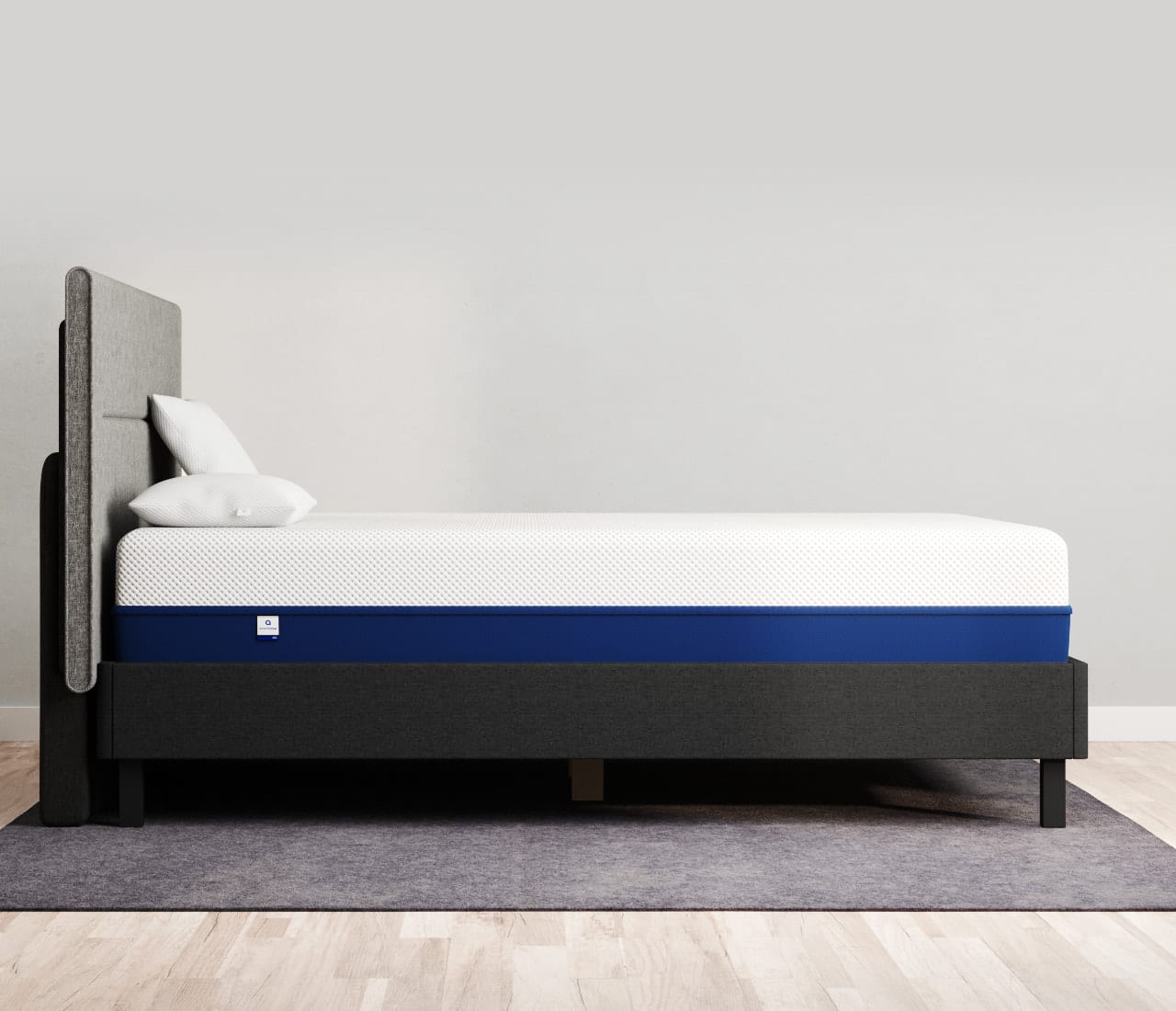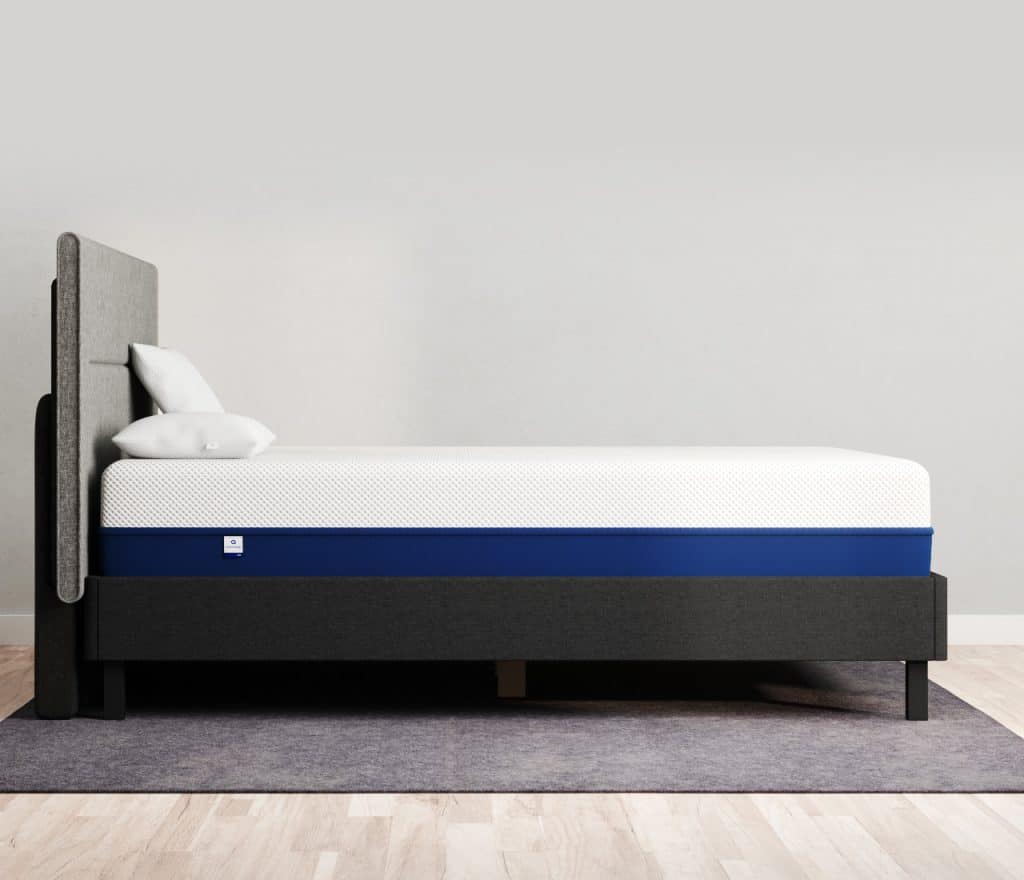 Most comfortable mattress for pregnancy
The Amerisleep is the perfect and the best mattress for pregnant women. Pregnant women often suffer from back pain, hip pain, and shoulder pain while in bed, and Amerisleep mattress can help with that. Moreover, the mattress has been designed to offer a responsive sleep experience. It is fully adjustable and designed for couples with different sleep preferences.
The Amerisleep mattress provides pressure point relief, good back and spinal alignment support, and a luxurious feel that is similar to memory foam. The cover of these mattresses is made up of cotton and polyesters. It is soft and easy to airflow through it makes it breathable for the sleeper.
There are different models of Amerisleep named AS1, AS2, AS3, AS4, and AS5. Although all these models are made up of the same material and have a similar design, they differ in features. These features are firmness, performance, price, and layering of the mattress.
Price: Ranges from $1,149 – $2,398
Specifications:
Mattress Type- Foam
Firmness- Medium
Warranty- 20 years
Sizes- Twin, Twin XL, Queen, Full, King, California King, Split King, Split Cal King
Trial Period- 100 nights
Highlights:
It relieves pressure
Made Bio-Pur memory foam
Provide contouring comfort of memory foam
Available in multiple models
Pros:
Good motion isolation
Provide spine alignment
Durable mattress
Does not sag
Cons:
Not suitable for bouncier beds
Might not provide good edge support
11. Bear Mattress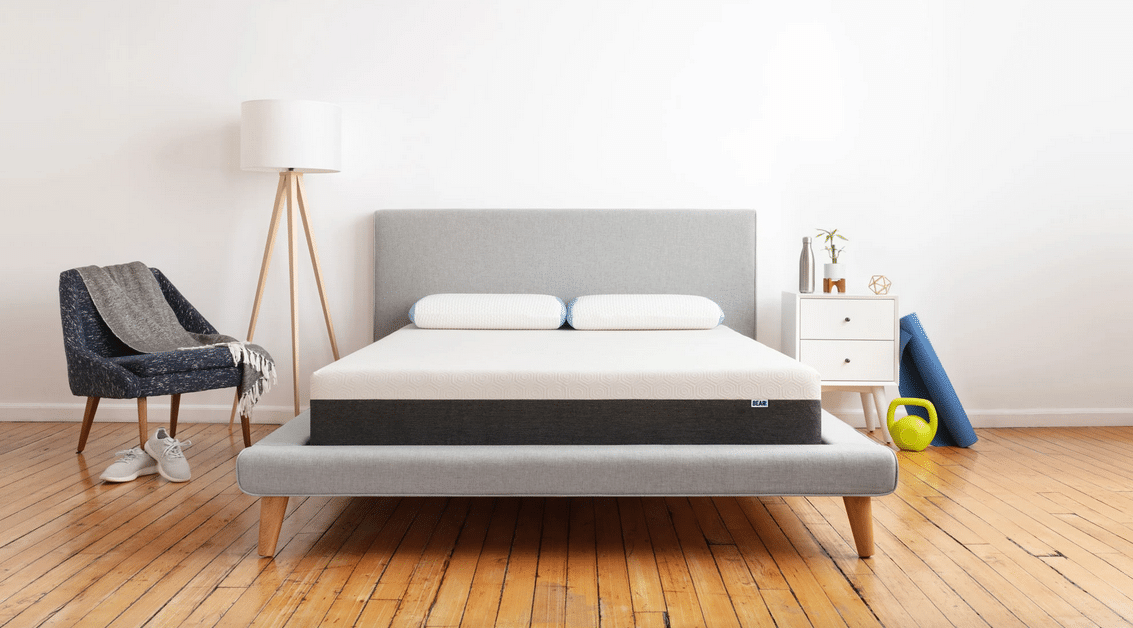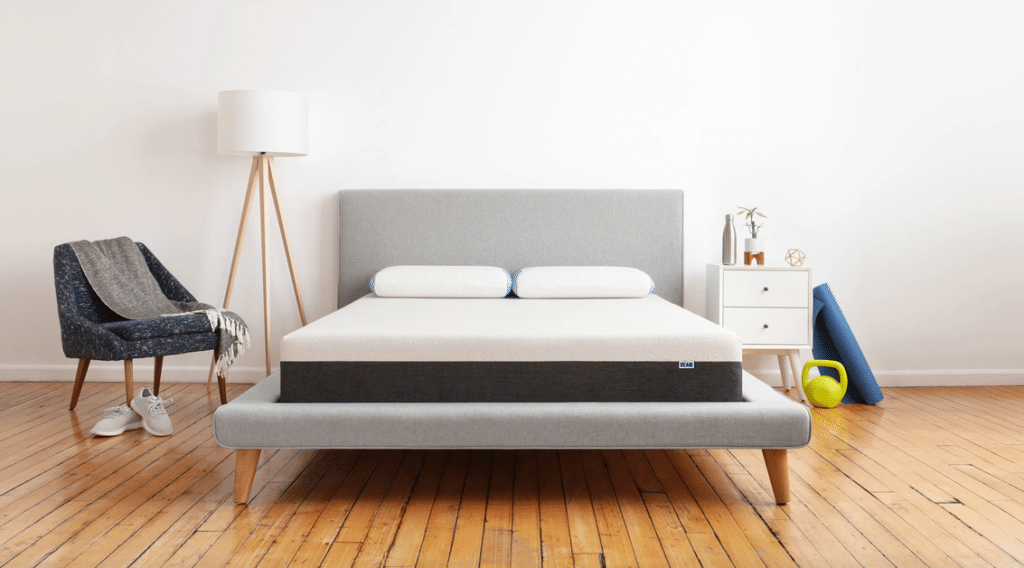 Affordable Pregnancy Mattress
If you are searching for the best pregnancy mattress to help you get through the final stages of pregnancy and get a good night's sleep afterward, then a good, firm (yet comfortable) mattress like the Bear Mattress will help significantly. Bear mattress has revolutionized the sleeping experience by bringing you the ultimate sleep experience at affordable prices.
The thickness of the mattress is around 10 inches. The comfort layers of this mattress are made up of gel-infused graphite memory foam. The transitional layer is made up of polyfoam. On a scale of 10 of firmness, Bear mattresses scores around 7. This means they provide enough firmness to the sleeper along with comfort.
As far as the mattress cover is concerned, it is made up of Celliant fabric. This fabric is used to convert the heat of the body into infrared energy. Later, this energy is transferred back to the sleeper. This transfer of energy help to recover the body after physically exhausting activities leading to quality sleep at night.
Price: Ranges from $595 – $1,195
Specifications:
Mattress Type- Foam
Firmness- Firm
Warranty- 10 years
Sizes- Twin, Twin XL, Queen, Full, King, California King
Trial Period- 100 nights
Highlights:
Comes with the Celliant cover
Offers good firmness (7 out of 10)
Good pressure relief
6-inch high-density poly foam layer
Pros:
Help improve sleep
Speed up physical recovery
Affordable cost
Excellent motion isolation
Cons:
Lack of edge support
Not much suitable for stomach sleepers
---
How to Choose a Mattress for Pregnancy?
Are you looking for information about how to choose a mattress for pregnancy? There are a lot of factors to consider when choosing a new mattress. It takes into account the comfort level, budget, and sometimes even convenience. Sleep is priceless when you are pregnant because the time you get is well deserved! No one likes to lay down on a bed that feels as hard.
1. Know Types of mattress
There are several types of mattresses you can find in the market which are made of different types of materials. Materials used in mattresses affect more for a good sleep. Usually, mattresses are also valued based on firmness. So before you buy, you should know about all common mattress types and their benefits.
2. Go as per physical therapist suggestion
When you are pregnant, if you feel back or neck pain, first talk to your doctor or physical therapist and know what he or she recommends. Sleeping properly on the best mattress during pregnancy will promote good spinal alignment. While pregnancy doctors are not mattress experts, but they know your medical condition and may give you good advice from that point of view.
3. Go to the mattress store Physically
Go to a mattress store physically and give yourself some time to browse. Check few different mattresses there for at least 10 minutes each. Choosing the Best Mattress for Pregnancy is an important task, so take your time.
4. Think before choosing a hard or firm mattress.
Know what will be better for you so think twice before choosing a hard or firm mattress.
As per research, it has been shown that the best mattress for low back pain is a medium-firm mattress, not a firm mattress. Every person's bodies are different and have a different personal preference. Depending on your personal preference, choose either a hard or firm mattress for you.
5. Read Reviews from real customers.
While searching mattress online you need to pay little attention to the mattress companies and what their customer say about the products. As many companies may be asked reviews from happy customers, so you can check both Read a mix of positive, negative reviews.
6. Check out trial periods and return policies.
You should read trial periods and return policies as many mattress companies have a trial period, and offer guarantee-free returns within a certain period. When you are unsatisfied with their product you can return it. Always make sure you read thoroughly and understand all the details.
7. Check the warranty
Before you purchase, verify that there is a warranty for that mattress, in case it disruptions or is defective. Generally, a good bed mattress will have a minimum of 10 years full replacement or non-prorated warranty.
8. A higher price does not equal the best quality
Most of us assume that the more we pay, the better the mattress we get. But in reality a high price tag does not always guarantee top quality. So research the mattress materials before choosing.
Which type of mattress is best for pregnancy?
Pregnant women face difficulties when sleeping. During Pregnancy, hormonal changes cause them to wake frequently. Pregnant women feel many changing bodies, sensitivities to noise and smell, and headaches and pains, and other symptoms that can disturb sleep. Pregnant women need to get quality sleep, as sleep troubles throughout the third trimester can negatively impact labor and delivery. Poor sleep during pregnancy can result in longer labor with more discomfort. But there are still things you can do to make this problem easier and stay asleep, such as making sure your bed is comfy and cozy.
It is necessary to choose the best comfortable mattress that can help minimize sleep disturbances. And the best mattress provides comfort during pregnancy and after your baby is born also. Here find some best types of mattress quality that prove best during pregnancy. 
The best mattress for pregnancy depends on your preferences and the sleeping position of pregnant women. As per studies, the best sleeping position for women during pregnancy is sleeping on the side. Therefore, for selecting the best pregnancy mattress, you will have to search for options that will provide the best support for side sleepers. Here are the categories of a mattress to choose from during pregnancy:
Latex: Mattresses that are made of latex use the material latex in the comfort layers as well as the support core. Most manufacturers use either natural or synthetic. Natural latex is breathable, long-lasting, and quite responsive. The main features of latex are Cool Conforming, which offers pressure relief without heat retention.
Hybrid: A hybrid mattress has a significant comfort layer section over an innerspring support core with a pocketed coils. Where the comfort layers may be made of latex, polyfoam, micro-coils, memory foam, down, cotton, wool, or fiber-fill. Hybrid mattresses offer a balanced feel. Hybrids tend to provide pressure relief and motion isolation rivaling all-foam beds, the coils in these mattresses increased airflow, protected edges, and more strong spinal support of an innerspring mattress.
Innerspring: Innerspring mattresses are mostly made of metal coils and the top portion is made of a thin layer of cotton or polyfoam. These types of mattresses less heat or no heat and ever offer good edge support. These are easy to Movement and have a bouncy surface which gives more comfort to a pregnant lady.
Foam: Polyurethane foam which is also known as "polyfoam" is a synthetic material that can be made to have a variety of characteristics. Some Polyurethane foam mattresses include latex. Multiple plusher comfort layers provide pressure relief and prevent motion transfer and support core. Most foam mattresses made of memory foam comfort layers provide relief from pressure points. It can help reduce pain in expectant women, especially when they sleeping on the side.
Airbed: As the name suggests Airbeds are categorized by the air chambers in their support core. It can be bloated or shrunk to adjust the firmness level according to the user's liking. Most high-end airbeds also have additional comfort layers over the air chambers, like foam or latex. A well-customized Airbeds provide 50 different firmness levels that the user can adjust as often as they want. These types' beds are very ideal for pregnant women as their body's needs progress during pregnancy.
What to Know Before You Buy Pregnancy Mattress
Buying a mattress can be a complex process for anyone, but in this case of it is difficult as pregnant women face unique challenges. Throughout the pregnancy women, body changes due to the hormonal changes and their bodies need proper support. And also during pregnancy, there is a rise in their core body temperature which can also result in them sleeping hot. So that is why it is more important to decide what type of mattress is best for pregnancy. Before buying a mattress for a pregnant woman some factors should be considered.
Here find some top factors that may help you when shopping for a mattress that supports sleep throughout pregnancy:
Quality of Mattress: Check out the quality of mattress which can offer quality sleep in pregnancy. Look for long-lasting, ongoing materials and also check the warranty.
Support and Feel: Choose a comfortable mattress that gives you the best support during pregnancy. A comfy mattress can supports your spine properly and curves may give you the best night's sleep. You should try out a medium-firm memory foam or hybrid mattress when you're not sure about your preferences.
Cooling Mattress: Throughout the pregnancy, the body's temperature can increase due to hormonal changes. So selecting a cooling mattress may be a good idea. So buy a mattress that is made of breathable materials to prevent overheating while you sleep.
Size of Mattress:  If you sleep with your partner or anyone and you have the budget, it will be better to buy a king-size mattress. This king-size mattress can be helpful after your pregnancy also. 
Mattress Edge Support: Having the best edge support can make it easier to get in and out of bed throughout pregnancy when this becomes more difficult.
Price: The Prices of a mattress can vary from one manufacturer to other and also depends on mattress types, so be sure to decide on a budget before shopping. But don't compromise with quality at an affordable price. A high-quality, robust mattress will last during the pregnancy and beyond.
How Do I Know What Mattress is Right for Me?
For pregnant women, sleeping can mostly a struggle and it becomes a bigger challenge after the baby is born. Quality is necessary not only for both mother and baby but also to help smooth delivery. 
If you are doubting which type of mattress is best for pregnancy, I can offer my personal opinion as I am currently pregnant, in the third trimester with our first baby!
Usually speaking, women who side sleepers and weigh less than 130 pounds are most comfortable on a plusher mattress. Plusher mattress conforms closely to align the spine and decrease pressure points. And where stomach sleepers and weigh more than 230 pounds need a firmer surface that keeps the spine aligned by avoiding heavier body parts from sinking too distant into the mattress. And in the case of back sleepers and weigh 130 and 230 pounds do best on a mattress that offers a balance of spinal support and pressure relief as well.
A mattress having too plush can drop under the weight of your growing baby, possibly contributing to back pain. A zoned mattress can be beneficial as it provides alternate pressure relief and support where you needed.
When choosing your mattress, first of all, try to consider what your needs will be during pregnancy and what type of mattress you commonly prefer sleeping on, for later the baby is born.
Which Mattress Firmness is the best for Pregnancy?
Mattress Firmness is an important factor when choosing a mattress. Pregnancy is an interesting time because it is the only time in your life where you will be sleeping up to 8 hours a night, and doing so on a single mattress. The mattress you choose for this period can have a profound impact on your enjoyment of the pregnancy as well as your overall health and wellness. Many pregnant women find that the comfort level of their mattress is not sufficient for getting a good night's sleep and that they experience significant back or joint pain as a result. 
I like changing my mattress firmness during pregnancy. This allows me to be more comfortable and sleep better. When trying to decide what kind of firmness works best for me, I took much into consideration for me to gain a better understanding of what works best for me and my situation.
During pregnancy, it is not necessary that the spine only requires excellent posture. Also your limbs, neck, and other body parts essential for a relaxing and cozy great night's sleep. While the firmness of a mattress is more of an individual preference. For pregnant women, orthopedic memory foam mattresses can be beneficial as they are easier to sit down on and get up. 
Mattress firmness is a significant feature to look for. Some other features to take into account are: 
Best Pressure Relief
Good Back Support
Temperature Regulation
Sleeping Position
Cooling Abilities
Motion Isolation
And More.
Is it better to sleep on a hard or soft mattress?
One cannot say that the firm mattresses are best or soft mattresses are best it all depends on better fit for different types of people. Firm mattresses are better for people who are stomach sleepers, hot sleepers. And while Soft mattresses are better for the people who are side sleepers & those who like to sink into their mattress. The hard or soft mattress depends on the person and their sleep preferences.
Hard Mattresses
If you want your body to keep straight while sleeping, then the hard mattress is best for you. It keeps your body spine neutral while you are sleeping. And sleeping on a hard mattress, your body maintains a better flow of functions and proficient blood circulation during the night to give you a better sleep. And sleeping in aligned and straight, there is greater breathing of the oxygen.  
It is also seen that when one sleeps aligned and straight there is better inhalation of the oxygen in the body and also food digested easily. When we see it through the health benefits it is surely a good option.
Advantages of a Hard Mattress
1. These enable a neutral spine position, keeping your body straighter
 2. They decrease the pressure on your circulation system, allowing smooth blood circulation
 3. They stop your lower back from collapsing and allow you to inhale more oxygen while you are sleeping
 5. The human body can adjust to sleeping on a hard mattress and start finding it relaxed.
Disadvantages of a Hard Mattress
1. When you switch to a hard mattress from a soft one can feel uncomfortable for many days
2. They are not perfect for people with certain lower back problems such as arthritis, rheumatism, scoliosis, etc.
4. Sometimes your body weight can finally create indentations.
Soft Mattresses
A soft mattress is designed in such a way who need a peaceful sleep after a long hard-working and also for pregnant women. It is more relaxed enough to provide an exact sleeping position by lifting your body from the unsupported.
Advantages of a Soft Mattress
1. Soft mattresses can decrease back pain and benefit aging with joint pain and problems
2. Thin, lighter people can sleep on a medium-firm mattress and love the plushness without losing spinal support
3. Soft mattresses can be better for people who side sleeper while in a fetal position
4. Research shows Soft mattresses are continuing to work on ways to support the body even when softer mattresses are being used.
Disadvantages of a Soft Mattress
1. Sometimes the softness of the mattress can push a spine out of alignment and decrease the quality of sleep.
2. You need to pay more for a Soft mattress than their firmer counterparts
3. When more than one people may disagree on the amount of softness of bed they want in a bed, making it harder to share
4. Soft mattresses feel soft but after use of few years may cease being appropriate.
FAQ's
Is memory foam safe during pregnancy?
Many women prefer to sleep on a memory foam mattress during pregnancy for several reasons. Those who have never tried memory foam before may find that they prefer them, along with other pregnant women. Some women find that they have trouble sleeping through the night and that a memory foam mattress has helped them chalk this up to the number of aches and pains you experience when you are pregnant. While memory foam is soft, it will not give beneath your body weight and only conforms to the shape of your body once it has completely taken your body heat. This may come as a surprise to some people during pregnancy, as research has shown that the chemicals in household products can affect fetal development; this also applies to mattresses that contain.
Is a spring mattress good for pregnancy?
A spring mattress can help pregnant women feel better and help relieve the discomforts of pregnancy. Pregnancy is a period that requires good health, especially for the mother. Now a good bed is very important for pregnant women but with so many mattress options available the choices can be overwhelming. A spring mattress is one of these choices. One of the most important mattress buying decisions you will make is what type is best for you. You're probably not going to remember your first-ever mattress very much. But, whatever it was, perhaps a coil spring, or even foam mattress, it likely had a big impact on your sleep. Here's how you can make that big decision of choosing the best type of mattress when you're pregnant easily and get recommended one for pregnancy.
Is a soft bed good for a pregnant woman?
We know that a good mattress can be expensive. The current economic situation and the recent end of many stores do not help us. Therefore, many people have started to become advocates of a soft mattresses. Among the most common topics concerns whether a soft mattress is good for pregnant women. When we get pregnant there is a lot that needs to happen in our body and one of these things is the bed should be comfortable. When you are pregnant a soft bed is very good for you. Before you become pregnant you need to adjust the hardness of your bed because when you become pregnant, a soft bed will be good also at this time which will make us sleep well. If the bed is hard, it will cause some bad things to our body so when we get pregnant soft bed will be good for us and it has many benefits for us.
Why sleep is important during pregnancy?
Sleep is one of the most important things to do when you are pregnant. Sleep helps you stay healthy during pregnancy. It helps your body grow and your baby's body develop. After all, it is something that we all do every single day of our lives yet in some cases, we often take it for granted. If you are pregnant, this is one thing that should not be taken for granted, ­especially if you are having difficulty sleeping. Restless nights can leave you feeling un-refreshed and tiresome the next day. Once you have learned the benefits of getting quality sleep and why it is so paramount for your health during pregnancy, do everything within your means to strive towards getting a great night's rest from here on out!
How many hours a pregnant woman should sleep?
Many women wonder how many hours a pregnant woman should sleep. The answer is quite simple, and it's 12 hours out of every 24 hours. That means if a pregnant woman sleeps 10 hours, then she still has 2 hours to burn. Researchers found that this guideline makes sure both the mother and the baby are healthy. During pregnancy, it is not easy to have a good sleep. Many pregnant women complain of insomnia or sleeping too much during the day. However, many doctors recommend having 7-8 hours of sleep during pregnancy.
How has the mattress affected your pregnancy?
Mattresses play an important role in your pregnancy. Pregnant women generally suffer from backache or wakeup with back pain, stiff neck and shoulders. The mattress has the greatest effect on pregnant women. It has many components that can affect the pregnant mother's health, even if she is sleeping alone. It is important that a woman who is pregnant choose the best mattress to meet her needs. This will help her keep good health. The pregnancy period is a special time for the expectant mother. She wants everything to go well. The good health of a woman in pregnancy is not only dependent on prenatal vitamins, but also depends on factors that have an indirect relation to nutrition, such as sleep and environmental hygiene.
---
Bottom Line
Pregnancy is a life-changing journey, it produces a warm, nurturing environment till the baby is ready to come out. During the pregnancy months, women also face many challenges. Among them falling asleep is one of the biggest ones. Poor sleep can affect your mind and body. Some customized mattresses may help improve sleep throughout pregnancy. You should buy the best Mattress for Pregnancy which is made of cooling technology, reinforced edges, pressure relief, and support for side sleeping also. You can buy it either online or from your local market. You can get Top Pregnancy Mattresses for you by following the above-discussed factors.