Nowadays maternity photoshoots are very popular in the world of photography. Many couples choose to have a maternity photoshoot to capture this momentous time in their lives. There are many ways to do a maternity photo shoot and it can be done creatively as well. Expectant parents can do a simple photoshoot at your home with your family by just wearing casual dresses or you can visit some beautiful place for nature photography.
The couple can also do a maternity photo shoot with their pet or baby shoes. This would be a unique and memorable idea. The couple can dress up their pet in some cute clothes and take some amazing maternity pictures.
A maternity simple shot of a baby bump is an effective way to capture the beauty of the pregnant woman. The professional photographer can take some amazing pictures of the pregnant woman in different poses. The maternity poses for a photoshoot can be quite creative and can be done in different ways. And in this blog, we will discuss some creative or funny maternity photoshoot ideas.
Best Creative Maternity Photo ideas
If you're going to expect your first baby then maternity photos are a must-have for you. Maternity pictures are the way to announce your baby from the social world and also it can be a memory of your maternity time. Below we have shared funny, creative, indoor, or outdoor maternity photoshoot ideas for expected mothers and they are:
1. Have a fairy tale photo shoot
The maternity photo shoot is not only for showing your pregnancy but it's also the way to make your fairy tale dream come true. You can pose like a mermaid in the ocean, under the waterfall, or sit on the moon. These maternity photo shoot ideas will make your pregnancy photos more impressive and memorable for you. The belly exposed and with a beautiful dress on it can be looking like a princess in the photos.
2. Matching dress Candid shots with whole family
Pregnancy is not only a time for the mother but it's also the time when family members get excited. You can take some white shots of your pregnant wife with her husband and kids. The photos will come out amazing if you wear matching clothes in the pregnancy photo shoot. It will be a great way to capture the love and happiness of your family members. You can make your maternity photoshoot more fun with these specific ideas. You can pose with your belly, bump, and boobs in the images, let your husband rub your bellies, or take photos while you are talking with your family as well.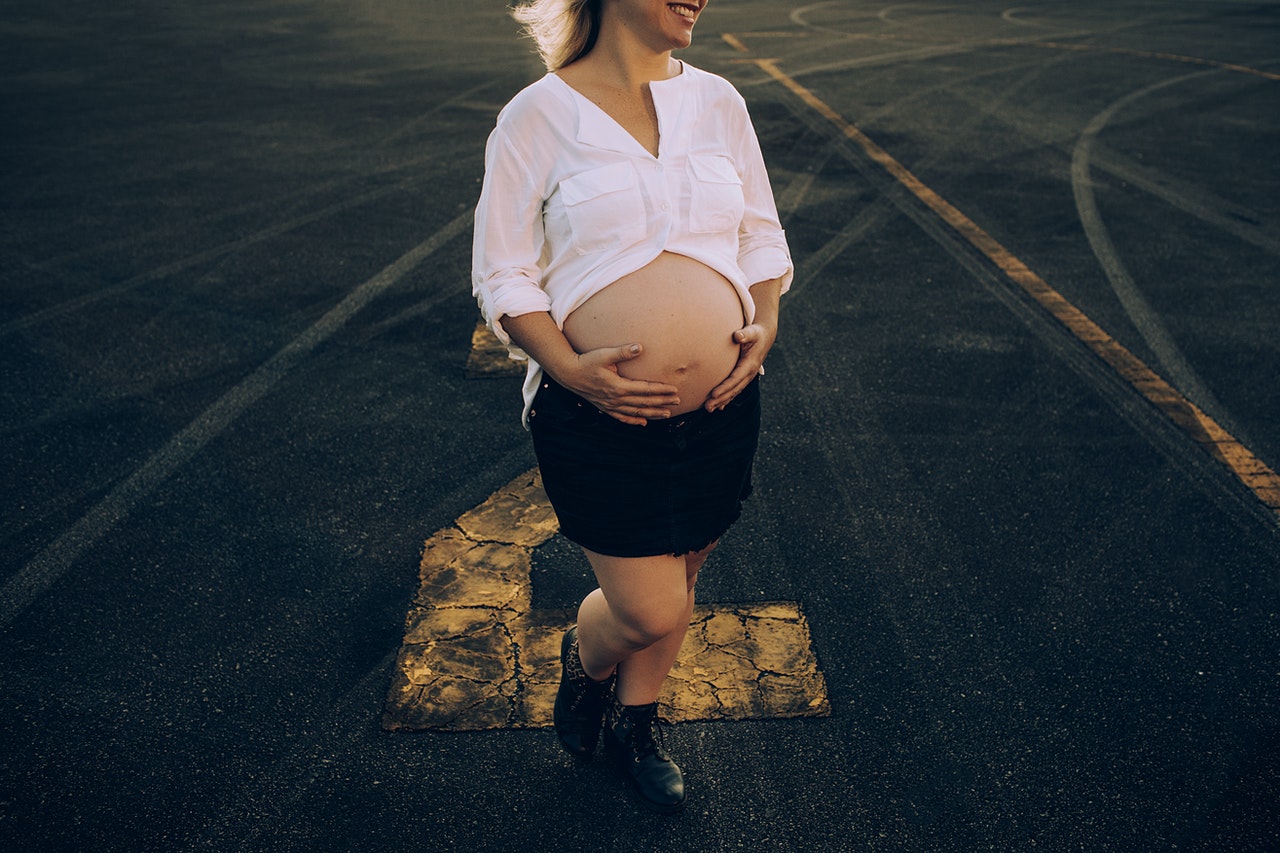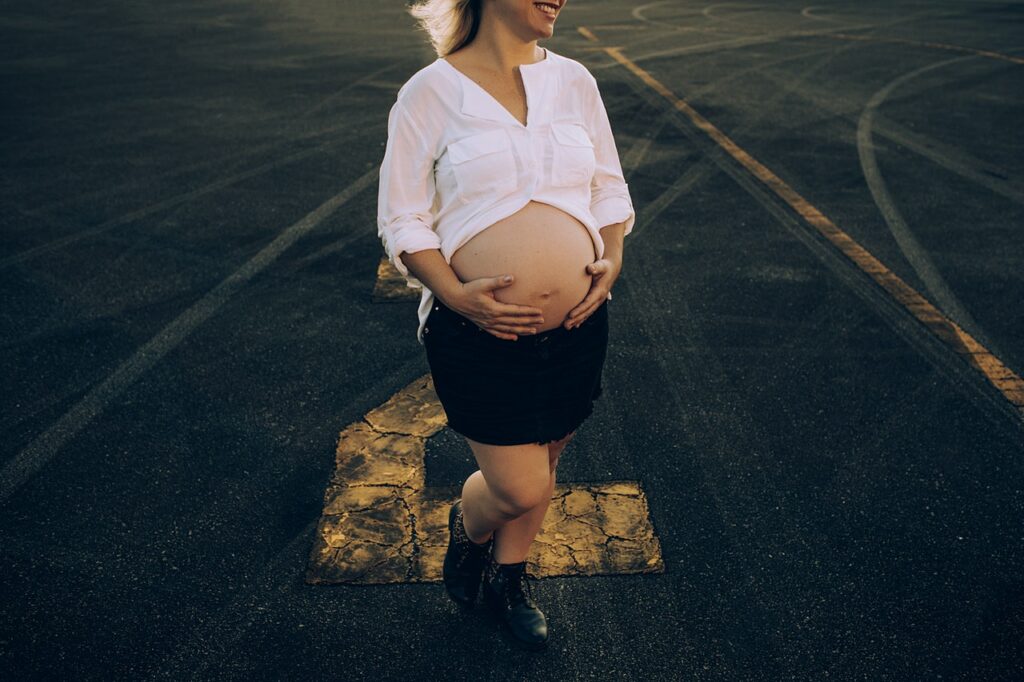 3. Black and white maternity portraits shoot
If you are looking for pregnancy photoshoot ideas indoor then black and white photos are the best option. Posing with light color dresses would be perfect in this type of pregnancy photoshoot. Even, wearing a black dress is also good but make sure to pose under sunlight for a black dress because direct sunlight can make your photos brighter. This maternity picture idea gives a more classic and timeless look to your pregnancy photos.
4. Bathtub or underwater Photo shoot
If you're thinking to have a maternity photo shoot, then an underwater maternity photoshoot is a must for you. Due to pregnancy, your body will look much curvier and beautiful. An underwater maternity photo shoot can make your baby bump more stunning with the heart-shaped pose under the water surface. You just need to make a simple pose and these professional photos will look like you have taken a bath in the beautiful ocean. Make sure about the photo session while creating maternity poses of a growing belly. These maternity photo shoot ideas would be perfect for expected mothers.
5. Baby belly painted shoot
If you are an artist or painter then belly painted maternity photo shoot ideas can be a perfect choice for you. You can paint the picture of your favorite character on your baby bump, but it should be a baby-safe painting environment. The best season to have this kind of maternity photo is winter because that's time to wear comfy clothes and it's easy to paint the belly without exposing it.
6. Pregnant mom shadow shoot
This is one of the simplest maternity photoshoot ideas which can be done by anyone. For this, you need to stand in front of a light source and your partner or friend needs to take the picture from behind. This will create a shadow of your belly on the wall or any other background. It would be a great idea to wear a dress or skirt because those things will enhance your bump shadow. If you are not good at makeup then these kinds of maternity photo shoot ideas is perfect for you. It doesn't matter what clothes you are wearing in the photo, there must be no need to put any makeup on your face. These shoot ideas would be an awaited place of stunning images list for mothers.
7. Pregnant Moms costume Character shoot
If you are a fan of superheroes, then these maternity photo shoot ideas are perfect for you. You can dress up as your favorite pregnant superheroine character and take pictures in different poses. This will show your fun and creative side to your friends and family. You can do your best and pose like a pregnant Wonder Woman, Catwoman, Super Girl, or Batgirl. For stunning maternity photos, try to take pictures as a mermaid too.
8. Have a photo with soon-to-be-mommies
If you have friends who are also pregnant, take this opportunity to do a photo shoot with them. This will be a great way to document your friendship as well as your pregnancies. These maternity photos will be the best memories of your friendship as well as your pregnancy time. This is a golden hour for your growing family and you'll cherish these photos forever.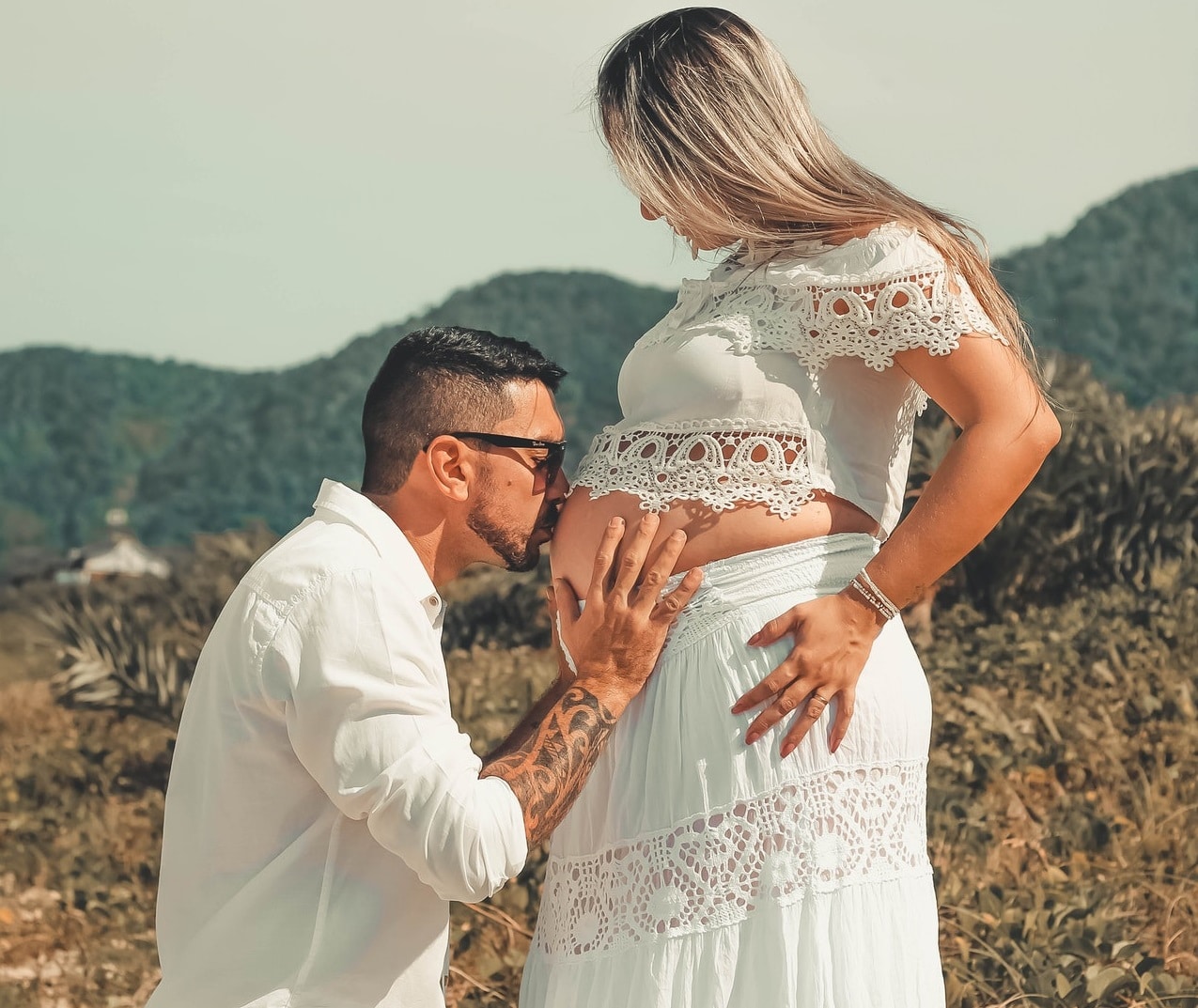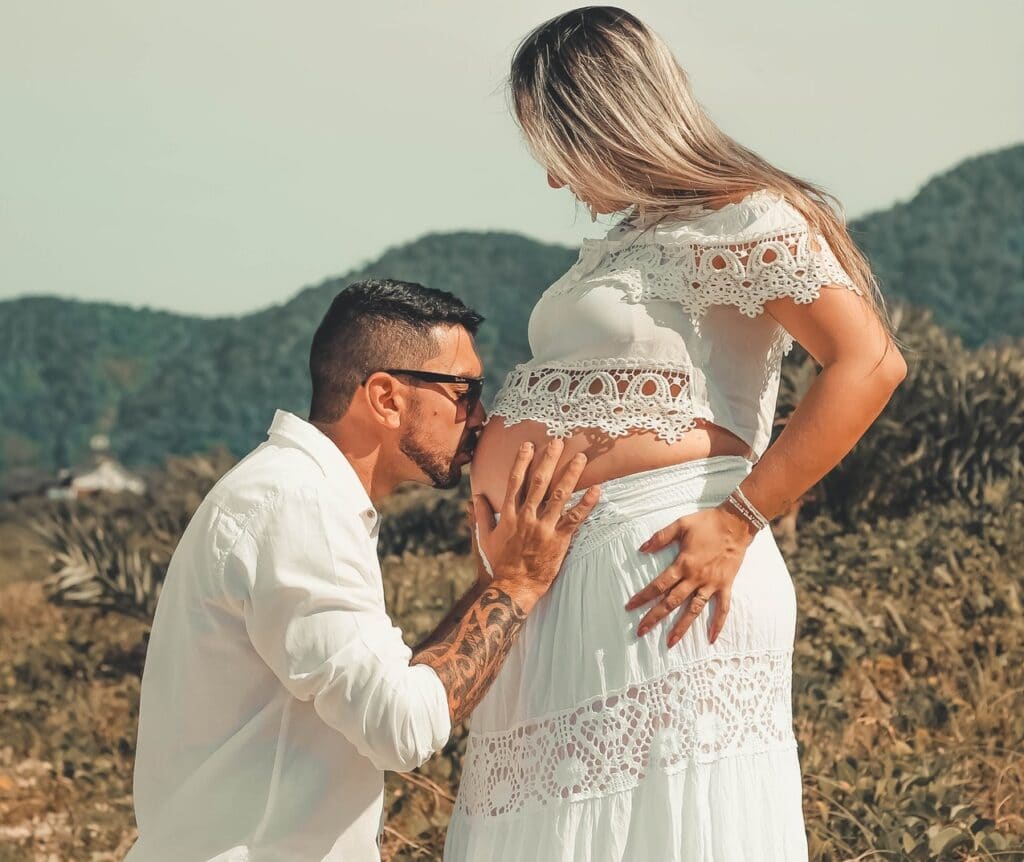 9. Daddy kissing the baby shoot
The daddy kissing the baby shoot is a perfect choice for the maternity photo shoot. These maternity photo shoot ideas will make your pregnancy photos precious and telling as well as it can be an eternal memory of your family time. If your partner stand behind the belly then it will show that your partner is eagerly awaiting the arrival of his little prince or princess.
10. Have a flowery pregnant belly shoot
When you go out for a stunning maternity photoshoot, wear something flowery and bright. This will make your maternity pictures more beautiful and creative as well as it can be an everlasting memory of pregnancy time. You can use flowing dress or skirts to look like a blooming flower in the photos. This is worth capturing maternity photoshoot. This is the time when you're growing a life inside you and it's a beautiful thing. Enjoy your pregnancy and have fun with these maternity photoshoot ideas.
11. Maternity COUPLE SHOOT
Maternity couple shoot is the best choice for modern couples. This maternity photoshoot will make your photos chic and fashionable as well as it can be a precious memory of your maternity time. If you want to get yourself captured perfectly then this cute pair shoot is worth trying. You just need a perfect location, dresses, and shoes to capture maternity pictures with your partner.
12. Sunrise or Sunset stunning maternity photos
If you want a stunning maternity photoshoot, then sunrise or sunset is the best time. This photoshoot will make your pregnancy photos more exceptional and precious as well as it can be a memory of your maternity time. You just need to find a beautiful location to capture maternity pictures at sunrise or sunset. The colorful sky with the natural light of the sun is perfect for maternity pictures.
13. Maternity shoot with a Baby crib
Adding a baby crib to your maternity photoshoot can make things look more interesting. You can either pose with the crib or use it as the background for your photos. This will give people an idea about the life you are going to have after the baby is born. These maternity photo ideas are very creative and will give your photos an extra touch.
14. Choose countryside backdrops shoot
The maternity photoshoot doesn't have to be held in your city or somewhere that is full of buildings. You can take the photoshoot in the countryside with beautiful natural backdrops. The green grass, blue sky, and fluffy clouds will make your maternity photos more impressive and beautiful for you. For these best maternity pictures ideas, you can choose the countryside with beautiful natural backdrops.
15. Funny Daddy baby bump shoot
If you want to have fun and add humor in your maternity photos then go for a funny Daddy child bump shoot. Ask your husband or partner to hold you tight and make a big bump. This will surely make your friends laugh out loud. You can also dress up like different cartoon characters with big baby bumps. As well as baby's nursery or baby clothes can be great props for your maternity photoshoot.
16. Pregnant moms at beach shoot
Beach is also the best place to take maternity photos. It's totally up to you if you want to dress up for this photo shoot or go with simple beach outfit. You can go with your partner for this photoshoot and make it more romantic by posing like a mermaid in the ocean, around the fire at sunset, on a seashell, or simply by a beach umbrella.
17. Nature shoot with pregnant belly
Doing a nature photoshoot with your pregnant belly is another great maternity photo ideas. You can go to the park, forest, or any other natural place and take some beautiful pictures. There are endless possibilities when it comes to nature maternity photos. You can pose near the river, standing on a rock, amid trees, among the flowers, or simply in the grassland, as well.
18. Maternity shoot with teeny tiny baby shoes
If you have already a baby, then including their tiny shoes in your maternity photoshoot will be a great idea. It will show how small your little one was when you were pregnant with them. You can also use props such as baby pacifiers, blankets, and teddy bears to include in the photoshoot.
19. Heart Hands photoshoot
Maternity photo shoot is the most memorable moment for every pregnant woman, especially if you are having your first baby. You can make it more exciting with these ideas of maternity photoshoots at home. This heart hands photoshoot idea will not only make your maternity pictures impressive but you can also send it to your family and friends on social media.
20. Maternity photo shoot with your first and coming soon baby
If you are having twins then including both of your babies in the maternity photoshoot will be a great idea. You can use this as an opportunity to make some beautiful lifetime memories with your two little ones. This can also be done when one of your babies is already born and the other is still in your belly. If you live in warm weather then it's a good decision to take maternity pictures outside because nature will be a part of your photoshoot.
21. Maternity Goddess photoshoot
This is another best maternity photoshoot idea which you can try for your first baby. You can try this with some props like an apple, grapes, strawberry, etc. to show that how much love and care you are giving your little one even before their birth. If you choose this maternity photo shoot idea then you should include your belly and other body parts as well, not only your hands.
22. Maternity couch shoot
This is an indoor maternity photoshoot idea where you can use your living room or bedroom furniture as props. If you have a white couch then it will be looking good in the pictures. You can also include some colorful cushions and pillows in the photoshoot. You can take different angles and poses with the furniture to make your maternity pictures look creative and interesting.
23. Peek-a-boo Mommy shoot
This is a funny maternity photoshoot idea which you can use to make some hilarious pictures. In this photoshoot, you will be hiding your belly with different objects like a big doll, cake, or even your partner's body. This will be looking funny in the pictures and your friends and family will surely enjoy it. Make sure that the object should not be black because it will spoil your photoshoot. However, you can choose any color object for it as well.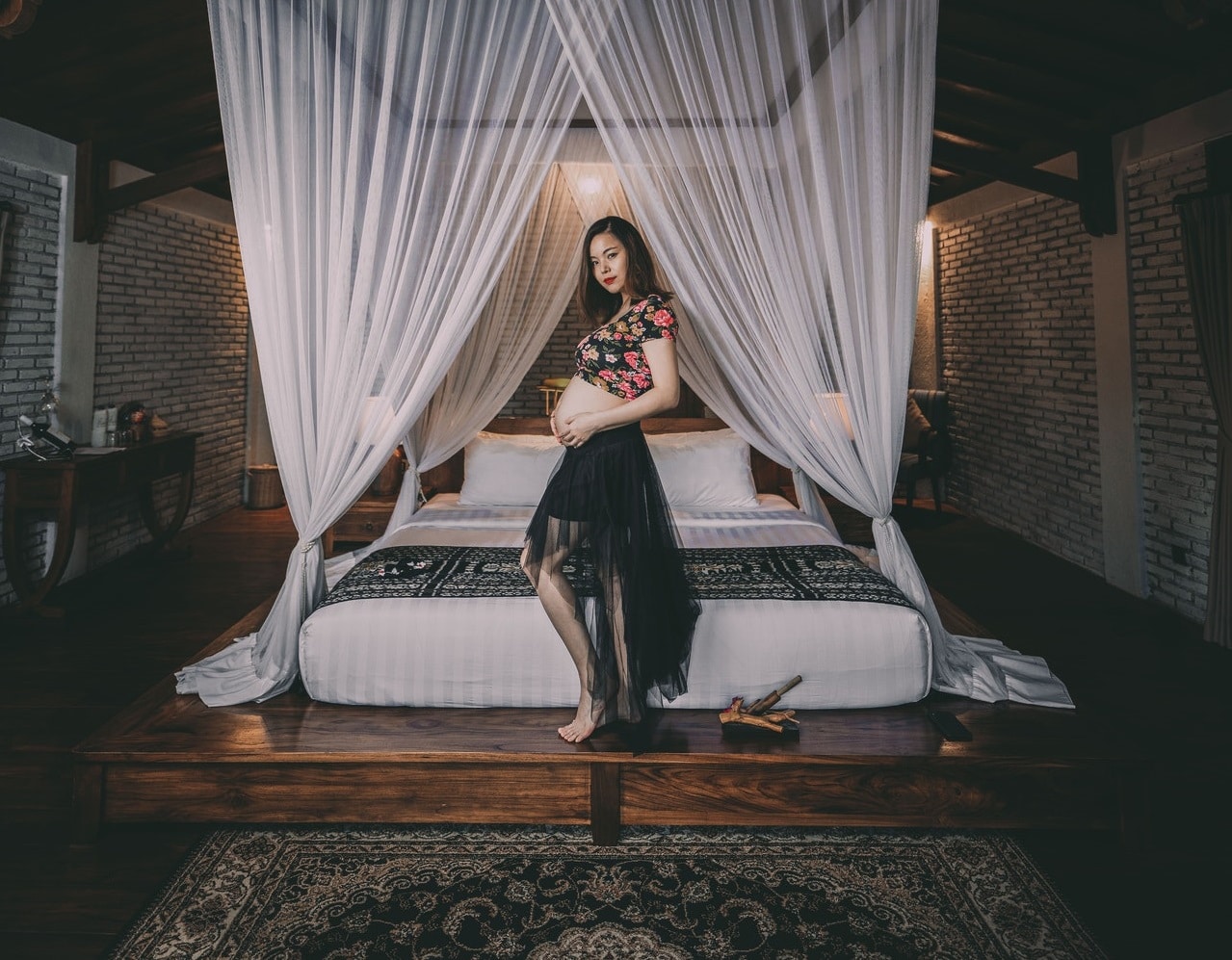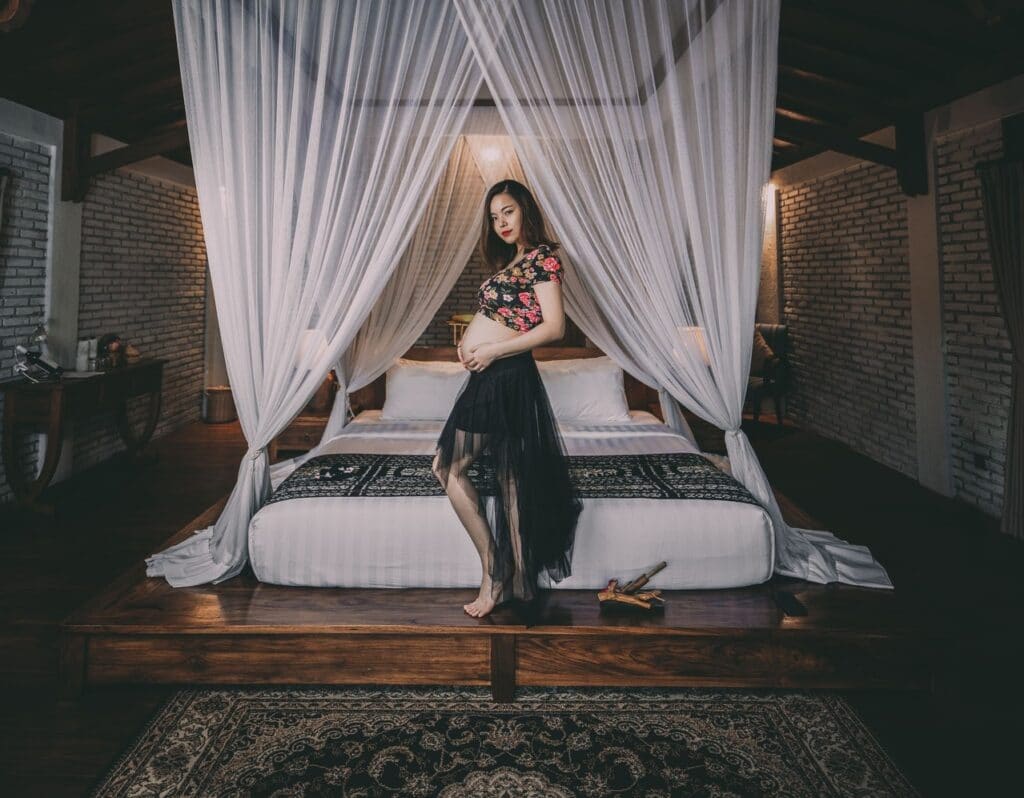 24. Shoot with laces maxi dress
Maxi dress can be a beautiful outfit in your maternity pictures. You have to try this maxi dress with the lace design and it'll look awesome on you in your maternity photo shoot. Wearing a laces maxi dress can make you feel more feminine and beautiful in your maternity pictures. Maternity pictures are the way to show your infants bump and you should flaunt it. And in laces dress, you can look like a queen.
25. Have a baby's gender revealing shoot
This maternity photo shoot is perfect for those who are having twins or more than two babies. In this photoshoot, you can have photos of your baby's gender reveal. This will be a unique and memorable maternity photoshoot for you and your family. For this, you need to have two different colored balloons with either pink or blue ribbon tied around them. You can have the photo shoot with the balloons in your hand and it will show the gender of your baby.
26. Maternity shoot with a pet
If you love your pet then include him or her in your maternity photo shoot. Pets are a part of our family and they deserve to be in the photos too. You can have photos with your pet, playing together, sleeping together, or just sitting side by side. This will make the maternity photoshoot more special and memorable for you.
27. Foodie Mommy Photoshoot
Food is a major part of our life and we can't imagine a day without it. So, if you're a foodie mommy then this maternity photoshoot will be perfect for you. You can have your maternity pictures shoot with a delicious cake or burger in your hand or posing with the coffee mug. Flash your beautiful smile and make this maternity photo shoot fun.
28. Shoot With Maternity Moms in Field
Maternity shoot outdoors is a better idea because you can get the magnificent natural scenery in your photos. Posing in front of the window with sunshine through it will also give you good quality shots. Choose your favorite dress, stand under the sun and go click an amazing photo for yourself and your family. You can make a natural headband by using flowers around your head and neck for a beautiful look.
29. Have an Exquisite Backdrops
There are so many things you can use as a backdrop for your maternity photos. You can go for an elegant look with luxurious curtains behind you or pose in front of a beautiful painting. If you have a garden, then you can use the natural surroundings as your background and look like a goddess surrounded by nature. There is no need to spend extravagantly on a maternity photo shoot; the natural surroundings can be more than just perfect for your photos.
30. Before and After pregnant belly shoot
There is another best creative idea for your maternity photo shoot and that's to take two types of photos, one before the pregnancy and another after the baby bump. These shots will depict how much pregnant you are and what changes occur in your body. These photos can be an eye catcher for those who haven't watched you till now and want to meet you after your maternity.
The Conclusion
We hope you enjoyed these creative maternity photo shoot ideas and gained some inspiration for your own. You can do a maternity photoshoot in your home with your family or somewhere in nature. You can also take professional pictures in some studio or in any other creative way that suits you. After reading this article, it is up to you how you will choose to do a maternity photoshoot because here we have given all possible ideas to make your maternity photo shoot memorable. If you have any queries regarding the photoshoot ideas then share with us through a comment below.