We all have the kids' rooms made to perfection, but probably everyone spends most of the time with them in the living room. If you're a stay-at-home mom or dad, you know how important it is to keep all sharp and dangerous objects in the living room out of reach because your kids may hurt themselves.
Thinking about changing some of the old furniture or items in this room means paying extra attention to details that will be child-friendly. Spending most of the time in a single room makes you bored with the place.
We're sharing six ideas for those moments when you're bound to make changes. See what you may get to add some playfulness to your living room, but still keep it safe.
1. Family portrait picture
Get a family portrait ordered, and when you receive the painting, hang it high on the wall without the chance for your toddler to reach it. Find the perfect spot and hang it there. It will enrich the room and make it entirely family-oriented.
Don't forget to make the correct measurements before ordering. You want to know how much the recommended dimensions are. The average canvas size is 20 by 24 inches, but you can order anything. If you have a wider room, you'll want something bigger. Measure what the best will be, and order what you love.
2. Rug in multiple colors
Kids can make quite a mess, but that doesn't mean you need to keep them locked in a cage. However, you may get items that will empower their creativity and look good in your living room at the same time. A perfect idea for this is getting a rug in multiple colors.
This kind of rug will make your kids fall in love with it, and your room will have that "we live with kids" effect. If your children suddenly drop the juice on the floor or decide to draw on the rug without seeing them, you can always get away with it because the rainbow rug is meant to be in many colors.
3. Leather armchair
It's challenging running after kids all the time. It's exhausting too. We all need some rest from time to time, and what's better than throwing yourself into the armchair with your feet placed on the ottoman?
Going through the furniture store, you'll find different pieces, but you want the leather armchair. Why? Because leather is easy for maintenance, and even if your kids try to "decorate" the furniture, you'll quickly wipe the paint off them using only a wet napkin. At the same time, leather provides comfort, so consider this an excellent idea.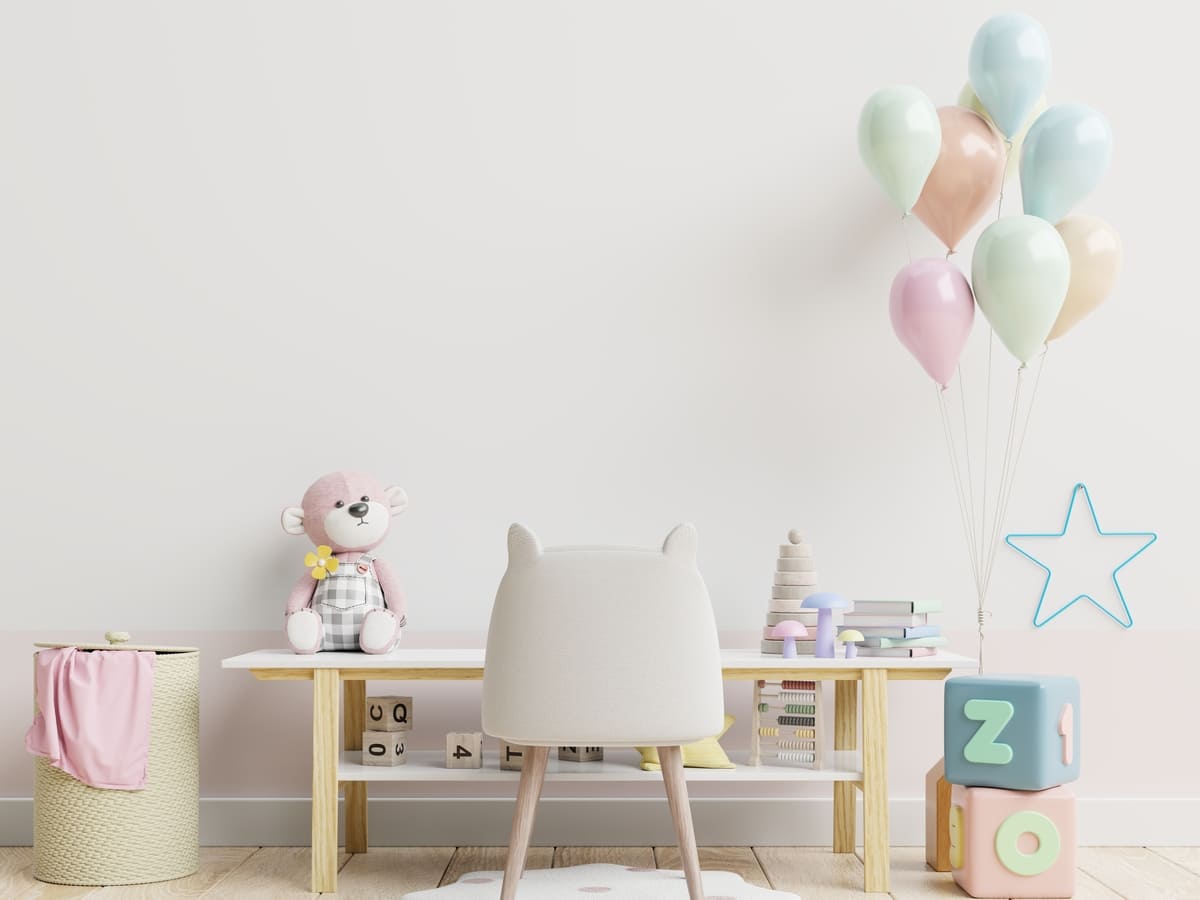 4. New round wooden coffee table
Is your old coffee table ready for replacement with a new one? If the answer is yes, then go ahead and do it. If the answer is no, think about how much time you own it. Is it nearly a decade? If so, then be sure it is ready for a replacement.
Go through the options in the store and look for a round and wooden one. How about some cool french provincial coffee tables, which are often made only from wood and look extravagant. Avoid glass, metal, and sharp objects because of obvious reasons.
5. A new bookshelf for that mess in the corner
Take a look around the living room right this moment. Is it filled with your children's toys? If so, don't worry; most parents' homes are the same. You can't spend the entire day walking behind them collecting toys, games, and books.
However, a tall-enough bookshelf can reduce the cleaning efforts by not allowing your kids to reach it and get whatever you place there. It may also look terrific in your living room by adding value to the rest of the furniture.
6. Behind-the-sofa slim cabinet to keep mugs out of reach
This is pure joy for all parents. Get yourself one of those slim cabinets or tiny tables that can be placed behind the sofa, which will make them out of reach for your kids. You barely see them when you walk inside the room, but they are so helpful.
One of the biggest parental challenges in the morning is to drink your coffee in peace. Even if you can get a couple of sips, you still need to mind where you leave the mug because those little rascals will find a way to spill it.
Conclusion
If you're a parent, you know how tough sometimes it is to keep above the water while taking care of your kids. It can be exhausting, so everyone should do something for themselves from time to time. Creating a better living room atmosphere is an excellent idea. See our thoughts above, and choose at least one of these items to improve your day.