Pregnancy is an exciting time full of anticipation and doing workouts can be a great way to stay healthy and active. Pregnancy workouts help you become stronger, healthier and make it easier to bounce back after having a baby. Moreover, pregnancy workouts can also contribute to the health of your child. As research has shown that workouts during pregnancy have a positive effect on unborn children too.
In addition, for your pelvic floor muscles, it's important to do exercises during your pregnancy. These are muscles that you use nearly every day but may not have thought much about. They help lift up the pelvic organs and keep them in place. Pregnancy workout apps help you stay healthy and active during pregnancy. Moreover, you can work out at home easily with these apps without any equipment and spend less money.
Generally, there are many pregnancy exercise apps on the market to choose from. With prenatal yoga instructors, videos, trackers, combined with high-quality information. You can find many pregnancy workout apps in the app store or Google play. In this blog, we have listed the best pregnancy exercise apps that you can check out to help.
Best pregnancy workout Apps
Though pregnancy exercise can be a great way to stay in shape during pregnancy. Many prenatal yoga poses are designed to ease the pains of pregnancy and enhance your overall well-being. Moreover, it is important to be aware that exercise has some limitations during this special time. For example, doctors recommend not exercising outside in high heat or humidity. Below we have discussed some best pregnancy exercise apps that will allow you to continue your workouts throughout pregnancy and they are:
1. Hypnobirthing Fit Pregnancy App
Best Meditation App For Pregnancy
The Hypnobirthing Fit Pregnancy App is a must-have for any expectant mother. This is one of the best pregnancy apps that provides a guided meditation for pregnancy that helps you feel better during pregnancy, labor, and birth. Hypnobirthing is a meditation technique that can help to ease anxiety and stress during pregnancy and can even help to shorten the duration of labor. The idea is that by relaxation and focusing on positive affirmations, you can train your mind and body to respond more positively to the birthing process. With Hypnobirthing Pregnancy App, you can be confident that you are doing everything possible to ensure a healthy and positive birth experience.
Features:
Daily meditations for each trimester.
Visualization and breathing exercises.
Reduce pain and achieve a calm pregnancy, labor and birth.
The app comes with two free audios, and if you decide to update for the premium, you will have to pay 6.99$/month or JUST 24.99$/Year.
---
2. Prenatal & Postnatal Workout
Best Prenatal Workout App
With this pregnancy yoga app, you can create a personalized workout routine during your pregnancy. The app contains many yoga exercises presented in 3 difficulty levels. You have to choose the exercise for each trimester and track your weight, belly size, symptoms and compare it with other pregnant women around the world. The premium version of the app is around $4.99 per item which is usually a one-time fee. If you completed the free trial period then if you want to join premium offers then you can. On the other hand, if you don't then it will not charge you. The Yoga teachers in this app are professional and experienced.
Features:
Offer trimester by trimester workout plans
Provide daily exercise routine at home during pregnancy
Give a 30-day healthy pregnancy challenge
Best pregnancy weekly workout app
---
3. Pregnancy Exercise
Best Pregnancy Exercise App
Pregnancy Exercise is a pregnancy fitness app that offers you customized workout plans. For each trimester, the app creates three-level tailored workouts (Beginner, Advanced, and Elite). Additionally, there are four workout types (Yoga, Pilates, Strength Training, and Cardio) which also include separate workouts for each day of the week. The free version of this app usually contains ads and users get to use only an introductory level. However, if you have leg cramps, pregnancy back pain, or any other problems then the app also provides workouts that are designed to target specific parts of your body. Moreover, you can track the progress of your maternity every day with a weight tracker.
Features:
Track your pregnancy progress and due date
Follow exercises for each week in every trimester
Provide best prenatal yoga practice at home free
This pregnancy app contains exercises animations, pictures, and descriptions
---
4. Prenatal Yoga
Best Prenatal Yoga App For Pregnancy
Prenatal Yoga is an app that helps you to get fit and healthy during your pregnancy. This is the best prenatal yoga app with a new workout labor prep plan for pregnant women includes how to breathe, relax and connect with baby during labor, three different birth positions for yoga practice. This app has a premium version that costs $9.99 for a month and $19.99 for three months. All the workouts plans are divided into three categories- beginner, intermediate and advanced. For core and pelvic floor strength, it also has a separate workout video. For actively staying healthy prenatal journey, you can add a meal plan and weight tracker in this app. For moms-to-be, it also has a section where you can record your baby bump progress with weekly updates.
Features:
Provide pregnancy boost feature
Best for pelvic floor exercises
Have 6 English-speaking voices
Not costly for maintaining your daily wellness habit
---
5. Kegel Trainer
Best Pregnancy Workout & Fitness App
This free pregnancy workout app will take you step by step through the process of performing Kegel exercises. The idea is simple: just add in a session and select your preferred time for it, then tap start and the app will vibrate to alert you when you need to squeeze and release. After finishing, you can save your workout schedule information and view the information about your previous workout sessions. The restorative yoga exercises and some other useful information about pregnancy can be found in the app's blog. The pilates teacher, physical therapist, and special instructions are also available for users.
Features:
Quick and easy to follow sessions,
Avoid the same yoga routine of kegel exercises
Provide daily reminders for a prenatal workout
Have in-app purchases option around $12.99
---
6. OH Baby
Best App For Pregnancy Exercise & Workout
OH Baby allows you to create an account and customize the intensity of your workout. You can set custom exercise length, a number of sets, and even rest time between sets. This app also helps its users to find a doctor and offers quick links for prenatal care, labor and delivery advice as well as other useful information about pregnancy. Therefore, you can save your baby's kick count, weight gain, doctor appointments, and other events. Additionally, you can track your pregnancy week by week with high-quality professional pregnancy photos. It is appropriate for both beginners and experts as it offers specifically target low-impact workouts. The free version of the app will contain banner ads and you will be able to access two workouts per session. Oh Baby! is the best fitness pregnancy app that provides pregnancy workouts to expected moms.
Features:
Helpful in tracking your baby growth and development
Have weekly exercise plans
Have Weight and Blood Pressure Tracker,
Provide nutrition guidance with editable packing checklists for mom, baby, and dad
---
7. Tone It Up
Best Post Pregnancy Workout App
This post-pregnancy workout app is specifically designed for expectant ladies. It includes more than 50+ exercises which include Pilates, yoga, and weight training to strengthen the core muscles. The Tone it up to app also provides with nutrition plan and recipes to make your pregnancy even healthier. Furthermore, this free prenatal yoga app comes with a part of the studio's fitness program for those who want to lose weight after giving birth. This is the best pregnancy yoga app because it does not only offer the usual routines that are followed by other apps but it also tells us when to breathe in or out.
Features:
Provide mindfulness exercises with great meal plans
Have perfect length prenatal yoga workouts targeted
Easy to use and have premium plans for new moms
500+ on-demand workouts for fitness level
---
8. Move Your Bump
Best Pregnancy Fitness App
This pregnancy fitness app provides the best prenatal exercise videos that support you throughout your entire pregnancy. This app also got placed in the best pregnancy workout app 2020 list because of its intuitive interface that lets you customize your workout plans if you are a beginner or an experienced fitness enthusiast. The app provides 40+ prenatal workouts designed by professional trainers that include Pilates, yoga, and dance-based routines. Moreover, it also has a four-star rating on the play store along with many positive reviews from happy customers around the globe.
Features:
Have 14-day workout challenges that specifically designed for every trimester
Customization should your yoga practice and nutrition,
400+-on-demand workout apps,
Pregnancy exercise has been designed by Pre and Postnatal Experts.
---
9. FitOn
Best Pregnancy Workout App
FitOn is an exercise and fitness app that allows you to plan your diet as well as your workouts. It calculates the calories burnt during a workout and how many more calories you should consume through the day based on your weight, height, and age. This pregnancy fitness app teaches you exercises that are safe for pregnant women. You can use this fitness app throughout your pregnancy as it has different workout plans for each trimester. Additionally, FitOn also lets you create a weight loss plan after the baby is born. This daily pregnancy workout app also has a built-in calendar that you can use to make daily plans.
Features:
Helps to reduce stress with calming yoga practices,
Provide yoga and pilates videos to do workouts,
Track your progress and improve posture,
Exclusive workouts with Gabrielle Union, Julianne Hough, & JVN.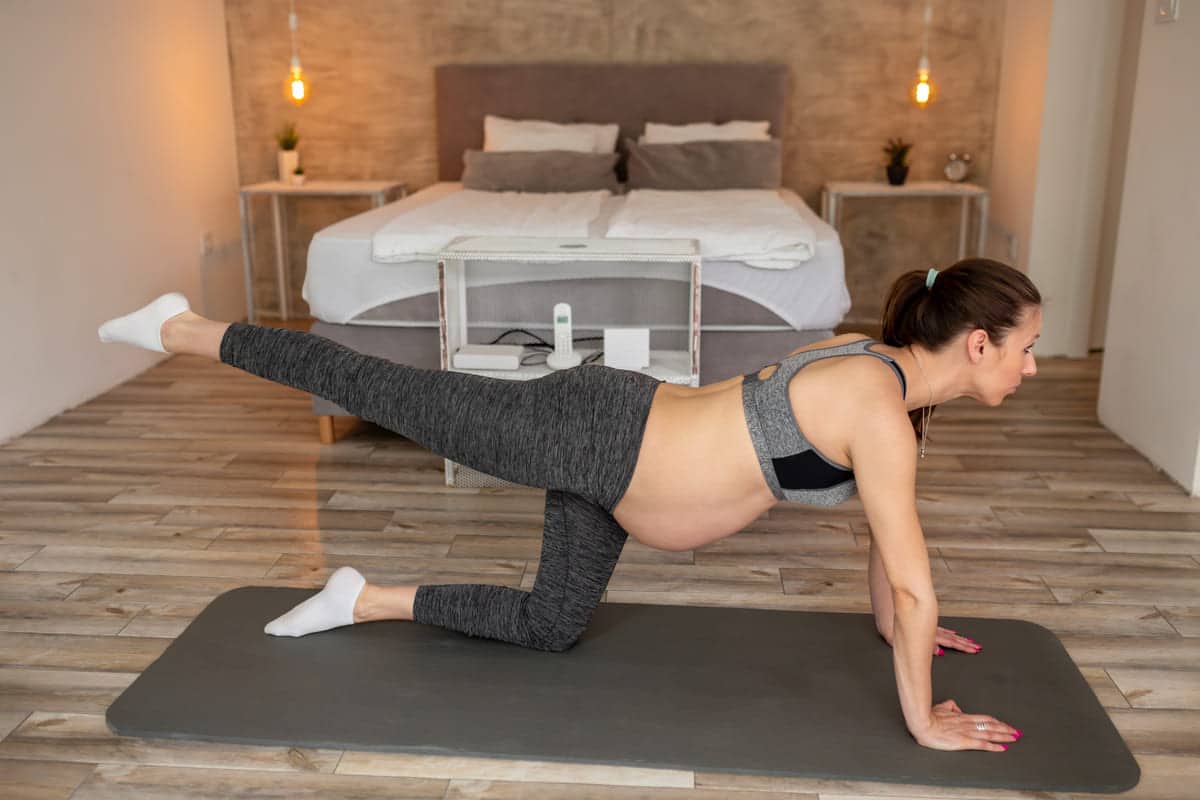 What are Benefits of Workout During Pregnancy?
There are many benefits to working out during pregnancy. Exercise can help you stay in shape, improve your mood, and reduce stress levels. It can also help you sleep better and reduce back pain.
Regular exercise during pregnancy can help you stay in shape and improve your overall health.
It can also help to relieve stress, improve your mood, and reduce back pain.
Exercise can also help you sleep better at night and may even reduce the risk of developing gestational diabetes.
Overall, staying active and exercising during pregnancy is beneficial for both you and your baby.
The Conclusion
Whether you're a fitness enthusiast or just starting to exercise, there are many different pregnancy workout apps you can choose from. We've listed our favorites above to help with your decision-making process when it comes time to pick one for yourself or someone else who is pregnant and wants a fitness program that works for them. All of these programs offer video tutorials and exercises, but they do differ in terms of features and cost so take some time before making any purchases. We hope this article has been helpful take a look at our list and see which one is right for you. And don't forget to consult with your doctor before starting any new exercise routine. If there were other apps we should have included on this list, please let us know in the comment below.