Women's health is a vital aspect of overall health and well-being. A balanced, nutritious diet is key to keeping your body healthy, but even the best diets can sometimes fall short on essential vitamins and minerals. That's where multivitamins can come in handy, providing an all-in-one nutrient boost to help you reach your daily recommended intake. But with so many different multivitamins on the market, it can be tricky to know which one is right for you.
When it comes to vitamins, women have unique needs. A dietitian can help you create a well-rounded diet to improve your health, but it's important to also take multivitamins and minerals to fill in any gaps in your nutrition. That's why it's important to choose a multivitamin specifically designed for women's health. Here are some of the best multivitamins for women in India, based on the recommendations of a dietitian.
Best Multivitamins for women in 2022
As we said multivitamin is a combination of many vitamins that are essential for the body. With a healthcare professional help, you can identify which vitamins you are lacking. Although vitamin b complex and vitamin d are the most common vitamins prescribed in a supplement, there are other important nutrients like calcium, selenium, and iron. A good multivitamin supplement will help you to reach the Recommended Dietary Allowance (RDA) for most of these vitamins which is essential for optimal health. Below we will be discussing the best multivitamins for women in India and they are:
1. Purayati- Multivitamin for Women
Price: ₹ 632
Buy on Amazon
This supplement by Purayati provides 23 essential nutrients which are required by the body. It is a complete multivitamin supplement that helps to fill the nutrient gap in the diet. This supplement is rich in antioxidants and helps to support immunity. It also contains B-complex vitamins which help in energy metabolism. The Purayati Multivitamin for Women is a vitamin and mineral supplement that includes necessary components to help Active and Working Women maintain their health. Zinc and iron are two minerals that help to maintain healthy bones and teeth. Vitamins such as C, E are effective antioxidants that support the Immune system.
Benefits:
Made with high-quality ingredients
Third-party tested
Helps in strengthening the body and dodging health risks like cardiac issues, diabetic issues, and skeletal muscle dysfunction.
Help support normal Immune function
It contains Vitamin B1, B2, B3, B5, B6, and B12.
---
2. DR. MOREPEN Multivitamins For Women
Price: ₹ 499
Buy on Amazon
With 22 powerful herbs and 43 essential nutrients, this supplement provides complete nutrition to women. The ingredients in it are 100% natural and help to support various functions of the body. It also contains folic acid which is important for pregnant women. This supplement helps to boost energy levels and supports immunity. As well as to take a multivitamin of the day, one tablet of this supplement should be taken daily with meals. It does not contain any artificial colors or flavors and is safe for consumption.
Benefits:
Stronger bones and muscles
Enhanced immunity
Helpful to balanced hormones
Make strong your stamina
It is the best blend of vitamins and minerals
---
3. Boldfit Multivitamins for women
Price: ₹ 479
Buy on Amazon
If you are looking for a comprehensive multivitamin supplement that provides all the essential nutrients, then look no further than Boldfit's multivitamins for women. This supplement is specially formulated to meet the unique nutritional needs of women and is ideal for those who lead a busy lifestyle. If you need gluten-free and lactose-free options, Boldfit also offers these versions of their multivitamin supplement. Boldfit women's multivitamins avoid the risk of deficiencies and help fill in the gaps in your diet.
Benefits:
Enhanced immunity
Boost energy and supports bones and muscles
Ideal for skin, hair, and nails
Gluten-free
GMP certified
---
4. GNC Women's One Daily Multivitamin
Price: Price not available
Buy on Amazon
This is the perfect capsule of what to look for in a multivitamin for women's health. It has all the important nutrients like vitamins A, C, E, B-12, and folic acid. This multivitamin is also rich in calcium and magnesium which are very important for bone health. It comes in a pack of 60 capsules which is quite reasonable. These capsules of the daily value of nutrients that a woman needs and is also easy to digest. This is the best multivitamin for women over 30 years old. Moreover, the special herbs of this multivitamin make it an excellent supplement for overall health and well-being.
Benefits:
Provide natural support to your skin
Non-vegetarian tablets
Improve your energy level at work
Lutein and Zeaxanthin improve your eye health
Best for women above 30 years of age.
---
5. Garden of Life mykind Multivitamin
Price:
No products found.
No products found.
The Garden of Life multivitamin is made with whole food and certified organic ingredients. It has no synthetic binders or fillers, and no artificial colors, flavors, or sweeteners. Garden of Life mykind Multivitamin is also non-GMO and gluten-free. Furthermore, this multivitamin is designed specifically for women and contains vitamins c, as well as calcium, and magnesium for bone health. If you think to buy this product, you can find it online as well as in vitamin stores.
Benefits:
Contains Lemon-Lime citrus bioflavonoids
Enriched with vitamin c
Third-party tested
Organic Antioxidant Berry Blend
Improve your body strength
---
6. OZiva Daily Women's Multivitamin
Price: ₹ 349
Buy on Amazon
This daily multivitamin supplement is designed especially for women who want to improve their overall health and wellness. It contains a blend of vitamins, minerals, and antioxidants that help support bone health, heart health, and immunity. The OZiva Daily Women's Multivitamin is also specially formulated to assist with weight management and energy levels.
Benefits:
Promotes eye health
Provide strong bones and muscles
Avoid stress and inflammation problems
100% clean and vegan
No artificial preservatives
---
7. WOW Life Science Multivitamin
Price: Price not available
Buy on Amazon
Formulated with a balance of essential vitamins, minerals, and antioxidants, this supplement promises to keep you in the pink of health. It is enriched with biotin, folic acid, calcium, and Vitamin D3 which are important for women's health. This product also contains enzymes that help break down food so it can be digested properly. WOW Life Science Multivitamin can help you maintain a healthy cholesterol level in your bloodstream.
Benefits:
Promotes healthy nerve functions
Support cholesterol level
This nutrition blend contains 12 essential vitamins and 11 macro minerals.
It Contains antioxidants and enzymes
Maintain healthily bones and muscles
---
8. Wellbeing Nutrition Slow Multivitamin
Price: ₹ 1,737
Buy on Amazon
This is decent quality, moderate discharge multi-nutrient supplement from Wellness Nutrition. It contains vitamins like A, C, D, and E, just as minerals like iron, calcium, magnesium, and zinc. It's suggested for ladies who are hoping to help their all-around wellbeing and prosperity. Wellbeing Nutrition Slow also boosts energy levels and improves hemoglobin levels. The product comes in easy-to-swallow capsules which can be taken once or twice a day with water or food for best results. You should consult your doctor before starting on this supplement especially if you are taking any other medication.
Benefits:
Boost energy
Improve hemoglobin level
Provides VMS support
Reduces UTI (Urinary Tract Infections)
Strengthen bones and jones
---
9. Swisse Women's Multivitamin
Price: ₹ 844
Buy on Amazon
This supplement is designed to meet the needs of women who are looking for an all-around health supplement. It contains vitamins A, C, D, and E, as well as B-group vitamins and minerals such as iron, magnesium, iodine, and zinc. Swisse Women's Multivitamin also includes antioxidants to help protect cells from damage. Swisse Women's Multivitamin also provides helps to relieve stress and improve sleep quality while providing antioxidant protection against free radicals.
Benefits:
GMP certified
Helps boost energy
It has vitamin B12, B6, C, E etc.
Allergen-free
Provide help to relieve stress
---
10. HealthKart HK Vitals Multivitamin
Price: ₹ 399
Buy on Amazon
This product is a daily supplement that contains 26 essential nutrients. It comes in a convenient tablet form and is easy to consume. HealthKart HK Vitals Multivitamin is specially formulated for women and provides 100% of the RDA for most vitamins and minerals. The product is GMP certified and does not contain any artificial colors or flavors. Moreover, in the Indian market, this product is one of the most affordable multivitamins for women.
Benefits:
Enhances physical performance
Improving skin health and energy
It contains Vitamin D, B1, B12, and Iron
Gluten-free
It also has Vitamin c and Zinc
---
11. TrueBasics Multivit Women
Price: ₹ 1,549
Buy on Amazon
TrueBasics Multivit Women is a complete multivitamin supplement that has been designed keeping in mind the specific needs of women. It contains 24 nutrients including vitamins, minerals, and antioxidants. These work together to support the overall health of women. This supplement is also helpful in reducing the risk of lifestyle diseases such as obesity, heart disease, and stroke. Moreover, if you take this supplement regularly, then it can also help in improving your energy levels and overall immunity.
Benefits:
100% RDA of vitamins and minerals
Made with clinically researched Ingredients
Antioxidant blend
Enhance immunity and energy
It improves joint flexibility & mobility
---
What is the best multivitamin for women's health in India?
There are many great multivitamins for women's health available in India. Some popular options include the HealthKart HK Vitals Multivitamin, the garden of life mykind, and the TrueBasics multivitamin. All of these brands offer high-quality products that provide a range of essential nutrients needed for optimal health. So whichever one you choose, you can be sure you're getting the best possible care for your body.
Do third-party testing multivitamins best to take?
Yes, third-party testing multivitamins is the best way to make sure you're getting what you're paying for. Many vitamin and supplement manufacturers don't undergo rigorous testing by independent organizations, so taking a supplement that has been tested by an unbiased third party guarantees that you're getting a safe and effective product.
Is it safe to take multivitamins daily?
Yes, taking a multivitamin daily is safe for most people. However, if you have any underlying health conditions or are taking other medications, please check with your doctor first. Multivitamins are generally considered safe, but there are always potential side effects with any supplement. Therefore, it's always best to err on the side of caution and get the okay from your physician before starting any new supplement regimen.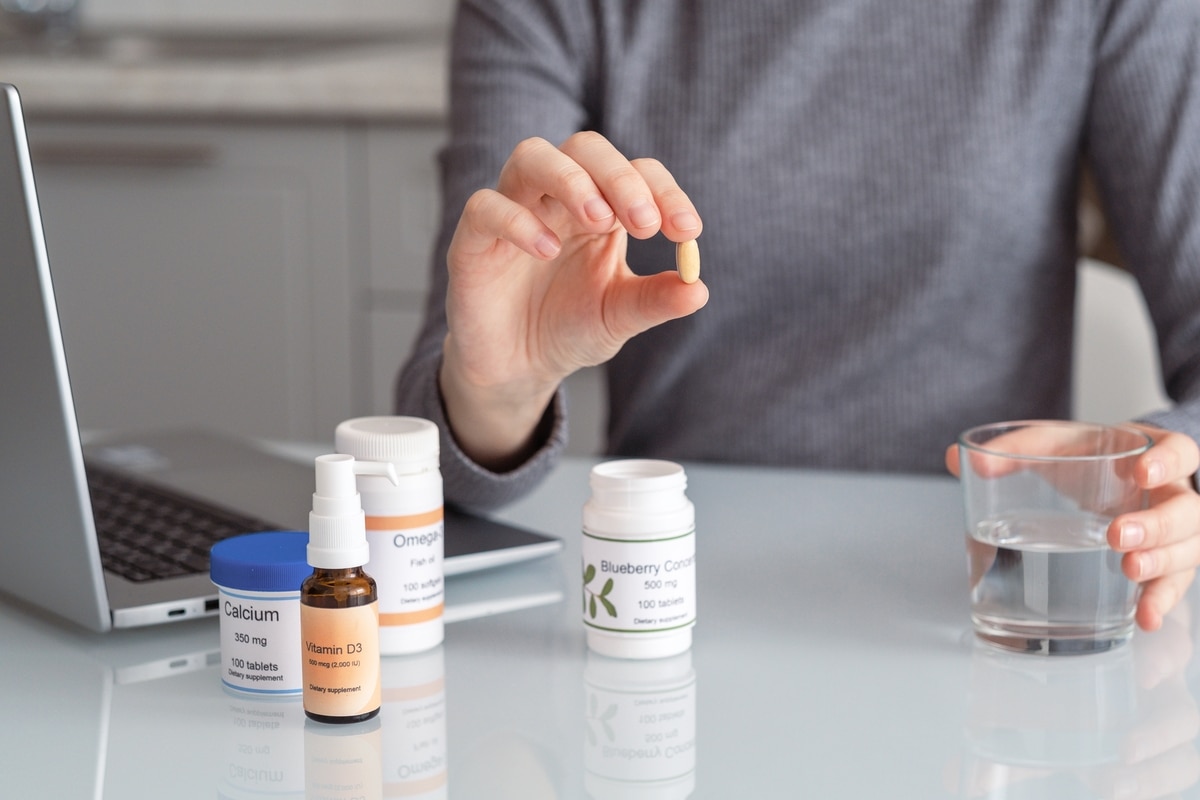 Do multivitamins have side effects?
Yes, multivitamins can have side effects. For example, large doses of vitamin A can cause liver damage, and high doses of b vitamins like B6, and B12 can cause nerve damage.
Multivitamin supplements also contain other ingredients such as minerals, herbs, and antioxidants. Some of these ingredients may also have side effects if taken in large doses. For example, calcium supplements may increase the risk for kidney stones, and iron supplements may cause constipation.
So it's important to read the label carefully to make sure you're not taking too much of any particular nutrient. And it's always a good idea to talk to your doctor before starting a multivitamin supplement, especially if you're taking other medications or have any health conditions.
The Conclusion
Therefore, taking a multivitamin supplement is important for women who have a poor diet or are unable to get the recommended daily intake of vitamins and minerals from their diet. While there are many different brands and types of multivitamin supplements available on the market, it is important to choose a supplement that is tailored for women's specific needs. In the above, we have outlined the best multivitamin supplements for women's health in India according to a dietitian. We hope that this article has helped you in making an informed decision about which supplement is right for you. If you have any queries or would like to share your experience with taking a multivitamin supplement, feel free to leave a comment below.