Breakfast is an important meal of the day. It helps kick start your child's brain and body to be able to focus and function at their best for the rest of the day. Breakfast provides them the energy they need to play and learn. Eating a healthy breakfast also helps maintain a healthy weight. And since breakfast is often the meal that's easiest to prepare and eat. It's important to make sure children have access to a healthy, nutritious morning meal that they enjoy eating as much as possible.
Though easy and healthy breakfast ideas for kids might seem hard to come by. But there are actually a lot of simple, healthy breakfast recipes you can make for your younger ones. Generally, kids love to eat fruity breakfast items. So, naturally, fruits are great beginner healthy recipes for children to try in the morning. Just make sure to remove any seeds and pits so they don't choke on them.
If your kids want something with a little more substance in the morning, switch out their usual cereals for healthier options like whole-grain bread and french toast, or yogurt and granola. In this post, we'll share 17 of our favorite recipes that are nutritious and delicious. From oatmeal to yogurt parfaits to scrambled eggs, there's something here for everyone.
Best breakfast ideas for kids
Though eating a healthy breakfast does not just fill their tummies and set off the energy meter for the morning. But is also essential in learning cognitive skills and improving academic performance from preschool to college years. In fact, studies have shown that children who eat a healthy breakfast have better cognitive skills and are more creative and attentive at school. When you want to send your kids off to school with the best possible start in life than serving them good morning food can go quite a long way. That's why below we have outlined easy healthy breakfast ideas for kids that will help you start their day right and they are: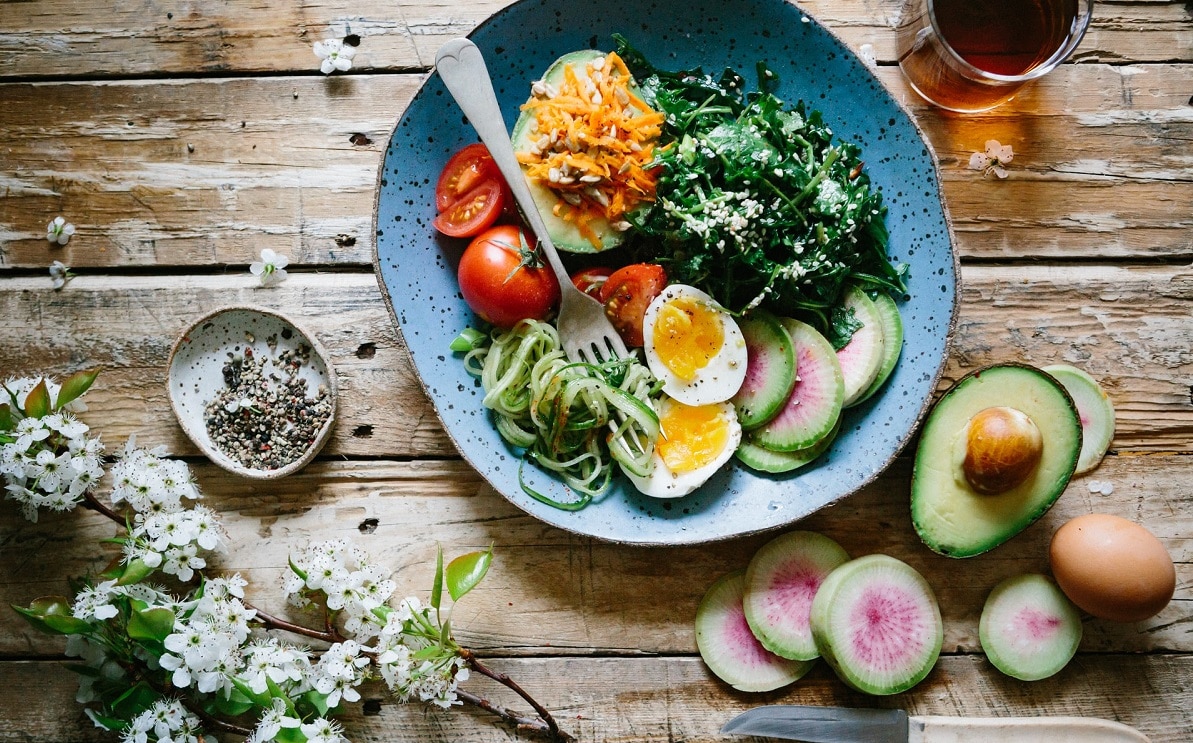 1. Egg and vegetable muffins
Eggs are a great source of protein which gives your kid's body the essential building blocks needed to keep them energetic all morning. They also contain amino acids, vitamins, and minerals that are important for brain development too. Vegetables are another source of energy-boosting ingredients. Egg muffins and egg yolks with veggies are a great way to get both these ingredients into your kid's tummies in a tasty way. To give a nutritious twist to this recipe, add different vegetables in muffin shapes and freeze overnight. In the morning all you need to do is pop them into the oven and your healthy breakfast is ready. If you want to make your child eat hard-boiled eggs then you can serve it with vegetable muffins.
2. Ham and Cheese Frittata
Kids love eggs and a simple frittata with a twist of ham and cheese will not fail. Making them is so easy as you can use any vegetables that your kid likes, you could even add carrots, broccoli, meats, or chicken to make an interesting meal. Cottage cheese adds flavor and fat-soluble vitamins too which make it a great dish to eat and this is a quick breakfast idea. All you need to do is beat an egg and pour it into a skillet mixed with veggies and ham and cook until done. You can also add cheese right after pouring the egg or just before it sets since melting cheese may cause your frittata to burn. If you want to add cream cheese then you can go with it.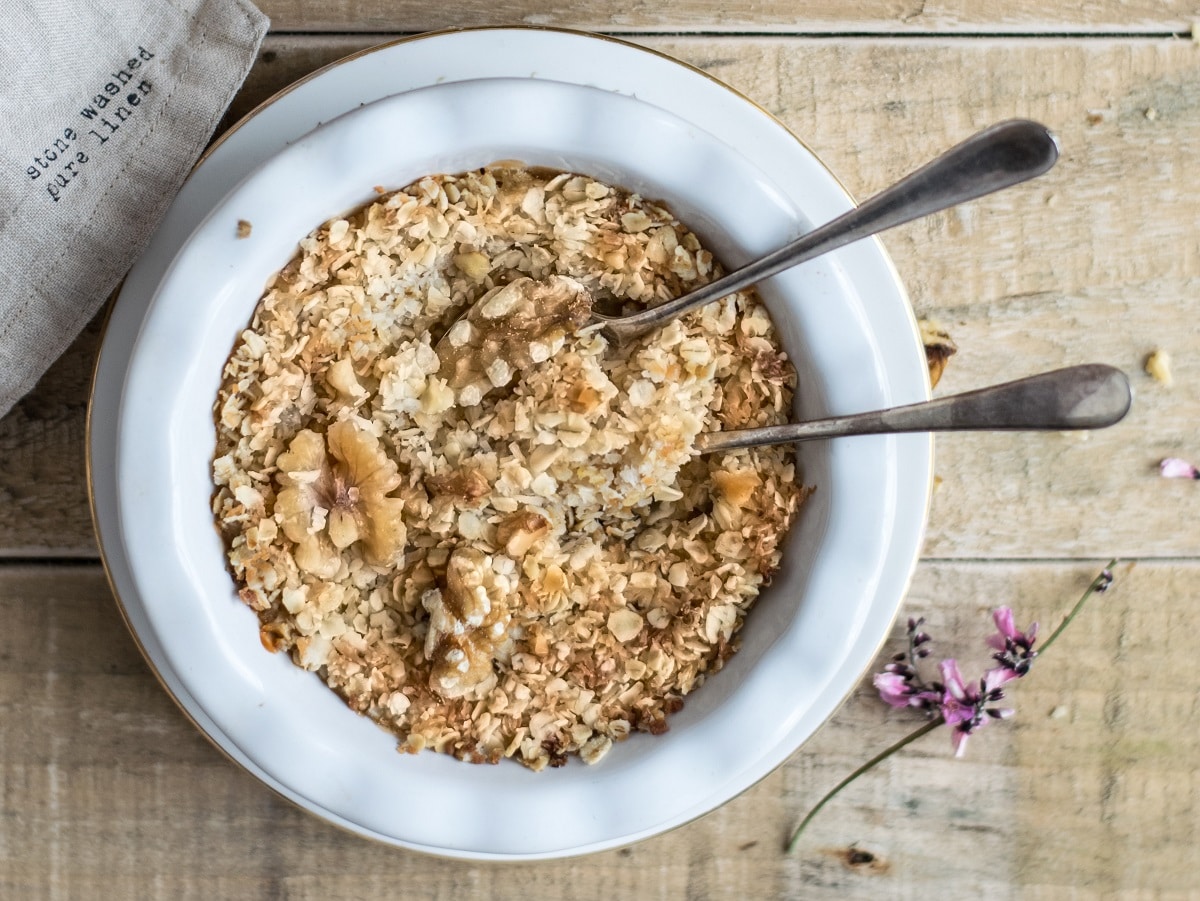 3. Baked oatmeal
Baked oatmeal is a healthy breakfast option that contains no dairy, is low in fat, and does not contain added sugar. So you can serve it to your kids any time of the day without worrying about their growing bones or morning hyperactivity. It takes only 25 minutes to make four servings of baked oatmeal that are filled with heart-healthy whole grains, fruits, nuts, and chia seeds. You just have to mix all the ingredients in a bowl and bake it for 20 minutes. This recipe is great to generate healthy fat and protein and is so easy to make.
4. Overnight oats
Overnight oats are a great way to start your day as they provide a great energy boost to keep you going all day long. They contain fiber, protein, and other important minerals that help your children reduce their risk of heart diseases or obesity. You can have them anytime but if kids feel more excited about this breakfast idea then go for it as it is a great way to keep them going until lunch. You need to soak the oats overnight in milk or greek yogurt and top it up with some fresh fruit, chocolate chips, nuts, peanut butter, etc. Breakfast burritos with oats are another great way of adding oats to your child's diet.
5. Blueberry mug muffins
Muffins are easy breakfast ideas for kids as it comes with healthy ingredients that your kids will love. You can try blueberry muffins as they are a great source of fiber, vitamin C, and antioxidants. For this recipe, all you need to do is to combine 1 cup of mashed blueberries, 2 tbsps of organic coconut sugar, 1 tbsps of whole wheat flour, ¼ tsp baking powder, 1 egg white, and ½tsp vanilla extract. Combine well until the mixture becomes thick. Then fill greased muffin molds with this mixture. Sprinkle some nut butter on top of it and bake for around 12 minutes at 180C. Serve with fresh berries or any fruit jam of your kid's choice.
6. Avocado Toast
Avocado is a super fruit that contains healthy fat, vitamin K, fiber, and minerals. Avocado toast with sliced cucumbers and tomatoes is the best healthy breakfast for kids as it tastes great too. Spread some mashed avocado on top of whole wheat bread toasts along with thinly sliced veggies like cucumber. Add salt and pepper according to your taste. This is one of the best breakfast ideas for kids as it contains protein and healthy fat, which helps to keep them active all day. If your kid likes greek yogurt then you can also serve greek yogurt along with avocado toast. To give high-protein breakfast ideas to your kids, you can add boiled eggs as well.
7. Veggie and hummus
It is a healthy habit to teach your kids to eat veggies and fruits as they help in the growth and development of your children. But we find it difficult because children don't like their taste much. But if you spread hummus over the veggie slices then it tastes great and they will be able to eat their veggies. Spread some hummus on celery, cucumber, carrots, bell peppers, etc for healthy snacks or breakfast ideas. If you want to add almond butter then you can do so but make sure that you are not overloading with fats.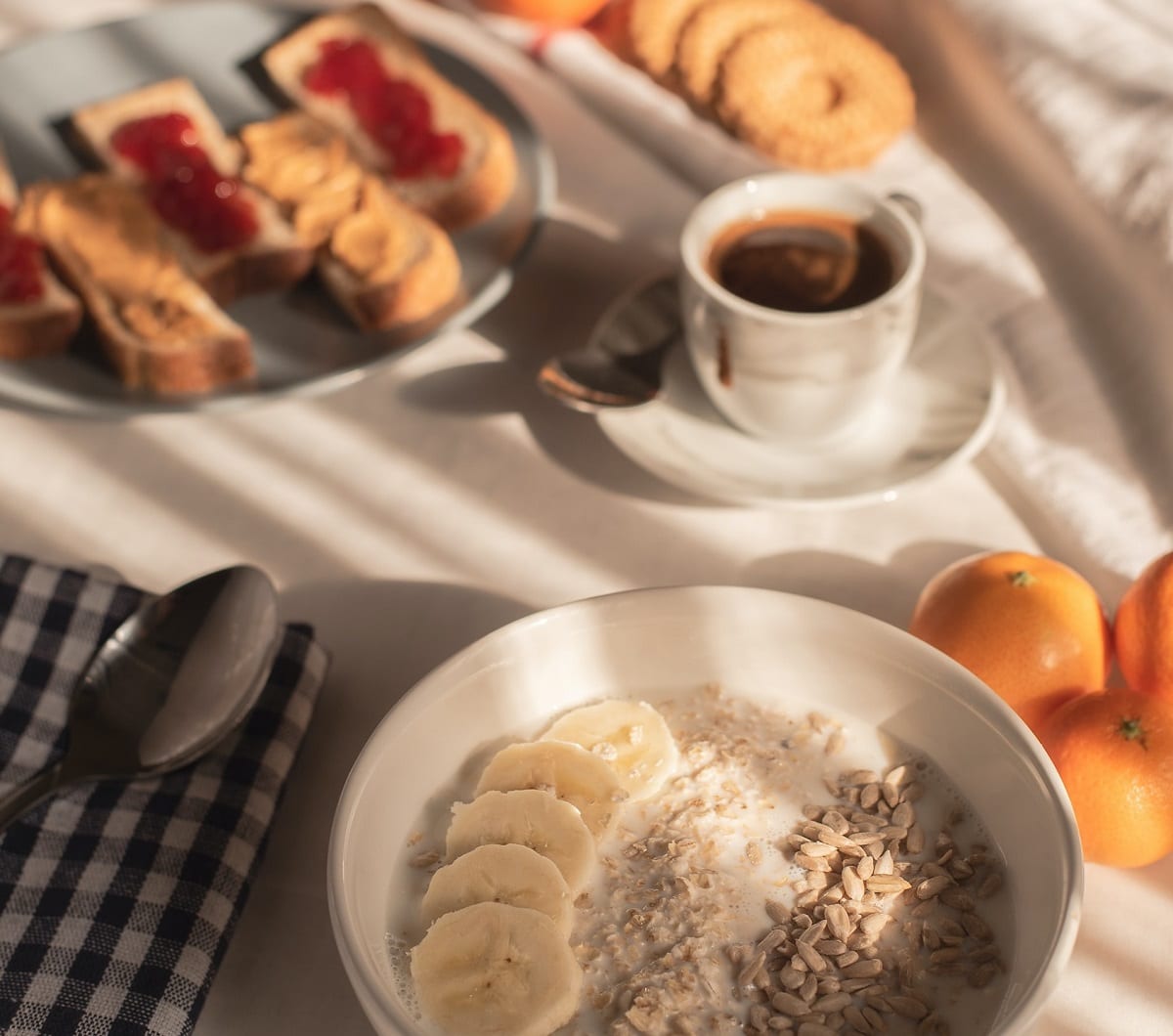 Banana-based snacks are a great way to start your day. They are healthy, nutritious, and also taste good too. Make some quick peanut butter cookies stuffed with mashed banana to kickstart their morning. Kids will love the fact that they can eat these treats any time of the day. If you want to make healthy breakfast bars instead of cookies, then you can use whole wheat pastry flour, mashed banana, ground flax seeds, peanut butter (or any other nut butter), salted peanuts, or salted almonds. For breakfast time these banana cookies will make an excellent treat.
9. Whole grain muffins
Whole grains are another healthy breakfast options for kids. We are sure your child will love this whole-grain muffins recipe. Using oats in your baking not only adds a delicious flavor but also makes muffins healthier and more nutritious. You can add fresh fruits like blueberry, apple, or banana to make the recipe tastier and more tempting to pick from the plate. You can also go with the idea of whole-grain pancakes that are easy to prepare and taste yummy too. You can even roll them into wraps with some veggies for a more nutritious twist and your whole family will love them.
10. Chocolate chips and pancakes
This recipe is the perfect way to get your child started on a healthy morning. A good breakfast also includes a bit of protein and chocolate chips pancakes with berries are a great way to get this into their systems in a tasty way. If you want to make these pancakes healthier then cut out white flour and use whole-wheat flour or almond meal instead. You can even coat them in oats or flax seeds for some extra crunch. For picky eaters, you can cut the pancakes into animal shapes or include chocolate chips.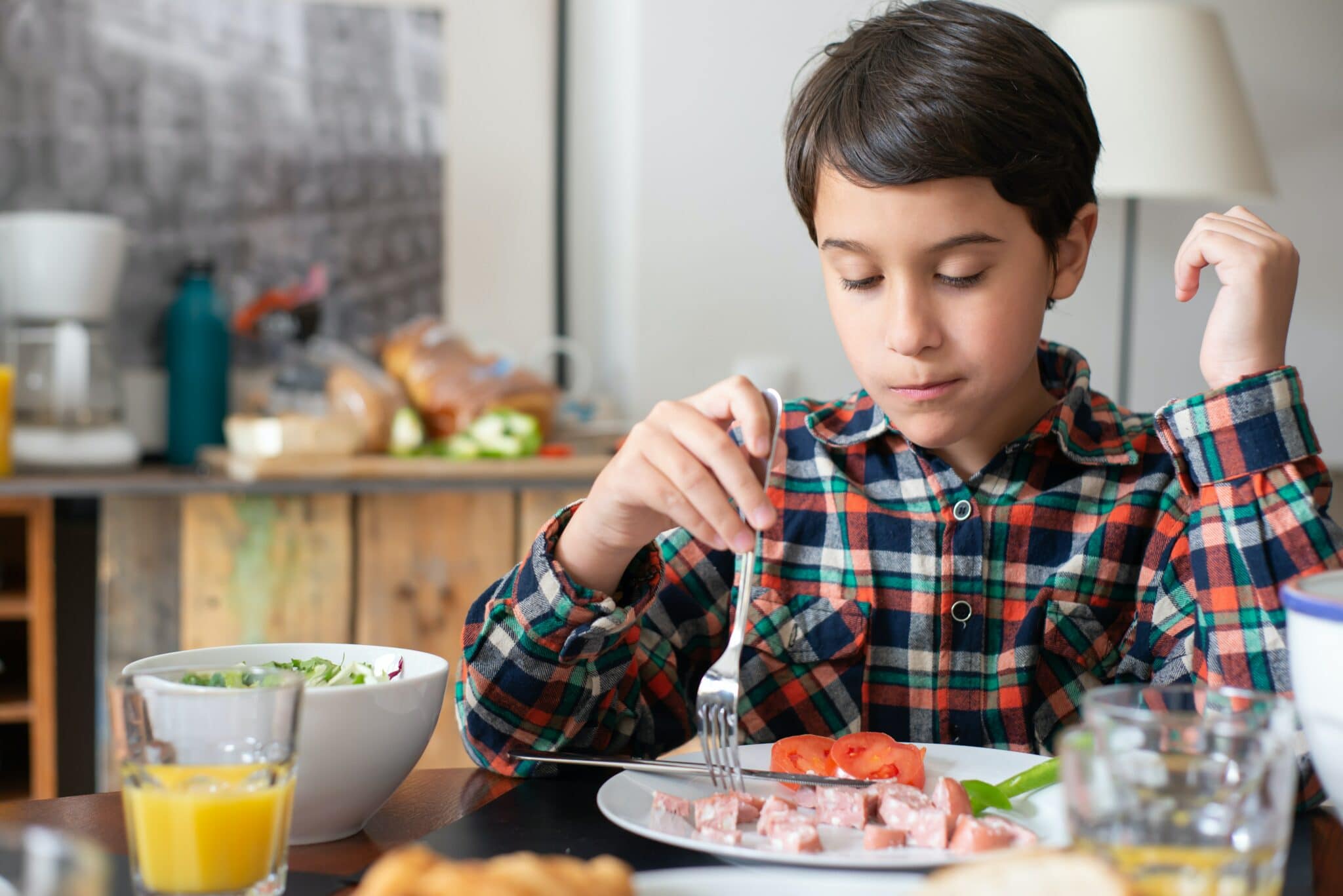 11. Unicorn fresh fruit and greens smoothie
Smoothie is a healthy and nutritious drink that kids will love as well as enjoy preparing it too. You can blend all sorts of different fruit with any leafy green vegetable to create a concoction. The more you experiment the better your smoothie will taste and also be rich in nutrients for growing kids. Fresh fruits and veggies smoothie is a great and healthy breakfast idea for kids. These recipes make an impressive drink that is not only healthy but also looks fantastic. The secret to this bright fruit smoothie is the use of natural food dye instead of artificial colors for this unicorn delight.
12. Beery Yogurt parfaits
This is a great way to start your kid's morning and keep them healthy and energetic. It's also simple to prepare: just layer some yogurt, cereal, and fruit into a jar or glass and give it a good stir before giving it to your child. Start with plain low-fat yogurt for the best taste as kids may not enjoy sweetened yogurt at first. Gradually introduce sweetened yogurt into their diets as they are more likely to eat them that way. Layer the parfait with different flavors of yogurt and vary the cereals that you use too. Moreover, kids also love to eat fruit with their favorite yogurt flavor. So, by layering the fruit too you are not only adding necessary vitamins and minerals but making their breakfast more fun.
13. Yogurt and Granola
Cereal bars provide a quick and healthy breakfast option but we always recommend adding greek yogurt because it contains proteins, calcium, fats, vitamins D and B12, potassium, zinc, phosphorus that you get from natural sources. You can add granolas too which will give you the energy to start your day. Just pick up some cup types of granola according to the age of your kids and mix it with fruits, nuts, yogurt, coconut flakes, or chocolate chips. You can even prepare scrambled eggs which are a great breakfast option for busy mornings or if you want to add nut butter then sprinkle some on top.
14. Whole-grain toast
Whole-grain is another great way to keep your kid's tummy full without loading them with simple sugars. French toast made from whole grains can be a quick fix since you can make many servings at once and reheat it as per the requirement. This recipe won't take more than 30 minutes to prepare which includes preparation, baking, and cooking time along with cleaning. Use whole-wheat flour bread slices dipped in a bowl containing eggs, milk, vanilla extract, cinnamon powder, and nutmeg powder for best results. Or you can add some chocolate or apples in between for an enhanced taste. If you want to give some healthy taste of almond butter then you can spread a thin layer of it over the bread slices before dipping them in the bowl.
15. Jelly sandwiches
Jelly sandwiches are a healthier option to make your kid's breakfast amazing. Jelly is made up of fruit juice (and corn syrup) with food coloring is added to it which acts as an artificial flavoring agent. Kids love this sweet sandwich, but the sugar in jelly provides them with very little nutritional value and calories that can help boost their energy levels. For a healthy version of a jelly sandwich, cut white bread into triangles and spread strawberry or raspberry jam as a healthy alternative to jelly. Your kid will love this simple yet delicious breakfast. Therefore, start this easy and healthy breakfast idea to make your kids' morning a treat.
16. Whole wheat toast with frozen pancakes
Wholegrain bread is one of the best sources of energy for children. Whole wheat toast with frozen pancakes makes a great combination. You can pack them in school lunches or simply include them in breakfast. While the latter choice is not only nutritious but also tasty for kids. For making frozen pancakes, you can use whole-wheat flour and add fruits like bananas and blueberries to it. This will increase the fiber content of this recipe and improvise taste too. If you want to go a step further then you can include sprouted beans and veggies in the shape of a pancake. Furthermore, you can substitute honey with chocolate chips or berries for an innovative twist.
17. Frozen Banana Pops
Banana pops are easy and quick breakfast ideas for kids as they require very little ingredients and time to make. This is a good option for those parents who struggle in the morning rush to get their kids ready and out of the door. Peanut butter and banana pops are a great source of instant energy. Take a toothpick and poke in some bananas, add peanut butter on them and freeze overnight. In the morning your healthy breakfast is ready to eat without much hassle or mess. For your kid's balanced meals, serve them with some whole-wheat toast, hard-boiled eggs, and fresh berries.
The Bottom line
Therefore, no matter what you choose to eat for breakfast, make sure your child has a nutritious meal to start their day. Breakfast is the most important meal of the day, and it's an especially crucial time for kids. As a parent, it's your job to ensure that kids get essential vitamins and nutrients. After reading this post, we hope you've found a few ideas for healthy and fun breakfasts that your kids will enjoy. Make sure to keep breakfast balanced by including protein and fiber-rich foods like eggs or fruit with every meal. Remember, it is important to start each day off on the right foot. If you need more ideas for quick morning meals then leave a comment below.