Dressing yourself is a breeze since you know which clothes look good on you or feel the most comfortable. However, it can be daunting when it comes to dressing your baby girl. Since your daughter has no fashion sense yet, you'll need to rely on your own styling and fashion sense to dress her up. Furthermore, aside from being creative and trendy with their dresses, you also need to take note of your little girl's comfort. Otherwise, picking the wrong clothes can bring discomfort and skin issues to your baby's delicate skin.
This article will give you some tips and tricks on dressing up your baby girl with the right colors and patterns, as well as on finding the balance between style, fashion, and comfort. Once you get the hang of your baby's fashion and styling, you'll realize that dressing her up is just as fun as dressing up a barbie doll.
To get started, here are seven stylish tips for dressing your baby girl the perfect way:
1. Keep It Simple
If you check out baby girl dresses online in the mall, you may find dresses with motifs and embellishments that are cute and fashionable. However, clothes and dresses with exaggerated embellishments can irritate your baby, not to mention that these will hamper your baby's natural charm and cuteness. Moreover, some of these clothing ornaments, like buttons, tiny bows, or glitters, could accidentally be removed or torn, and your baby may swallow them.
So, opt for dresses that are simple yet still elegant and stylishh. You can find the best baby girl dresses in online and physical stores with colorful prints and stylish patterns but fewer embellishments. Most importantly, choose clothes made of soft and comfy fabrics. 
2. Comfort Isn't Always Equal To Boring Clothes
Many mothers tend to dress up their baby girls with bodysuits and pajamas as they're the most comfortable baby clothes in the store. But, the thing is that dressing your baby girl in pajamas all the time can be a bit boring, too. You don't always have to go for boring clothes to guarantee your baby's comfort. Instead, you can mix up different clothes to bring more style and fashion into their dressing without compromising comfort.
For instance, you can still let your baby wear stylish dresses or skirts and pair them with warm and cozy stockings. You can also pair a cozy sweatshirt dress and comfy leggings together. Aside from being comfortable, these pairups look more stylish and put together.  
3. Pay Attention To Fitting
Fitting is among the most critical factors you mustn't miss when dressing up your baby girl. Unlike adults, babies are still actively developing and growing, which means their size today probably won't be their size in the next two months. If the clothes are too tight, they'll be extremely uncomfortable for your baby. If you go for clothes that are exactly their fit, there's a chance that they won't be able to wear them in the following months. Meanwhile, if you opt for dresses with larger sizes, your baby could tumble as they step on their own clothes.
Thus, when shopping for baby clothes, you need to find the balance between getting the right fit and choosing something with a measurement allowance. For example, your baby can wear large jeans and fold them to avoid stumbling. Once she grows up, she can still wear them as shorts as long as the waist is stretchable.
Ultimately, getting the proper fitting for a growing baby girl can be challenging. Thus, it may be best to keep track of how fast her growth is, and you can use it as a basis on which clothing sizes you should get for her.
4. Opt For Bright Colors
Babies look cuter and happier when dressed in bright and vibrant colors. So, when shopping for their clothes, try to pick happy and lively colors instead of dull shades. Pink is also the most popular color among baby girl dresses. But, don't be afraid to explore other colors, too. Opt for calming, refreshing, soothing, and festive colors. Some colors to consider are pastels, aqua blue, purple, powder blue, and green.  
5. Experiment With Prints Patterns
Along with colors, printed and patterned clothes can also look good on your baby girl. You can try mixing and matching patterns from contrasting, complementing, or same color palettes. For instance, you can pair a polka dot dress with your baby's plain leggings. For matching patterns, you can dress your baby girl in an all-stripe outfit.
Artistic and trendy prints can also elevate your baby girl's fashion and styling. You can choose prints that are appropriate for your baby's personality. For example, if your baby's a fan of cartoon movies or barbie characters, you can go for dresses printed with these characters.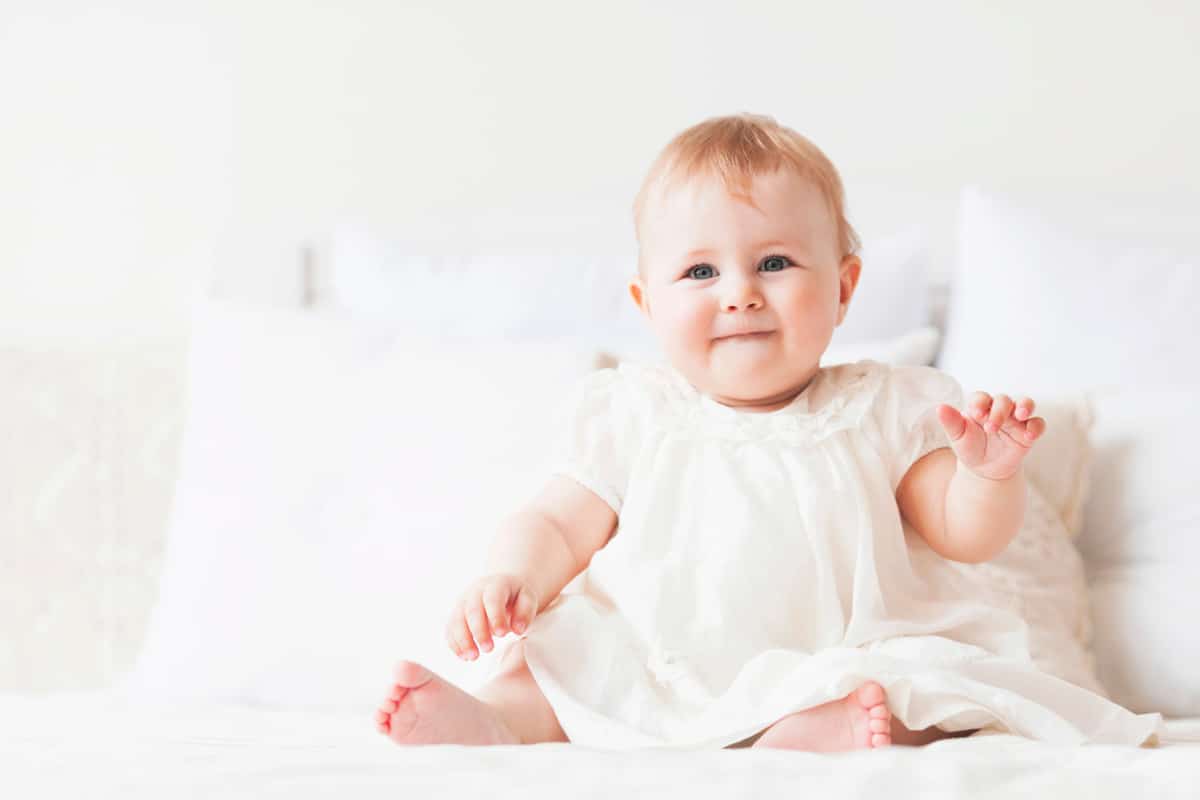 6. Choose the Right Fabric
The quality of the fabric can play a crucial role in your baby's comfort. So, be careful in choosing fabrics and ensure they won't cause irritation or allergic reactions to your baby's skin. Preferably, opt for a smooth and comfy fabric for their skin. You must also choose fabrics that'll go well with the season. For example, you can dress your baby in layered clothes during winter season. In summer, you can dress them up with cotton, linen, and other light fabric clothing. 
7. Accessorize
Now that you know how to dress your baby girl, wrap up their overall look with accessories. Accessories like bows, hairbands, hats, or caps can add beauty and style to your baby girl. Just be careful in choosing accessories with tiny pieces as she might end up swallowing them.
Wrapping Up 
As you see, styling and dressing up your little princess can be fun, as long as you have these tips and tricks in mind. More than anything, don't forget to consider your baby's comfort. Remember, fashion, style, and comfort should all go hand in hand.