In 2020, we estimate the average IVF Cost in India is Rs. 1, 20,000 to Rs. 2, 50,000 per cycle. IVF becomes more popular, successful and safer year by year. Figures in the report show that, in 2017, about 54,000 patients undergo through around 75,000 fertility treatments. IVF treatment cycles increasing by 2.5% since 2016. The fastest-growing fertility treatment type is egg freezing, which has increased by 10% since 2016 to 1,463 cycles in 2017. So the cost of IVF treatment rises with the demand for IVF treatment year by year. In the year 2015, the average cost of IVF treatment was Rs.90, 000 to Rs.1, 50, 000 per cycle. But in 2018 the average cost of IVF increased by about 7%, which is Rs. 1.00,000 to Rs.2.00, 000 per cycle. And in the year 2020, the IVF cost again increases by 15%.
Before finding out the IVF cost in India (or test tube baby cost), you should know what IVF treatment is. IVF stands for In Vitro Fertilization, and it is also known as Test Tube Baby. Infertility problem increases day by day worldwide due to many factors. One in six couples is trying to have a baby face infertility problem. India faces a high burden of infertility, about 22 to 33 million couples suffering from infertility. There are many reasons for this infertility issue.
Infertility problem may found in both male and female. Most common causes of female infertility are:
Irregular ovulation
Blocked fallopian tubes
Hormonal issues
Age Factor
Issues in the Menstrual Cycle
Infections
Endometriosis
Polycystic Ovary Syndrome (PCOS)
And the common causes of male infertility are:
Abnormal sperm production
Hormone disorders
Ejaculation issues.
Varicocele
Exposure to poisonous chemicals or radiation etc.
If your partner having trouble in conceiving a baby and suffering from infertility, then considering for IVF treatment is always a better alternative. India has seen a boom in in-vitro fertilization treatments in recent years. Before going through an IVF treatment, you should consider the IVF treatment cost.
How Much Does Cost of IVF Treatment in India?
IVF cost in India ranges from Rs. 1,20,000 – Rs. 2,50,000 ($ 3,000 to $ 4,000) for each IVF cycle. But this price may go up depending upon the infertility case. IVF is not a single process that covers a variety of different procedures. But the average cost of IVF treatment in India is less than as compared to other foreign countries like USA, UK. The IVF cost in USA approximately $12,000 (Rs. 8,40,000) to $15,000 (Rs. 10,5,000) . The In vitro fertilization cost in India involves the number of variables such as medications, laboratory charges, Doctor's consultation fees etc. The IVF treatments cost may rise due to many factors.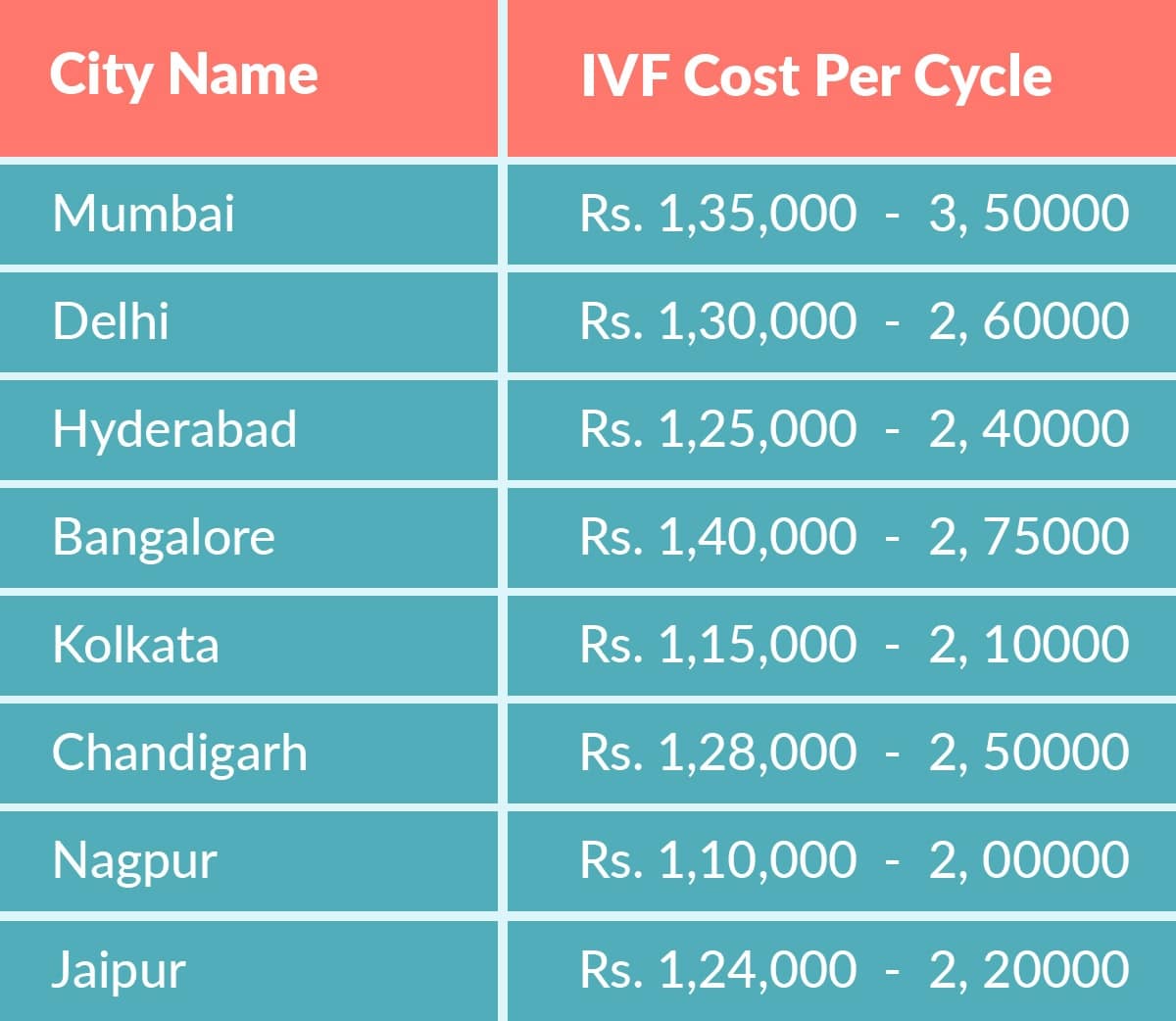 Factors That Can Influence IVF Treatment Cost
IVF cost may vary from IVF centre to centre and also city to city as well. Other than this there are many different factors which can influence the total cost of IVF.
The need for more than 1 IVF Cycles
Sometimes the whole IVF process needs multiple IVF cycles. It is studied that more than 35 years, the women may need more IVF cycles to get pregnant, which raise the total IVF cost.
The need for Additional Treatment
In many infertility cases, the IVF specialist suggests for the additional treatment like ICSI, IUI, IMSI including IVF treatment. This process may add price up to Rs. 45,000 to Rs. 50,000 your IVF treatment.
Egg or Sperm Donors
If the couple has no quality eggs or sperm to conceive a baby, then they need sperm or eggs donated. This is an additional IVF cost that should be factored in. The sperm donor cost in India can add more about Rs. 10000 to 15,000 where the egg donor cost adds more Rs. 8000 to 12,000 to the total IVF cost.
Age of the Women
Older age women (over the age of 35) is unable to conceive a baby in the first IVF cycle. So they need multiple IVF cycles which adds some extra charges. Thus, age is directly related to the cost of IVF.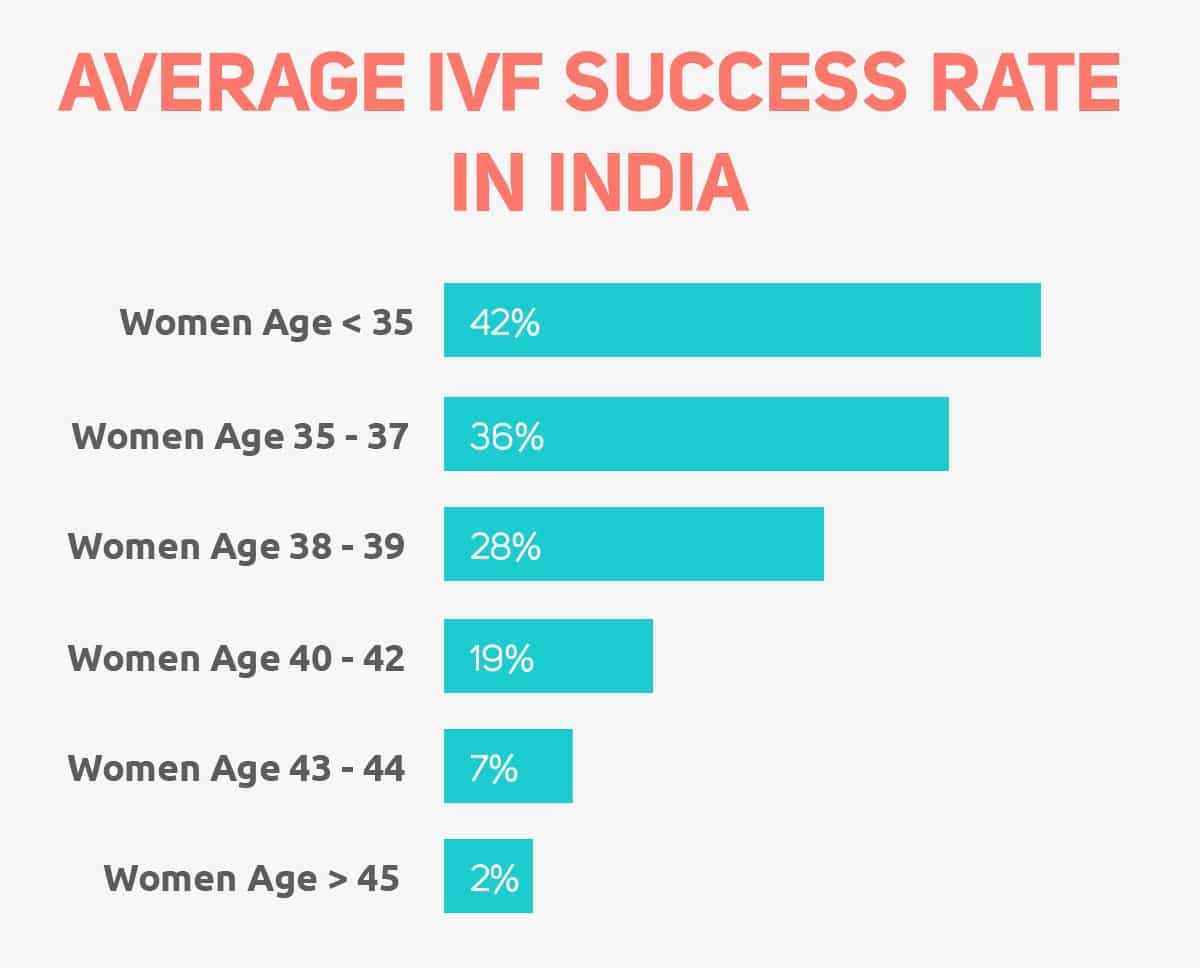 Why Couples Are Choose To India for IVF Treatment
Many couples from other countries come to India for IVF treatment due to the availability of world-class treatment, cutting-edge technology and low-cost IVF treatment. India is always chosen as the best destination for fertility-related treatments. Major factors for selecting India for IVF treatment are as below:
India in IVF Centers is providing world-class fertility treatments at an affordable cost to the infertility couple.
In India, there are many skilled IVF Doctors, and they provide the best IVF treatments with high success rate.
The IVF cost in India is much lower than compared to other countries.
The first in-vitro fertilization (IVF) baby was born in India in 1978.
India is one of the top destinations for Medical tourism in the world.
In terms of fertility treatments, there are many metropolitan cities in India: Mumbai, Delhi, Bangalore, Chennai, Pune and Hyderabad.
Many IVF centres in India offers IVF guarantee program, but the cost of IVF is higher than average IVF Cost.
India is famous for fertility tourism attracting a large number of infertile couples around the world.
India is making advancement in health care and gives best treatments.
How to Minimize Your IVF Cost
By following some tips and pre-planning process before going through the IVF treatment, you can reduce your overall IVF cost. Here are some essential points to consider when you are ready to pay for fertility treatment in India.
Ways to Reduce IVF Cost
Ask the IVF Doctor for the Detailed IVF procedure cost step by step.
Make sure that the IVF centre or hospital doesn't have any hidden charges.
Don't go for the Low IVF cost treatment, which has low IVF success Rate.
Choose the right IVF Doctor or IVF centre to get IVF treatment with high IVF success rate.
Pay the costs which your health insurance doesn't cover.
What is the IVF Pre-Treatment Expenses?
The IVF Pre-Treatment Expenses is about Rs. 50,000 to Rs. 60,000, which include the following charges:
Complete set of hormonal medications
Blood tests & ultrasounds
Preliminary male and female infertilty diagnosis
Doctor's Fees
Coordination charge of all appointments and procedures
I have PCOS problem so what will be the IVF cost?
PCOS is directly related to female infertility. IVF doctor ask you some physical exam and blood tests to help find out if you have this condition.Women need different treatments to meet the final goal.The overall PCOS treatment cost does not require a huge expenditure. PCOD Test Cost may cost about Rs. 3000 to Rs. 4000.
How Much Does Mini-IVF Cost?
Mini-IVF costs around Rs. 95,000 to Rs. 2,50,000 for one IVF Cycle. Mini-IVF is also known as micro or stimulation IVF which is similar to conventional IVF. One of the biggest benefits of mini-IVF is the lower cost per cycle.
How much Cost for Embryo Adoption?
Embryo Adoption or Donation cost in India ranges from Rs. 35,000.00 to Rs. 90,000.00.The average embryo donation cost includes the initial checkups, doctor consultations, ultrasound monitoring etc. This cost may vary depending on the success rates, quality of embryo donor.
How much does IVF injections cost in India ?
The IVF ICSI (with Injections) cost in India range from Rs. 150,000 to Rs. 200,000 depending on the doctor's experience.If you have failed Intrauterine Insemination Injection (IUI) treatment, you still have an option of IVF ICSI. ICSI is used for the treatment to overcome male factor infertility problems.

Does Health Insurance Covers IVF Cost in India?
IVF and infertility-related cost are mostly not covered health insurance in India. Your insurance may cover part of your costs, such as outpatient care, emergency services, pediatric services, and maternity and newborn care. Currently, private and public health insurers in India do not include fertility procedures and treatments under their coverage plans. The couple needs to prepare themselves emotionally, physically and financially before planning an IVF.
How much does Cost of Egg freezing in India
Egg-freezing is an effective technology used to save when women want to get pregnant in the future. These stored frozen Eggs are used in fertility treatment by combining with a sperm. This thawing eggs and transferring frozen eggs process add on extra on the IVF Price in India. The frozen embryo transfer cost in India may vary from Rs. 25,000 to Rs. 30,000.
A Word from Mom News Daily
A couple needs to prepare themselves emotionally, physically and financially before planning IVF treatments in India. So don't be afraid to take your time deciding IVF treatment and looking into all your payment options. Just figure out how you will pay. Make a plan of how you will save this cost cut back. Go to the best IVF Centre in India. So that the IVF Doctor can check out a personalized treatment plan and according to the infertility case. And then the financial counsellor can give a complete breakup of the tests and IVF procedures involved.