Traveling with a baby is a new kind of adventure. It's both challenging and exciting, but when you're prepared, you can prevent the challenges you may encounter. Instead, you can enjoy the experience because you can keep your baby happy as you can attend to their needs immediately. As such, here are the essentials that should be on your packing list:
1. Clothing
Your infant should also have primary and distinct apparel to complement your outfit. You may want to consider availing yourself of baby travel packs that you can find online if you don't have much time to prepare. Doing this will also allow you to travel with less luggage, as you can have the package delivered to your destination.
But if you want to do it by yourself, you must pack the following clothes for your little one:
Gloves or knit hats if you're going to a cold place
Jacket and sweatshirt for colder weather, waterproof rain jacket for warm and wet places
Socks that are wool in material as they're smell-resistant and naturally antimicrobial,
Rash guard or swimsuit if you're going to a swimming destination
At least two pairs of footie pajamas
Shoes and booties or baby shoes
Rompers or dresses for warmer destinations
Onesies and shirts
Leggings and pants
2. Formula And Diapers
The length of your journey will determined the number of diapers and formulas that you're required to bring. However, it is ideal for overestimating this because having an extra is preferable to spending time on stopovers to meet your child's needs. You may also want to preorder or purchase formula and nappies at your destination. Delivery services like Amazon and others will come in handy, especially if you're traveling internationally.
Alternatively, you'll need to know where to find the baby food or the specific formula your child requires. However, ensure they have the same ingredients as your baby's usual food.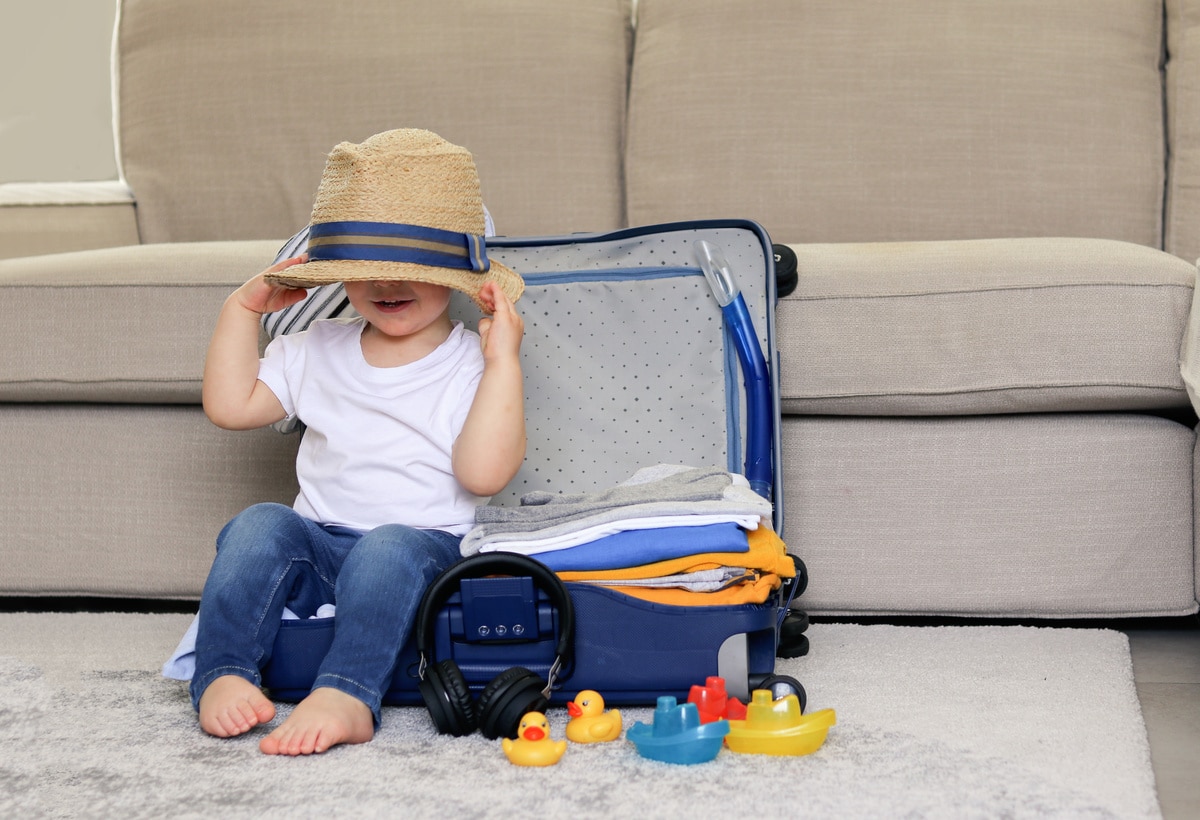 3. Familiar Pillow Or Toys
Your baby will also need entertainment when you're on the road, so bringing along the toys and plushies they love is best. However, only bring the soft ones that don't have rough edges to avoid harming your child during a bumpy ride. It's also best to avoid toys with materials that are hard to wipe down, such as felt or glitter. Bringing these toys and pillows they're familiar with can help them sleep or calm down.
4. Bigger Stuff
While some places rent out stuff that can make carrying your baby more comfortable and more manageable, it may be best to bring the following to be prepared. Some of which are as follows:
Car Seat: Whether you're traveling by car or by plane, bringing a car seat suitable for your child's age is best. You may want to choose the lighter ones, though, especially when you're flying. Bringing a car seat is vital because states require one when you're on the road with your baby or children.
Stroller: A lighter stroller weighing less than 20 lbs. is a good choice, especially if it's collapsible and sturdy. However, you may want to avoid portable and lightweight strollers that are umbrella types because they may not withstand wear and tear. Some may even find it hard to steer through crowds and may be uncomfortable for your child.
Baby Carrier: It's also essential to bring a baby carrier because it can help you carry your baby more easily while carrying other things. This allows you to move freely, especially when strolling on uneven sidewalks and stairs. Accordingly, it's also best to bring compact and lightweight carriers.
5. Toiletries
These are also essential items since they allow you to have something to keep your child clean, which is especially important in locations where there are no restrooms. You should probably think about bringing baby lotion, diaper rash ointment, nail clippers, ear swabs, baby shampoo, and soap. Additionally, you are supposed to carry tissues and wipes, even though these items can be obtained from any store. It is, nevertheless, a good idea to keep them easily accessible in your purse so you can use them whenever you need to.
Conclusion
When going on a trip with your child, you must bring each of the items listed above. If you have them prepared ahead of time, your vacation will be more pleasurable and hassle-free for you and your baby. Remember that you can never be sure whether the stores in your destination will have what you need in stock. If you and your baby are comfortable, you can avoid being stressed out and be able to enjoy your trip.