Wondering what baby food is the best for your newborn? It can be hard to figure out which foods are good for your baby. Organic is the best option since pesticides and chemicals can affect our child's blood and organs.
If you are looking for the best Organic Baby Foods, you have just landed on the perfect page. You will find here a list of the best products available today, This article will highlight the top 21 Organic Baby Foods that you should try to give your child.
Moreover, organic baby food is an excellent food for babies. It promotes healthy eating habits also strengthens the immune system. The harmful chemical that is present in inorganic food can have a bad effect on a baby's health. Organic foods reduce this risk.
What Does Organic Baby Food Mean?
Organic baby food is produced with the help of natural and traditional farming methods. Growing organic food does not involve any synthetic pesticides and herbicides. Organic baby food is food produced in a way that does not harm the environment, animals, or workers. It is not processed using artificial preservatives or laboratory hydrogenation.
Organics foods are the healthiest food for babies. These foods are safer than non-organic foods, as they do not contain any harmful pesticides. Thus, organic foods are best to avoid allergies in babies due to chemicals. In other words, we can say that this food helps you to feed your baby in an Eco-friendly way. Feeding babies with the help of organic baby food is the best choice to provide them the right nutrition.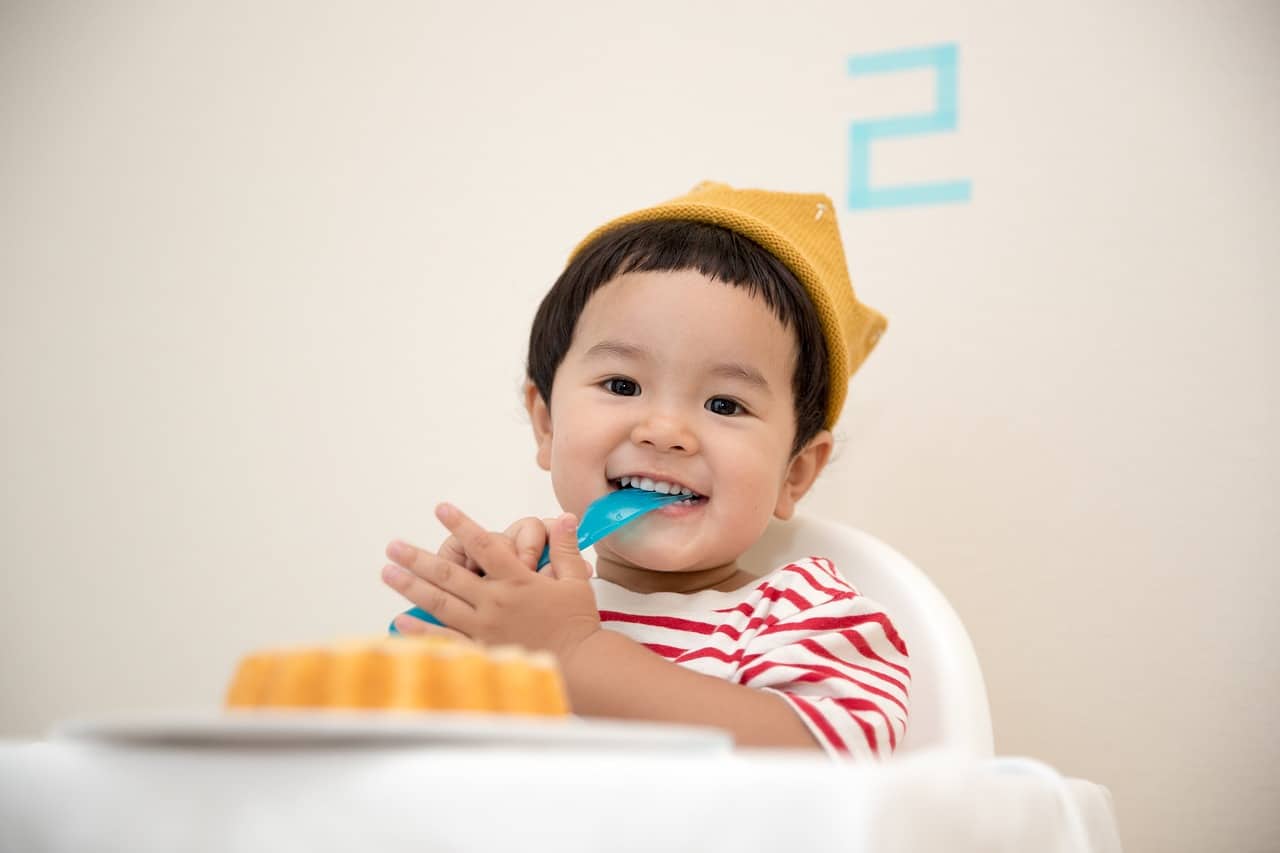 What is the Best Organic Baby Formula?
Choosing the best organic baby formula for your baby can be a challenge. There are many things that you should consider. Organic baby formula is an important and difficult consideration for parents. The good news is that there are many brands to choose from, with a range of price points to fit into your life. Here are the best organic baby formula on the market.
Earth's Best Organic Formula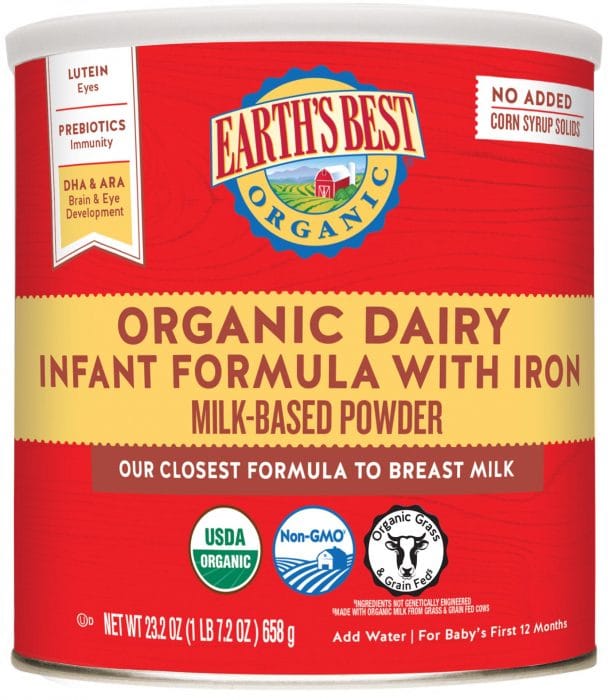 The Earth's best organic baby food suites for all stages. The three types of available infant cereals are Oatmeal, rice, and multi-grain cereals. It is a popular brand as it has ingredients that are free of pesticides and dangerous chemicals. Earth's Best Organic Formula contains no artificial flavors, colors, or preservatives. Moreover, the formula has got the certifications from USDA. The formula is GMO ingredients-free.
Happy Baby Organic Formula
It is the Best Baby Organic Baby Formula that contains iron. The product is also free of GMOs and corn syrup, as well as artificial sweeteners. Happy Baby Organic infant formula with iron is another formula claims for its best processing and resemblance to breast milk. It divides the formula into age categories: organic baby food stage 1 is for newborns to 12 months, and organic baby food stage 2 is for babies 6 months and up. This formula is one such option that has become popular among parents. Teethers, puffs, crackers, veggie straws, and meal bowls are some of its other products. These are very famous among the parents.
The Honest Company Organic Baby Formula
This formula contains a lot of prebiotics and iron. The Honest Company formula is as nutritious as breast milk and is suitable for babies with sensitive tummies. The formula has Vitamin D3, calcium, choline, and folic acid to aid digestion and growth.
Moreover, lactose is present to keep the taste sweet enough for most infants. The Honest Company Organic Baby Formula is one of the top baby formulas on the market, and it is available online. Thus it is a good option for parents who do not want to use GMO and chemical-based infant formulas.
Gerber Organic Food
Many pediatricians recommend Gerber as a nutritious organic food. It is free of gluten and GMOs. Gerber is a leading brand in infant nutrition. Gerber has classified each formula series according to the age of the baby, and you will see Stage 1, Stage 2, and Stage 3 on the formulas. The Gerber cereals contain whole grain oats and iron, calcium, and vitamins C and B. All these help the baby develop into a healthy adult. The baby formula by Gerber is easy to digest for babies. Moreover, the best part is that it comes with recyclable packaging.
Similac Organic Infant Formula
Similac Organic Infant Formula claims to have perfected the art of baby feeding. It is a full meal made of organic milk and lactose, which is like the lactose in breast milk. It has DHA, lutein, and vitamin E, both of which are present in breast milk. These aids in the brain and eye development of your infant. It does not contain corn syrup solids, high fructose corn syrup, or artificial flavors or colors. The combination of essential nutrients and organic milk in the formula offers full nutrition for children. Also, the formula is easy to find in nearby grocery shops.
Plum Organic Baby Formula
organic milk sourced from family farms is the key nutrient of Plum Organic Infant Formula. Particularly during your baby's first year, the formula is an excellent substitute for human milk. This formula contains DHA and ARA added, and lactose-reduced for easy digestion. The formula aids in the balanced development of an infant. It maintains the level of water, protein, fat, vitamins, and minerals in the child. Parents trust Plum Organics for providing a nutritious diet for their babies. It comes in a range of flavors to help infants with stomach disorders and other health issues.
Holle Stage 1 Organic Baby Formula
The Holle Stage 1 Organic is a baby formula that does not contain any sugar. It is for babies who are between the ages of 0 and 6 months. All its ingredients have been grown organically. The milk in the formula comes from cows raised in loving and appropriate conditions on biodynamic (Demeter) farms. Yet, the product is a bit expensive and it the reason that it is not that popular worldwide. With Holle stage 1, it is simple to bottle-feed and make porridge.
BABYS ONLY ORGANIC
It is a powdered formula that contains 100% natural ingredients. BABYS ONLY ORGANIC is one of the few formulations on the market that does not contain corn syrup or soy oil. This one of the best organic baby foods if your baby has food sensitivities or has eating issues. It is capable of providing extra calories to your pick eater baby. Furthermore, formulated with non-GMO ingredients and essential vitamins and minerals, this infant nutrition formula is ideal for all babies.
HiPP Dutch Stage 1 Infant Milk Formula
HiPP Dutch Stage 1 Infant Formula has a high protein nutritional value. Thus it can act as your baby's primary source of nutrition. If your child is not ready to go from breast milk or formula to solid foods right away, HiPP is a great alternative to foods for infants. It has a thicker consistency that is ideal for picky eaters. HiPP has the right nutrient composition and is made with great care to conserve its essential components. The only challenge is that HiPP Ductch Stage 1 formula is hard to find and expensive.
Kendamil Organic Stage 1 formula
It is safe for babies from birth and is a whole-milk-based formula that helps to improve stomach comfort. Kendalmil organic infant formula includes prebiotics, probiotics, and omega-3s. Thus it is enough to provide all the nutrients your child needs to grow into a healthy individual. Parents who wish to use a palm oil-free and soy oil-free formula can go for this organic baby food. Also, the product is EU-certified organic and vegetarian friendly.
Loulouka Organic Baby Formula
Loulouka Organic Baby Formula is another name in the list of Best Organic Baby Foods. It has a higher fat content and more iron for stage 1 than other organic recipes. Loulouka is a premium organic baby formula made of organic and natural elements. The ingredients of this baby formula are non-GMO. They add ingredients with care to ensure that they are both organic and nutritious. This organic food is different from other formulas as it does not contain palm oil. Rather it contains coconut oil as a calcium supplement. With Loulouka Organic Baby Formula, you will give your baby a healthy start to life.
Lebenswert Stage 1 Organic Infant Milk Formula
The formula contains the vital nutrients your baby needs during the first year of life. It is also gluten-free. Stage 1 is delicious, organic infant formula. It is capable to meet the nutritional needs of breast-fed babies. It is suitable for babies aged 0-6 months. The product contains no unnecessary additives or flavorings. Lebenswert is free from maltodextrin, corn syrup, GMO and is 100% natural baby formula. Parents are often impressed by how identical this formula is to breast milk in taste, texture, and nutritional quality
Enfamil NueroPRo Infant Organic Formula
The only formula on the market made of organic milk is Enfamil NeuroPro Infant Organic Formula. It is the infant formula that includes DHA and ARA that helps in the development of the central nervous system. The formula contains easy-to-digest proteins. Pediatricians consider it to be one of the trusted brands. The organic ingredients of Enfamil ensure that it is not made up of animal by-products or genetically modified organisms. To support immune system development it contains prebiotics.
Aptamil Stage 1 Infant Formula
When a mother's milk is inadequate or unavailable, Aptamil Infant Formula works well as a supplement for babies aged 0 to 6 months. It also has the right amount of DHA to help with brain growth and eyesight. Aptamil provides a healthy blend of nutrients that are age-appropriate for a baby's growth and development. Being rich in nutrients like Vitamin A, C, E, and Beta Carotene, it supports the immune system of the baby.
Vermont Organics Formula
With impressive packaging, Vermont is one of the best organic baby food. It contains both non-fat milk and glucose. The product takes care to follow responsible business practices and the preservation of our environment. Yet, with benefits, there are few disadvantages of the formula as it is difficult to dissolve. Also, the beautiful packaging of this baby formula might not fit into everyone's budget.
Kirkland Signature ProCare Organic Formula
It is one of the most affordable and best foods for infants. Kirkland Signature is a house brand of Costco Wholesale. This formula contains healthy organic ingredients. You can avoid feeding your baby GMO ingredients. There are no preservatives, synthetic colors, or flavors in this formula. It is USDA-certified organic, non-GMO verified, and features no corn syrup or unnecessary ingredients. Moreover, the low cost of formula does not make you compromise the quality of food.
Up & Up Advantage Infant Formula
This organic baby food is suitable for babies from birth to 12 months. It supports all the nutrients that are essential for the complete nutritious growth of the baby. The formula is lactose-free. Thus, Up & Up infant formula is an ideal choice for infants who are lactose intolerant. Also, parents can buy the product from any nearby grocery shop. Like other organic formulas, it contains prebiotic to support the immune system. Iron, zinc, and DHA (an omega-3 fatty acid) in this formula are easy to digest.
Mama Bear Infant Organic Formula
Mama Bear Infant Organic Formula is the Best Baby Organic Baby Formula. Though it is a bit expensive, you can be sure about a nutritious diet for your baby. It is an Amazon product and rich in prebiotics and proteins. Unlike other baby feeding formulas, this will not cause any stomach-related concerns. It is an easy-to-digest organic formula. The best part is that it does not contain any artificial growth hormones.
PurAmino Hypoallergenic Baby Formula
As the name suggests, it is best for babies who suffer from food allergies. It is a fine alternative for soy-based milk formulas. Many experts recommend the PurAmino for containing enough the amount of DHA. By choosing this formula you can ensure that your baby does not miss the intake of essential nutrients due to his allergies. PurAmino can be an infant's primary source of nutrition for the first six months of life. Also, it can be a significant supplementary nutrition source for the next two years.
Bobbie Infant Formula
Bobbie Infant Formula is a health supplement that promotes the growth, development and nurturing of babies. It contains DHA and ARA, nutrients that are necessary to support visual and cognitive development. The formula is rich in vitamin B1, thiamine mononitrate, riboflavin, vitamin B6, folic acid, and vitamin B12. You can find Bobbie at a local store near you. The positive part is that the formula does not contain palm oil and maltodextrin.
Go and Grow Baby Formula
It is a Similac product and an organic baby formula. You can this to feed toddlers and provide them all the necessary nutrients. Many pediatricians recommend this as the number one organic formula. Go and Grow Baby Formula contains DHA, lutein, and vitamin E, which are essential nutrients for your toddler's brain and eye development. It also contains prebiotics, which helps with digestion. Also, the formula is non-GMO and free of artificial growth hormones.
What are the benefits of organic formula for babies?
The benefits of organic formula for babies are plentiful. Not only is this type of formula is made from natural, real ingredients, but it is also nutritionally complete. There are many benefits of organic baby foods as it is free of additives that are harmful to health.
Saves from Major Health Concerns
Non-organic baby foods can cause health concerns like Lung damage, nervous system injury, and immune system. Switching to organic milk, on the other hand, will help protect your baby from these illnesses.
More Nutritious
Organic baby foods are healthier than other foods. The best organic baby food contains Omega-3 fatty acids. These fats, on the other hand, are essential for a child's physical and mental growth. Furthermore, the organic baby formula contains more vitamins and antioxidants than conventional formula.
Similar to Breast Milk
Organic products are somewhat similar to breast milk because they do not contain any artificial chemicals. Artificial ingredients, including sweeteners, are not used, and only approved organic ingredients are used.
Available in Wide Range of Options
Organic baby foods are available in a variety of options. Each containing a different amount of protein and nutrients. Depending upon your requirement you can choose the one for your baby.
Conclusion:
Organic baby food is a great way to introduce your little one to a variety of tastes and textures. It is made with high-quality ingredients and the product does not contain any GMO, gluten, artificial fragrances, colors, or preservatives. Hopefully, the above list of the best organic baby food has helped you in choosing the right option for your baby.