Whether you're looking for something sparkling or something more classic in 14k solid gold, discover JoyAmo Jewelry's eclectic mix of custom-made necklaces, drop-jawing earrings, tangling bracelets, and luxury rings, ready to fill this Holiday with joy, love, and style!
Personalized jewelry for moms and first-time moms, from JoyAmo Jewelry
If you dream of filling your Christmas stockings with gorgeous presents for your mom and your wife, you are at the right place!
JoyAmo Jewelry created a sentimental and heartfelt collection of personalized necklaces for moms and first-time moms that will melt her heart. Customized necklaces with engravings, charms, and pendants.
If your mom loves to show off her kids wherever she goes, get her the stunning Swarovski Inlay Mom Necklace With Baby Feet. You can choose her favorite metal, whether she loves Sterling silver necklaces, rose gold plating, or yellow gold plating jewelry. You can also add up to 8 charms and engrave a name, date, or a meaningful word on each one. The incredible quality and sparkle of the Swarovski stones give a spectacular shine and glam to this piece of jewelry destined to impress and conquer her heart.
If your mom is into heart jewelry, in the JoyAmo collection of heart necklaces you will find the ultimate gift for her, the Mama Heart Pendant With Baby Feet! Engrave the names of your siblings on each of the baby-foot charms and you will have an emotional and passionate Christmas present she will cherish forever.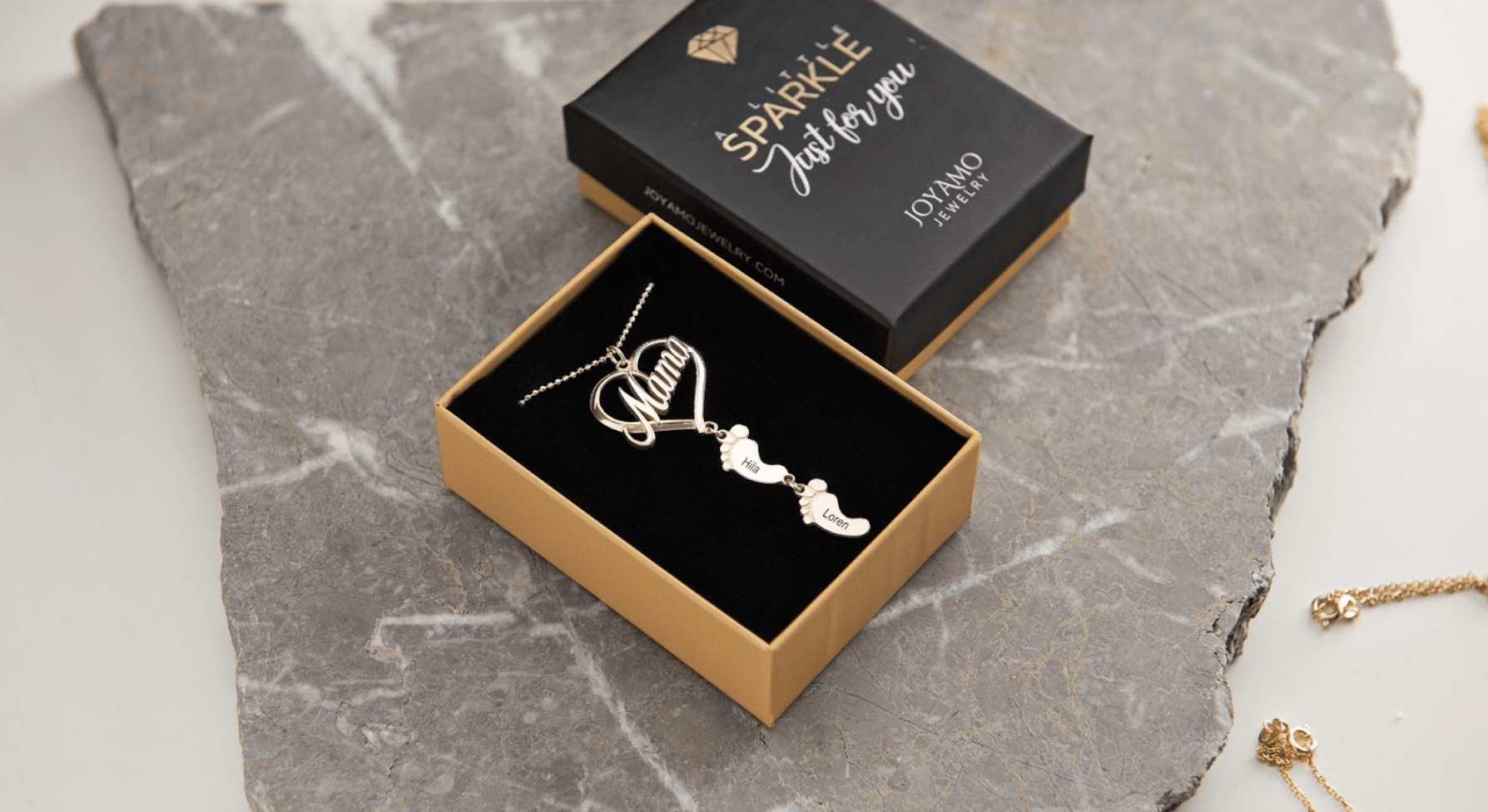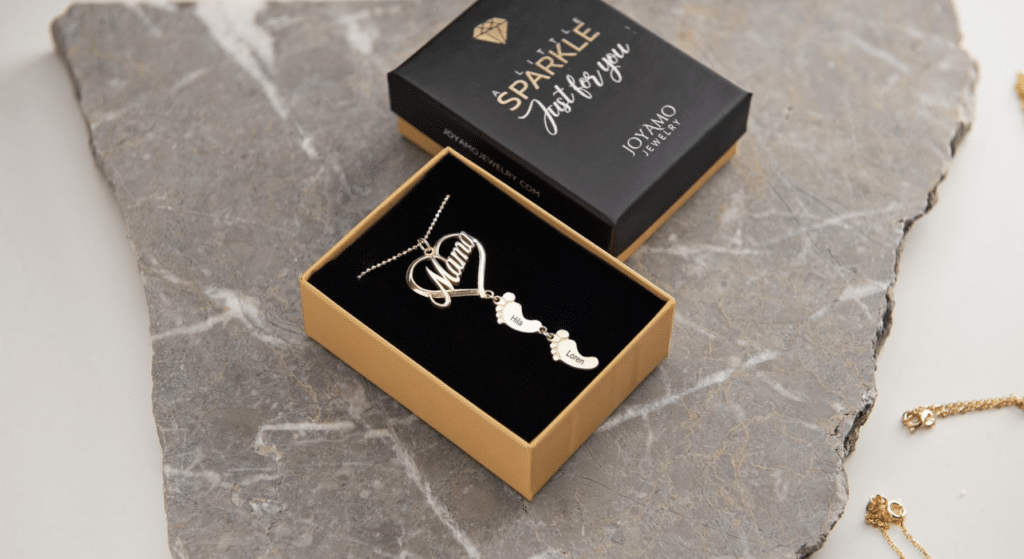 Personalized jewelry for grandmothers and nanas, from JoyAmo Jewelry
Grandmas and nanas have a special place in your heart! They are always there to guide and support you. And because the bond with her is eternal, JoyAmo Jewelry designed the mesmerizing Infinity 2 Names Necklace that will be her most adored heirloom in her jewelry box. You can engrave up to four names on the infinity pendant and you will be celebrating Christmas with a piece of jewelry that evokes and celebrates your endless family bonds.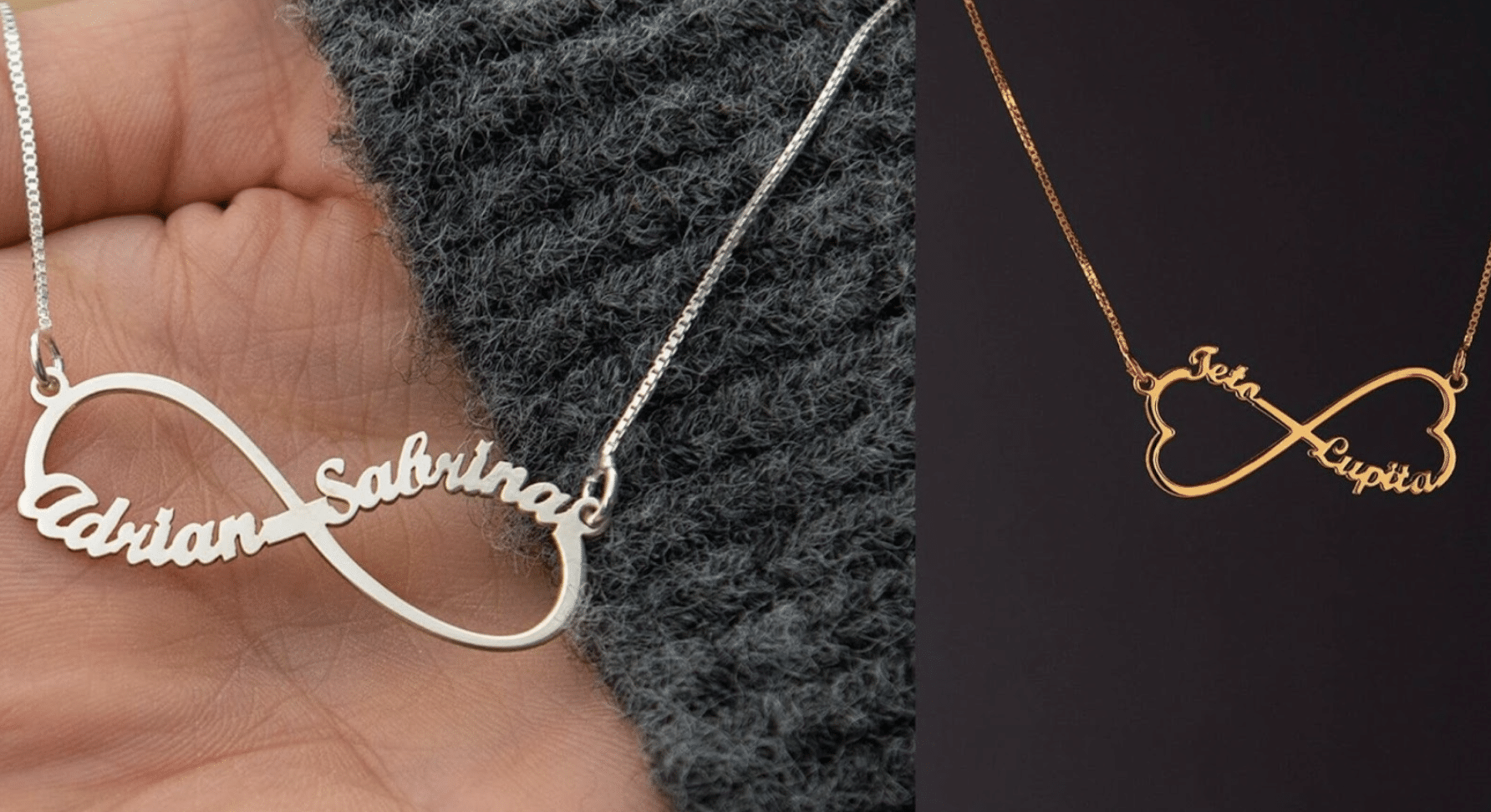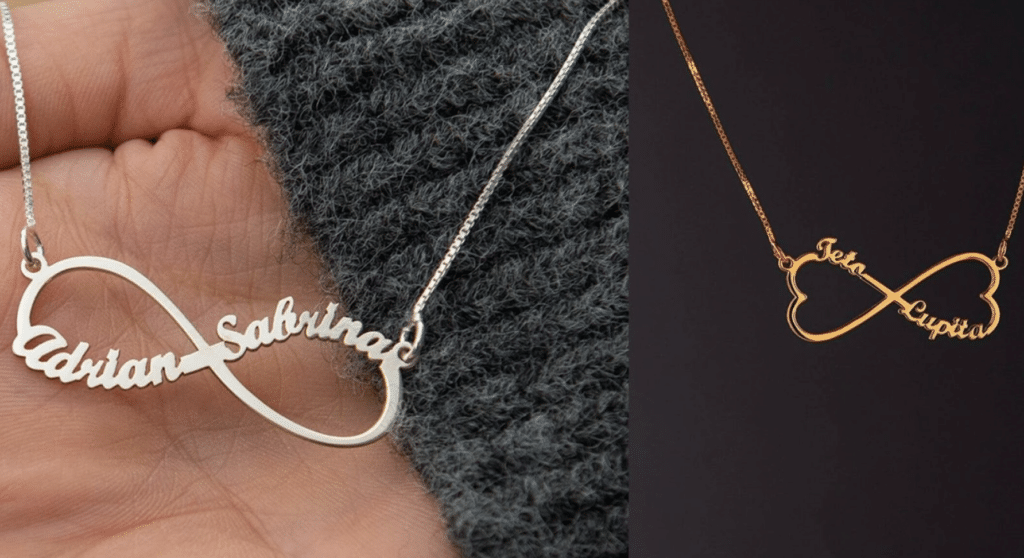 If your nana loves stones and colors, we have a personalized necklace for nana she will fall in love with, the stunning Vertical Baby Feet Necklace with Birthstones. Engrave a name on each of the cute baby-foot charms and add the corresponding birthstone, for the ultimate detail in signature jewelry for her.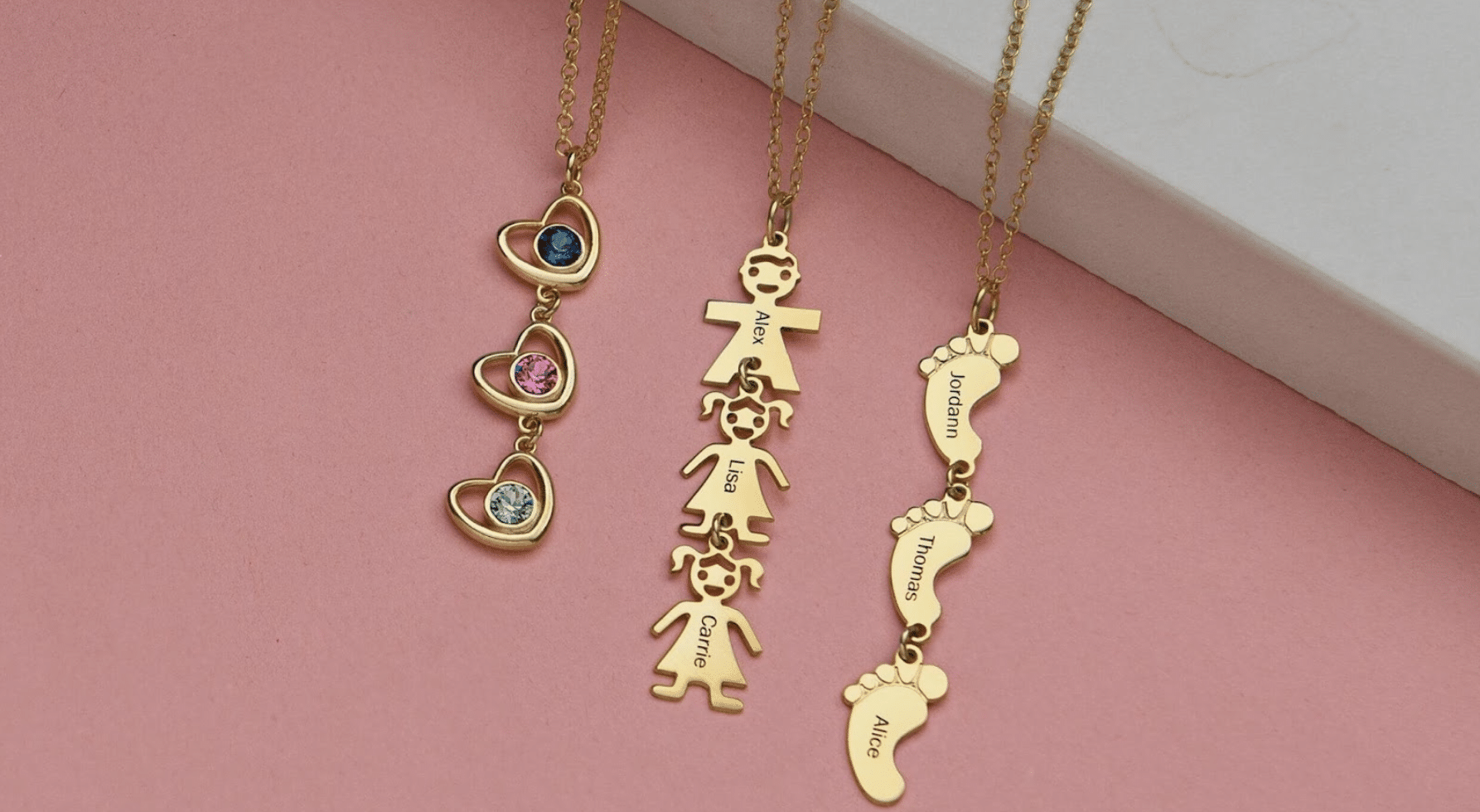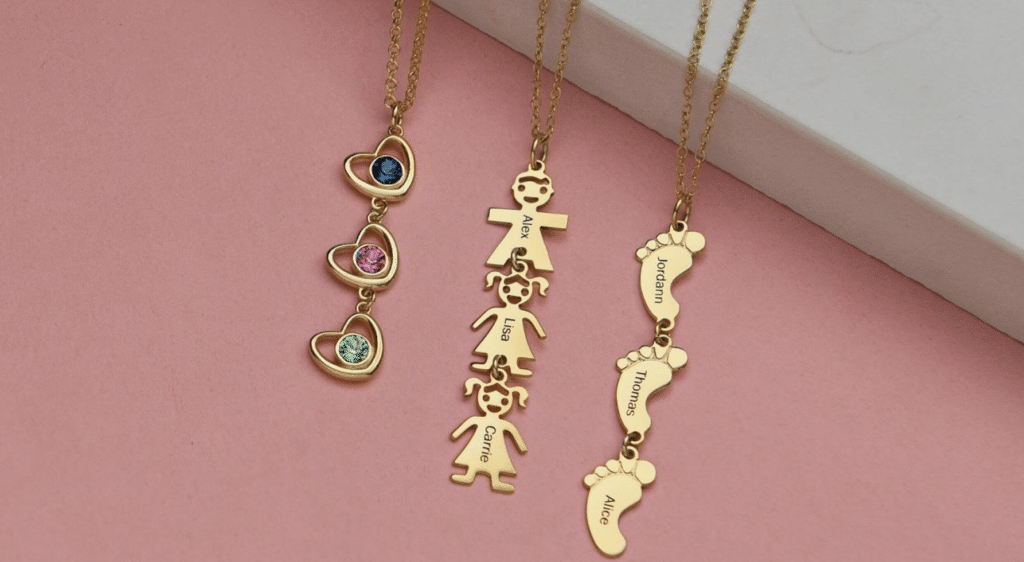 All Christmas trees should have a special place for our amazing grandmothers, the ladies
that fill our life with love and endless care.
Personalized jewelry for dad and grandfathers, from JoyAmo Jewelry
This coming Christmas, surprise the men in your life with the best jewelry for him! You will be amazed to see how much men love jewelry gifts, especially if they come from you.
If he is your husband, dad, or grandfather, our Men's Leather Bracelet With Oval Name Beads is a sure bet for this Christmas gifts guide. You can choose between brown, blank, and blue for the color of the leather band and engrave up to 10 beads with the names of his children and grandchildren. What better way to celebrate Christmas than a present for him that has the names of his beloved children or grandchildren on it.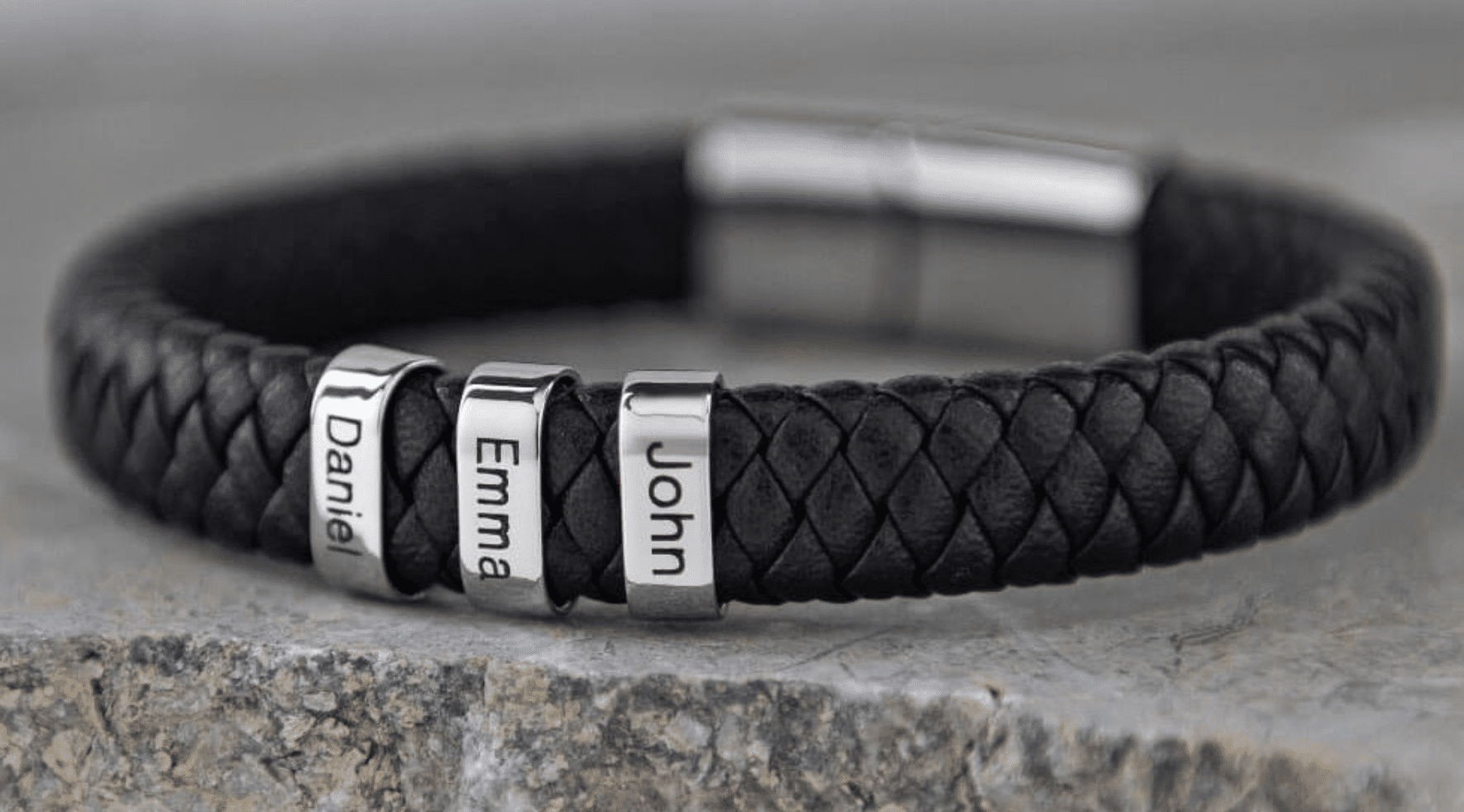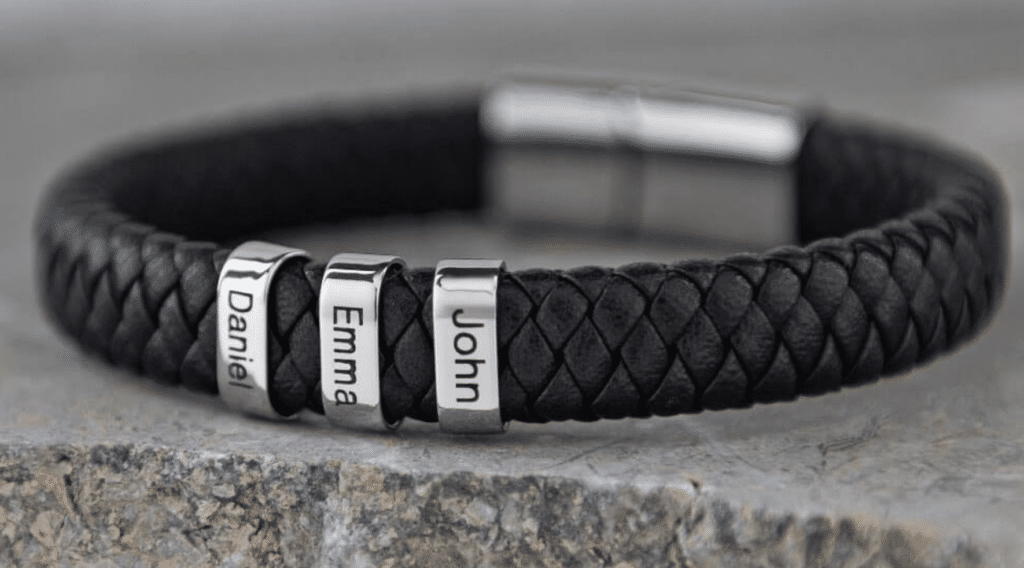 If you prefer to have his name engraved, get him the Engraved Bracelet For Men In Stainless Steel And Black Leather. This personalized bracelet for men will upgrade his outfits and will, for sure, be his favorite accessory in days to come. The combination of Stainless Steel and leather makes this bracelet for him a magnificent present also for St. Valentine's or Father's Day.
Some heirloom jewelry is destined to be treasured for a lifetime, and our curated designer jewelry in Sterling silver 925 and 18k gold plating has a one-year warranty, for your peace of mind. Our 14k solid gold jewelry, designed with extreme care and love has a lifetime warranty.
This Christmas, gather your family around the Christmas tree and show them how much you love them with a piece of personalized jewelry that only each of them can wear. Celebrate all your unforgettable moments with JoyAmo Jewelry! JoyAmo, your choice.