Surrounded by wonderful greenery and spectacular scenery, lodges are perfect for a romantic retreat or a family holiday. Relax from your hectic day-to-day life in these lovely lodges and enjoy your own private hot tub time with your significant other.
During the day, you can spend some time in nature, explore new parts of the UK, and have fun outdoors, while the night can bring you a romantic dinner under the stars and a relaxing bath with a glass of champagne.
Most of these spacious lodges with hot tubs in the UK are located in the countryside, away from the hustle and bustle of big cities, and they have enough space to accommodate couples, as well as a whole family. Clean air, wonderful nature and beautiful locations are the key ingredients to your perfect holiday lodge experience.
Family-Friendly Lodges with Hot Tubs in England
Known for its rainy climate, England can be quite a remarkable tourist destination when it comes to nature lovers. There is something charming in the infinite greenery that surrounds every house located in a private woodland, which is exactly why we compiled a list of the top 5 luxurious log cabins and lodges with hot tubs in England just for you.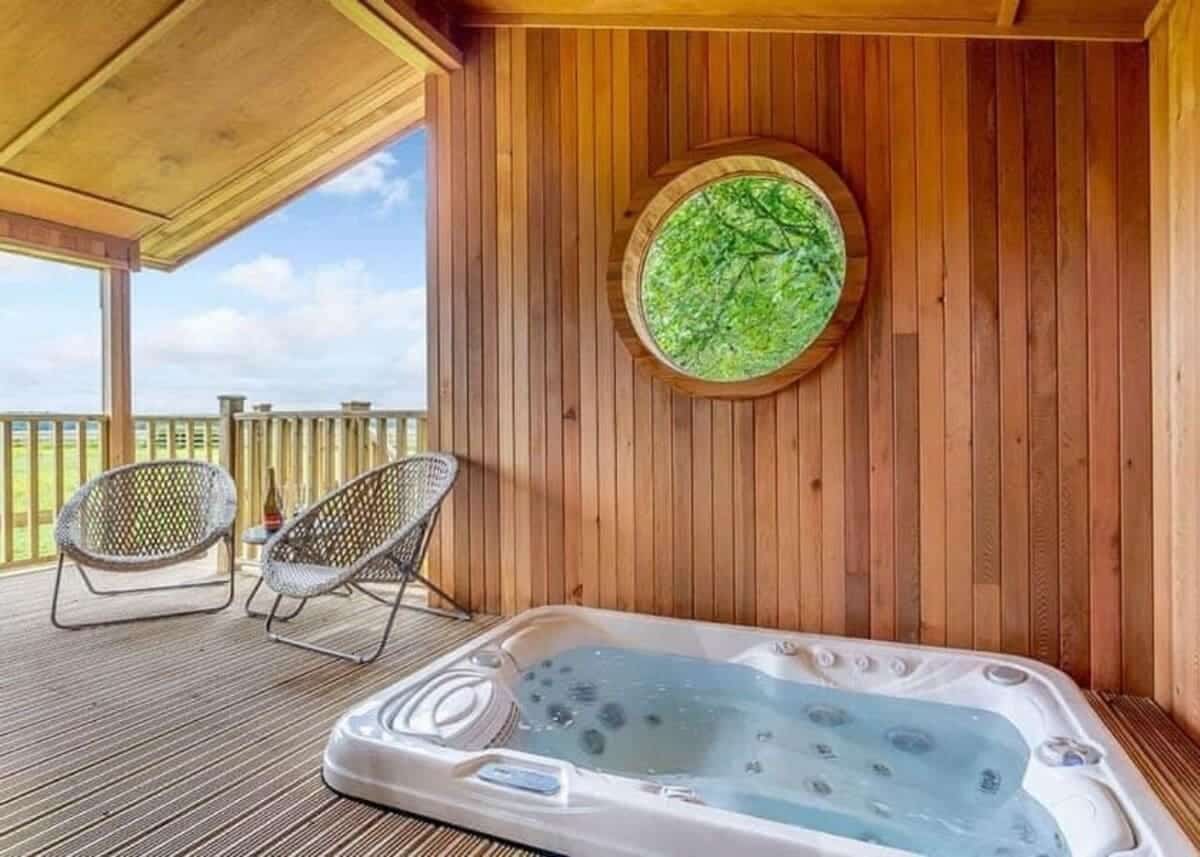 The South East is a great option for lodge holidays in the UK. Bluewood Lodges in Kingham offer holiday homes for 2, 4, or 6 people that feature a double bedroom, a seating area, an open space kitchen, and a dining area, as well as a private bathroom.
From the terrace, guests can enjoy breathtaking scenery and sip on their morning coffee surrounded by the peace and quiet of the English countryside.
If you're looking to explore the area, you can find a number of restaurants, cafes, and skiing opportunities in the surroundings.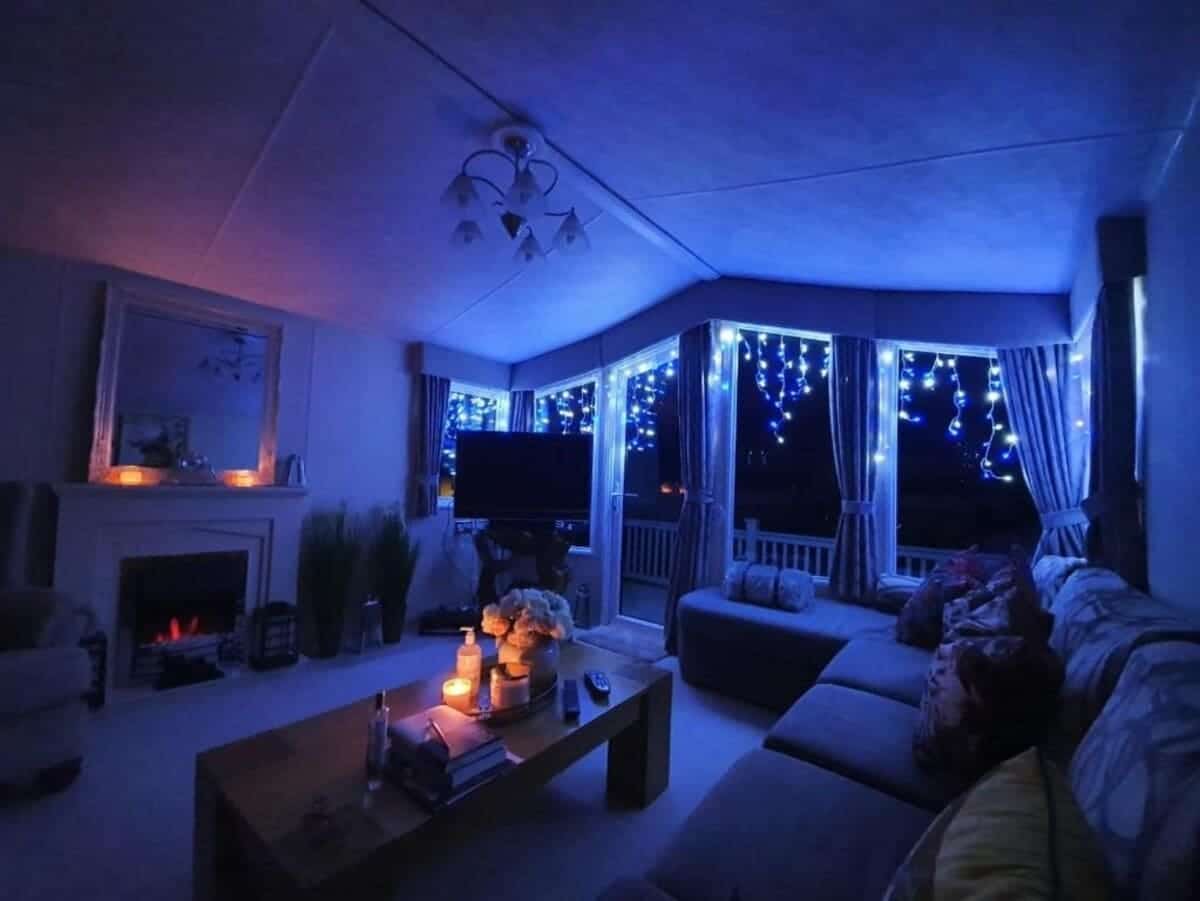 Set in Newton on the Moor, only 40km from Newcastle upon Tyne, Moonflower Lodge boasts a large outdoor area with a sun terrace and a private garden. This outdoor seating area comes in handy if your idea of a romantic retreat includes an al fresco supper with your significant other or a glass of wine under the stars.
With one double-bed bedroom, one twin-bed bedroom, and a sofa in the living room, this pet-friendly lodge can accommodate up to six people in total, which makes it a perfect destination for family holidays.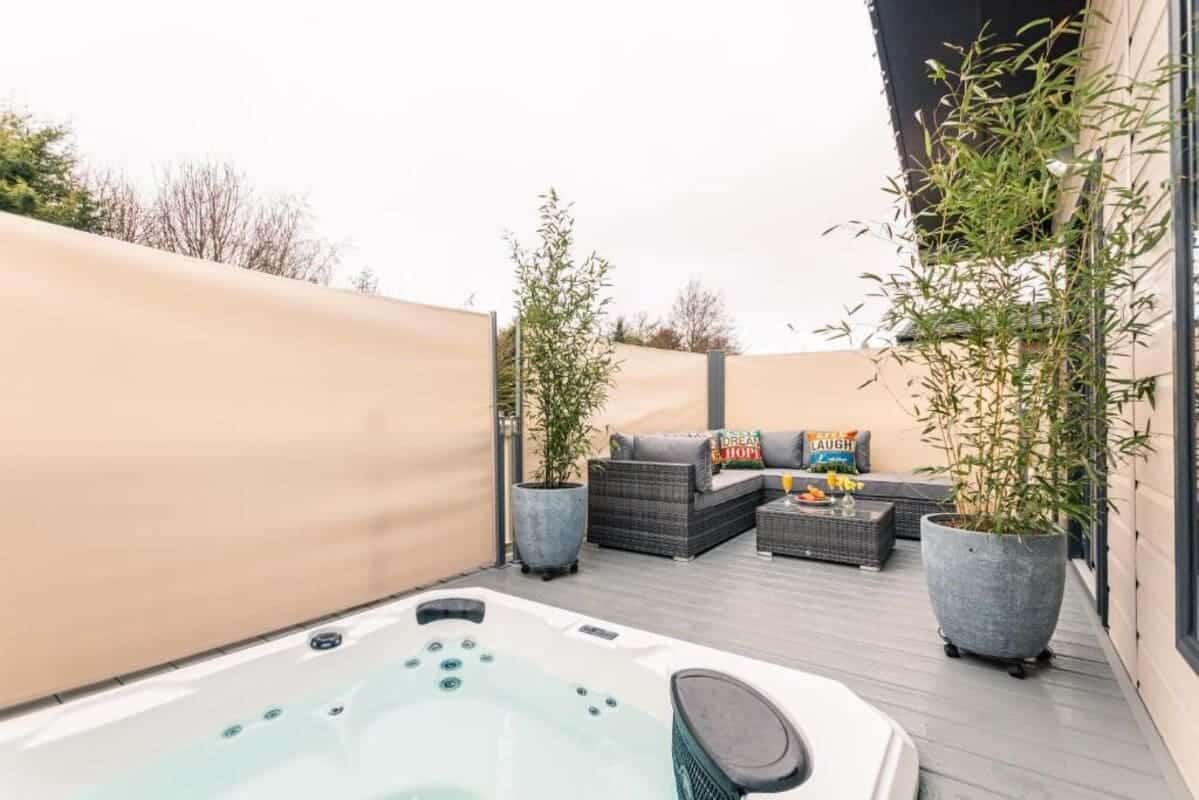 Located in York, this luxury lodge boasts 2 bedrooms, 2 bathrooms, a garden, a balcony, and a patio with lake views. The whole family may find accommodation at the Primrose Lodge and enjoy the fabulous facilities on-site, such as a bar, hot tubs, and a fire pit.
Lodge holidays wouldn't be complete without some kind of activities you can enjoy as a family, including fishing and golf, available off-site and at an extra charge.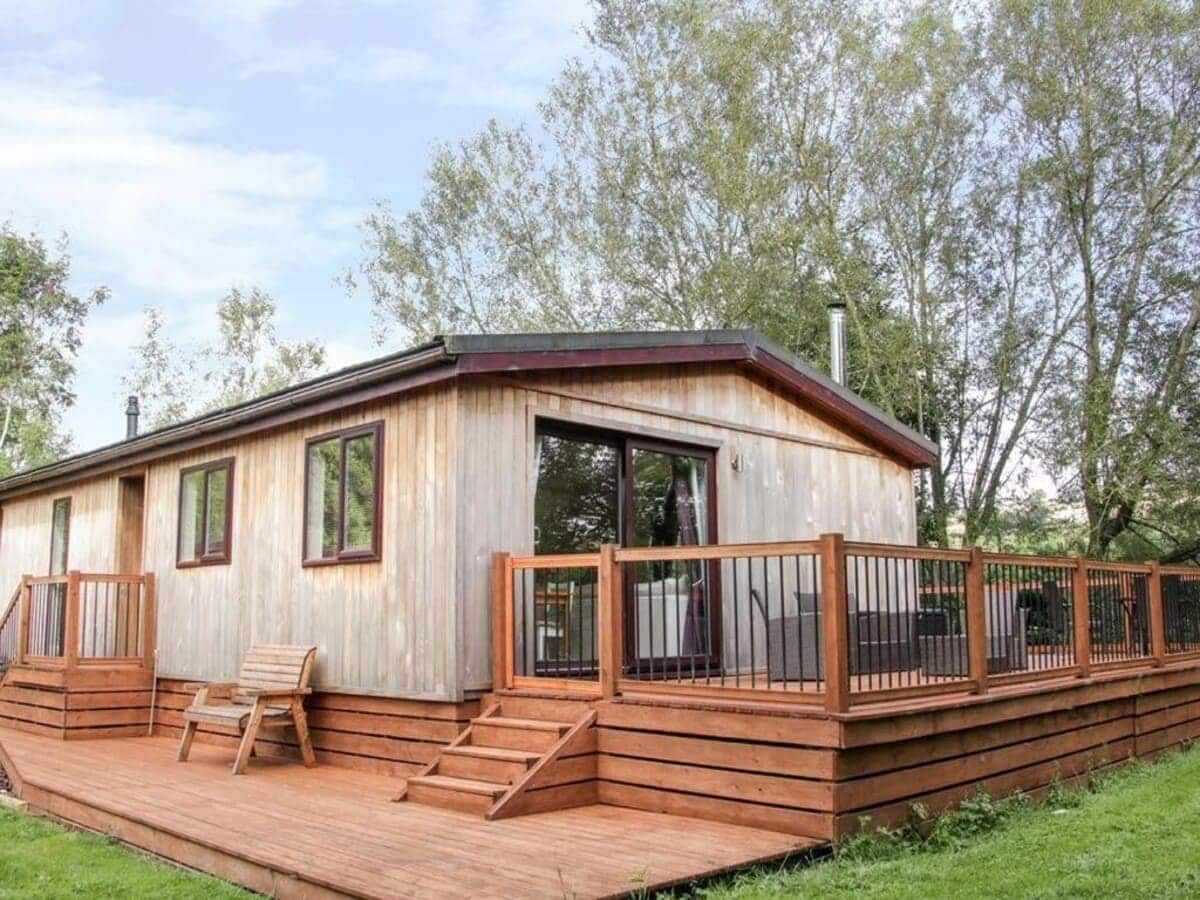 Alder River Lodge in Craven Arms boasts extensive outdoor areas, which include a private garden, a balcony, and a patio with river views, where guests enjoy a cup of their morning coffee in the fresh air.
The property also features 2 bedrooms, 1 bathroom, a fully-equipped kitchen, and a dining area. Free parking is provided, as well as access to the on-site hot tub.
Activities available near this luxury lodge include hiking and fishing, which might be interesting to both younger and older generations.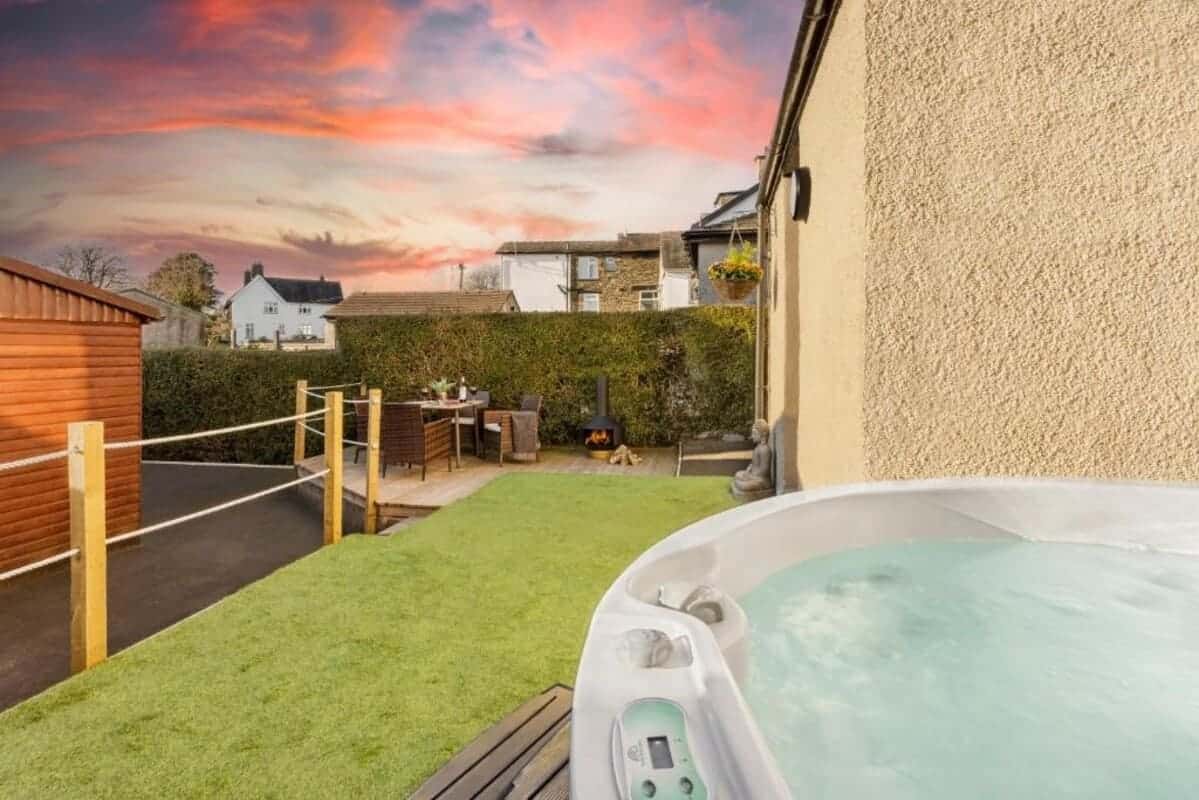 This pet-friendly Windermere lodge in Lake District boasts a stunning location, which enables you to enjoy incredible sunsets from the comfort of your hot tub.
Two bedrooms with an extra-double bed each are enough to enable you cosy lodge holidays, even if you have to bring your kids to a romantic break with your significant other.
Also, your kids will absolutely adore The World of Beatrix Potter Attraction, located practically within walking distance from this Lake District lodge, which offers wonderful content for young fantasy lovers. Other activities include taking a stroll by the nearby Lake Windermere, skiing at the Kendal Ski Centre, and visiting nearby villages.
Family-friendly lodges with hot tub in Scotland
The best part about visiting Scotland is the magnificent and monumental castles and sights, but these scenic views wouldn't be as breathtaking as they are without the lovely shades of the grey sky and green plants everywhere. Here's a list of the top 3 to make your life easier and save you some research before you book a trip to Scotland.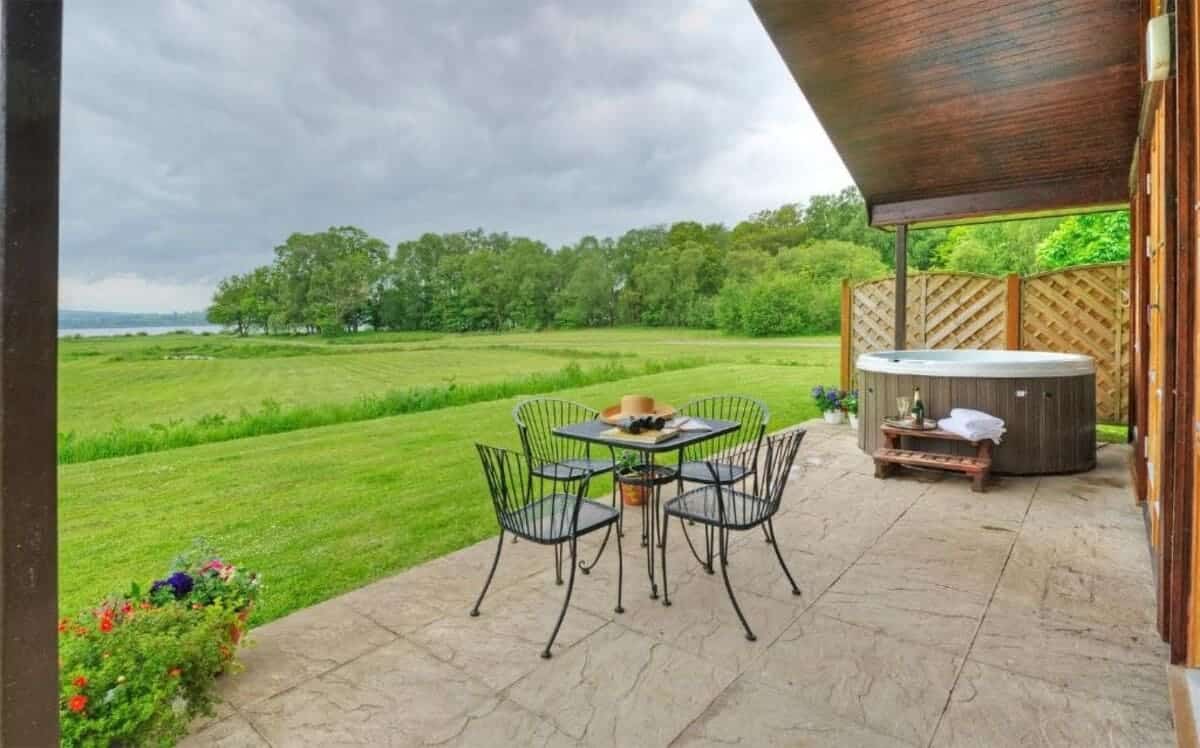 Ideally located at the beachfront in Balmaha, these luxury lodges include a lovely terrace, where you can take in the stunning scenery of Scottish nature, as well as have an al fresco dinner with your family.
Accommodation options include 2-bedroom chalets and lodges for up to 6 guests, as well as charming caravans for couples.
Some of the activities offered off-site include horse riding, cycling, hiking, and canoeing, all of which are great if your goal is to stay active even on a lodge holiday. With an extra charge, you can get a massage for two on-site and have the most relaxing vacation ever.
This Fenwick Holiday park features glam camping pods and luxury lodges with hot tubs and scenic views over the garden or the lake. In the evening there's mood lighting around the hot tubs offering a perfect setting for a romantic break.
Each unit comes with 1 or 2 bedrooms, a private bathroom, and an open space kitchen and living area.
On-site, guests can enjoy a delicious meal in the restaurant serving British and European cuisine. Users especially liked this accommodation for its impeccable cleanliness and home-like feeling, which is why this property is among the most highly ranked on our list.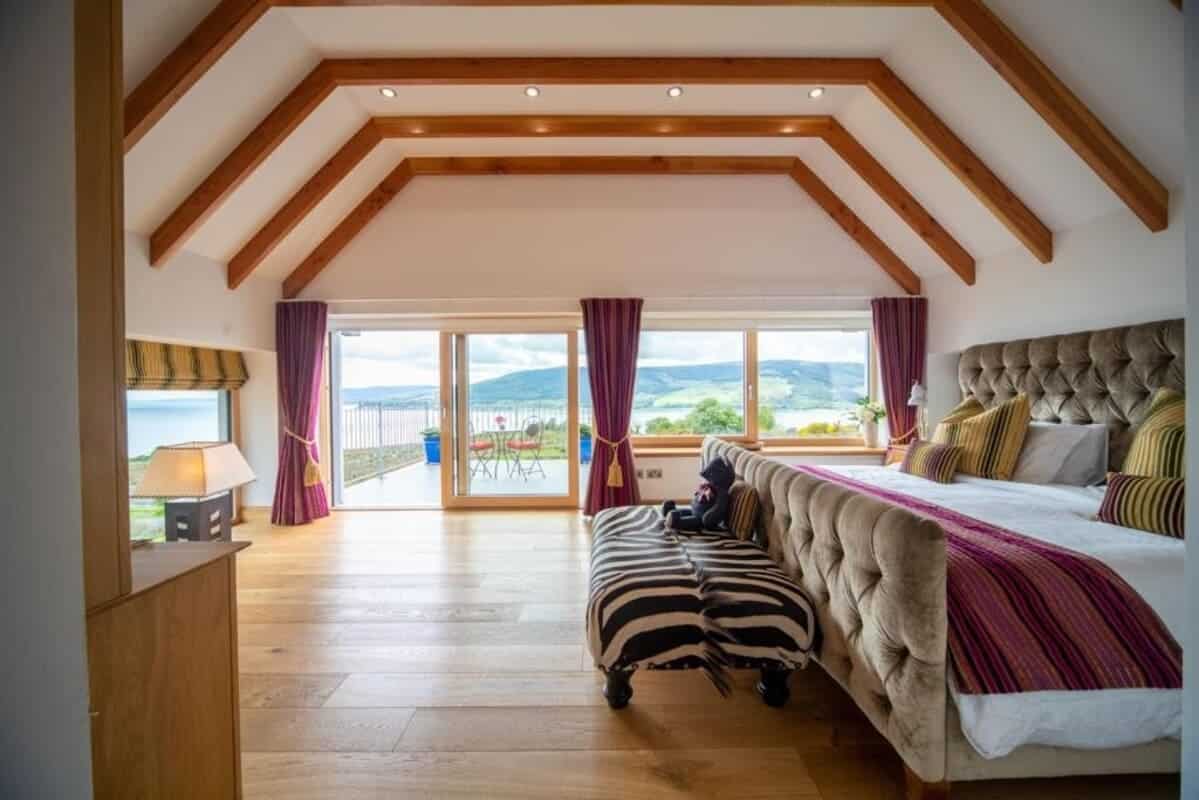 Located in Cove in the Argyll and Bute region, Knockderry Lodge boasts large windows throughout the property, which give you breathtaking views and plenty of daylight.
Perfect for family holidays, this luxury lodge features 2 bedrooms, 3 bathrooms, a dining area, and a patio with lake views.
Active guests can enjoy a good hike within close proximity to the Lodge and keep in shape even during their romantic getaway.
Family-Friendly Lodges with Hot Tubs in Wales
Counting over 600 castles, three national parks, and four UNESCO World Heritage Sites, Wales is definitely worth visiting for a holiday spent with family. This country of great outdoors is a fusion of the old and the new, which will make your stay even more interesting and which will definitely be interesting to people of other cultures.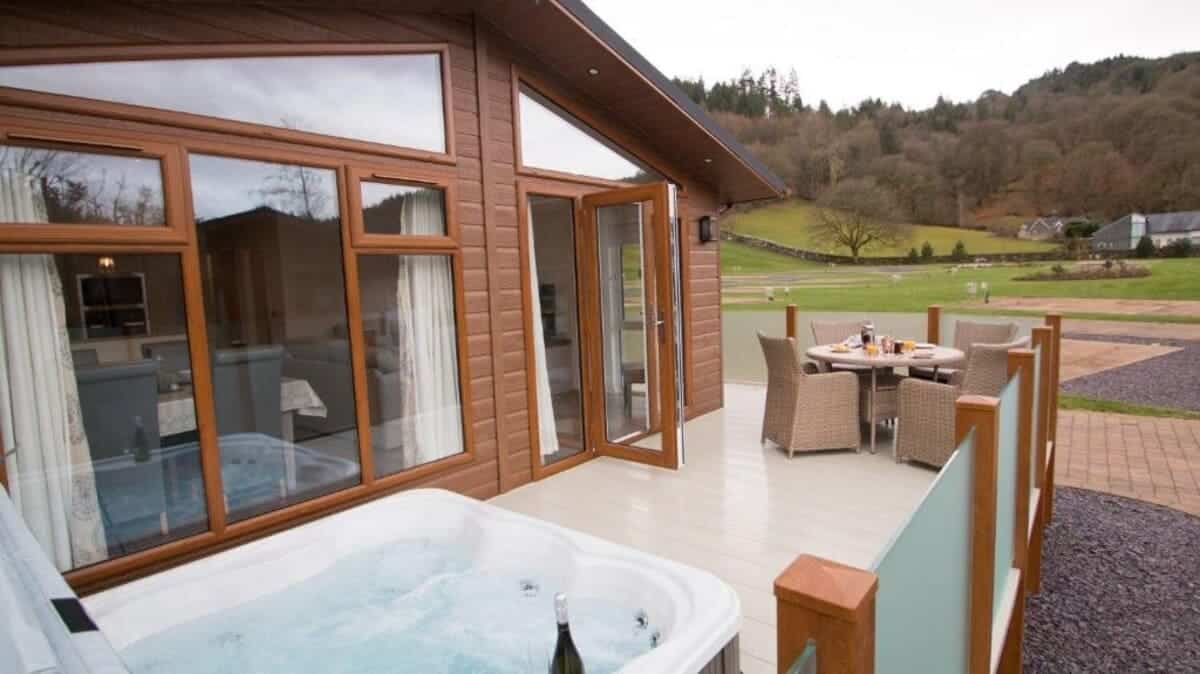 Lovers of lodge holidays will enjoy this lovely accommodation, located only 18 km from Snowdon. With two bedrooms, a bathroom, a dining area, and a fully equipped kitchen, Llyn Padarn Lodge is perfect for both couples and families alike.
The best part of this holiday home is by far an extensive patio with a hot tub that offers stunning garden views and that will be your quiet place for drinking morning coffee.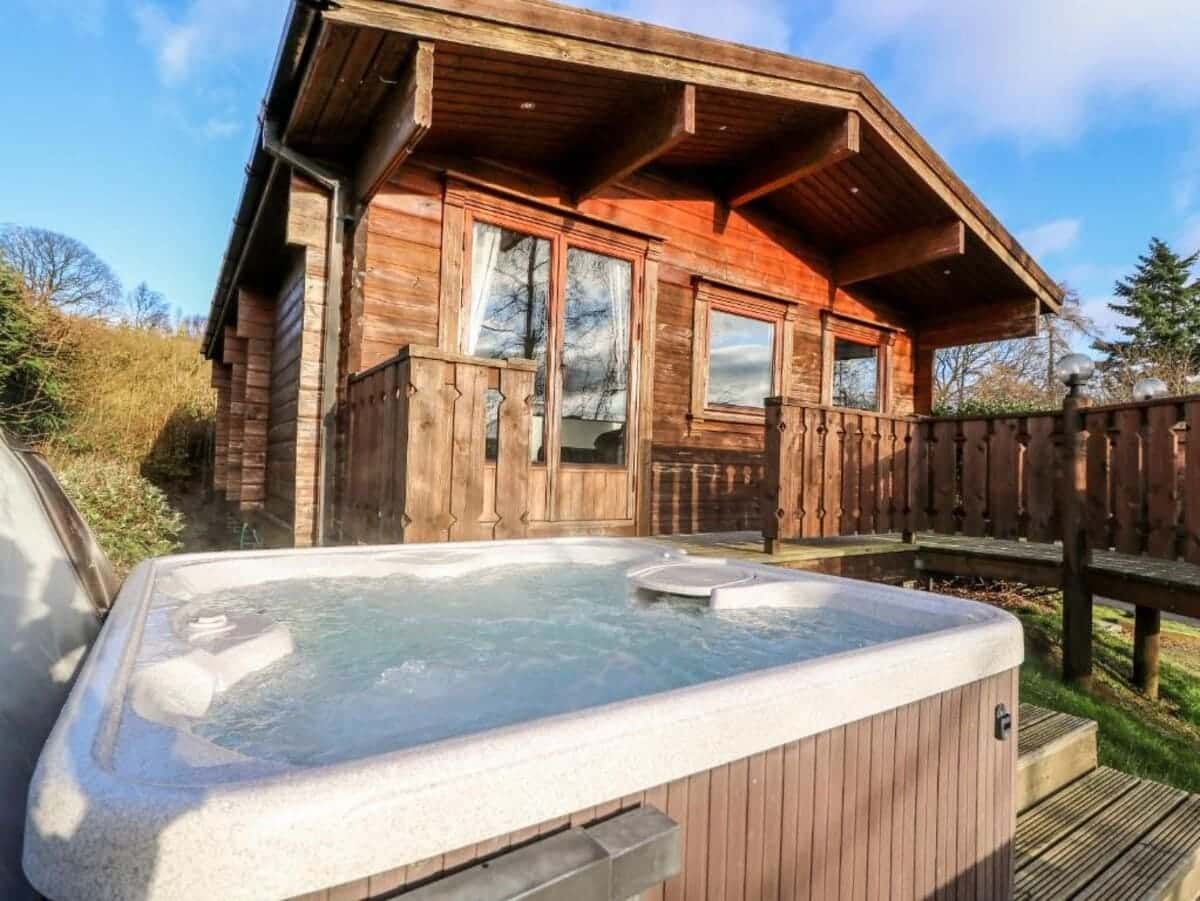 Located in mid-Wales, this lovely holiday home boasts two bedrooms, with a double bed and two twin beds, as well as off-road parking for one car. Guests of the lodge can count on an open-plan living area with a kitchen, dining, and sitting area.
The extensive outdoor area includes a decked veranda with outdoor seating furniture and a private hot tub. Also, you can take your favourite pets to this dog-friendly log cabin and have your whole family spend some quality time together.
Nearby, you can visit the charming market town of Rhayader, enjoy the local food and drinks, and observe glorious birds of prey at the Red Kite Feeding Station.
This lovely Welsh cottage is great for two travellers who wish to spend their romantic lodge holiday surrounded by the nature of South Wales. The accommodation comes with a bedroom, a kitchen, a terrace, and free WiFi.
Looking through the window, one can enjoy splendid views of Welsh nature, as well as the private garden of the property. In this part of Wales, visitors can spend their free time in pubs, shops, and restaurants, walk around the countryside or visit the bird-of-pray station situated near the property.
Family-Friendly Lodges with Hot Tubs in Northern Ireland
Northern Ireland is a land of adventures, imagination, and exploration. In this country, you really can have the best of both worlds and experience the perfect symbiosis of nature and modernity. By visiting luxurious cities and places, you'll get the real posh experience of Northern Ireland, while you can also book something cheaper and explore the land in a camper.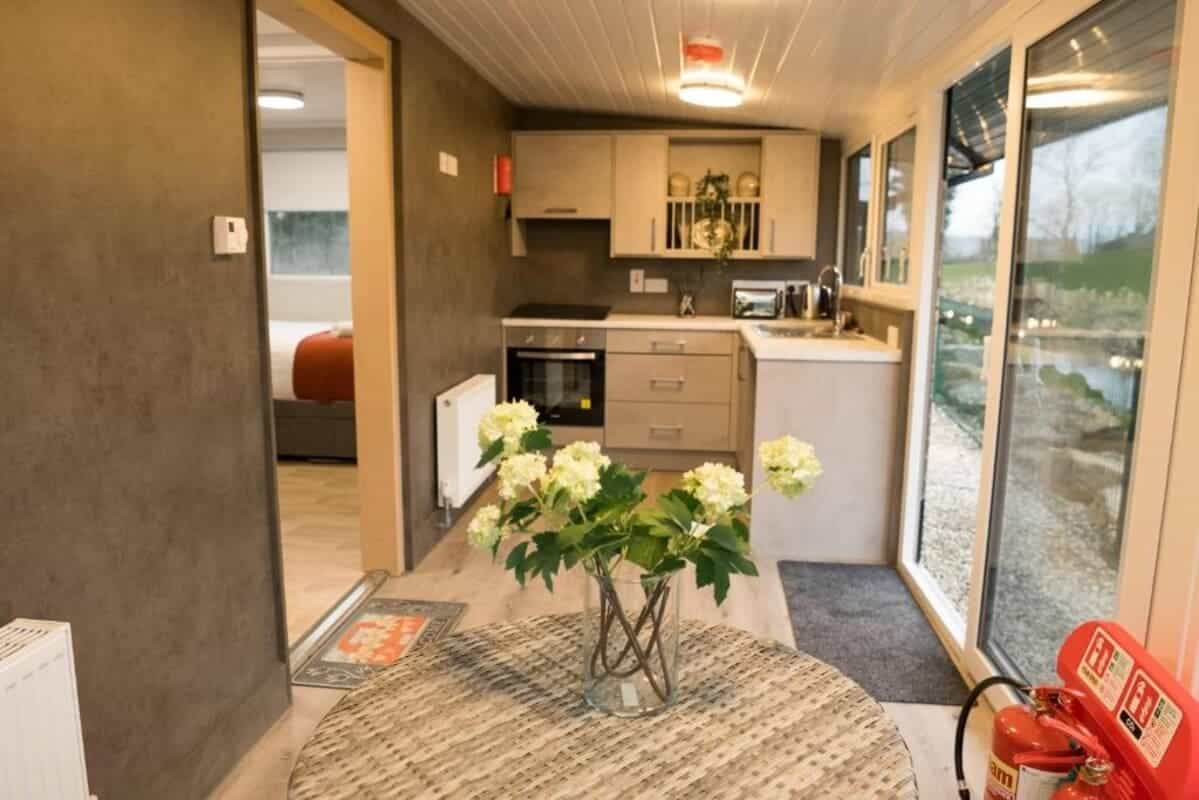 This luxury lodges complex in Northern Ireland boasts several types of chalets that feature open-plan kitchenettes with dining areas and up to three bedrooms, that can accommodate a maximum number of 6 guests.
These pet-friendly, self-catering accommodations mostly come with an outdoor fireplace, a picnic and seating area, BBQ facilities, and a sun terrace. Free-time activities available in the area include a children's playground and walking tours on-site, as well as fishing, golf, and a nature trail for hiking nearby.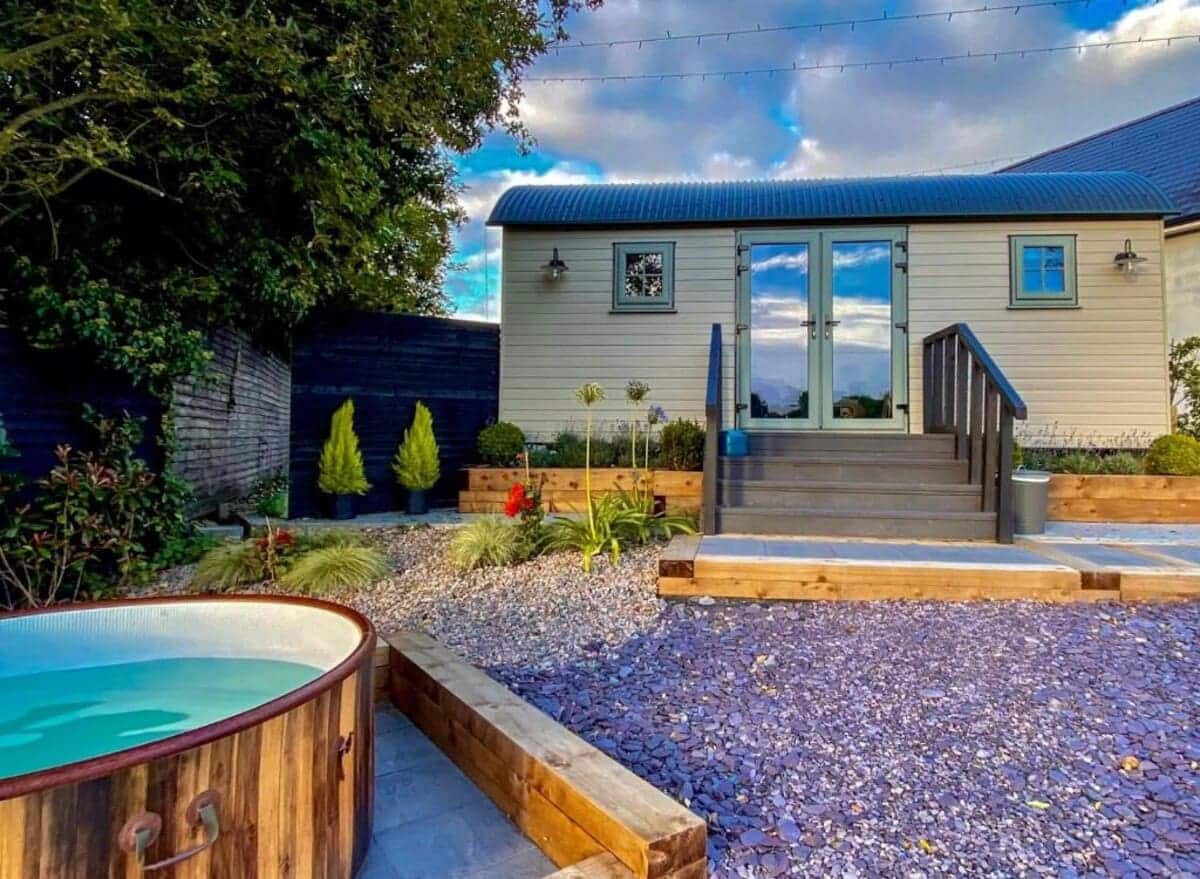 Bailey's Hideaway is ranked among our top self-catering accommodations for a lodge holiday in Northern Ireland. Situated 49 km from the Belfast International Airport, this gem among converted log cabins includes a bedroom, a bathroom with a shower, a seating area, and a kitchenette.
The property's garden offers great views from the inside of the French doors, as well as from the steaming hot tub located outside.
Many local points of interest, like the Saint Patrick's Catholic Cathedral, can be found within short driving distance.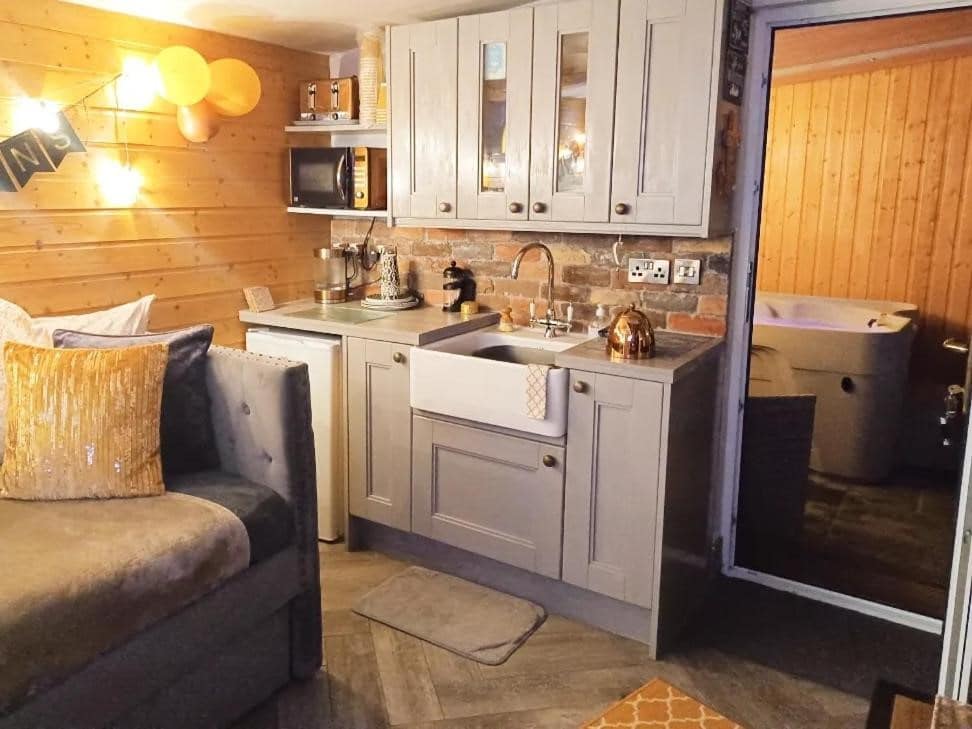 Therapy Lodge Ballycastle is your own little spa paradise that will leave you refreshed, relaxed, and ready to conquer all the challenges life throws at you after your holiday. This lodge boasts a patio with garden views, a fully equipped kitchenette, 1 bedroom, and a private bathroom.
When you're not using your own little spa, you can contemplate life and sit outside on the terrace, you can admire the lovely garden of the property, or even go for a hike nearby.
The UK offers a wide range of family-friendly holiday homes, as well as couple's luxury lodges, that have all the necessary flavours to spice up your next break. Most of them boast tranquil locations, peaceful surroundings, and outdoor terraces with hot tubs, that will boost the romance levels to the maximum, even if you are travelling with kids.
Our selection includes almost exclusively 2-bedroom luxury lodges, with children having their own separate rooms from their parents. Also, always make sure to check whether children under 18 are even allowed to check in, given that each accommodation provider comes with a new set of rules and regulations everyone must abide by.
However, you don't have to worry about anything. All these accommodations enjoy favourable ratings from their current users, which is why we highly recommend choosing one of the self catering lodges from our neatly picked list and starting your holiday as soon as possible. Don't let the rain scare you away!