When you hear the words "online education," what comes to mind? For many people, the first thought is that this type of education is purely distance learning – a student receiving all or most of their instruction and course content via the internet. However, there are actually different types of online education. Today, we're going to take a closer look at two of them: online and remote education. While they share some similarities, there are also some key differences between these two types of learning. Let's dive in!
Studying opportunities via the Internet
Thanks to digital technologies, getting an education is simpler nowadays. With a gadget, access to the Internet, free time, and desire to study, it has become possible to get a first degree or a graduate degree without leaving your home. Educational opportunities suggest two prime forms of Internet education: online and remote. Pandemic COVID-19 has forced society to apply for Internet options to study.
This article explains the core difference between online and remote learning to choose the most appropriate for all educatees. Weighing the pros and cons of each form will help you decide about your future studying program.
Online and remote education: definition of the terms and their core features
Online education is a form of studying supported by digital technologies. It supposes active interaction between students and teachers during the distribution of class materials. Thanks to it, students can get into the classroom without visiting traditional studying establishments personally. Unlike standard school classes, it significantly expands the techniques and methods of presentation and teaching approaches.
The features of online learning (also eLearning) are the following:
the studying program has a digital format;
a teacher has been preparing the course months in advance, involving professional ui ux design services for assistance in course creating;
the teacher provides the available studying materials in online versions;
the instructor prepares voice-covered presentations along with text versions of audio lectures;
the lectures occur in real-time (synchronously) or periodically (asynchronously);
The course includes extensive private conversations, comments, and dialogues between instructor and students.
The complete separation between learner and instructor, transmitting the information via IT-platform, discussion boards, video conference, audio bridge are the features of remote learning online. Unlike eLearning, it does not assume the presence of a student in a classroom. It has only one similar quality with eLearning: connection via the Internet.
The specific features of remote learning are sequential:
the studying program has a digital format;
an instructor may correct the course during the studying process according to the needs of students;
the teacher provides the available studying materials in digital form; students get the supplemented reading by themselves;
lessons may include voice covered presentations, audio and video conference do not necessarily include the transcribed file;
interaction between instructor and students happen synchronous or synchronous;
It supposes limited communication between instructor and student.
Hence, differences in education processes determine the distinction of these forms. The types of Internet studying that require a physical presence in a classroom are also called Hybrid or Blended learning.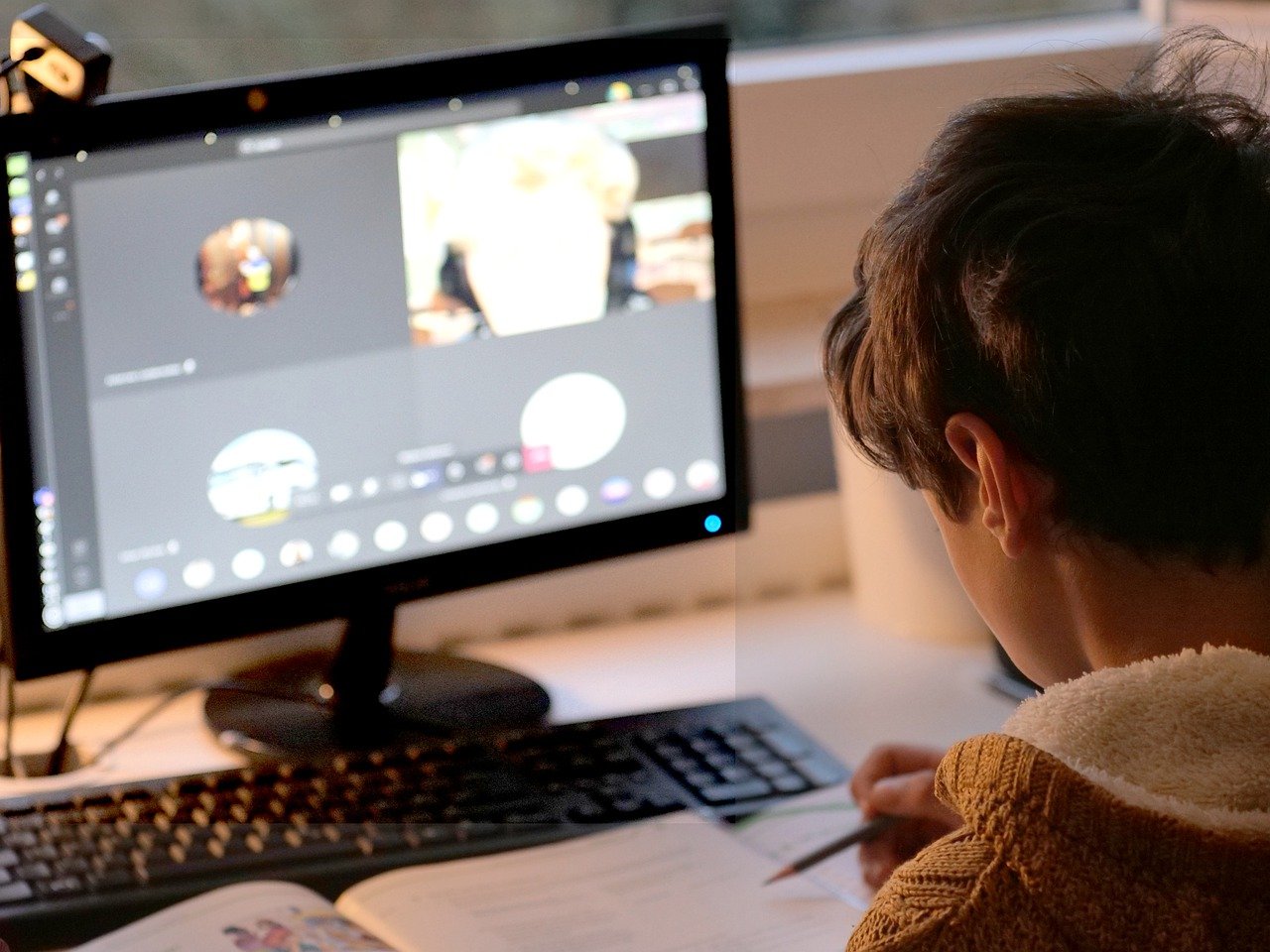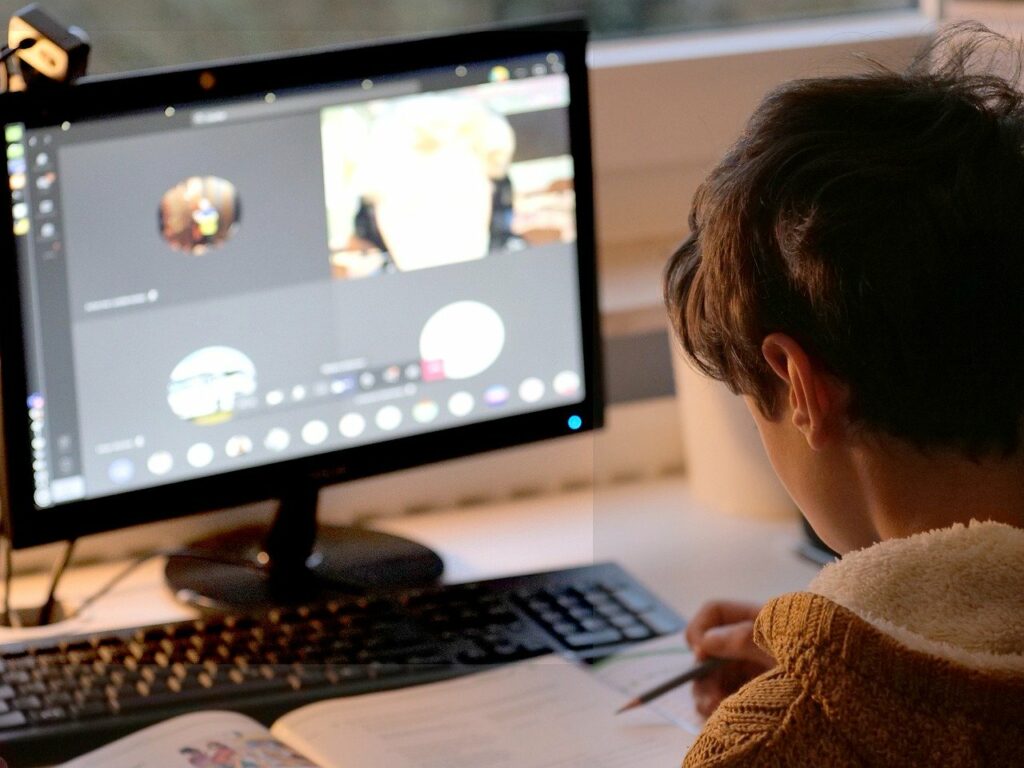 Practical differences between online and remote education
One fact can utterly explain the practical difference between online and remote education: sitting behind your laptop or tablet in your pajamas with little notice from an instructor is remote learning.
For a better understanding of the difference in practice, give attention to the progress of their work. When dealing with Internet education, five prime factors matter:
Venue. While eLearning supposes gathering a group of students together in a virtual classroom and having a digital lesson, the conditions of distance learning are opposite. The location of the remote class is home or other space with the Internet network available and preparing the assignments digitally for sending to a teacher for a check-up.
Cooperation. Online learning means tight personal contact with an instructor and experiencing various teaching strategies to comprehend the material. The responsibility for the studying process in remote education lies on a student and depends on self-managing skills. That means practically the absence of in-person cooperation between teacher and student. The communication has a strictly digital form like chat messaging, video calling, online discussion boards within the used IT platform.
Approach. Online education is a mix of various teaching techniques performed via digital technologies. Remote education limits the information transmitted to the list of instructions without expanding variations of the teaching practices.
Curriculum. Since remote education supposes a lot of solely work, it fits students who prefer to learn from personal experience. Online education provides all materials crafted and designed by the instructor. It is more holistic and includes the tactics that the instructor finds appropriate.
Comfort. Students of online courses have an opportunity to review the records any time they need to restore a piece of information or need a clarification upon it. Distance learning classes can rely on the notes and materials provided by the instructor, working with this information personally.
Hence, online and remote education have significant divisions. Estimate all pros and cons of them.
Advantages of each form
Regardless of the dissimilarities, each form is an efficient form of studying. Depending on personal preferences, each type has its undeniable advantage.
Students and teachers who generally enjoy the classwork, see the meaning in teaching methods and strategies, and accept the information given by this method better will certainly estimate online courses. It releases teachers from spending extra time on the plan creation of each particular lesson and allows students to control their success. Receiving the dosage of information, having enough time for digestion, and preparing feedback to the instructor keep the group of students organized.
Distance learning meaning is close for those who enjoy privateness. A calm atmosphere and achieving success on their own are the characteristics of this studying mode. It gives more freedom yet more responsibility for preparing the assignments. The absence of a strict schedule allows you to boost your time management skills and use your time effectively. Access to study materials in the most convenient hours allows combining it with part-time work or other life situations that do not allow attending a studying establishment regularly.
Regardless of the differences, online programs guarantee a continuous studying process regardless of pandemic character or snow-covered roads. These exclude most social problems in collectives like bullying and allow concentrating on studying entirely.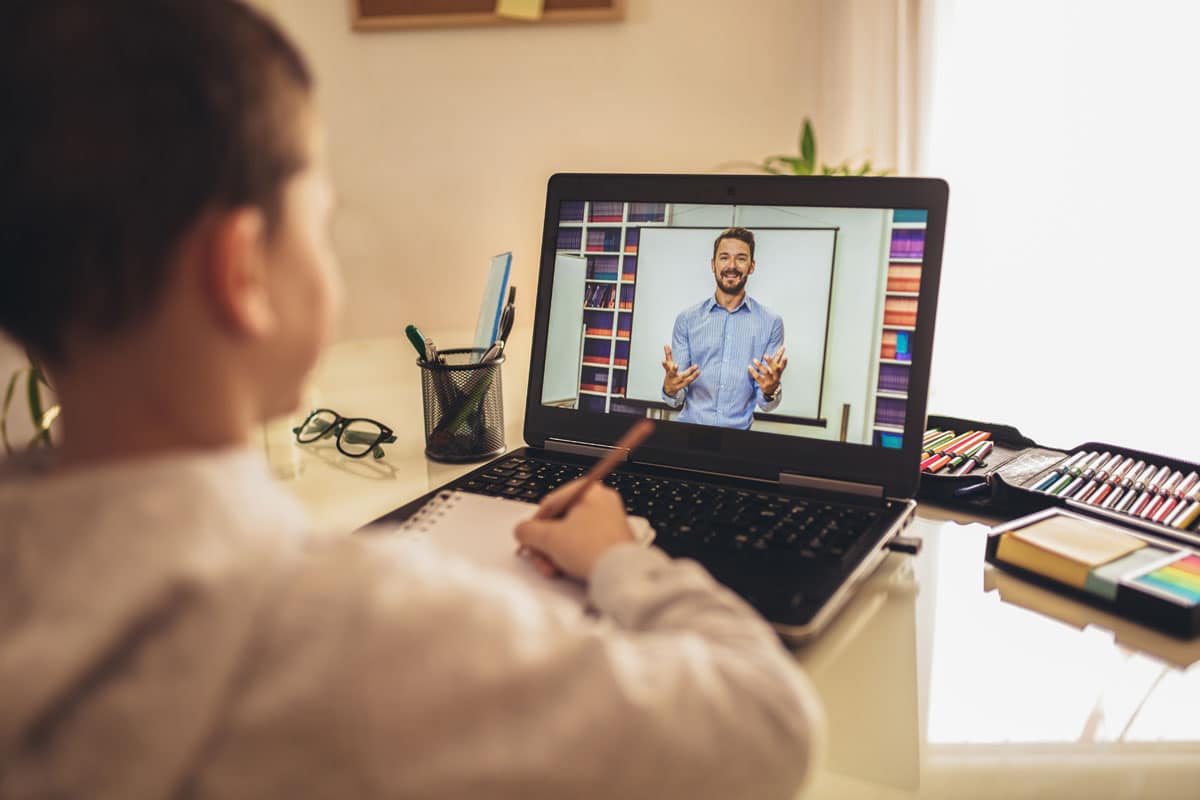 Disadvantages of each form
Even the most ideal form of studying is never perfect. Both types of Internet education suppose having usable technical equipment and the Internet. Without this condition, studying is impossible. Luckily, most of the international society uses gadgets systematically. The exceptions are underdeveloped countries and some countryside.
Both forms of studying may increase the risks of cheating among students. Teachers and instructors should be maximally creative to exclude it and provide the correct grades that respond to students' level of knowledge.
Find out what is a distance learning course before changing your regular program. Remote education compared to online one creates a feeling of isolation more frequently. Staying alone with books and educational tools, and studying materials inspires some students and brings relief from classroom noise and conflicts. Other students may feel abandoned and experience a lack of motivation to study. Since the online course supposes more control and communication with the instructor, it diminishes the desperate feeling of loneliness.
Both types require strong self-discipline and a high level of motivation to study. Neither online nor remote education courses offer a person who turns on your computer and makes you follow the studying program. The distant course offers a curator who can help you solve organizational problems, answer your questions, or guide you in the right direction if you feel lost within the system. The person responsible for achievements is the student, not an instructor.
Which form to choose
Both online and remote formats have taken strong positions in the educational systems. Providing an option is an excellent opportunity for students to choose the regime which fits their needs and habits the best for achieving perfect results in studying.
Aligning remote class vs online class, the last one fits better for middle and high school students and their teachers, thanks to implementing new strategies. Since the educational process is a system of questions and answers, it is easier to create it in the classroom. Controlling the progress and maintaining dialogue is a better option for children and teenagers. Combined with a flexible schedule, it also allows enough free time to spend with families, which traditional school rarely does.
Find out what is full distance learning from your friends and ask their opinion. Remote education supposes understanding by a student the importance of studying and readiness to take responsibility for the studying process.
You never know which form of studying is better until you try. Many schools allow trial lessons to estimate the studying process personally. For instance, distant schools can offer you several regimes: «our student,» «externe,» or «auditing student.» The last one suggests a student try the course for a short period while being an official student in another studying establishment. This mode can help decide whether the program is suitable for a person and if there is a sense to change the studying establishment in the future.
The progress of the studying system is overwhelming. With a high level of self-motivation, you will easily find the best form of studying for yourself and reach success.