Parents often struggle with their kids' birthday gifts, let alone finding an educational and entertaining gift. We understand how hard it can be to find the right gift for your little ones—especially when they're in their early years, before they fully understand why they like certain things.
If you're in such a dilemma, you can consider magnetic block toys. Magnetic cube blocks are the ideal STEM (science, technology, engineering, and math) toy for your little children to explore their spatial imagination. With this toy, you can be sure that your children are getting the best possible education and stimulation from this high-quality toy.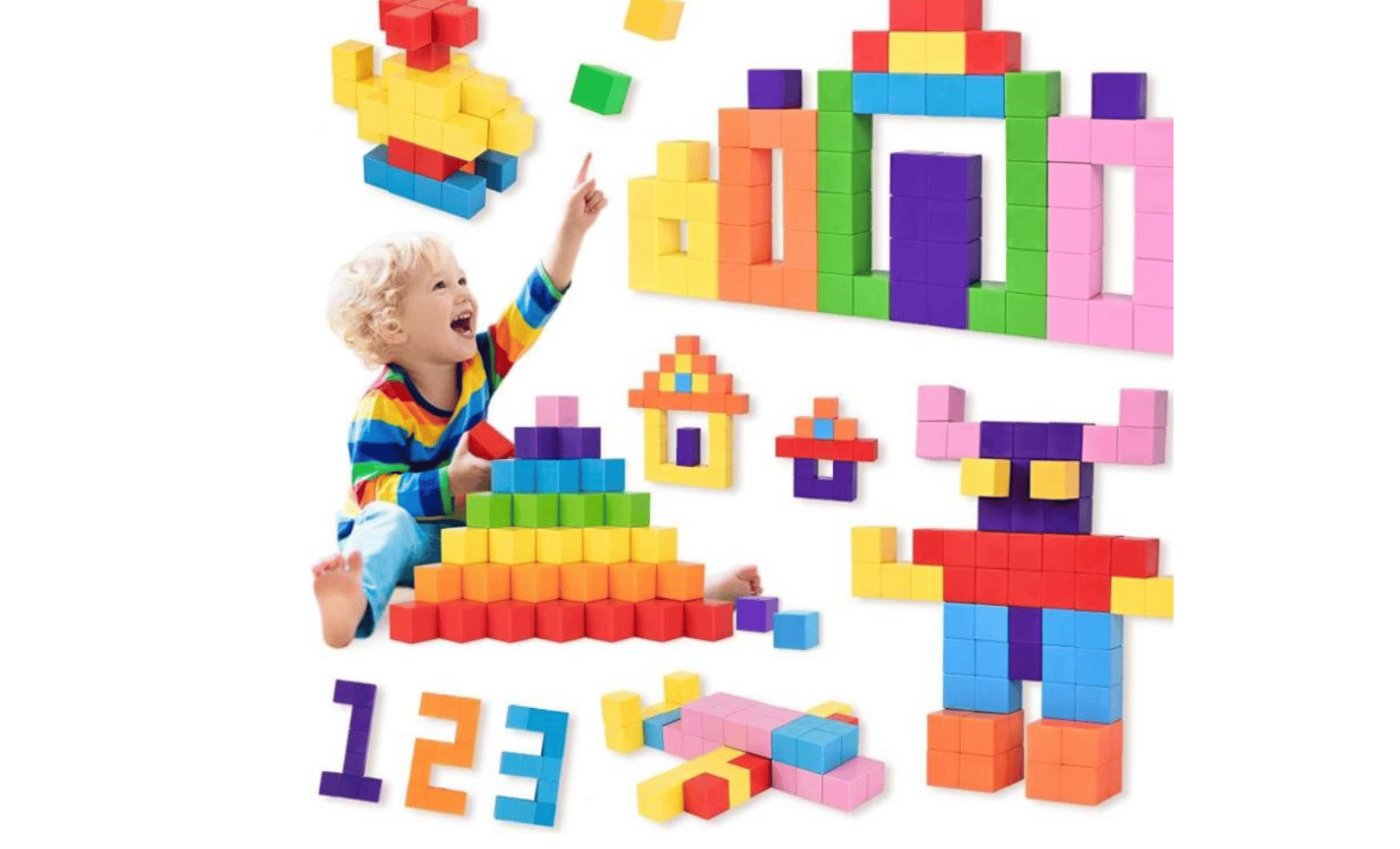 After browsing the magnetic tiles on the market, we found Cossy launched a new set of magnetic toys. Cossy magnetic cube blocks set is a great toy for parents who want to develop their child's spatial imagination, motor skills as well as develop their child's concentration. The magnetic cubes are colorful, durable and easy to use. They provide hours of fun for children of 3 years old and up. Here are the features:
Great STEM Learning Toy
As a building toy, this set combines construction and math knowledge and will help your child learn how to use their imagination while they build with the blocks – it can be used by parents at home or by teachers in classrooms.
The Cossy magnetic cube blocks will help your child learn to count, identify shapes, and master basic geometric concepts like planes and angles. With 56 packs cube blocks in the set, your little one will have hours of fun learning about geometry. Your kids will be able to build towers out of these blocks and create different shapes by stacking them up one over another. They'll also be able to learn how to solve problems by using logic and reasoning.
The cube blocks are made of high-quality magnets, which will keep the blocks together when they are put in the right place. The toys also help in developing children's concentration and hand-eye coordination while playing.
Sensory & Preschool Toys.
Cossy is a brand that believes that children should be given the freedom to create. This belief is what drives their team to create products that enable children to be creative and make their own toys. At Cossy, they help kids develop their imagination, creativity, and problem-solving skills by creating toys that encourage them to use their imagination and play with objects in new ways.
The magnetic cube blocks set is a great example of this philosophy. This set contains 56 packs of magnetic cube blocks in seven different colors. They are green, blue, purple, pink, red, orange and yellow (each color has 8 packs). It also comes with an easy-to-follow manual for creating cute designs from the cubes. This is a great instructional and inspiring manual for kids who are just starting to play with magnets.
In addition to regular gameplay, parents can write simple numbers and operation symbols on paper, and use the color of the magnetic sheet to help children learn mathematics, which makes children entertained while learning.
With this toy, children will have fun experimenting with the different shapes and colors available, as well as learning about how magnets work–and why they're so cool. The possibilities are endless.
Durable & Strong Toy
There's no point in having a strong magnet if it's not durable. And there's no point in having a durable magnet if it doesn't sound nice when connected together. So Cossy decided to combine the best of both worlds with their new magnetic cube blocks.
The magnetic blocks are made of high-quality ABS material and super strong magnets, so they'll stand up to repeated use without losing their shape or sound. Their edge design ensures a smooth feel, so it would be safe for kids while playing.
The cubes are also made from a highly durable material that will stand up to years of playtime without breaking down or losing its shape over time like many other toys do when used frequently by young children throughout their development process.
The cubes are perfect for kids who are 3 years old and up because they're easy for anyone to use no matter what their level of dexterity may be due; whether it be holding onto them with one hand while guiding them into place on top of another cube; or stacking them up one on top.
As parents, you must consider storage. The magnetic cube blocks set includes a storage bag for your easy reference and storage. So you won't be worried about losing one piece of cube to make the design uncompleted, which may make kids unhappy or even sad. Besides, these magnetic toys are easy to clean so you don't have to worry about how long your kid will keep playing with them before putting them away in their toy box—and they'll keep their interest for hours on end.
In Conclusion:
These magnetic cube blocks encourage kids to learn about shapes, colors, sizes and even simple math and engineering by building blocks together. Your kid will also have fun, know how to get along with others and learn how to share with others while playing with them as they will be able to create different structures using these magnetic blocks with friends or families. With these blocks, it doesn't matter if your child is young or old—they'll enjoy them for years to come.
The keys are to make sure your kid has a good time playing with these blocks, and you need to make sure you will give them some help. It doesn't have to be difficult—just make sure you have some paper plates or other flat surface nearby so they can build their creations without falling over into something dangerous.
In our stereotype, boys like car toys and girls like dolls. If you have boys and girls in your family or your children are quite different in age, magnetic sheets will be your best choice for your child.