Baby bath tub is an important product for babies. The baby bathtub price in India can vary depending on the type of tub you are looking for. For example, inflatable baby bathtubs are going to be less expensive than convertible tubs. Similarly, a foldable baby bathtub is going to be less expensive than a traditional tub. Generally, baby bath seats also come with an average price tag in India. But as for your baby's safety, it is worth every penny to buy a seat that has been certified by the Juvenile Products Manufacturers Association (JPMA).
When looking for the best baby bathtub price in India, be sure to compare prices from different sellers. You can find some great deals online, but be sure to read the reviews before making your purchase. The product selected must have good quality and it should be comfortable for the baby's bath time. It is also very important to select the right size for the baby bathtub according to the baby's age and height. For an infant tub, the size should be small and for a toddler tub, the size should be big. The most important thing is to select the best one which suits your budget and requirement. Here we've provided you with everything you should know related to the price of the baby bathtubs in India.
How much does the baby bathtub price?
A baby bathtub can cost anywhere from Rs. 500 to Rs. 2500 in India. The price will depend on the brand, size, and features of the tub. Some tubs come with a built-in shower, while others have a detachable shower head. If you think to buy tubs for your infant then a variety of infant tubs will be around 300 to 4,000. But, the price may vary depending on the store or website from which you are purchasing it. Generally, a regular bathtub can also be used for an infant but it will be a little difficult to handle them so it's better to buy an infant bathtub.
Additionally, the cost of the tub may also vary depending on whether it is made of plastic or metal. For a newborn tub, you are supposed to pay between Rs.500 to Rs.1000. If you want a bathtub with extra features like a built-in heater then the price will be more than that. As well as newborn sling support, anti-slip support, and other such things are also available in the market that you can buy according to your convenience.
Some of the popular brands that offer bathtubs for infants in India are Babyhug, Chicco, Graco, Luv Lap, Mee Mee, Sunbaby, Pigeon, and so on. You can choose any one of these brands according to your preference and budget. These brands offer different types of bathtubs such as inflatable tubs, portable tubs, hard plastic tubs, and metal tubs. These all come with a wallet-friendly price tag and provide the utmost safety to your little one while bathing.
What does the smallest size baby bathtub cost?
As we said in the introduction, there are many variables that will affect the price of a baby bathtub. The smallest size baby bathtubs can cost as little as Rs 400, but they can also cost as much as Rs 1,000. It really all depends on the brand, the features, and where you purchase it from.
To make bathtime easier and more fun, consider getting a bathtub with features like a built-in shower, temperature control, or even a footrest. These tubs will obviously cost more than the basic ones, but they can be worth the investment.
Generally, small bathtubs with an ergonomic design will cost you between Rs. 600 to Rs. 1,000. You can find these bathtubs at your local baby store or online. Although infant insert tubs are a little more expensive than regular bathtubs, they're worth the investment because you can use them for your baby's entire first year. So, make sure to keep this in mind when budgeting for your baby's bathtub.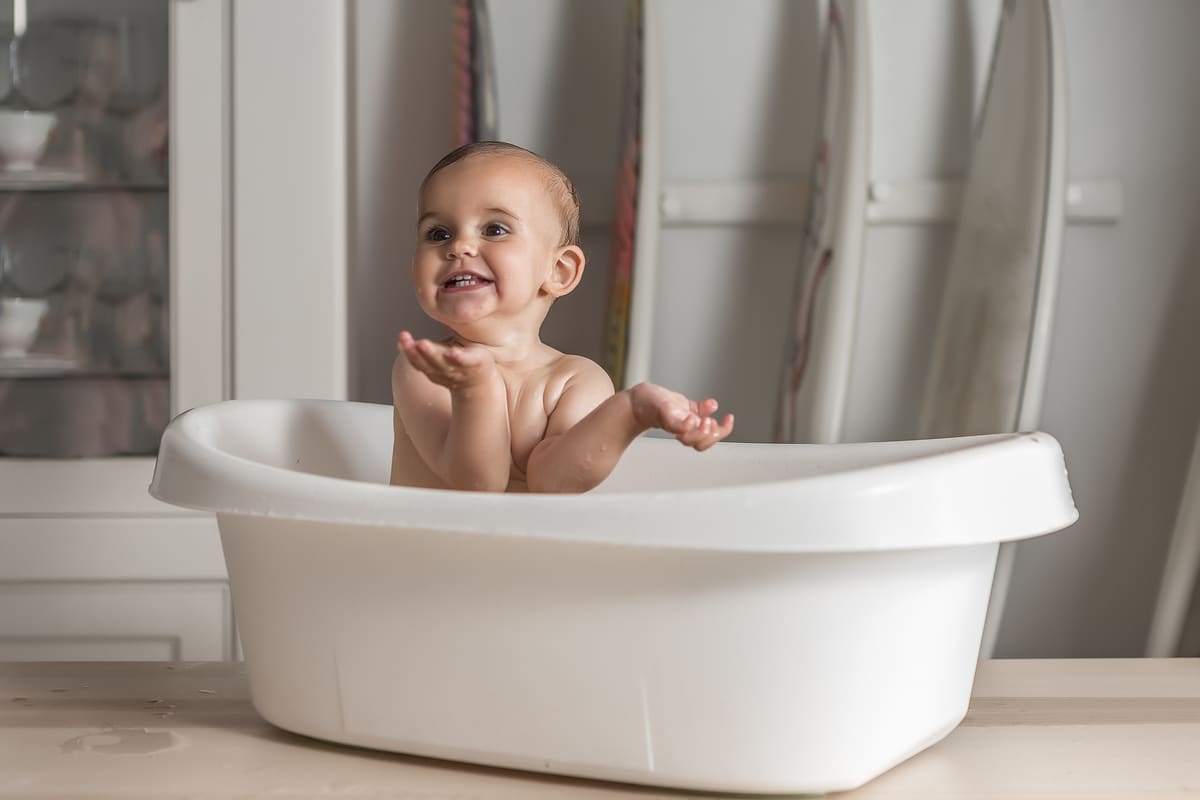 What factors influence the cost of bathtubs?
Most babies will use a bathtub during their first year of life. Baby grows quickly and bathing needs to change as they do. Moreover, as they develop and start to become more mobile, they need a bathtub that can accommodate their movement. There are many factors that can influence the cost of bathtubs and they are:
Size
Parents choose the size of the bathtub based on the size of their bathroom and also the age and size of their baby. If you have a small bathroom, you may need to buy a smaller bathtub so that it can fit. The size of your baby will also affect the size of the bathtub you need to buy. A newborn stage needs a smaller tub so that they can recline comfortably. As they grow and become a convertible tub may be more suitable.
Safety features
Some bathtubs come with special features to help make bathing time safer for your baby. These features can include anti-slip mats, temperature indicators, and soap holders. These features can add to the cost of the bathtub.
Brand
There are many different brands of bathtubs on the market. Some brands are more expensive than others. When choosing a brand, you should consider the reputation of the company and the quality of its products.
Material
The material of the bathtub also affects the cost. Most bathtubs are made of plastic but there are also some that are made of metal or ceramic. Plastic bathtubs are usually the cheapest but they are also the lightest and most portable. Metal and ceramic bathtubs are more durable but they are also more expensive.
Design
The design of the bathtub can also affect the cost. Some bathtubs have special features such as built-in seats or headrests. The sit-me-up support in the tub can be used when your baby is ready to sit up. This feature can add to the cost of the bathtub.
Types of tub
There are many different types of baby bathtubs on the market. You can choose from tubs that are made from plastic, foam, inflatable, or even fabric. Some tubs have a built-in seat or headrest, while others do not. The type of tub you choose will also affect the price.
Other factors
Other factors that can affect the price of a baby bathtub include the shipping cost and the warranty. If you are buying the tub online, you will need to pay for shipping. Some companies offer free shipping but it is usually for a limited time only. You should also check the warranty of the product before you buy it. This will ensure that you can get a replacement if there is something wrong with the tub.
Things we should know!!
Here are some things we should know before purchasing a baby bath tub
Avoid sharp edges and look for a tub that has smooth, rounded edges to avoid any cuts or scrapes.
If you use a bathroom sink, be aware that the porcelain can become slippery when wet. Place a washcloth or towel under the tub to avoid any accidents.
You'll want to make sure the tub is the right size for your baby. A smaller tub may be easier to use if you have a newborn, while a larger one may be necessary as your baby grows.
Pay attention to how the tub is draining. Some tubs have a plug that can be inserted to block the drain, while others have a built-in drain stopper. Either way, you'll want to make sure the tub is draining properly to avoid any accidents.
For baby upright baths, look for a tub that has a padded seat or headrest. This will help support your baby's head and neck while bathing.
Make sure about the bath toys which can be used in the tub. Some bath toys are specifically designed for use in the tub, while others may not be suitable.
Be aware of any safety recalls on baby bathtubs. In the past, there have been recalls of certain models due to safety concerns. You can check the U.S. Consumer Product Safety Commission website for any recalls.
The removable sling is an important part of many baby bathtubs. This can be used to support your baby while bathing and can be removed when no longer needed.
Some tubs come with a temperature indicator to help you know if the water is too hot or cold. This can be a useful feature, especially when bathing a newborn.
Many baby bathtubs come with storage compartments for holding soap, shampoo, towels, and other bathing supplies. This can be a convenient way to keep everything organized in one place.
Some tubs come with a built-in bath seat or ring. This can be a great way to support your baby while bathing, but be sure to check the weight limit to make sure it is appropriate for your child.
However, make sure about all these points before purchasing a baby bathtub for your little one!!
Can we use baby bathtubs for newborns?
There is no one-size-fits-all answer to this question, as the best way to bathe a newborn baby will vary depending on the individual child's needs. However, in general, baby bathtubs can be a great option for newborns – especially if you choose one that is specifically designed for infants.
One of the main benefits of using a baby bathtub is that it can help to make the bathing process easier and more comfortable for both you and your child. Baby bathtubs provide a safe and supported space for your little one to sit or lie down in during bath time, which can make the whole experience less stressful for everyone involved.
Additionally, many baby bathtubs come equipped with special features that can make the bathing process even easier, such as built-in seats or recliners, nonslip surfaces, and temperature gauges. These features can help to ensure that your child is comfortable and safe during bath time, while also making it simpler for you to get the job done.
What can I use instead of a baby tub?
There are many different options for bathing your baby that don't require a traditional baby tub. One option is to use the bathtub, but put a nonslip mat down first and fill the tub with only a few inches of water. You can also try using a portable infant bathtub, which can be placed in an adult-sized tub or on a countertop or table. And finally, many parents simply hold their baby in their lap while showering – this way, you can avoid getting soap in your baby's eyes. Whatever method you choose, just be sure to use gentle movements and support your baby's head and neck at all times.
Can you bathe a baby in a shower?
Yes, you can bathe a baby in a shower as long as you take precautions to keep the baby safe.
When bathing a baby in a shower, it is important to make sure the water is not too hot and that the baby is not standing in one spot for too long. It is also important to keep an eye on the baby at all times and to never leave him or her alone in the shower.
If you are going to bathe your baby in a shower, it is best to start out with sponge baths until your baby gets older and can sit up well on his or her own. This will help prevent the baby from slipping and sliding around in the shower.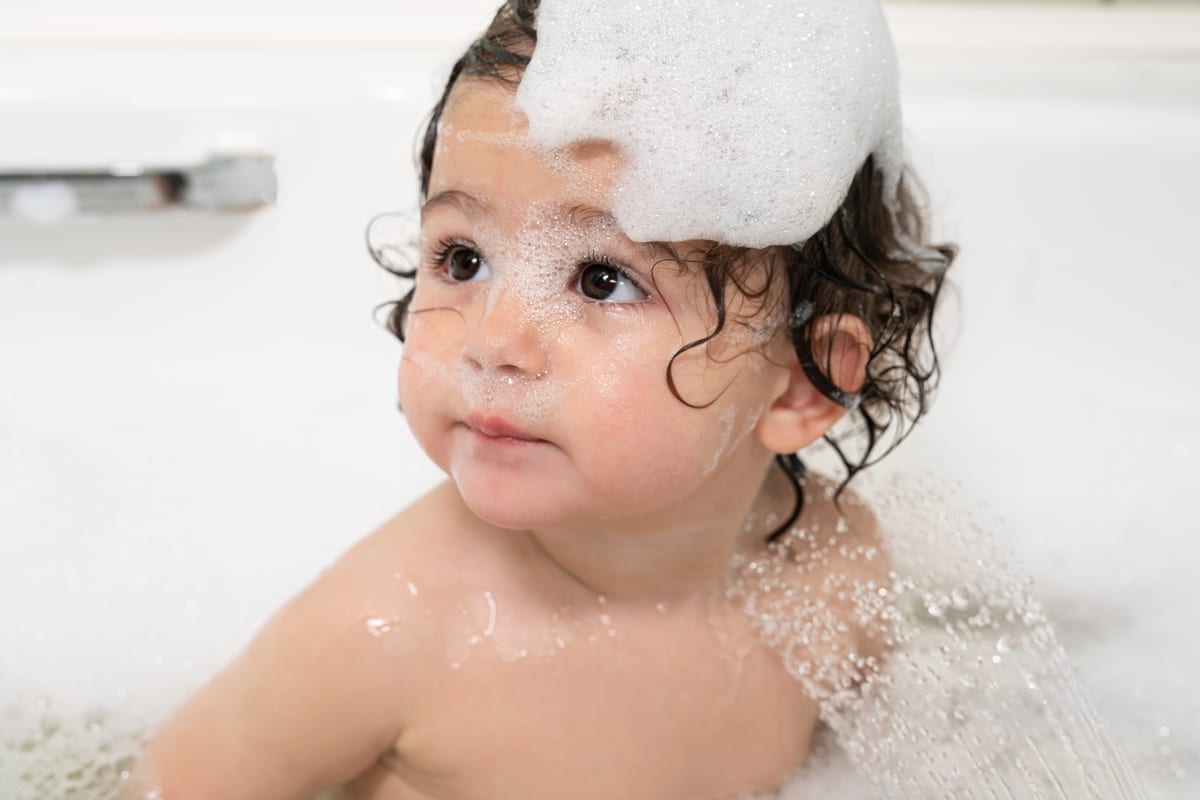 How long can you use a baby bath Tub?
Most baby bath tubs can be used until your baby is about 24 months old. When your baby is first born, it's important to keep them warm, so you'll want to bathe them in a sink or basin that's filled with warm water. As your baby gets older and begins to move around more, you can start bathing them in a baby bath tub. Most baby bath tubs can be used until your baby is about 18 months old. Some babies are ready to start using the toilet at an early age, while others aren't ready until they're closer to 2 years old. If you're not sure when your child is ready to start using the toilet, talk to your pediatrician.
The Bottom line
Therefore, baby bath tubs are an important purchase for any new parent and the price should be considered carefully before making a decision. Finding the right baby bathtub can be a challenge, but with a little research and patience, it is possible to find the perfect one for both you and your baby.
As well as a baby bath seat, you will also need to think about what type of bathtub you would like and how much you are willing to spend. When it comes to baby bathtubs, there is a wide range of prices that you can expect to pay. Depending on the features that you are looking for and the brand that you choose, the price of a baby bathtub would be affected by it. We hope that this article has helped to give you some insight into baby bathtub prices in India. If you have any queries or would like to share your thoughts with us, then please do so in the comments section below.