New parents eagerly await long, nine months for the arrival of their little angel. And while parents love every moment they have with their bundle of joy, there's one aspect of parenting often greeted with an emotion that's somewhat less enthusiastic—nappy time.
How many times do you think you have to change your baby's diaper for the first year? 500? 1,000? Let's do the math, shall we?
Experts recommend that you change your baby's diaper every 2-3 hours. If it's soiled with poos, then you need to change it more frequently. In general, that's 8-12 diapers a day. So, in a year, it's estimated that you'll be changing anywhere between 2,900-4,300 nappies!
That's a lot!
And if you estimate that each diaper takes 3 minutes to change, you'll be spending about 125 hours or 7,500 minutes (that's 5 whole days) in a year just changing your little one's nappy. That's not to include the extra minutes it takes to change diapers once your little one starts wriggling too much.
That said, since you'll be spending so many hours on nappy duty, it's a must that you make nappy changes as fast, clean, and safe as possible. In this case, a wedge changing mat is your best solution. This article shares some compelling reasons why you should invest in a wedge changing mat for your little one.
Wedge Changing Mat For Babies: What Is It?
As its name implies, a wedge changing mat is a padded baby mat with the defining feature of raised sides that helps prevent your baby from rolling off or wriggling away during nappy changes, as well as making your baby feel secure.
It can be made of various materials, but the more popular ones are those with a waterproof lining to ensure a fast and clean diaper change.
Wedge Changing Mat Benefits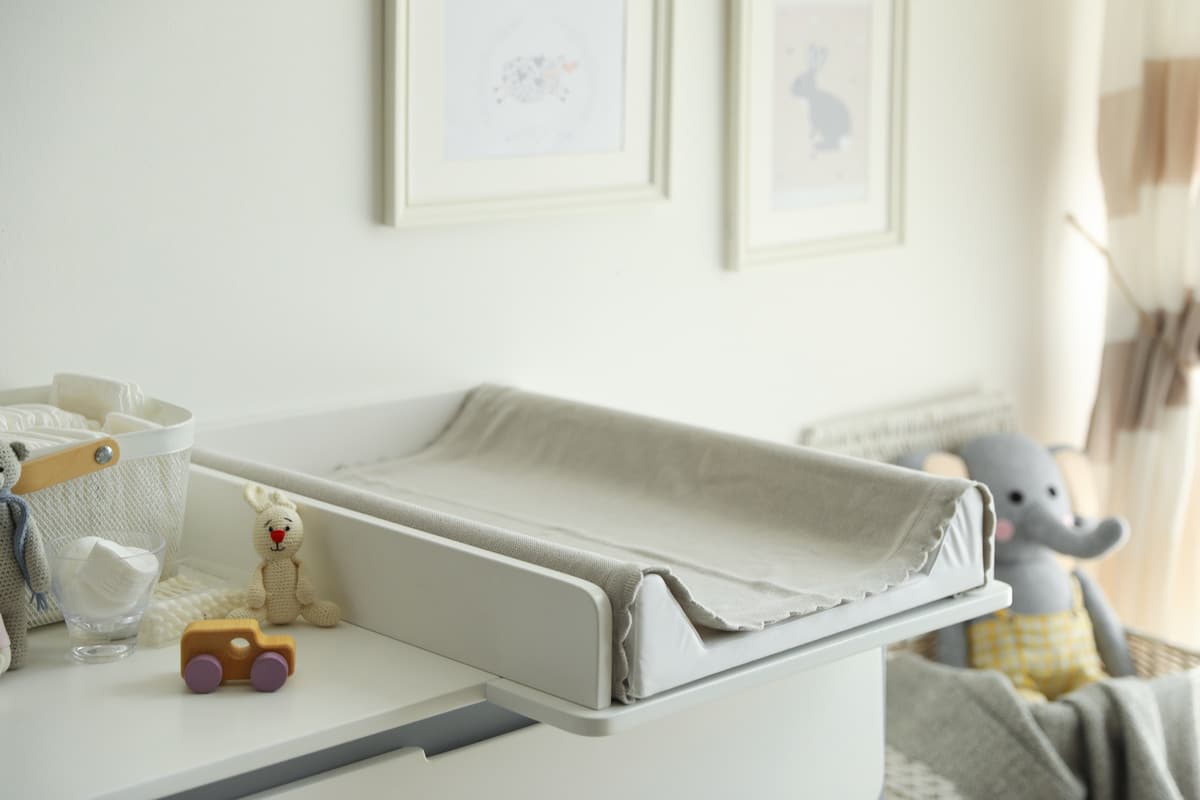 A wedge changing mat may seem straightforward in design, but its numerous benefits make it a preferred choice for most new parents. The following are some of the reasons why you should invest in a wedge changing mat:
1. Prevents Rolling And Wriggling
Perhaps the most important benefit of using a wedge changing mat during nappy time is that it helps keep your baby from wriggling around. This is particularly useful when your little one reaches six months to over a year of age as they become more active and make it difficult to change their diapers.
This makes nappy changes faster since you don't need to use one hand to pink your baby while you clean them up or prepare the diaper or prevent them from crawling. In short, a wedge changing mat can help keep your little one still so you can change their diaper with less fuss.
2. Increased Safety
Also connected to the previous point, the sides of a wedge changing mat help prevent your baby from rolling off, thus preventing falls. This is particularly true if you're changing your little one on the bed or raised surface like in their changing tables.
A mat can't completely prevent wriggling babies, especially the more active ones, from falling off, so have a free hand and don't leave them unattended.
3. Versatility
The purpose of wedge changing mats is to make nappy changes easier and faster. However, it doesn't mean that you can't use it for other purposes. The design of wedge changing mats is versatile and can also be used for playtime as well as tummy time. The high sides can prevent them from moving too much while ensuring that they get enough exercise.
4. Easier Clean-Ups
When changing diapers, it's inevitable to experience a rogue poop or pee mid diaper changes. Or you may spill the contents of a diaper and create another mess.
Fortunately, a wedge changing mat can make clean-up quicker. Thanks to its shape, a wedge changing mat can contain the mess. Plus, most changing mats feature water-resistant lining material. So, simply wipe down the surface with a cloth and you're done.
5. Great For On-The-Go Diaper Changes
Whether you're going to the mall with your baby or visiting grandma and grandpa for a week, a wedge changing mat can help for quick on-the-go diaper changes. Babies, especially those with sensitive skin, require changing diapers immediately after soiling to avoid the painful nappy skin rash. That said, if your little one soiled their diaper while traveling, a wedge changing mat allows you to change their nappies anytime, anywhere. This way, you don't have to leave your baby uncomfortable and soaking wet after urinating or pooping.
You can simply stop the car or go to the nearest bathroom, place the wedge changing mat, and quickly change their diapers, with less wriggling and fussing even in tight or cramped spaces. It also ensures sanitation and your baby's health, especially when changing their diaper in public bathrooms, keeping their feet, hands, and body from touching anything else.
6. Saves Your Back
For most parents, nappy changes should be done on the floor or on the bed to ensure safety. However, by using a wedge changing mat, you can simply place it on any raised, flat surface and change your little one's nappy.
This can help prevent you from bending over too much when changing your baby's diaper. Most wedge changing mats allow you to do your nappy duty standing up by securing it to a changing table or furniture, which helps reduce strain on your back.
Takeaway
And there you have it! As you can see, a wedge changing mat is truly a game changer for your nappy changing routine. Investing in a good wedge changing mat, you can spend a lot less time pinning down your wriggly baby and cutting your diaper changing time in half while having fewer messes to clean up after.
A well-designed wedge changing mat can make all the difference in the world of nappy changing. Hence, always keep a free hand on your baby. Never let the raised sides lull you into a false sense of security. Your little one will always find a way to wiggle out of your grasp.