With each wedding anniversary, you and your partner can look back at the moments you shared. And as you stay together longer, you start your own traditions and celebrations. But even when you aren't a part of the couplet, you can still celebrate this big day together.
That doesn't mean you should crash their party! Whether it's your best friends or your parents, you can expect that the couple will want to spend some time alone or away from the house.
But it depends on how close you are to the celebrating couple or how long they've been together. Some couples appreciate a party, while others need peace and quiet. Use your own discretion to find the perfect way to commemorate your loved ones on their anniversary.
How to Celebrate Another Couple's Wedding
Celebrating another couple's anniversary is a sweet gesture, and you want to make sure you get it just right! Here are some great ways to show your appreciation for another couple.
1. Send a Customized Digital Anniversary Card
A card is a simple but thoughtful way to show your appreciation for the couple. Choose a card that reflects the love and special bond between them, and write a heartfelt message inside. Include some memories or inspirational quotes that remind them of their special day.
While a heartfelt, handwritten card can be a cherished keepsake for a couple, a customized digital card can be the perfect gift. Elegant anniversary cards from Punchbowl allow you to add video messages or a gift card. On the envelope, you can change the liner, stamp, or postage.
Digital cards can also be stored for longer. Instead of giving the couple something that may crumple in a drawer, give them a digital card that can stay safe in a hard drive forever.
2. Create a Memory-Filled Photo Collage
Collect photos of the couple from throughout their relationship and create a beautiful collage. Then, print the photos and arrange them in a meaningful way. You can also include a handwritten note or caption to make it even more personal (or just put a note on a card).
With that said, taking the time to sit down and write a heartfelt letter to the couple can really show that you care. Be sure to share your favorite memories of them, express your admiration for their relationship and each individual, and wish them many more happy years together.
If you're feeling ambitious, you can create a video using photos, video clips, and music that captures the couple's journey together. Ask a professional to edit it if you need some help.
3. Plan a Get Together or Suprise Party
Invite some of their close friends and family over for a small gathering. You can prepare some of their favorite dishes and drinks and celebrate the couple with a heartfelt toast. Consider going to a restaurant with a small group or cooking them dinner. Supply a caterer for bigger parties.
On the other hand, you could throw a surprise party for the couple, inviting all their closest friends and family. Make sure the couple likes surprises before you spring this on them, or you could make them uncomfortable. If they're game, try to invite their closest loved ones.
Whether you're planning a big or small event, make sure you do what you can to help them relax. Don't throw the party at their house, so they aren't in charge of cleaning everything up.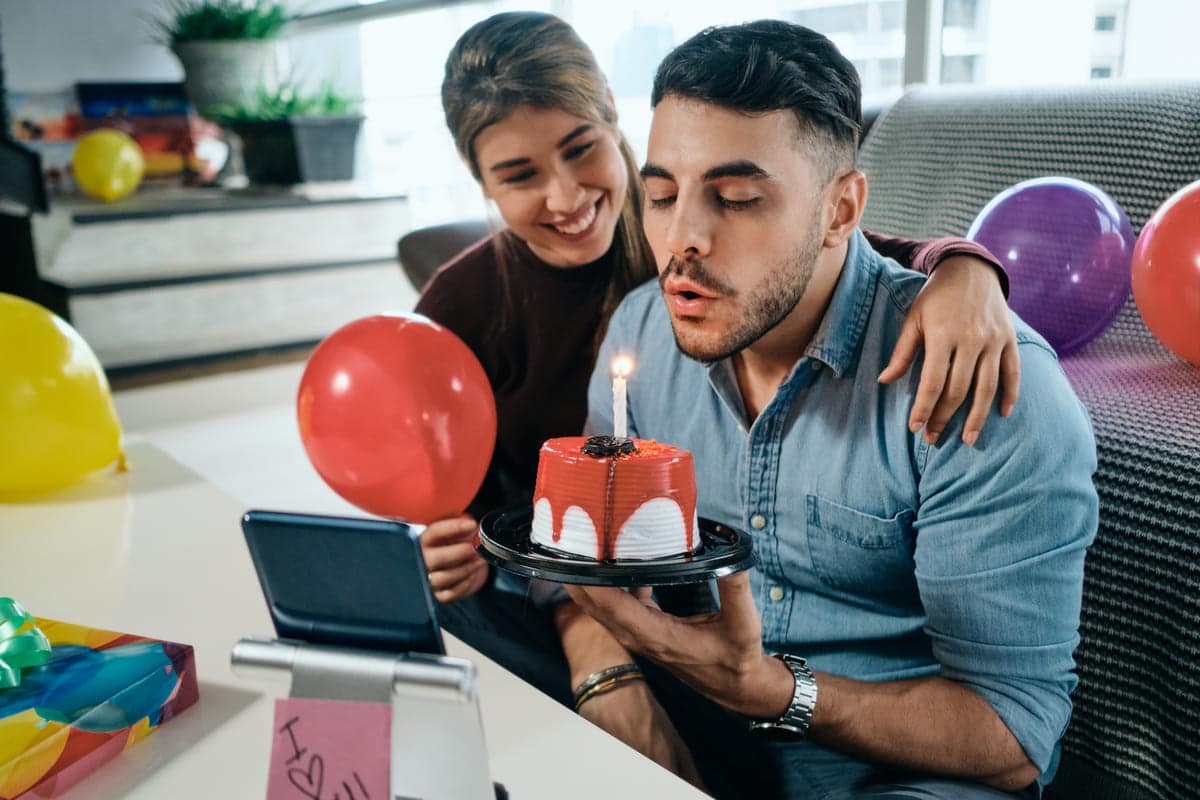 4. Give the Anniversary Couple a Gift
Send the couple something special to commemorate their anniversary. You can order a personalized gift online or choose something that reflects their interests. Consider buying them a romantic getaway, couples spa day, personalized piece of art, or a book on relationships.
Some couples may prefer a gift that has utility. For example, if your friend uses a certain makeup brand, you could buy them a year's worth of foundation so they don't run out. Other couples prefer to accept something you made or a trinket that means a lot to the both of you.
While flowers can be great anniversary gifts, think about getting them a plant instead. This way, they can enjoy your present for years to come. If they have pets, make sure the plant isn't toxic.
5. Make a Donate to a Beloved Charity
Make a donation to a charity or organization that is meaningful to the couple. This is a great way to honor them and make a positive impact on the world. Always consider the age of the person you're donating for, as younger couples may want a physical item or toy with the donation.
For example, a person who loves animals would love you to donate to the World Wildlife Fund, and it isn't just because they get to help out. If you donate to an animal, like the African elephant, you symbolically adopt it and receive a certificate, plush set, and a reusable bag.
There are thousands of charities you could donate to; just make sure they're reputable. Websites like Charity Navigator can help you find the right reputable charity for your needs.