Teachers are the people responsible for shaping our lives and bettering our future. Regardless of where you live or what you do, odds are you've had at least one teacher in your life who has played a huge role in helping you achieve your goals. Which is why it is important to celebrate those teachers who dedicate their lives and time to mentoring countless students on a daily basis.
This is where World Teachers Day comes in. It serves as the perfect time to let your mentors know how much you value them, their time, and all their efforts. So why not dedicate a special event to the teachers at your school and celebrate their roles in the lives of their students?
Here are some fun-packed ideas on how you can make your teachers feel special, loved, and content at your school.
1. Set up a special performance
Showing your teachers how much you appreciate them doesn't have to be a monotonous task. Make it fun and add a touch of vibrancy to your Teachers Day celebrations by planning out a series of exciting student-led performances.
Let your students showcase their talents, creativity and love for their teachers through individualized or group performances during your morning assembly. After all, what's more endearing than a student going up on stage and expressing their emotions?
Keep the audience engaged and interested by planning out a series of different stage-based activities and getting students involved in the process. Here are some fun ideas for you to try out for your stage performances this Teachers Day:
Have the students perform a fun yet informative short play about the importance of learning.
Prepare a funny skit about what happens in the classroom.
Get your students to volunteer to dress up as their favorite school teacher and talk about what they love about that teacher.
Have students perform individualized talents on stage for their teachers. Have them perform a piece of poetry for their English teacher, a special song for the Music teacher, and a fun little dance for the Drama teacher.
Have the school band prepare a special performance on stage for the event.
2. Put up Teachers Day posters around the school
It's not Teachers Day until you deck out the school halls with a bunch of fabulous posters that pay tribute to all the amazing teachers that work there. So make sure every visible wall and bulletin board in school advertises your appreciation for your school teachers.
You can find a wide range of vibrant Teachers Day templates to suit your needs on the internet. Use online design tools like PosterMyWall to find the Teachers Day poster of your choice, and customize it to your liking. Their templates allow you to create a nice teacher's day poster without putting too much effort into it, in no time and for free.
Create a variety of posters to highlight all the special things about teachers and their efforts. Here's a list of fun poster ideas to help you decorate your hallways in style for Teachers Day:
5 reasons you should listen to your teachers.
Why teachers are special.
Puntastic Teachers Day jokes.
Teachers Day celebration schedules.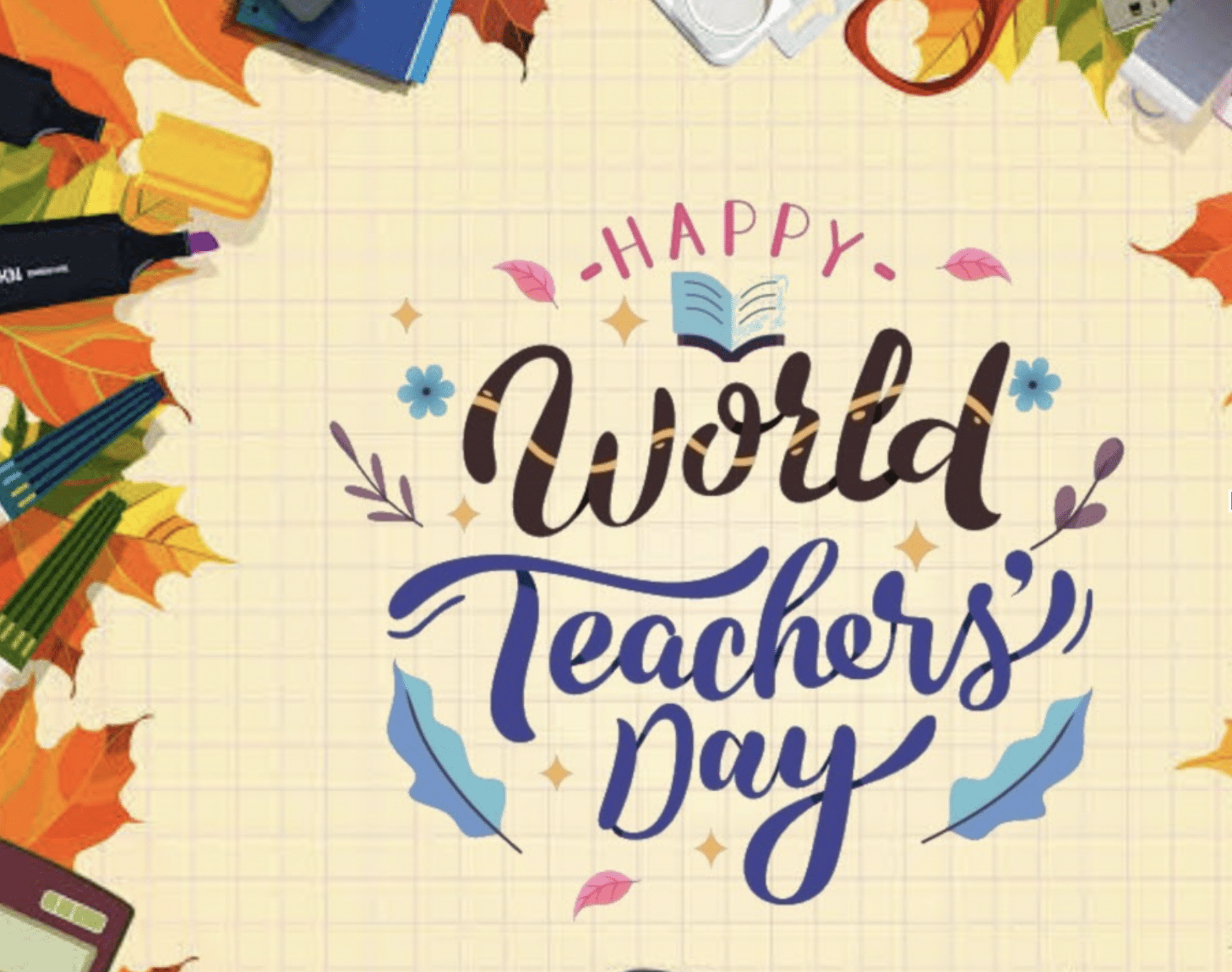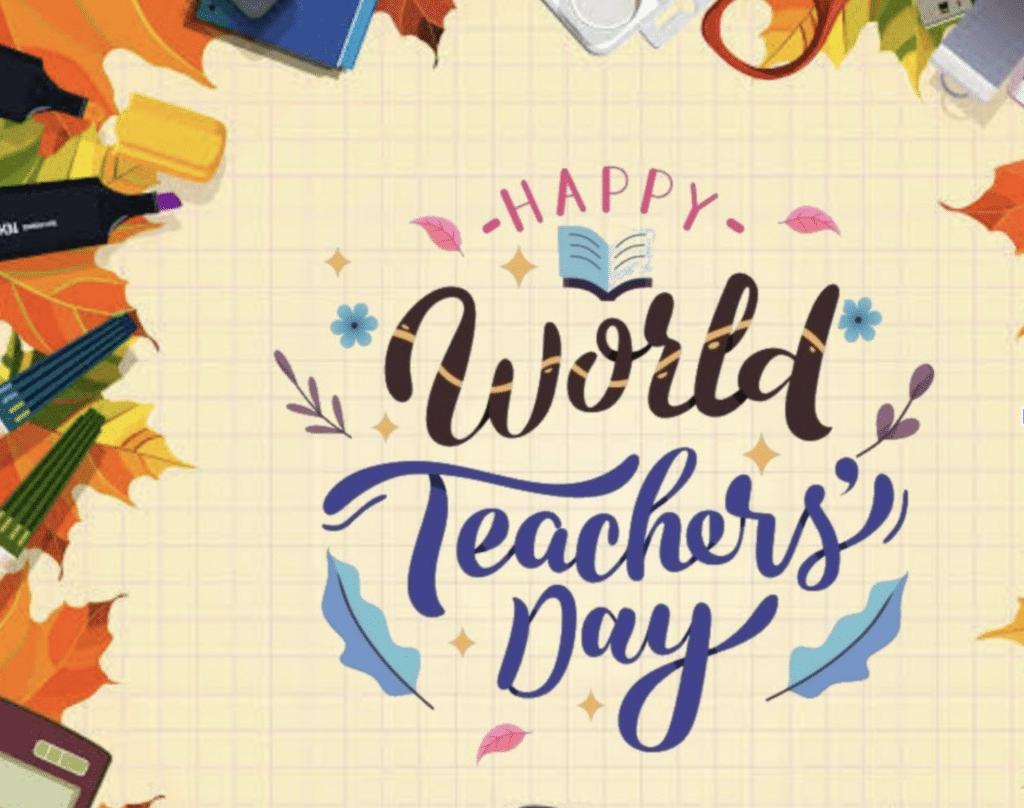 3. Decorate the classrooms
Normally, teachers set up and decorate their classrooms by themselves. They always do an amazing job of enhancing the overall learning environment through lively charts, posters, signs, and so much more.
This Teachers Day, give your teachers a break and have the students decorate the classrooms for them. Hand out some useful arts and crafts supplies like scissors, glue, chart paper, and cardboard and ask your students to unleash their creativity.
Have your students create informational posters, charts, and drawings to put up on the classroom bulletin boards. Encourage them to hang up streamers and balloons as well as part of the entire celebration. Have them write out a short, cute wish for their teacher on the classroom whiteboard and sign all of their names on it.
4. Plan out student-teacher activities
Teachers Day is the perfect time to plan out some fun bonding exercises for your students and staff outside the learning environment of the classroom. Set up a fun sports day, game night, or trivia challenge for teachers and students to take part in.
You can plan out a classic teachers vs. students baseball game and set up a fun prize for the winning team in the form of a free treat from the cafeteria. Alternatively, you can have your own version of "Are you smarter than a 5th grader" and set up a bunch of trivia questions for the students and teachers to answer together. It's a great way to learn something new and have fun with the class.
5. Encourage students to make personalized greeting cards
Students love to express themselves and their emotions with creativity. And what's Teachers Day without a personalized wish from each student?
Encourage students to create their own personalized wishes and greeting cards for their teachers. If your school is tech-savvy and you have the available resources, have your students use tools like PosterMyWall to create their own customized online Teachers Day wishes.
Teach the kids how to play around with the fonts to write their heartfelt wishes, add in a few fun stickers and animations, and upload a favorite picture of themselves with their teacher for a finishing touch.
Alternatively, you can go the old-school route and get your students to make hand-made cards for their teachers. Hand them some paper and color pencils and ask them to express themselves freely and show their inner appreciation for their beloved teachers.
Final thoughts:
Teachers Day is a special time that should be celebrated with love and appreciation. Teachers dedicate their lives to shaping the lives of students, so why not encourage students to dedicate a day to thanking their mentors?
Follow these fun-packed Teachers Day ideas to make the teachers at your school feel loved and treasured.