Choosing the right makeup to complement your outfit is essential for creating a stunning overall look. When it comes to wearing a blue dress, you have a fantastic opportunity to experiment with different makeup styles and colors. Whether you're attending a formal event, a casual gathering, or a night out on the town, these six amazing makeup tips will help you enhance your beauty and make your blue dress shine.
Focus on the Eyes
When you're wearing a blue dress, it's important to make your eyes the focal point of your makeup. Opt for eyeshadow shades that complement blue such as bronze, gold, peach, or soft neutrals like taupe. These warm tones will contrast beautifully with the blue and make your eyes pop. You can create a smoky eye effect by blending darker shades into the crease and outer corner of the eye. Finish off with a coat or two of volumizing mascara to make your lashes look long and lush.
Play with Metallics
To add a touch of glamour to your makeup look, consider incorporating metallic shades into your eye makeup or lipstick. Silver, gold, or copper eyeshadows can be used as a highlight on the inner corner of your eyes to brighten them up. Alternatively, you can opt for a metallic blue or silver eyeliner to create a bold and striking look. For your lips, a metallic nude or a deep berry shade can add an alluring touch to your overall appearance.
Balance with Neutral Lips
While it's fun to experiment with bold lipstick shades, a blue dress often calls for a more balanced approach. Opt for neutral lip colors like soft pinks, mauves, or nude shades. These understated hues will complement the blue dress without overpowering it. A matte or satin finish can add a touch of sophistication to your overall look. Remember to line your lips with a lip liner that matches your natural lip color to define the shape and prevent bleeding.
Highlight Your Cheekbones
To give your face a radiant glow, use a highlighter on your cheekbones. A champagne or pearl-toned highlighter will create a soft, luminous effect that complements the cool tones of your blue dress. Apply the highlighter on the high points of your cheekbones, down the bridge of your nose, and on your cupid's bow for an instant boost of radiance. Just remember to blend it well to achieve a natural-looking glow.
Define Your Brows
Well-defined eyebrows can frame your face and enhance your overall makeup look. When wearing a blue dress, it's crucial to have well-groomed brows that match the occasion. Fill in any sparse areas with an eyebrow pencil or powder that matches your hair color. Use short, light strokes to mimic the natural appearance of hair. Set your brows in place with a clear or tinted brow gel to ensure they stay put throughout the day or evening.
Keep the Rest of Your Makeup Subtle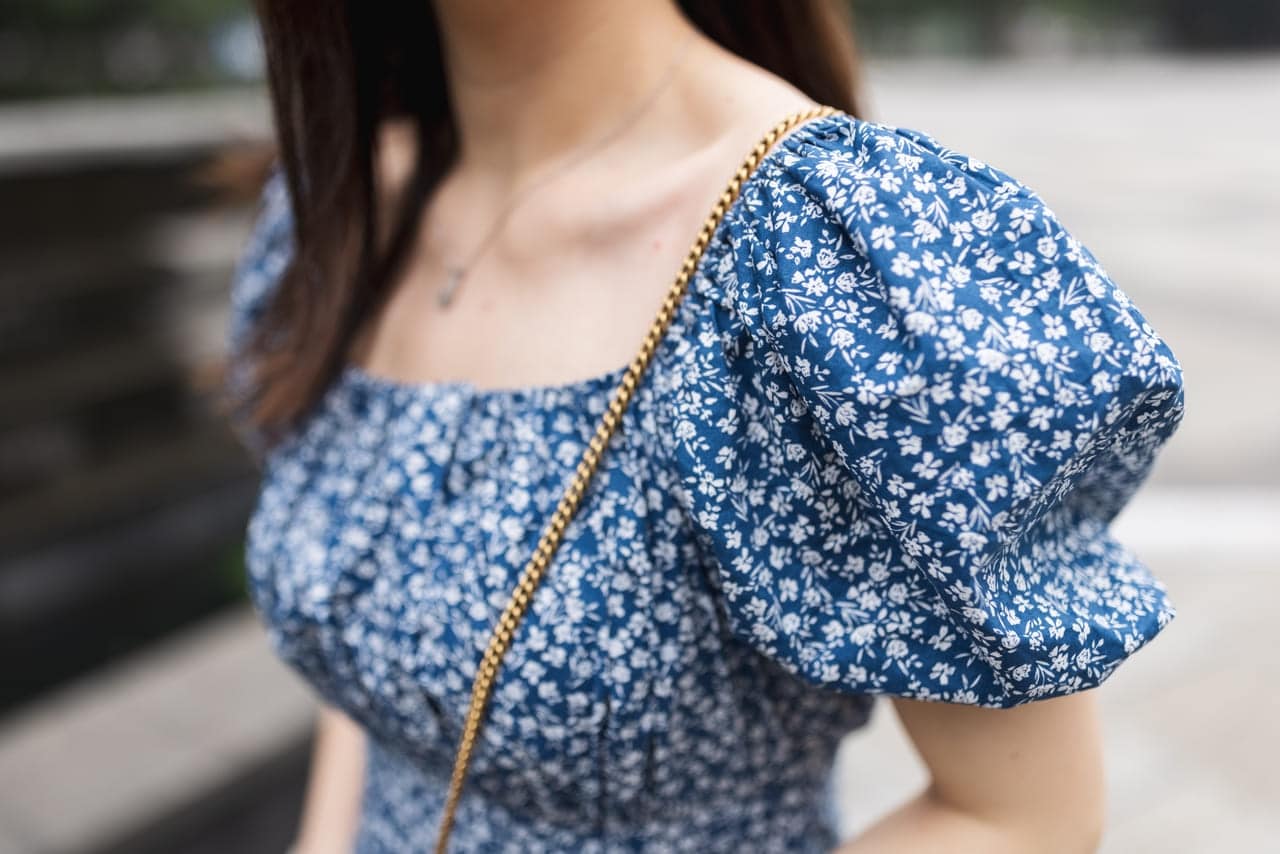 Since a blue floral dress is the center of attention, it's important to keep the rest of your makeup subtle and balanced. Opt for a lightweight foundation or BB cream that matches your skin tone and provides a natural finish. Use a concealer to cover any blemishes or under-eye circles. Avoid heavy contouring and opt for a soft blush that complements your skin tone to add a touch of color to your cheeks. Remember, less is more when it comes to the rest of your makeup, as you want to let your blue dress shine.
Conclusion
In conclusion, when you're wearing a blue dress, your makeup can enhance your overall look and make a stunning statement. By focusing on the eyes, playing with metallics, balancing with neutral lips, highlighting your cheekbones, defining your brows, and keeping the rest of your makeup subtle, you can create a flawless and complementary makeup look. So go ahead, experiment with different shades and techniques, and let your makeup harmonize with the beauty of your blue dress.