Fruits and vegetables can be eaten raw or as ingredients of various dishes, juices, smoothies, etc. But what about veggie snacks? As well veggie snacks are healthy snacks that are rich in vitamins, proteins, and minerals. They can be eaten as is or combined with other ingredients to make healthy sandwiches, rolls, wraps, salads, etc.
Vegetables are a key part of a healthy diet for both children and adults. They are packed with essential nutrients that the body needs, and they can help to protect against disease. But sometimes, getting kids to eat their vegetables can be a challenge. And to make them eat their veggies, we found 25 healthy and delicious vegetable snack for kids that they will love. From roasted carrots to crispy zucchini fries, there's something for everyone on this list.
Best vegetable and fruit snacks for kids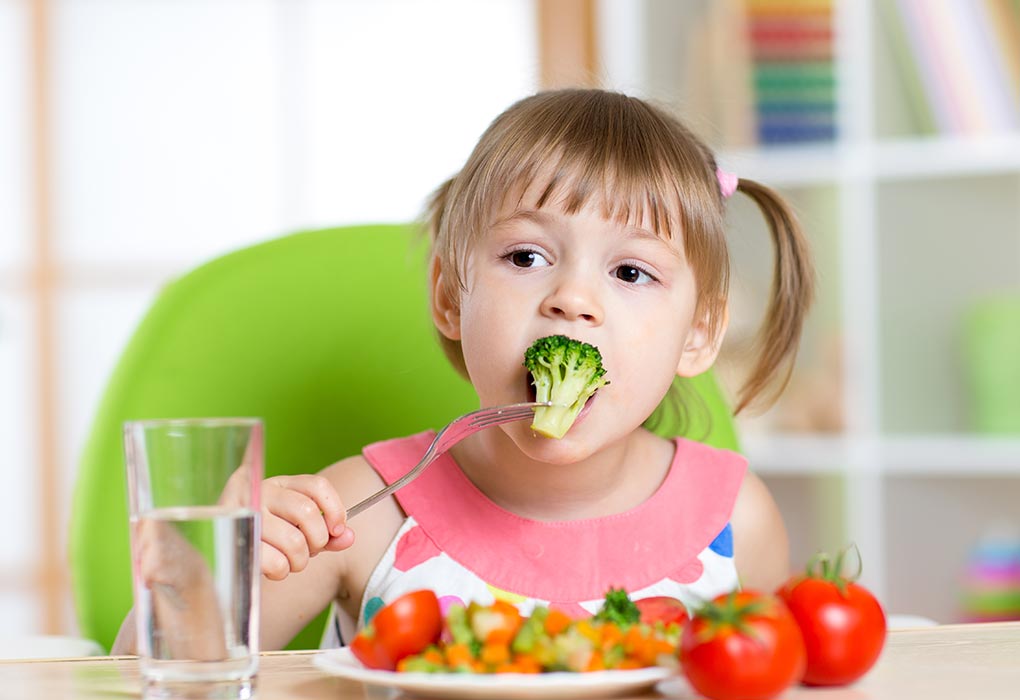 Although kids need healthy snacks to help them stay focused and learn in school, and parents need healthy snack ideas that their kids will eat. So, below we have mentioned some veggie snack ideas for kids and they are:
1. Chopped veggies and Hummus
Kids love dipping sauce snacks and will be happy to munch on some fresh veggies while they dip. This classic snack idea is a great way to sneak some veggies into their diet. Just make sure you grab some veggie sticks such as carrots, cucumbers, or celery and choose a healthy hummus-like roasted red pepper or white bean flavored hummus for dipping. For an even healthier alternative, the kids can eat them with a dip of Greek-style yogurt mixed with garlic powder and herbs.
2. Cherry tomatoes and Feta cubes
For making this tasty snack idea, just grab a few cherry tomatoes and cut them into halves or quarters. Now take some cubes of crumbled feta cheese and insert them onto the toothpick that you have already put in the tomato pieces. This is a great way to introduce kiddos to savory flavors early by combining something familiar like a cherry tomato with something new like feta cream cheese. And for healthy weekday snacking serve them with some whole-wheat pita bread triangles.
3. Baked sweet potato fries
If the kids are in for some spicy food then this is one of the best snack ideas that you can give them. You just have to bake some sweet potatoes and season them with chili powder, cumin, paprika, garlic powder, salt, and pepper. This delicious roasted snack option will satisfy everyone's craving for something savory. However, sweet potato fries for snack time will also help you to sneak some extra nutrition into your kids because they are filled with beta-carotene, an antioxidant that is particularly healthy for the eyes. For healthy fats, sweet potato contains some omega-3 fatty acids as well as the kids' much-needed dose of Vitamin C and Vitamin D.
4. Root vegetables chips
In the veg world there's an endless variety of root vegetables to try. Be sure you get lots of different kinds, including parsnips, celery root, rutabaga, and turnips. For this healthy snack olive oil, salt, and pepper are all you need to get started. Vegetable chips tastes great when you add a little bit of your favorite grated cheese, Italian seasoning, and Parmesan cheese. All the ingredients can be mixed with a little bit of olive oil in a large bowl, then spread over two baking sheets. Bake at 400 degrees Fahrenheit for 25 minutes, stirring halfway through.
5. Sliced radishes and guacamole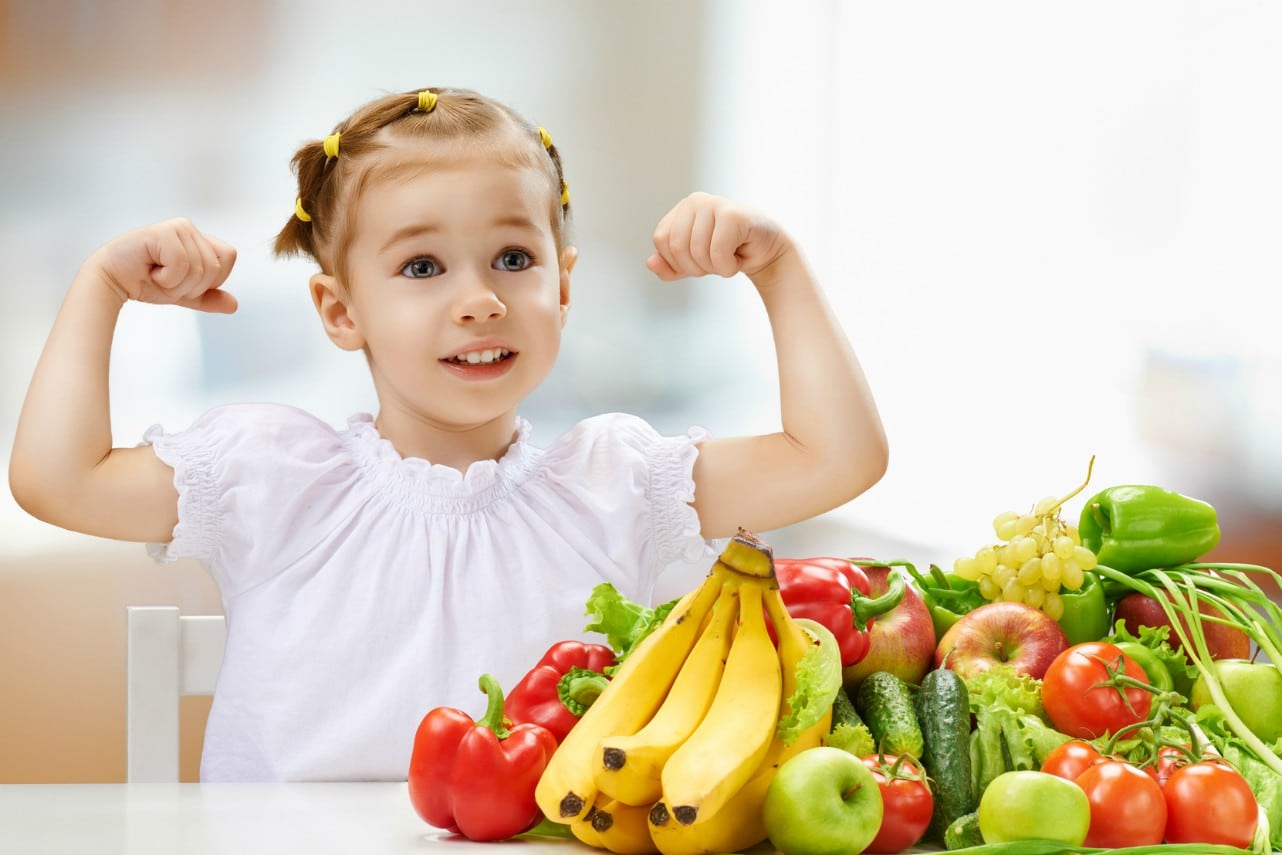 This would be a great snack to pack in their lunch. Just make sure to try using a seedless knife to make it easy for kids to eat. The guacamole provides healthy fats, while the radish is loaded with fiber and antioxidants. You can also add lemon juice or mustard to the guacamole for an added kick. Most kids love guacamole too and radish is great for your eyes, and kids love 'fries'. You can add fresh ingredients like parsley, onion, garlic to the guacamole that make it healthy snacks for your kids.
6. Whole grains crackers and nut butter
Instead of buying those commercially made cheese and cracker snacks, why not take a little bit extra time to prepare them from whole grains crackers and nut butter? Just arrange the whole grain crackers on a plate with healthy nut butter such as creamy or chunky peanut butter for dipping. This nutritious snack idea will keep kids full till lunch snack time. Make sure that the whole wheat flour crackers contain at least 3g of fiber, to ensure that they don't sneak in a lot of extra calories.
7. Peanut butter and banana quesadilla
For this healthy snack idea, you'll need two pieces of whole wheat bread, peanut butter, and one banana. First spread the peanut butter evenly on both slices of bread. Then place the banana in the middle of one slice. Finally, top it with another slice of bread to make a sandwich. Cut into triangles just like a pizza and serve with a glass of milk. You can add nuts to it and it tastes great. So, just keep it simple with some fresh strawberries, blueberries, bananas, and apples. If your child loves dried cranberries then you can add this too.
8. Apple and peanut butter dips
Kids will love eating apple slices with a yummy peanut butter dip. All you need to do is core an apple, make some incisions in the apple, and put it in a bowl of warm water for about 5 minutes. Spread the crunchy peanut butter on one side of each slice. Kids can eat them plain or you can sprinkle peanuts or chocolate chips on top. For a little twist, use almond butter instead of peanut butter and turn this snack into an energy-boosting afternoon pick-me-up snack!
9. Frozen fruits popsicles
Fruits are high in fiber, low in calories, and a good source of the essential vitamin. It is best to freeze fruits such as blueberries, strawberries, cherries, or raspberries then the kids can eat them as a cool snack on a hot day. For popsicle molds, you can also add dried cranberries if you want. For good snacks, you can also use a small amount of natural juice together with milk and puree it to make good popsicles. The fresh fruit popsicles are a good idea for children who do not like to eat veggies.
10. Celery with peanut butter and raisins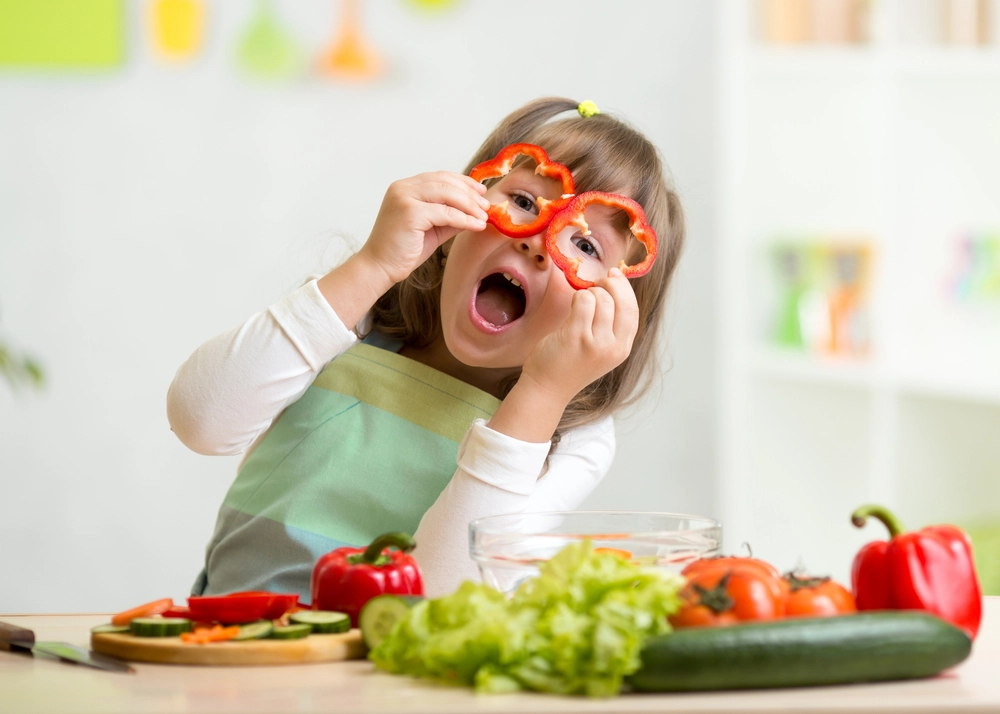 This great snack idea is a good source of protein and fiber. It contains fiber from celery and peanut butter, which can help with satiety, but watch the portion size if you serve this to your kids. They will need only 1-2 tablespoons of peanut butter for dipping, as most commercially prepared brands have added sugar. Also, you can add raisins if they like to sweeten it up. However, the single-serve containers of raisins you find in the market often have added sugars and preservatives. So it's best to choose a fresh dried fruit option such as dried cranberries or cherries and it taste great for sure.
11. Mix fruits Smoothie with almond butter
Kids like to slurp on something sweet and this fruit smoothie with almond butter recipe will be popular with all kids. This snack will be filling enough to hold them over until their next meal or pre-game/pre-practice snack. Whole foods such as almond butter and fruit make this snack idea a healthy treat. You can also add maple syrup if your child love to drink it. Many registered dietitian recommend this smoothie for kids and it taste great.
12. Veggie Pita Pocket
Veggie pita pocket is a great way to get kids to eat their veggies. They will be more open to trying the vegetables when they are in a fun and tasty sandwich. Just stuff a whole wheat pita with some chopped cucumber, grape tomatoes, onion, arugula or any other of their favorite veggies. Include a few slices of low-fat cheddar cream cheese, turkey pepperoni, or melt some low-fat American or Swiss cheese. And olive oil and vinegar dressing to give it a savory finish.
13. Spinach banana muffins
These spinach banana muffins are a great snack idea for kids as they taste delicious. They could be a good alternative to the other snacks that kids will love such as cookies. This healthy snack can quickly become a favorite among your little ones so you might want to consider making them on those busy mornings when time is scarce but hunger is abundant.
14. Hard-boiled egg salad with Bell peppers
Some kids like hard boiled egg salad and some don't. But, most kids will love sliced vegetables so they might enjoy a healthy alternative to classic egg salad by combining chopped hard-boiled eggs with a little bit of mayonnaise or cream cheese, salt, and bell peppers. For added volume, you can add some diced bell pepper, lemon juice, or celery too for more crunch and nutrients. You can spread the egg salad onto toasted bread or serve it with crackers for dipping.
15. Zucchini carrot oatmeal muffins
Another great veggie and fruit snacks idea is to make baked goods for your kids. These oatmeal muffins are loaded with veggies and relishes delicious. They make a healthy snack for kids and an easy breakfast as well. In a fun way, teach your kids how to make these energy-packed muffins. As well as foods made with veggies, these muffins also contain protein-rich ingredients such as beans and cheese.
16. Half of veggie sandwiches
Kids will love to have filling sandwiches. So if you are looking for healthy vegetable snacks for kids, sandwiches are the best idea because it is not only tasty but also loaded with their favorite ingredients. For example, place some salad greens on two slices of whole-grain wheat bread and then top that with sliced cucumbers or tomato wedges, hummus spread, and sliced avocado.
17. Carrot and white bean vegan blondies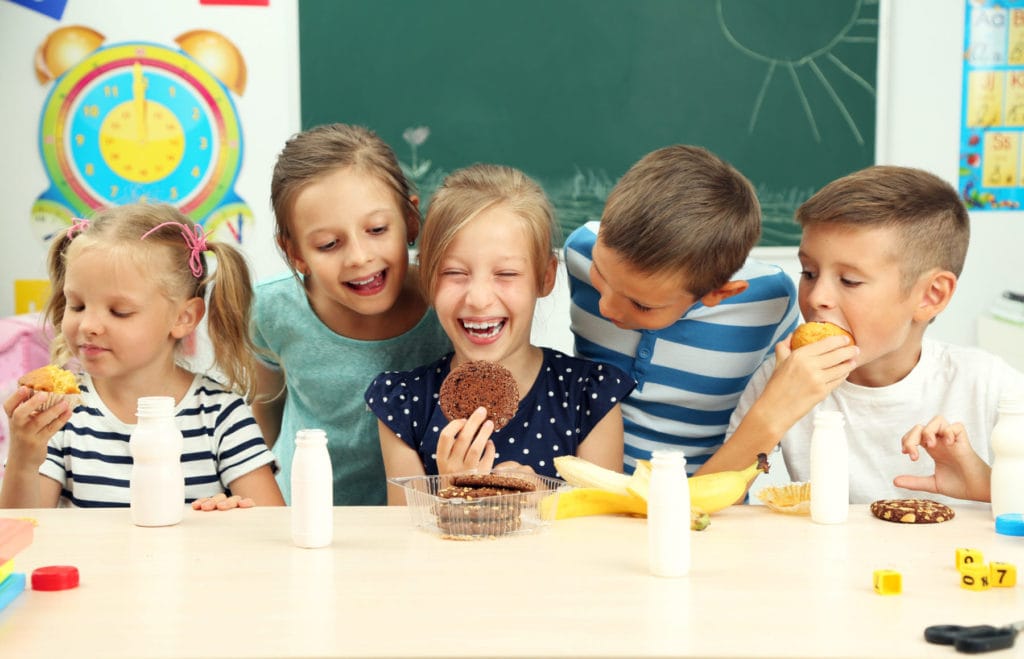 This vegan snack idea for kids is a super healthy and can easily be made at home. In this snack, carrots take the place of flour in these blondies. The white beans add some protein, while the walnuts add crunchiness to them. These blondies are sweetened with added sugars like maple syrup and have a hint of vanilla to enhance their sweetness. And for making this tasty food item more healthy, you can add some whole-wheat flour.
18. Turkey and Avocado roll-up
Kids will relish eating a simple turkey and cheese sandwich because it reminds them of their school sandwiches. However, the classic white bread is something that parents avoid for its lack of nutrition justifies. Instead, try making a whole wheat wrap with some fresh veggies cut up inside such as baby spinach, a cucumber slice, thinly sliced carrot sticks, or red bell pepper strips. And if you want to add lemon juice you can. Stuff the wrap with some lean meat like smoked turkey breast, thinly sliced roast beef or roast chicken, and avocado slices.
19. Sliced pears with ricotta cheese
Ricotta cheese with some honey and cinnamon is a classic Italian dessert that many kids will love. You can also use this mixture as a healthy dip for sliced fruit such as pears. Make sure to choose dried fruit that's unsweetened and has no added sugars. This snack for kids will give them a fantastic serving of healthy fruit and protein all in one snack to keep them satisfied until their next meal.
20. Cauliflower with lemon tahini or lime juice
These healthy recipes take cauliflower to a whole new delicious and nutritious level. You can give your kids some roasted cauliflowers with a combination of lime juice and Tahini sauce (sesame seed paste). This flavorful combo is sure to make their taste buds dance. To make recipes of Cauliflower with lemon tahini, you must need 1/2 cup Tahini paste, 2 tablespoon lime juice, 3 teaspoon of lemon zest, 2 teaspoon dried parsley flakes, and some salt.
21. Popcorn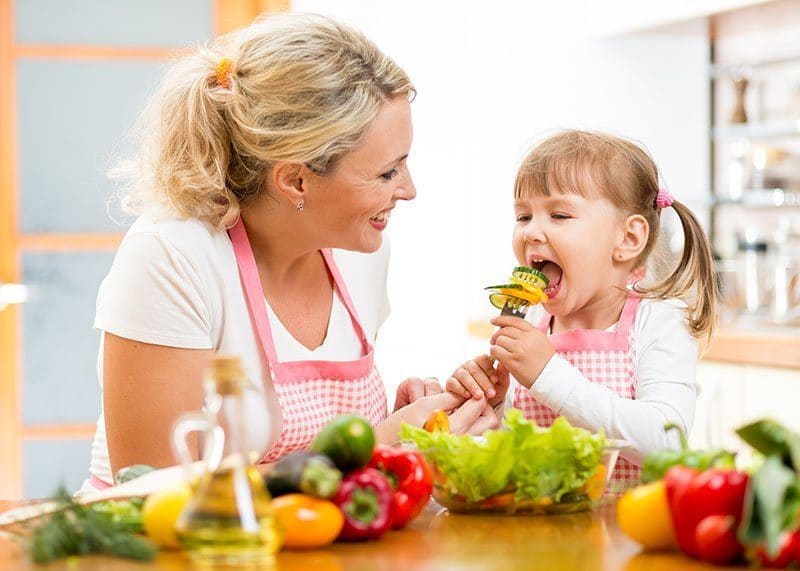 Popcorn is an extremely healthy kid-friendly snack. To make it more nutritious, you can add grated Parmesan cheese and dried basil to the popcorn before heating them in the microwave or popping them on top of the stove. You can also serve plain popcorn with a side of raisins. If you have a sweet tooth, don't worry about that because there are various gourmet flavored own popcorn choices available in the market such as white cheddar cheese, butter toffee, sour cream and onion flavors etc.
22. Kale and tortilla chips
This food for kids would be an ideal for their snack time. For making kale chips, you need to remove the ribs and tough center stem from the kale and then tear or cut them into 3-4 inch pieces. Toss with oil and salt, spread on a baking sheet lined with parchment paper, and bake at 350 degrees for 10 minutes. And for tortilla chips, you need to cut a corn tortilla into six wedges, toss with a drizzle of oil and salt, spread on a baking sheet lined with parchment paper, and bake at 350 degrees for 10 minutes.
23. Carrot sticks and hummus
Carrot sticks go great with a hummus dip prepared from chickpeas, garlic, lemon juice, and sesame seeds. However, the hummus can be made from any beans including black beans, white beans, kidney beans etc. With a combined protein count of over 33 grams, the protein in hummus and carrots provides an energy-boosting snack that will keep kids going for hours.
24. Carrot ginger Kale juice and almonds
This is a power-packed kid's snack that has lots of healthy omega-3s from the nuts and loads of beta carotene from the carrots. Simply combine some chopped kale with a peeled and chopped carrot, juice together with an apple or pear, and top with slivered almonds. This food combination is a great way to get kids to eat carrots and kale. However, make sure to encourage your kids not to simply gulp this drink down in one go. Drinking it in sips will allow them to savor the delicious flavor.
25. Broccoli and Greek Yogurt Dip
This is an easy peasy dip that takes just a few minutes to make. All you need are some cooked broccoli florets and some Greek yogurt and then add them to a food processor and mix them well until they become like a smooth paste. You can also add a little bit of lemon juice and garlic powder to the mixture. Therefore, you can make it in small balls and serve them to your kids. And your child can enjoy their veggies and yogurt snack without feeling like they are eating 'boring' food.
The Bottom line
The best way to get kids to eat vegetables is by making them taste good. Therefore, whether you're looking for a way to get picky eaters to try new vegetables or are just trying to find some healthy snacks that your kids will love. These 25 vegetable-based recipes should have something for everyone.
We hope that this list will help you to feel empowered in feeding your children more vegetables. These recipes are easy enough for even young children to make on their own with minimal supervision from an adult. With these simple ideas at hand, it's easier than ever before to fill those empty snack times with good choices. If you have any queries or want to add your recipes to the above list just share with us through a comment section below.