Photoshoot ideas for your baby's first birthday are numerous. However, it is difficult to choose the perfect one that will capture the moments of this special day. Such photoshoots involve several poses and props, to make them more beautiful. For this reason, you should carefully think through all the details before taking pictures for your little prince/princess to treasure the memories forever.
It's a momentous occasion that you'll want to commemorate with a photoshoot. But what should you do for the shoot? What props should you use? What poses should you strike? We have all the answers here. The ideas are simple and easy to follow while capturing the essence of your baby's big day. It doesn't matter if this is a family photoshoot or additional pictures for his or her birth announcements. In this blog, we have tried to provide all the possible options you can choose from.
Best first birthday party photoshoot ideas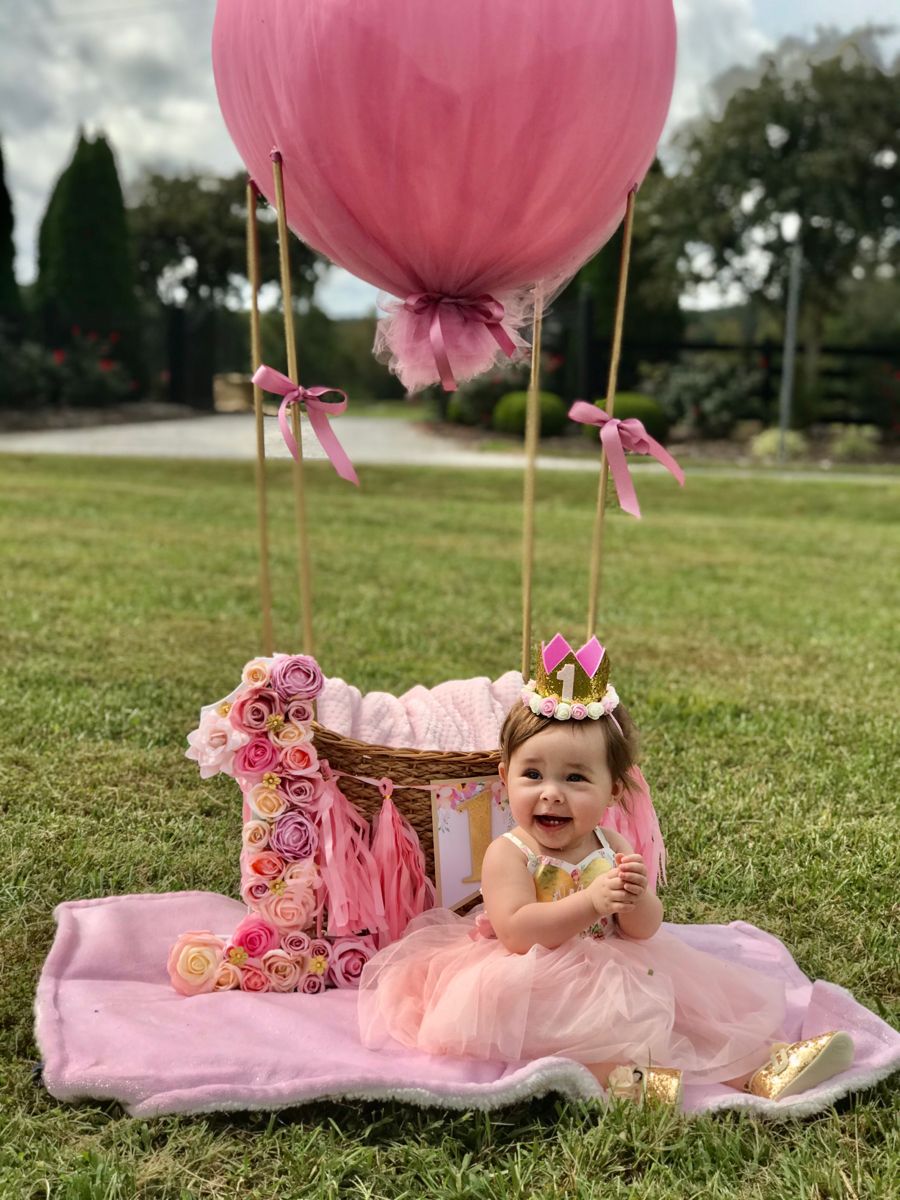 Birthday is the time to celebrate the first year of your child's life. There are many child photographers, whose main focus is on kids' photography. And, they take wonderful pictures for all types of occasions like birthday party photoshoots. Though it may be a hectic task to plan a birthday party, taking photos should not be difficult. Therefore, for a huge party celebration, have a photoshoot of your own. Here are some best first birthday photoshoot ideas that will surely be loved by parents, family members, and friends.
1. The Birthday Girl in a Flower Basket
Though the best first birthday photo ideas is a picture with your child in a flower basket. This can be taken by a professional photographer or even at home. All you need to do is take your baby near some flowers and use an empty flower basket as a background. You can add more flowers around her body to make it look like a flower baby. It will also give a feel of the spring season, which is one of the best seasons for a birthday party. These are the creative ideas for simple photo shoot.
2. A Close-Up Shot
Another best photography style to take pictures of your baby's first birthday party is a close-up shot. This can be taken in every corner of the garden or lawn, just choose an open space that has enough sunlight shining on it. Then, ask them to put your baby right in the middle of that space. You will need a good photographer for this, who knows how to focus on the subject and capture perfect pictures without any blur. It is a special moment for your child and the best first birthday party ideas for a photo shoot.
3. A Party Photo Shoot
For a large birthday celebration, you can make separate arrangements with a photographer for taking pictures of the entire party. This is how you can get some amazing group photos of every member who is attending your child's birthday party. All you need to do is put together all the people in one frame along with your child, and that will be the best first birthday photo ideas for everyone to cherish. Make magical moments of your child's life more memorable by capturing those on camera.
4. Birthday photoshoot with balloons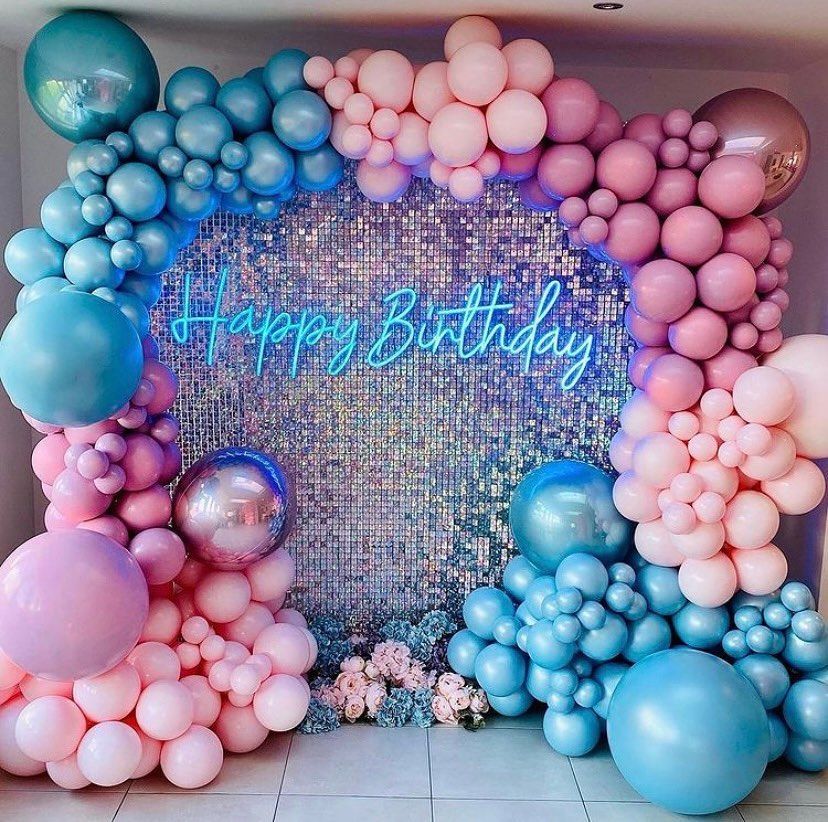 The helium-filled balloons are an integral part of birthday party celebrations. If you can't do without balloons at your first birthday party, then why not take some truly unique and creative photographs with them? Hold your baby under a colorful balloon arch and click some amazing and stunning pictures. This can be done even at home to give a feel of both seasons, spring and autumn. For this shoot, you will need lots of balloons in different colors. You can change their color according to the season – green for spring and orange for autumn. Hang them from above with a colorful backdrop cloth, and this will give a colorful effect. Try to make your baby stand under the balloons. This picture will be a great memory for all years to come.
5. Pretty angel photoshoot
In this photoshoot, the child is dressed up in a white dress with a pretty hat and floral wings. So, it will be a perfect choice for cute baby girls. The purely angelic look will look lovely on the birthday girl and so the angel wings can also be used for many other birthday photoshoots. As well as for creating beautiful moments of your child. This photoshoot is suitable for family and friends to take the photos, and the parents can also get a couple of shots together.
6. Photoshoot with friends
A birthday photoshoot with friend is another unique idea that you can consider. The best part of this photoshoot is that it will also praise your child's friends on their beautiful first birthday. This birthday photoshoot should be prepared at least 4 weeks before the event so that all participants can carry out their preparation accordingly. For creating natural moments, let your child's friend choose their similar outfit. It will help them feel comfortable and hence, they can pose naturally with the birthday girl or boy. This photo ideas would be exciting experience for your baby 1st birthday. As well for party begin, the photoshoot must be carried out in a closed space so that all participants can easily concentrate on dialogue.
7. Baby in jelly beans shoot
This is a simple first birthday photoshoot idea. In this beautiful photoshoot, the baby is dressed up in a white color outfit and beautiful flowers are attached to the head of the child along with cute jewelry. The child's outfit should be kept as simple as possible for this birthday photoshoot because babies love to play with colorful candy beans that will bring a huge change in the entire look of the baby. You can also use a soft and fabric bean bag to place the child on it. The double trouble idea is also very popular for birthday photoshoots and not only child in fact family love to be in amazing fun photoshoots together.
8. Just hatched shoot
This one is a wonderful idea for the first birthday photoshoot. Here the child is dressed up like a baby bird. It will be funny to see how they are popping out of their cardinal eggs with colorful confetti around them. So, now you can imagine the fun that your kids are going to have on this shoot along with the family and friends. The parents can also create a couple of shots with their kids in this shoot, to remember for a life time. However, you can go with the best photographs that can be cherished forever.
9. Bunny baby shoot
To look for the most adorable newborn bunny costume, you can head to your nearest store or shop online. Here the little one is dressed up in a cute bunny suit with ears on their heads and furry tail at the bottom of their back. They are also holding a basket that looks simply lovely. A couple of shots showing how parents enjoy the moment with their child will be a wonderful idea to celebrate your kid's first birthday bash. Though a single colored wall in the background will make a good backdrop, it's much better when there are a few colorful props to add fun in this shoot.
10. Playing with mud photoshoot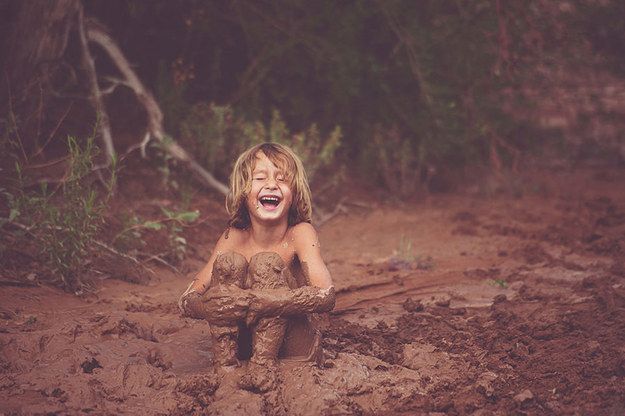 For a charming and fun first birthday photoshoot, go for this idea. This is what we call the 'mud baby'. So, dress up your child in bright colors like yellows and oranges with a cute hat. With such an exterior, kids always look adorable. The mud can be replaced by green grass or any other attractive backdrop that shades the bright colors to cast a good effect on the pictures. And the amazing tips by photographers for first birthday party photography will make your photo shoot unique. Therefore, the big deal of this photoshoot is to take good images along with friends and family members.
11. Bubble Bath shoot
This can be a sweet and wonderful photo shoot to cherish for a lifetime. In this birthday photoshoot, the child is bathed in the bubble bathtub. The water droplets look very pretty on her hair and face leaving a heavenly feel to the entire photography session. Baby love bubbles, and she might be smiling or even try to reach out for them. This photoshoot is easy to create, all you need is a bubble bathtub, bubbles, and soap flakes. Set up the lights properly to make the photoshoot look stunning. You can use pool toys and other bath accessories to make it look natural. The delicate aura of the child will make it a memorable first birthday photoshoot.
12. Stuffed animals shoot idea
This adorable first birthday party photoshoot can be done with the help of stuffed animal sounds. Just place a huge number of toys and stuffies around your child and take some awesome pictures. As we all know that kids love to play with toys, they will surely enjoy these birthday photo ideas and the cute smile on their faces will make it an out-of-the-world birthday photoshoot. However, the child can choose their favorite animal toy to be part of the shoot. The animal theme birthday decorations can be added to the frame to make it more interesting.
13. Cute sailor photoshoot
As well as you can get a money shot at a birthday party just by dressing up your baby in a cute little sailor suit. Well, it is going to be one of the most liked photographs of that special moment of you and your child. This photoshoot can also be done indoors with some minimal decoration like balloons and ribbons. The imagery will be simple and effective for a family photo shoot. These birthday photoshoot ideas are simply adorable for baby boys as well as baby girls.
14. Messy baby shoot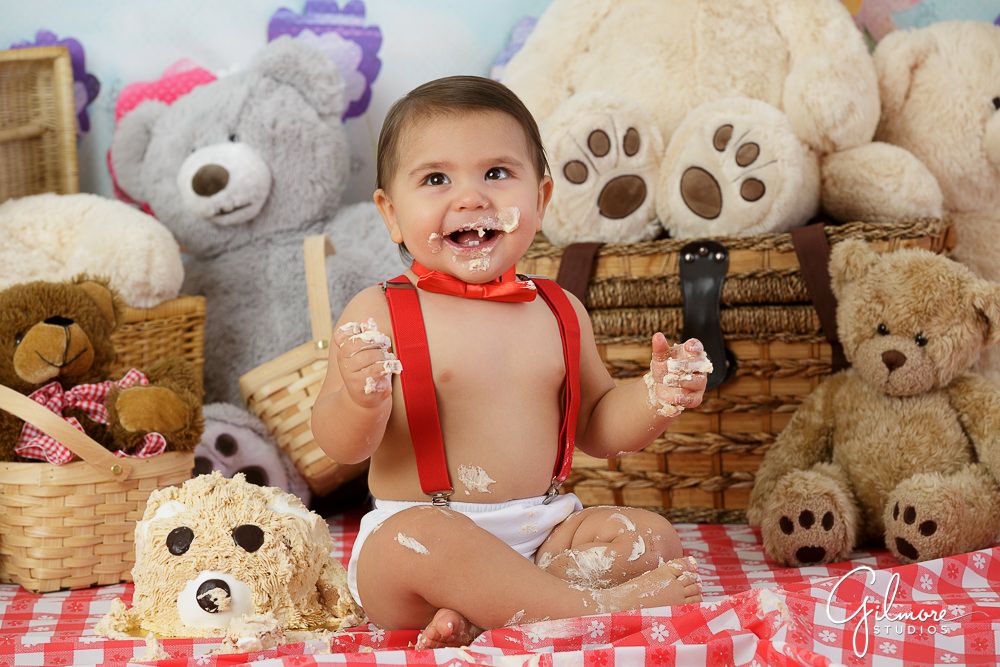 These are very popular birthday photoshoot ideas in which kids look messy and they are in their natural mood. In this shoot, the kid will be messy with cake and ice cream. You can also add up some other ingredients which you think are going to suit your child's mood. It will also be a perfect choice for parents who have a very hyperactive child, who is always in the mood of playing. Some of the party elements may also be added like balloons and colorful ribbons.
15. Action baby shoot
It is one of the coolest birthday photoshoot ideas for first birthday parties. In this shoot, you will need to dress up your kid with an action hero's costume and a toy car. A car toy with wide wheels is recommended for this shoot. There are no other accessories to be added, but you can also use the toys that your kid loves most to create a memory that will last forever. This shot will suit perfectly parents who want their kids to look smart and cute at the same time.
16. Wonderful walk shoot
In this photoshoot, the birthday child will be dressed up with a lovely pair of shoes and a cute hat. The creative element in this shoot is to have balloons attached to the walker's wheels. You can also add some open space around your kid that will look attractive. This is an amazing shoot for parents, who want to capture their child's first steps at the party. It will also be a perfect choice for family shoots, especially when your kid is not having good walking skills yet. The minimal accessories and open space allow you to pose your kid in any way that suits them best.
17. Photography shoot with a birthday cake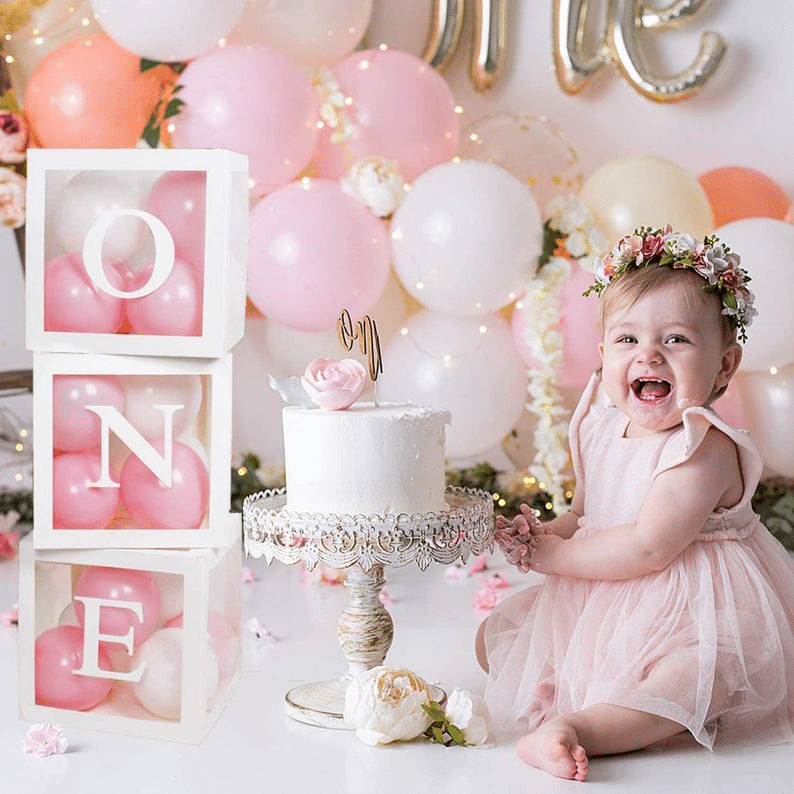 For an anniversary or 1st birthday cake smash party shoot, you could ask your friends and family members to hold the cake in their hands along with your little one. This picture will be a great memory for all years to come. The first birthday cake photoshoot will be a fabulous idea to bond with the whole family. So, get everyone together and arrange the cake in such a way that it's easy for your child to open his/her eyes and smile at it. You can either buy or make a cake of colorful layers. If you want, you can even decorate it with candles and popped balloons. The cake smash birthday photo ideas is becoming very popular day by day. Try this one with your little one and let them enjoy this special moment of their life.
18. Fairy baby shoot
This is a beautiful idea for your one-year-old, which will make her look beautiful and cute as well as the fairy outfit and the wings also attract children towards them and so they can pose on their own easily. You can focus on some other accessories like flowers and this photoshoot is fit for girls. If you are planning to go with this theme, make sure you have a proper backdrop because it makes the shoot much more beautiful. You can even use some fairy ornaments in the background of the photo to make it look better.
19. Sponge cake and ice cream shoot
This is one of the simplest first birthday photoshoot ideas. All you need to do is dress up your kid in a pretty frock, and with just a spoon and plate, they are ready to go. This series along with the messy photo will be one of the cutest ones as well as very easy to create. You can even add a birthday banner or a cake in the background, but that's all. This is also one of the best choices for family shoots and friends' photo sessions.
20. Silly kid shoots
In this photoshoot, the baby will be dressed up in a funny joker outfit. For girls and boys both, clown look is trendy and it suits all types of atmospheres like family functions and parties. The theme can also be changed by adding colors like green and purple which go very well with the joker concept. You can add up some party elements like balloons, cake, and ice cream in the background to enhance the whole joker theme look of your child.
21. Formal or cute baby photoshoot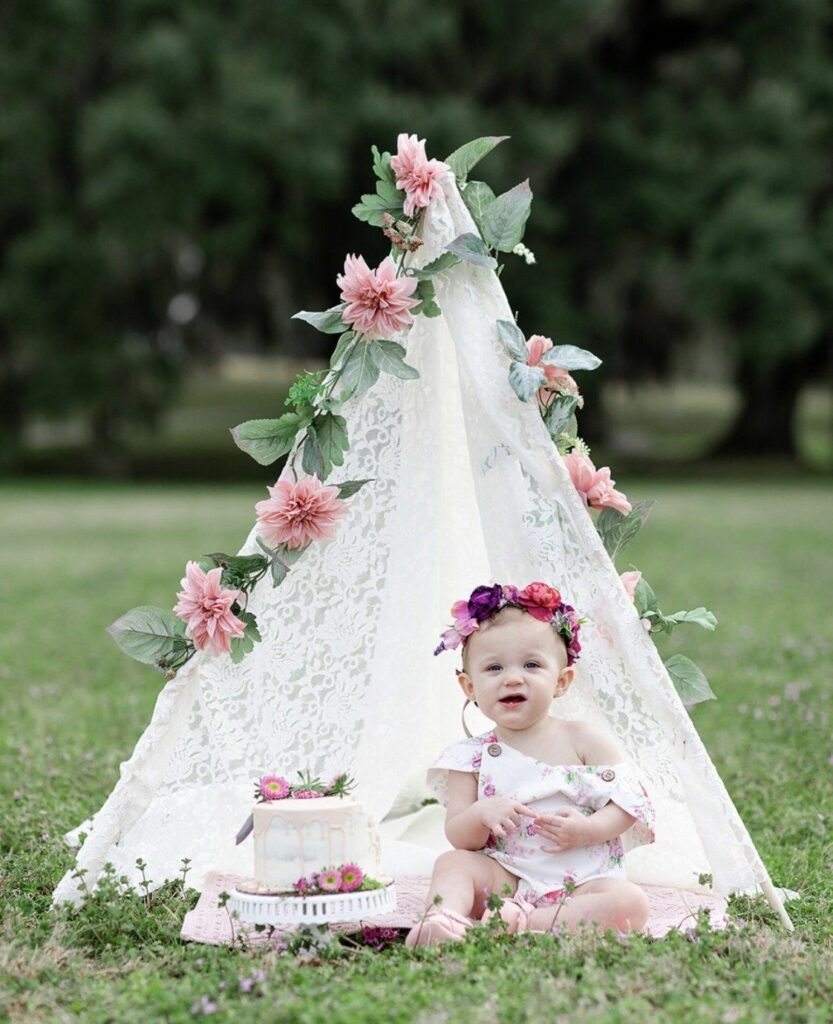 For the formal baby photoshoot, wear a suit or shirt and pants for your child. You can also use a tie and blazer for a more sophisticated look. Don't forget to add sunglasses, hats, and bow ties to get the cute look of your kid. And you can always capture some beautiful images of your child with grandparents and all family members like these shown on Freepik's collection. However, for a cute baby photoshoot, you can always dress your baby up in a sweater and jeans. Kids look super adorable with all the casual outfits. A perfect look for homecoming parties as well as other events.
The Conclusion
If you want to capture your little one's first birthday in a unique and memorable way, we've compiled 21 birthday photoshoot ideas that may provide inspiration for your own celebration. From family portraits with the child as the main focus of attention to more traditional shots like cake smearing and blowing out candles, these concepts will give you some fresh new angles on how to document this milestone event.
We hope that these photoshoot ideas have given you some inspiration to create a memorable first birthday session for your little one. From family photos, cake smash sessions and gender reveals to bath time fun or a photo shoot with the newest addition to the family, these photoshoot ideas are sure to delight. If you have any query regarding the above context then share with us through a comment section below.