Hunting the best stroller wagon that is stylish, compact, lightweight, and at the same time affordable is like searching for a needle in the haystack as the market is flooded with self-boasting products.
Among the flux, some would prefer the LUXURIOUS Veer Cruiser for its compact shape and premium built quality. Conversely, the Baby Trend Expedition 2-in-1 stroller wagon looks premium; packs all the hustle and bustle at reasonable pricing. The Jeep Wrangler also gives tough competition to the Expedition, yet the Expedition wagon has its unique perks to drop down your double trouble.
So, if you're looking for what is the best stroller wagon for two kids, we recommend Baby Trend Expedition Wagon Plus for your duo; it's convenient to push and pull and glides smoothly; a sleek go-to stroller wagon costs almost half of the Veer Cruiser!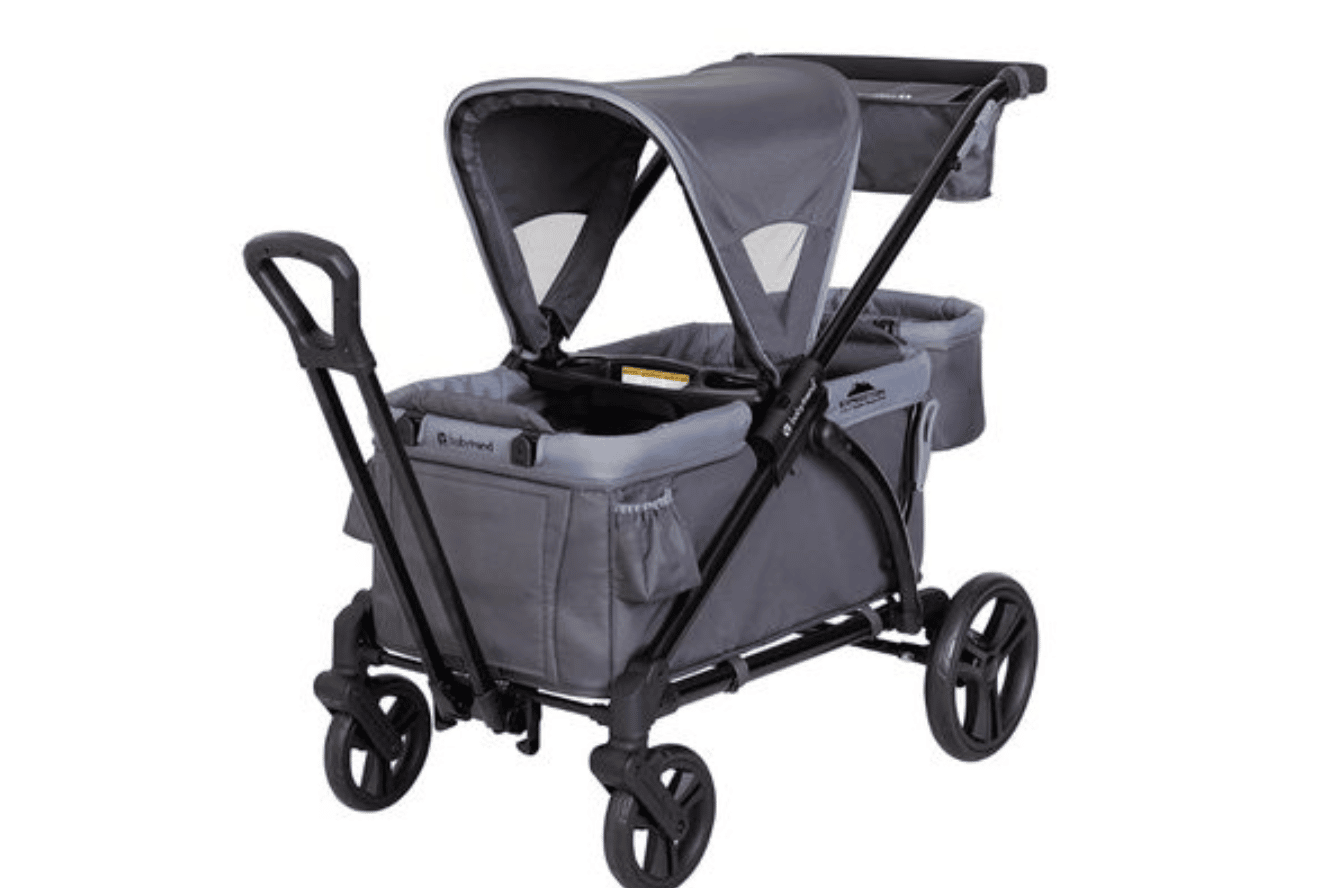 Baby Trend Expedition Stroller Wagon Review
Baby Trend Expedition 2-in-1 Wagon Plus can carry up to 55 lbs. on each seat. This car seat-compatible wagon (packs a pair of car seat adapters out of the box!) is affordable at $300, 4 lbs. lighter than the Jeep Wrangler. On top of it, Baby Trend has better terrain performance than Jeep and folds more compactly.
While trying its maneuvering capacity, I felt it was super easy to move, wrangling my 3- and 3.5-years babies inside the wagon (maximum weight limit 110 lbs). In addition, there are four eye-catching colors available, and the Ultra Grey locked my eyes into it!
What's in it for you?
\You have two separate handlebars to transform the push system into a pull. Besides, the spacious flip-over storage basket is the ultimate lifesaver. On top of it, you can customize this wagon for your newborn. Let's see what the Baby Trend has more to offer you!
Pros
Great for excursions, trips, and traveling
Folds very compactly into a flat shape
Car Seat Compatible
Lots of handy accessories
Easy to steer on terrains
Stylish and trendy
Affordable price
Cons
Slightly difficult to push over soft sand
Rear handle is not adjustable
Product Specification
Stroller weight: 42 lbs.
Stroller dimensions: 42 x 27 x 44 inches (unfolded)
Suitable for: Infant up to 55 lbs. on both sides
Car seat Compatibility: Yes (sold separately)
Car Seat Adapter: Universal car seat adapter included
Why We Choose This Baby Trend Stroller
Next Level Comfortable Stroller Wagon
The ratcheting mesh canopy covers both sides and protects the riders from direct sun rays and shades while they sleep in cushioning nap seats. Besides, during vacation, thrills make them tired and hungry; the Baby Trend stroller wagon has a center console featuring a snack tray with two cup holders to recharge them.
Stylish
Baby Trend Expedition 2-in-1 Wagon Plus has four elegant colors: Liberty Light Midnight, Ultra Black, Ultra Grey, and Ultra Marine. Its outer frames are black; feature stylish wheel rims. It's the ultimate heart winner when strolls and a treat to behold.
Easily Portable
Baby Trend Expedition Wagon Plus can be your best accompany during your family adventure. The wagon weighs 42 lbs, but it folds completely flat if you detach the wheels. Folding Baby Trend Stroller is effortless; especially this Expedition Wagon stroller is very convenient; you can easily plop this telescoping slim fold wagon at the back of your car trunk.
Easy to Use
You can smoothly drive the Baby Trend Expedition Wagon Plus by using the push handle or pulling the hideaway pull bar; you can also quickly lock and unlock the wagon by simply pressing its one-step foot paddle. It might be difficult to push over the soft sand, but it will go smoothly over the packed sand.
Maneuverability
All-terrain Baby Trend Expedition Wagon Plus smoothly works on grass, hill, and bump. Its large removable 11″ rear and 8″ front wheels with suspension navigate well to cross over rough terrain. You can simply open the hideaway pull handlebar when it feels difficult to push.
The Unique Features of The Baby Trend Stroller
Lots of Handy Accessories with Base Model
Unlike many stroller wagons, Baby Trend Expedition 2-in-1 Wagon Plus features many accessories, such as two seat mats, a car seat adapter, flip-over basket, parent console, center console holding a snack tray, two cup holders, etc.
Separate Push and Pull Handlebar-Hideaway Pull Handle
Various wagons feature one handle to transform the push system into a pull wagon. However, Baby Trend Expedition Stroller Wagon has two separate handlebars to drive the wagon smoothly.
Telescoping Slim Fold
Baby Trend Expedition Wagon folds very compactly, almost similar to the Veer Cruiser! When you remove the wheels, it goes down in a flat position.
Flip-over Basket
Parents can fix the storage basket at the front or end of the wagon stroller based on the usage comfort.
Final Words
If you're looking for the best utility wagon for two babies, then Baby Trend Expedition 2-in-1 is a lifesaver; worth purchasing. However, if you prefer a stroller over a wagon and find it more convenient for traveling, then you have alternative options of the best travel stroller as well!
If you have two toddlers, this post about what is the best stroller wagon will also be your lifesaver.