Discover the top 10 nebulizers for kids in India for 2023. This comprehensive buyer's guide will assist you their effectiveness, safety, and ease of use to help your child breathe better. Make an informed choice with our guide.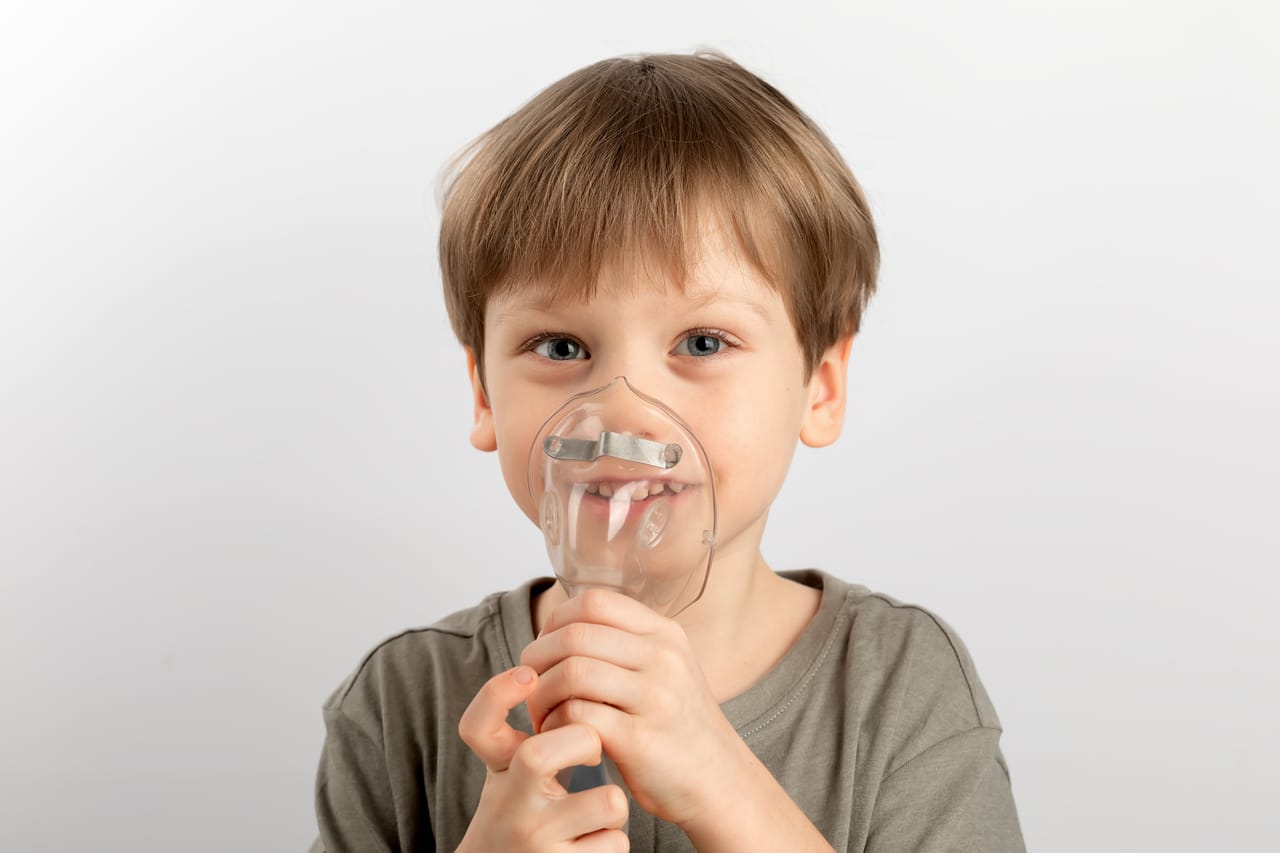 Nebulizers ensure proper breathing and respiratory health, especially in kids. These devices turn liquid medication into a mist that children can inhale, providing quick and effective relief for respiratory issues.
Nebulizers are a safe and effective way to deliver medication directly into the lungs. As per the Indian Association of Repertory Care, nebulizers are recommended in various environments. But with so many options available, finding the best nebulizer for babies in India can be difficult.
To help you make the best choice, this guide will provide information on 10 of the best nebulizers for kids in India. From budget-friendly to high-end models, we'll provide information on nebulizers to suit every need. So, scroll down to know more!
What to Look for When Buying a Nebulizer for Kids
Before buying nebulizer machines for kids, there are certain features that you should keep in mind:
Sound Level: Opt for a quieter model to ensure your child feels comfortable and isn't scared by loud noises.
Operating Pressure Range: Check this to ensure the nebulizer can effectively deliver medication. A range of 30-50 psi is common.
Compressor Pressure Range: A higher range indicates a more powerful machine, but consult a healthcare provider to determine what's necessary for your child's treatment.
Compressor Air Output: This refers to the amount of air the compressor can produce per minute. A higher output could deliver medication more quickly.
Operating Temperature Range: Ensure the device can function effectively in your home's typical temperature conditions.
Operating Humidity Range: Check that the nebulizer can operate in your area's average humidity level to ensure consistent performance.
Type of Nebulizer Machines
Nebulizer machines are a crucial tool in managing breathing issues in children. There are three primary types of nebulizers:
Jet Nebulizers: These common and affordable machines use compressed air to convert liquid medication into a mist, making it easy for kids to inhale. However, they can be a bit noisy.
Ultrasonic Nebulizers: Using high-frequency sound waves, these machines create a mist from the medication. They are faster and quieter than jet nebulizers but may be more expensive.
Mesh Nebulizers: The latest inhaler machine technology, mesh nebulizers use a vibrating mesh to produce a mist. They are compact, quiet, quick, and portable but typically the most costly option.
How We Chose Best nebulizer machines for Kids
To treat respiratory conditions, it's crucial to choose a convenient nebulizer machine. Several factors are considered when selecting a nebulizer, including:
Design: We considered the design of the nebulizer kit – whether it had an efficient compressor, a mask or mouthpiece accessory, and other components.
Features: We considered noise level, timer settings, and speed options.
Price: We looked at different price points to ensure that the right nebulizer could be found for any budget.
Safety: We looked at safety features such as temperature and humidity control, automatic shut-off, and other user-friendly features.
Maintenance: We examined how often the kit needed to be serviced and maintained for optimal performance.
Reviews: We read customer reviews to understand the user experience and whether the nebulizer suits kids.
Power sources: We considered the power source of the nebulizer – whether it needed to be plugged in or could be operated on batteries.
Top 10 Nebulizer For Kids
Nebulizer machines not only help kids breathe easier and more comfortably, but they are also important for the prevention of respiratory issues. Here we list some best nebulizers for kids in India:
1
Control D Nebulizer machine
Best portable nebulizer machine
Control D Nebulizer is the best nebulizer in India, and for good reason. The machine offers a complete kit, including child and adult masks, making it versatile for different ages. It has a 5 ml medication capacity, ensuring ample dosage for effective treatment. The mist produced is at room temperature, making inhalation comfortable.
Buy on Amazon
Pros:
Complete kit included.
Sophisticated motor for effective nebulization.
12-month warranty.
5ml medication capacity
Cons:
It does not work with water, limiting its usage to only medication delivery.
Why you should buy this?
Control D Nebulizer is a top recommendation due to its efficient drug delivery system, converting liquid medication into a fine mist for easy inhalation. It has user-friendly controls, making it accessible to people of all ages. The device's compact design enhances portability and storage convenience. It operates quietly, reducing anxiety in children during treatment. The versatility of the Control D Nebulizer allows it to treat various respiratory medications like asthma, COPD, and more.
2
Mievida Mi-KIDZ C04 Compressor Nebulizer
Best nebulizer machine for child
The Mievida Mi-KIDZ C04 Compressor Nebulizer is a highly effective medical device designed for children and adults. This inhaler machine is equipped with Medi Control Technology and offers 360° inhaler rotation, ensuring the effective delivery of medication. Overall, the Mievida Mi-KIDZ C04 Compressor Nebulizer is a reliable choice for the best inhaler machines, with its advanced features and customer-friendly services.
Buy on Amazon
Pros:
It has an Effective Nebulization Rate of ≥0.2mL/min.
The Particle Diameter is ≤5µm (60%)
It comes with a sizable 10ml atomization cup capacity.
It's suitable for both kids and adults
Cons:
The sound level is higher than other nebulizer machines.
Why you should buy this?
The Mievida Mi-KIDZ C04 Compressor Nebulizer is a top recommendation and is touted as the best nebulizer machine today, particularly for children. Its attractive design appeals to kids, making nebulization less intimidating. It is highly efficient in drug delivery, effectively relieving respiratory ailments. Pediatricians often recommend this nebulizer due to its user-friendly nature. A standout feature is its 360° inhaler rotation and oil-free compressor, which dissipates heat faster and has a longer lifespan, ensuring durability and reliable performance.
3
Dr Trust Junior Compressor Nebulizer
Best nebulizer machine for COPD
The Dr Trust Junior Compressor Nebulizer is a top-tier medical device, ideal for individuals struggling with respiratory ailments like cough, wheezing, asthma, COPD, bronchitis, and other nebulization conditions. This best nebulizer machine in India is often praised for its effectiveness and user-friendly design.
Buy on Amazon
Pros:
Help reduce aerosol deposition
Affordable price
Perfect for nasal congestion or other respiratory issues
Suitable for both kids and adult
Cons:
May it sound level is high
Why you should buy this?
The Dr Trust Junior Compressor Nebulizer is a top choice for many parents due to its affordability and effectiveness in treating respiratory issues. Its compact design ensures easy portability, with an adjustable aerosol mask providing comfort during treatment. The device also features built-in safety protection, making it safe to use. With easy-to-use controls, this device provides convenient nebulization, making it a perfect choice for busy families. Considered the best nebulizer machine price in India, it provides a blend of affordability and quality, making it an ideal choice for children and adults alike.
4
Philips Home Nebulizer machine
Best inhaler machine for cough
This Philips nebulizer machine is a top-notch medical device for those with respiratory issues. It offers an effective and efficient nebulization, ensuring that medication is delivered deep into the lungs for effective treatment. This device combines impressive performance, speed, and ease of use, establishing itself as the best nebulizer machine for baby in India.
Buy on Amazon
Pros:
Compact design with a small footprint.
Easy to use and allows multiple users
Quiet operation
Perfect for liquid medicine
Cons:
Costly than other options in its category.
Why you should buy this?
The Philips Home Nebulizer with SideStream Disposable Kit is highly recommended due to its superior performance and user-friendly features. It's one of the best nebulizer machines today, offering fast drug output, which leads to shorter treatment times. The machine utilizes SideStream technology, known for its effective medication delivery. The fact that it's a product from Philips, a trusted brand in healthcare devices, assures users of its high quality and reliability. If you want a top-performing nebulizer, the Philips Home Nebulizer is the one you should get.
5
Omron NEC 301 Duo Baby Nebulizer machine
Best waterproof nebulizer machine
The Omron NEC 301 Duo Baby Nebulizer is a great option for treating kids suffering from respiratory issues. It has an advanced inhalation system, ensuring silent and effective nebulization. Its nasal aspirator provides comfortable nebulization, making it ideal for infants and toddlers. This is one of the best nebulizer machines in India that available at affordable cost.
Buy on Amazon
Pros:
Quiet operation
User-friendly design
Easy to clean and maintain
Better flow adjuster
Cons:
Not suitable for larger particles
Why you should buy this?
The Omron NEC 301 Duo Baby Nebulizer machine is highly recommended as it stands out as the best nebuliser brand for baby. This device ensures efficient and effective medication delivery, which is crucial for alleviating respiratory ailments in babies. It's lightweight and portable, making it easy to use and travel-friendly. Furthermore, its fast nebulization rate of 0.9ml per minute ensures quick relief. The device is also suitable for frequent use, providing a convenient solution for parents.
6
K-Life Neb-101 Compressor Nebulizer machine
Pros:
Compact and lightweight design for portability.
Low noise levels make it suitable for children.
Easy to use and maintain.
Ensures effective nebulization
Cons:
Atomization cup capacity is limited.
Not user-friendly
Why you should buy this?
The K-Life Neb-101 Compressor Nebulizer machine is a highly recommended device for respiratory conditions like asthma or chronic bronchitis. Its advanced nebulization technology ensures effective and efficient medication delivery, transforming it into a fine mist that can be easily inhaled. With a powerful compressor and optimal nebulization pressure, it provides fast and effective relief. If you're looking for an easy-to-operate and efficient nebulizer machine, this is the best choice.
7
Omron NE C28 Compressor Nebulizer
Best overall neublizer machine
The Omron NE C28 Compressor Nebulizer is versatile for children and adults. The nebulizer has an approximate MMD of 5 micrometres and a rate of 0.4 millilitres per minute without the cap. It consumes 138VA power and weighs about 2.26 kgs. The nebulizer has a low residual volume and is designed to ensure that medication is not wasted. This is one of the best nebulizer machines for kids with its numerous features.
Buy on Amazon
Pros:
Virtual Valve Technology
Ensures that medication is not wasted.
Low residual volume
Soft PVC mask for kids and an adult mask.
Cons:
It may be a pricey option for some consumers.
Why you should buy this?
The Omron NE C28 Compressor Nebulizer is a standout choice for effectively managing respiratory disorders. It's designed with VVT that maximizes aerosol delivery to the lungs while minimizing medication wastage. This makes it highly efficient and suitable for asthma and chronic bronchitis. Its high nebulization rate ensures quick relief, while the user-friendly design makes it easy to operate. Reliable and durable, this nebulizer from Omron, a trusted brand in healthcare devices, offers consistent performance, making it highly recommended for home use.
8
Beurer Nebulizer machine
Best nebulizer for toddlers
This is one of the best medical devices that Beurer has to offer. The nebulizer machine features a powerful vibration mechanism that releases a steady stream of mist into the air, making it easier for your child to inhale the medication. It is also equipped with an adjustable aerosol concentration setting, which allows you to customize the intensity of the mist according to your needs.
Buy on Amazon
Pros:
It is suitable for both adults and children.
The device is easy to use and assemble.
User-friendly
Compact and Lightweight
Cons:
It takes a longer time to nebulize the medication.
Why you should buy this?
The Beurer Nebulizer machine is an excellent choice for individuals dealing with respiratory ailments. This device stands out for its high nebulization performance, ensuring effective and efficient medication delivery deep into the lungs. It's equipped with a powerful compressor for fast relief and has a high medication flow rate, which shortens inhalation time. Coming from Beurer, a reputable brand known for its quality healthcare devices, this nebulizer offers consistent performance, making it highly recommended for home use.
9
Beurer IH58 nebuliser Machine
Best compressor nebulizer for baby
This advanced nebuliser device for kids from Beurer is one of the most popular choices in India. It contains a powerful pump and provides rapid aerosol therapy with shorter treatment times, making it perfect for toddlers. The IH58 also comes with a reusable plastic turbine chamber, which ensures minimal noise while operating and can be cleaned easily.
Buy on Amazon
Pros:
High proportion of respirable particles
High nebulisation capacity
Easy to use and maintain
Perfect for treating respiratory diseases
Cons:
It may not suitable for prolonged use
Why you should buy this?
The Beurer IH58 Nebuliser Machine is a top recommendation for managing respiratory conditions. It utilizes high-frequency vibration technology to transform medication into a fine mist, ensuring efficient lung delivery. The machine's high nebulization rate offers quick and effective relief, while its adjustable particle size allows targeted treatment. With a reputation for quality and reliability, Beurer guarantees a durable, user-friendly nebulizer that offers consistent performance, making it an excellent choice for respiratory health management.
10
AmbiTech Easy Nebulizer Machine
The AmbiTech Easy Nebulizer Machine is ideal for kids with asthma. It has a child-friendly design that can be conveniently carried around and used at home or on the go. This nebulizer features an adjustable mask to fit children of all ages and a compact build that makes it easy to store away when not in use. The device is an affordable and reliable option with a 2-year warranty.
Buy on Amazon
Pros:
It is affordable
Advanced Nebulization Technology
Efficient respiratory therapy
Effective Medication Delivery
Easy Carry Handle
Cons:
May it sound level is high
Why you should buy this?
The AmbiTech Easy Nebulizer Machine is highly recommended for those managing respiratory illnesses. This device stands out with its advanced nebulization technology, ensuring efficient medication delivery into the lungs for quick and effective treatment. It boasts a high aerosol output rate, which provides rapid relief while reducing treatment time. Its ergonomic design and user-friendly operation make it suitable for all ages. From AmbiTech, known for reliable healthcare devices, this nebulizer delivers consistent performance, making it an excellent choice for home-based respiratory care.
How Can I Help My Child Use a Nebulizer?
Nebulizer machines are a great tool for helping kids manage their breathing problems. However, it can be difficult to get them to use the nebulizer regularly. Here are some tips and tricks to help your child use their nebulizer more effectively:
Incorporate the use of the nebulizer into your child's daily routine. Consistency is key, so try to use it simultaneously each day.
Make the treatment time more appealing with a unique name like "Breathe better time." Enhance it by engaging in fun activities like reading stories, singing songs, or playing with special toys.
Consider watching a favourite TV show together during the treatment.
Allow your child to personalize their nebulizer machine with stickers.
Experiment with seating options. Your child might prefer sitting in a highchair or be more comfortable on your lap.
If your infant is restless, consider using the nebulizer while asleep.
If the mask intimidates your child, call it a "pilot mask" or a "space mask." Watch a movie about pilots or astronauts and use phrases like "start your engines" when turning on the nebulizer. Fun animal-shaped mask designs are also available.
If your child is old enough, involve them as much as possible. They can help put on the mask, hold the tubing, or turn on the machine.
Remember to praise your child for cooperating and consider rewarding them with a small prize, like stickers or a simple toy. Recognition can motivate them to keep cooperating with their treatments.
Safety Guidelines while using Nebulizer Machines
When selecting nebulizer machines for your children, it is important to keep safety in mind. Here are some safety guidelines to consider:
Always use the correct medication for the nebulizer and follow instructions on administering them correctly.
Make sure the nebulizer machine is not near any electrical outlet or water source.- Ensure that all parts of the nebulizer machine are kept clean and disinfected regularly.
Do not let anyone use the nebulizer machine who has respiratory symptoms like coughing, sneezing, etc.
Make sure to replace accessories like masks, tubing or filters as the manufacturer directs.
Never leave a child alone with a nebul- Ensure that the medication is poured into the nebulizer cup correctly and securely.
Make sure to use only distilled or sterile water in the nebulizer cup.
As recommended, take the nebulizer machine to a medical professional or supplier for regular maintenance and checkups.
Store nebulizer supplies like masks, tubing, filters and medications in a cool, dry place away from direct sunlight.
Citations