Baby sunglasses are a must-have accessory for sunny days. Not only do they help protect your little one's sensitive eyes from the sun's harmful rays, but they also keep them looking stylish. Full UV protection sunglasses for babies are essential for any time spent outdoors, whether it's a trip to the park or beach. When choosing sunglasses for your baby, it's important to find a pair that is comfortable and will stay in place. Look for sunglasses with wide straps that go over the head and around the back of the neck to keep them from falling off.
Also, make sure the lenses are made from shatterproof material in case they drop them. With so many different styles and designs to choose from, it can be hard to decide which pair of sunglasses is best for your little one. Here are 13 of the top sunglasses for babies and toddlers in 2022. From sporty to stylish, these sunglasses will keep your little one's eyes safe from the sun. So grab a pair and get ready for summer!
Best Sunglasses For Kids In 2022
Though as we said kids' sunglasses should be fun, they also need to be functional to protect your child's eyes from harmful UV rays. Generally, sunglasses for kids should have larger lenses to provide more coverage, and they should be made with shatter-resistant materials. And of course, you'll want to make sure the sunglasses stay put on your child's face, whether they're running around or just bobbing their head up and down. Below list of sunglasses that will help you find the perfect pair for your kid.
1. Duco Polarized Sunglasses with strap
Best sunglass for newborns
If you're looking for sunglasses that will keep up with your active lifestyle, look no further than Duco polarized sunglasses. These sunglasses feature a healthy unbreakable TPEE frame and TAC polarized lens that provide superior polarization and UV protection. With a lens width of 43mm and height of 40mm, these polarized sunglasses are sure to stay put no matter what you're doing. Plus, the included strap ensures that your sunglasses will always be within reach. Whether you're hitting the beach or the slopes, Duco polarized sunglasses are the perfect choice for any outdoor activity.
---
2. Cocosand baby sunglasses
Best sunglass with adjustable strap
Looking for a timeless pair of sunglasses that will never go out of style? Look no further than the Cocosand baby sunglasses. These classic shades are made with a soft and comfortable thermoplastic elastomer frame, and feature shatter-resistant polycarbonate lenses with 100% UVA, UVB protection. The lenses are also mirror coated for added protection from the sun's harmful rays. The Cocosand baby sunglasses are available in a variety of colors to suit any style and are backed by an indestructible frame that won't break or bend.
---
3. Baby BANZ Sunglasses with strap
The Baby BANZ Sunglasses with strap are perfect for protecting your little one from harmful UVA and UVB sun rays. Featuring a smart, wrap-around design that ensures the sunglasses stay put, as well as a carefully embedded, silicone nose and brow, we make sure your little ones feel super comfortable and perfectly secure. The convenient hook-and-loop closure is specially designed to be extremely practical and easy to use, making it the perfect accessory for any active baby or toddler. The prescription lenses of Baby Banz sunglasses have a blue light filter that is said to help reduce eye strain and fatigue. The lenses are also treated with an anti-glare coating. Baby Banz kids sunglasses is one of the best baby sunglasses with a strap.
---
Best UVB rays protection sunglass
Babiators Baby sunglasses are durable, safe, and stylish. It comes with shatter-resistant lenses and has soft silicone frames. There is 100% UVA and UVB protection. The rubber frame is durable and comfortable, and the lenses are made from polycarbonate for superior clarity. So whether you're headed to the beach or just out for a walk around the neighbourhood, these aviator sunglasses are a must-have for your little one. For toddler sizes, please note that the sunglasses will fit best for ages 3-5 years.
---
5. Mud Pie Baby Sunglasses
Best sunglass for baby girls
If you're looking for the perfect accessory to help your little one enjoy a sunny day, Mud Pie Baby Sunglasses are a great choice. These stylish shades are made from 100% plastic and feature a removable strap for a comfortable, custom fit. The plastic lenses offer UV protection to keep your child's eyes safe from harmful sun rays, and the spot-clean design makes cleaning quick and easy.
---
6. Tuga Baby/Toddler Sunglasses
Best sunglass for baby boys
Tuga Baby's fashionable and functional sunglasses are perfect for protecting your child's young eyes from harmful UV rays. The shatterproof polycarbonate lenses block out 100% of both UVA and UVB rays, while the adjustable neoprene straps ensure a comfortable and secure fit. The stylish and durable case protects the glasses when not in use. Whether your little one is at the beach, pool, or just playing outside, Tuga Baby/Toddler Sunglasses are a must-have accessory.
---
7. Roshambo Baby Polarized Sunglass
Best head strap sunglass for kids
Roshambo sunglasses is the perfect way to keep your little one's eyes safe from the sun's harmful rays. These stylish sunglasses feature 100% UVA/B/C protection and are shatter-resistant, making them a durable and reliable choice for outdoor activities. The Deluxe Bundle includes a head strap and ear adjuster kit to keep the glasses from slipping off, and the frames are soft and designed for little hands and faces. Choose from a variety of trendy colors and patterns to find the perfect pair for your child.
---
8. RIVBOS Kids Sunglasses
Best plastic frame sunglass
RIVBOS sunglasses are perfect for your little ones, with a super cute and colorful design that they will love. The plastic composite frame and plastic lens are durable and of the highest quality, and the polarized lenses provide superior protection from the sun's harmful rays. The scratch resistant coating ensures that the lenses will stay looking great for many years to come. With a lens width of 2 inches, these sunglasses are sure to fit your child's face perfectly.
---
9. COASION Baby Polarized Sunglasses
Best flexible rubber frames sunglass
COASION baby ultimate polarized sunglasses provide 100% UVA and UVB protection for your little one. The lenses are made of impact-resistant polycarbonate material, which is 10 times stronger than ordinary plastic lenses. The TPEE frame is durable and flexible, while the polycarbonate lens is shatter-resistant. For baby's eyes light protection, the sunglass is designed to fit small faces snugly and comfortably. However, these stylish sunglasses are not only for babies but also suitable for toddlers and young kids.
---
10. Pro-Acme Polarized Sunglasses
Best unbreakable sunglass for kids
Pro-Acme Polarized sunglasses are perfect for anyone who wants to stay stylish and protect their eyes from harmful UV rays. This is perfect for your baby's head as it is made with a very soft and comfortable material. The polarized lenses are made from high-quality materials and offer 100% UVA-UVB protection. Plus, they're scratch-resistant and have superior clarity. With a variety of fashion-forward styles to choose from, you're sure to find the perfect pair of Pro-Acme sunglasses for you. And because Pro-Acme is the manufacturer, you're getting factory direct deals on these sunglasses.
---
11. Hipsterkid Baby Sunglasses
Best UV rays protection sunglass
If you're looking for a hip and stylish way to protect your child's eyes from the sun, look no further than Hipsterkid Baby Sunglasses. These sunglasses are designed with safety in mind, with 100% sun protection from UVA and UVB rays, as well as being shatter-resistant. They're also made of durable, BPA-free, phthalate-free PVC for your peace of mind. These wear glasses have an impressive style that will make your little one look like a cool kid. The glasses have a comfortable head strap that is adjustable and can be replaced with the help of screws. And if you have any problems with them, Hipsterkid offers a free replacement warranty (US orders only; shipping not included). So let your little one enjoy the outdoors in style with Hipsterkid Baby Sunglasses.
---
12. JAN & JUL Polarized Kids sunglasses
This Uv light protection kids sunglasses is suitable for both babies and toddlers. The lenses of this product are made with durable polycarbonate and have a 99% polarization rate. This product has an adjustable silicone nose pad which makes it comfortable to wear for long periods. They feature durable, flexible frames made from baby-safe TPEE material, as well as a stay-on strap to keep them securely in place during all their adventures. And with 100% UVB protection, you can be sure their eyes are safe from harmful rays. So get outside and explore with confidence knowing your child is well protected.
---
13. NULOOQ Flexible Frame Polarized Sunglasses
Best UV protection coating sunglass
Buy on Amazon
NU LOOK toddler sunglasses offer full protection for your little one's eyes with their polarized lenses and flexible frame. The wrap-around design ensures that the glasses stay put, even when your child is active. The shatterproof lenses are made with 100% UV protection to keep your child's eyes safe from the sun's harmful rays. The strap is adjustable to fit boys and girls 0-18 months and is conveniently attached to the frame so it stays in place. The flexible, lightweight frame is made of silicone, making it twistable, deformable, and virtually unbreakable. As well the rubber frames and nose pieces are hypoallergenic and gentle on your child's skin.
How do you choose baby sunglasses?
When it comes to choosing baby sunglasses, it's important to find a pair that offers both style and function. While you want your little one to look cute in their shades, you also need to make sure they are protected from the sun's harmful rays. Fortunately, there are now many brands that offer fashionable and protective sunglasses for babies and toddlers. To help narrow down your choices, consider the following factors:
– UV protection: Look for sunglasses with 100% UVA and UVB protection. This will ensure that your child's eyes are fully protected from the sun. Some brands even offer anti-blue light protection, which can help reduce eye fatigue and strain.
– Fit: Make sure the sunglasses fit your child's face snugly. They should not be too loose or too tight.
– Durability: Choose a pair of sunglasses that are made from durable materials. This is especially important if you have an active toddler who is always on the move.
– Style: There are now many cute and trendy styles of baby sunglasses available. Find a pair that your child will love wearing.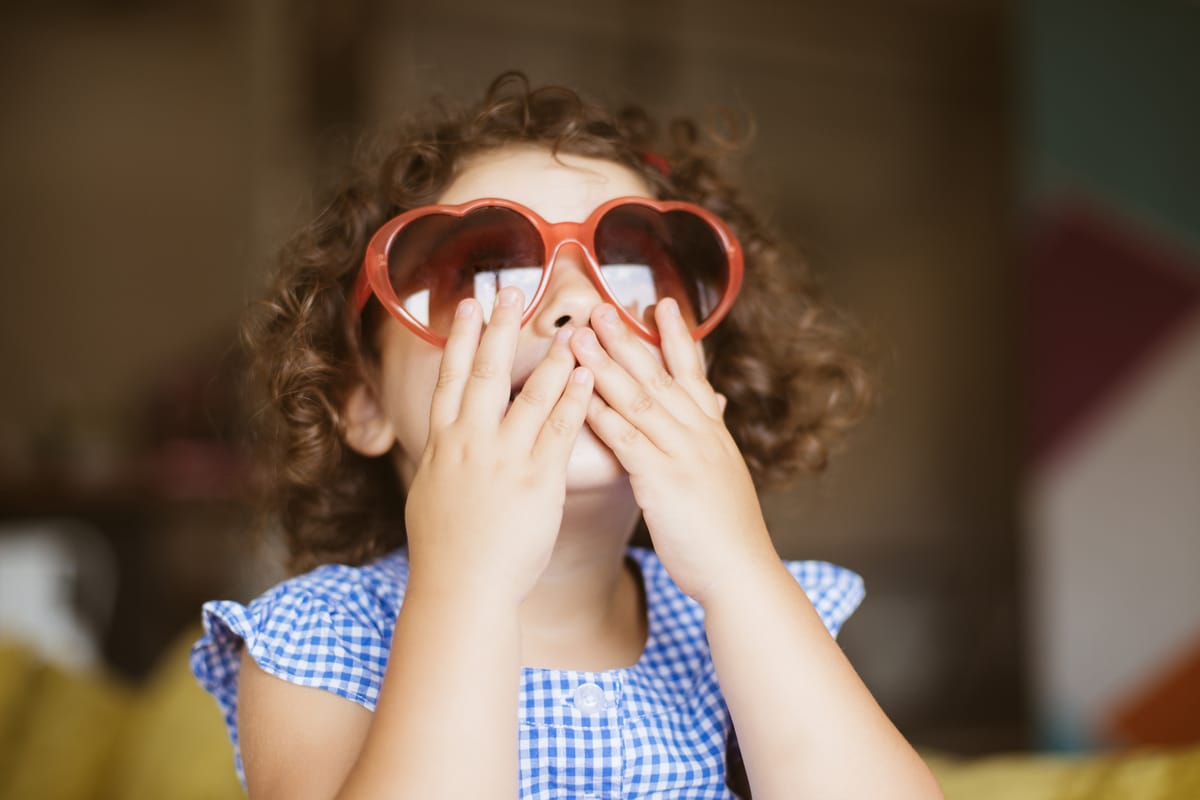 Which type of sunglasses is best for kids?
The best type of sunglasses for kids is polarized sunglasses. Polarized sunglasses are beneficial because they protect the eyes from UV radiation, which can cause cataracts and other eye problems. In addition, polarized sunglasses can reduce glare, which is particularly helpful for kids who spend a lot of time outdoors.
Is it good to put sunglasses on a baby?
There's no right or wrong answer to this question – it ultimately depends on the parents' preference and their baby's needs. Some parents feel that sunglasses help protect their baby's eyes from the sun's harmful UV rays, while others find that they're more of a hassle than they're worth. There are pros and cons to both sides, so it's important to weigh all your options before making a decision.
If you're considering putting sunglasses on your baby, one of the things you'll need to take into account is whether or not your little one will actually keep them on. Babies are notoriously fidgety, and it can be difficult to get them to keep anything on their face for an extended period of time – let alone something as slippery as sunglasses. If you're worried that your baby won't keep the sunglasses on, you might want to consider a pair with an adjustable strap that goes around the back of the head. This will help ensure that the glasses stay in place, even if your baby is wiggling around.
At what age can a baby wear sunglasses?
It is generally recommended that babies be allowed to wear sunglasses after they are six months old. This is because their eyes are still developing and they need to be protected from harmful UV rays. Additionally, sunglass frames can irritate a baby's delicate skin, so it is best to wait until they are a bit older before introducing them. Baby sunglasses should have large lenses that wrap around their head and provide 100% UV protection. The frames should also be made from a soft, flexible material that will not cause discomfort when worn. And finally, always make sure the sunglasses fit securely on your baby's head so they cannot pull them off and choke on them.
The Bottom Line
Therefore, sunglasses are a necessary part of any child's wardrobe, and it's especially important to protect their eyes from the sun's harmful UV rays. According to the American optometric association, children should start wearing sunglasses as soon as they are 6 months old. And while it may be tempting to buy the cheapest pair of sunglasses you can find, keep in mind that not all sunglasses are created equal. Make sure to choose a pair that offers 100% UV protection and is comfortable to wear. We hope the above list of the best sunglasses for babies and toddlers will help you make the right choice for your little one. If you think we have missed any great pairs of sunglasses, feel free to let us know in the comments section below.