Wondering, what you could be doing in 2021? I'm going to take a moment to look at the Interior Design trends that are likely to dominate people's homes in 2021. Interior Design is an ongoing passion and one that I hope to continue for years to come.
There are so many options available for people when it comes to decorating their homes. You can choose to focus on personability, durability, or accessibility, or you can also look into recycled and renewable materials.
If you don't know where to start, here are the top interior design hacks you should try out in 2021:
Add Rugs To Spaces
While there are so many interior hacks to choose from, you may start with a trick to make a room feel warm and cozy.
Be it the bedroom or lounge, a rug can make all the difference, especially if it's placed correctly within the space.In large rooms, put the rug under the sofa or bed's front legs. If you have a small space, make sure to use smaller and lighter-colored rugs to ensure that they won't make the room appear smaller.
Rugs add warmth, but too many dark colors will make a room feel drab and small, so keep things nice and light where you can.
Change Room Layouts
You may also change the positioning of your interior furniture to change the vibe of your home. You can start with wall hangings, armchairs, and coffee tables to change the ambiance of certain spaces. After experimenting with those, then you can move on to rearranging the heavy furniture, like a sofa!
Change The Lighting
The application of lights has the power to brighten your house!  This is one of the interior design techniques suitable for the living room, bedroom, and kitchen. You can choose from different types of lighting fixtures, such as floor lamps, chandeliers, table lamps, and sconces, among many others. Also, layered lighting serves a dual purpose of providing depth and producing atmosphere.
One aspect to consider when dealing with lights is the hue. Soft white, cool white, and daylight hues offer different vibes and atmospheres. The cooler the hues of the bulbs, the brighter the space. On the other hand, lower temperature lighting makes a room feel more relaxed. Moreover, fixtures such as pendant lights can also improve the ambiance of a room.
Another trick is to make use of reflective surfaces, such as mirrors or glass tables. Place a mirror opposite a window to increase the feel of natural light!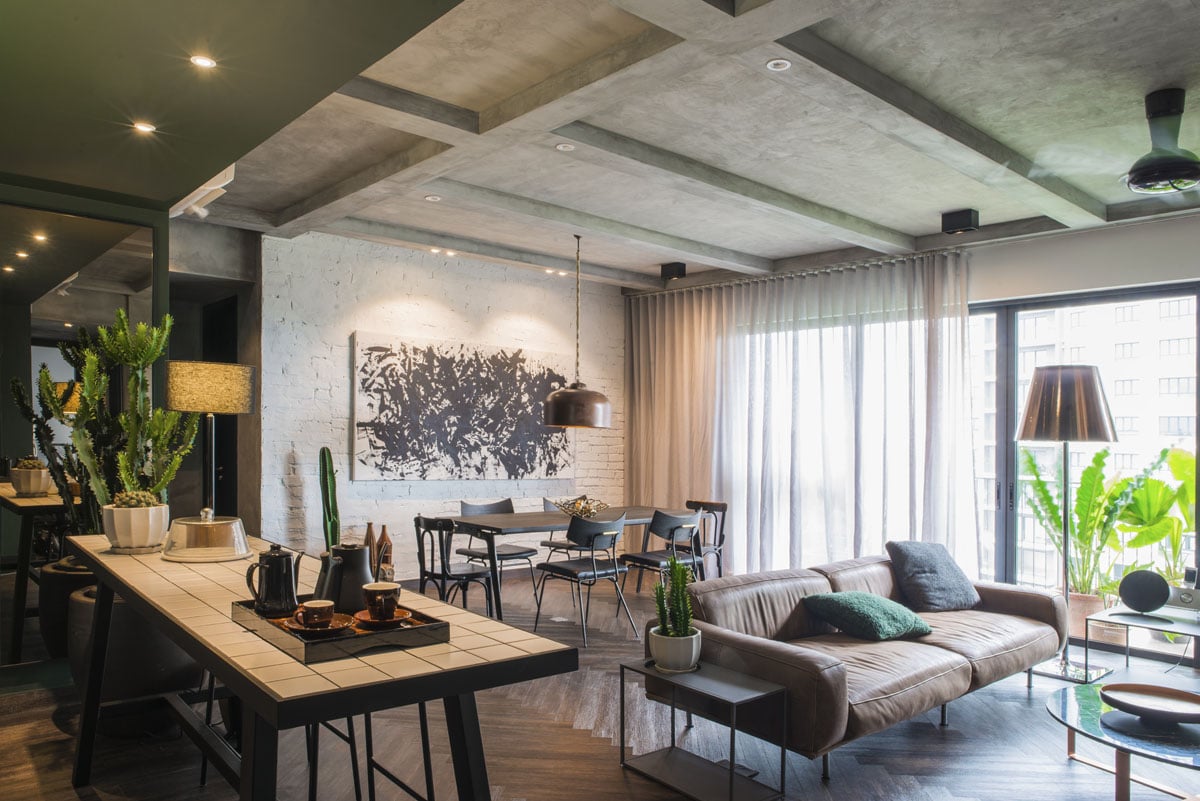 Come Up With A Color Scheme
Having a color scheme for your home is a must. It doesn't have to be complicated and you don't have to choose any more than five colors. A well-balanced interior usually consists of three tones: a main, a secondary, and a tertiary. Base your choices on how they make you feel. A color scheme can really tie different aspects of a home together.
Whenever you arrange your furniture, make sure to use 60% of the main hue, 30% of the secondary, and 10% of the contrasting or tertiary one. You don't want your furniture to clash with your rooms' colors as it they'll look unattractive and become an eyesore. If you want to make a room appear larger, use neutral- and light-colored paint colors. Darker paint colors will work well if you want a dimmed out and intimate look for your room.
Make Your Art Pop
Take the time to lay out your wall hangings before you begin to hammer them into place. Take one piece at a time, and don't just rearrange them all in your head first. It's always best to see it before you make any decisions. Now, you can mount and highlight your artwork. Proper planning will help you visualize how the final outcome will look like, plus you'll avoid committing irreversible mistakes.
Use Natural Colors And Materials
Natural materials, such as light-toned wood, leather, and ceramic, will continue to be present in design trends in the coming years. Use various natural paints and dyes to produce depth and texture. Linen has become a popular staple in modern homes—linen sheets and cushions can add an authentic, natural feel to your home.
Materials that are made from organic fibers can last longer as long as you take care of them.
Consider A Closed Floor Plan
Last year, many families realized the importance of co-existing under the same roof, thus, the appeal of open plan layouts will most likely reflect this in the future.
Space is vital, and open floor plans aren't always the best choice. Now, more than ever, people are looking for closed off studies or nooks to handle remote work or homeschooling that eliminate distractions.
Buy Sustainable Pieces
Sustainability is a practice used across many activities, from grocery shopping to buying your home's furnishing.
Shoppers are now moving away from low-cost, big-boxed, and high-carbon products in favor of more expensive, more sustainable options. On the one hand, as furniture and design connoisseurs are resisting the influence of quick fashion, there's an increased need for long-term thinking.
If you want to ensure that the furniture and decorations you're purchasing don't have detrimental effects to the environment, look for certified sustainability practices by the manufacturers. You can also support local makers through buying from them to help revive their businesses during these trying times.
Choose Easy-To-Clean Surfaces
Rugs and other soft surfaces that provide excellent resistance to everyday wear and tear are likely to become the standard pieces as they can help ensure your home's cleanliness. Carpet and hardwood floors are easy to clean as opposed to slate and tiles. Using rugs in spaces with these kinds of floors can make the cleaning process easier. With no scrubbing required, you simply need to run the vacuum over the rugs instead.
Add Greenery
Adding plants is one of the easiest ways to spruce up a home. Consider adding indoor plants to your home to make it look homier and more colorful. Choose plants that are beginner-friendly if it's your first time.. Some of the plants you can have include snake plants, ZZ plant, pothos, and peace lily.
Takeaway
Since staying at home as much as possible has been the norm since the pandemic started, it's the perfect time to upgrade your home's look!  Choose cost-effective and high-quality sustainable cleaning products, this will not only help with your monthly expenses but also leave your house sparkling clean. Instead of storing tons of cleaning sprays and powders, try using all-purpose alcohol wipes and use them to clean the surfaces quickly and easily. The wipes work great for removing the fingerprints and bacteria from high-touch areas. Check out the products' labels to discover more about what alcohol wipes are used for and how to use them correctly.
Follow the given hacks above to give your home a makeover, and see how it can instantly feel and look new again.