Higher temperatures call for light meals that can provide enough hydration and nurturing nutrients to the body. In order to stay healthy and hydrated under the hot summer sun, healthy meals should be our top priority. When the temperatures are high the diet of our little ones is especially important in maintaining their optimal health and wellbeing. Therefore, discovering new and delicious recipes that will make for enjoyable summer days while delivering all the needed nutrients is of utmost importance.
In this article, we bring you several fresh ideas for delicious meals that the whole family will love. We challenge you to pick a favorite!
Mediterranean Sweet Potato Recipe
There is nothing like Mediterranean food that makes a perfect summer meal for hot and long sunny days. Mediterranean flavors not only remind us of a holiday by the sea but also make for healthy and nutritious recipes that are finger-licking good. If you love Mediterranean food or have never prepared a Mediterranean meal before, we bring you the delicious, healthy and easy-to-prepare Mediterranean sweet potato recipe.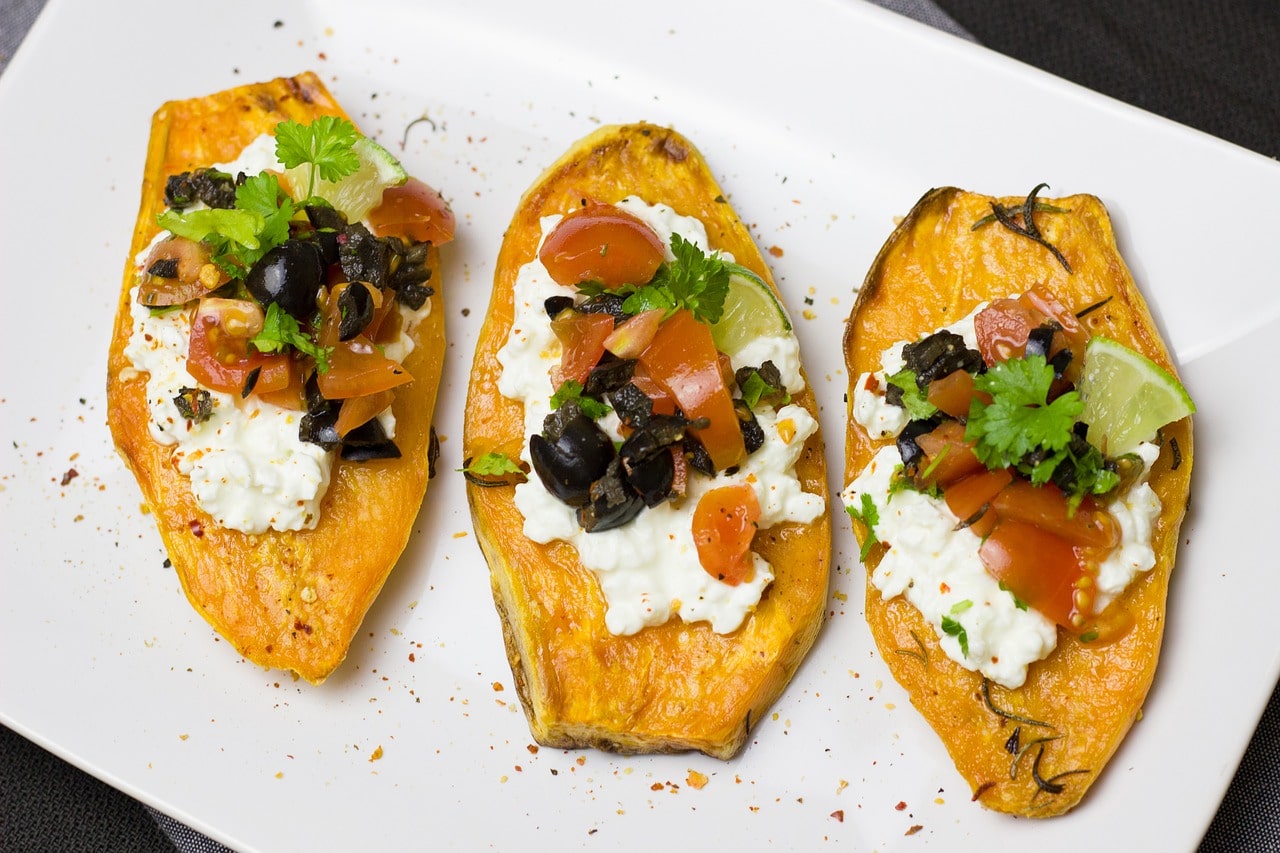 Ingredients:
4 sweet potatoes
2 Tbsp tahini
Freshly squeezed lemon
1 clove minced garlic
Water
4-5 cherry tomatoes
Persley
Olive oil
Sea salt and paper
Cumin and coriander
500gr chickpeas
Preparation:
Preheat the oven to 400°F. Peel the sweet potatoes, slice in halves and put them on a baking pan with parchment paper. Drizzle the olive oil and salt over the potatoes and put them in the oven. Bake for about 45 minutes.
On another baking pan add the rinsed and drained chickpeas. Drizzle olive oil and the spices all over. Add in the oven with the potatoes and roast for 20 minutes maximum.
Add the tahini, 4 tablespoons of chickpeas, lemon juice, minced garlic, salt, spices and water in a blender to combine together in a cohesive mixture. Try the sauce and add more salt or seasoning per taste.
Once the potatoes are fork-tender remove them from the oven.
Put tomatoes in a serving plate, top with chickpeas and the garlic sauce. Add diced cherry tomatoes and parsley to garnish.
Serve immediately.

2. Egg Salad with Potatoes and Peas
Hot summer days call for light meals filled with nutrients. To keep you full while providing all the needed vitamins and minerals here is an easy-to-prepare salad that will be adored by the whole family.
Ingredients for one serving:
200 grams of baby potatoes
150 grams French beans
150grams frozen peas
3 eggs
A handful of lettuce leaves
For the dressing
1 tablespoon olive oil
1teaspoon cider vinegar
Chopped mint and basil leaves
Freshly ground pepper
Preparation:
Fill a cooking pan with water and add the potatoes. Leave them to boil until fork-tender.
In the same pan add the peas and beans and cook very briefly for the vegetables to get tender (not more than 5 minutes).
In another pan, boil the eggs for 8 minutes. Once done, shelve them and cut in halves.
In a bowl add all the ingredients for the dressing, add black pepper and steer wheel with a spoon, crushing the herbs to intensify the flavor.
Add the beans and peas in the dressing mixture and toss everything together.
On a serving plate add the lettuce, pour over the dressing and add the potatoes and eggs on top. Grind over some sea salt and paper.
Serve immediately.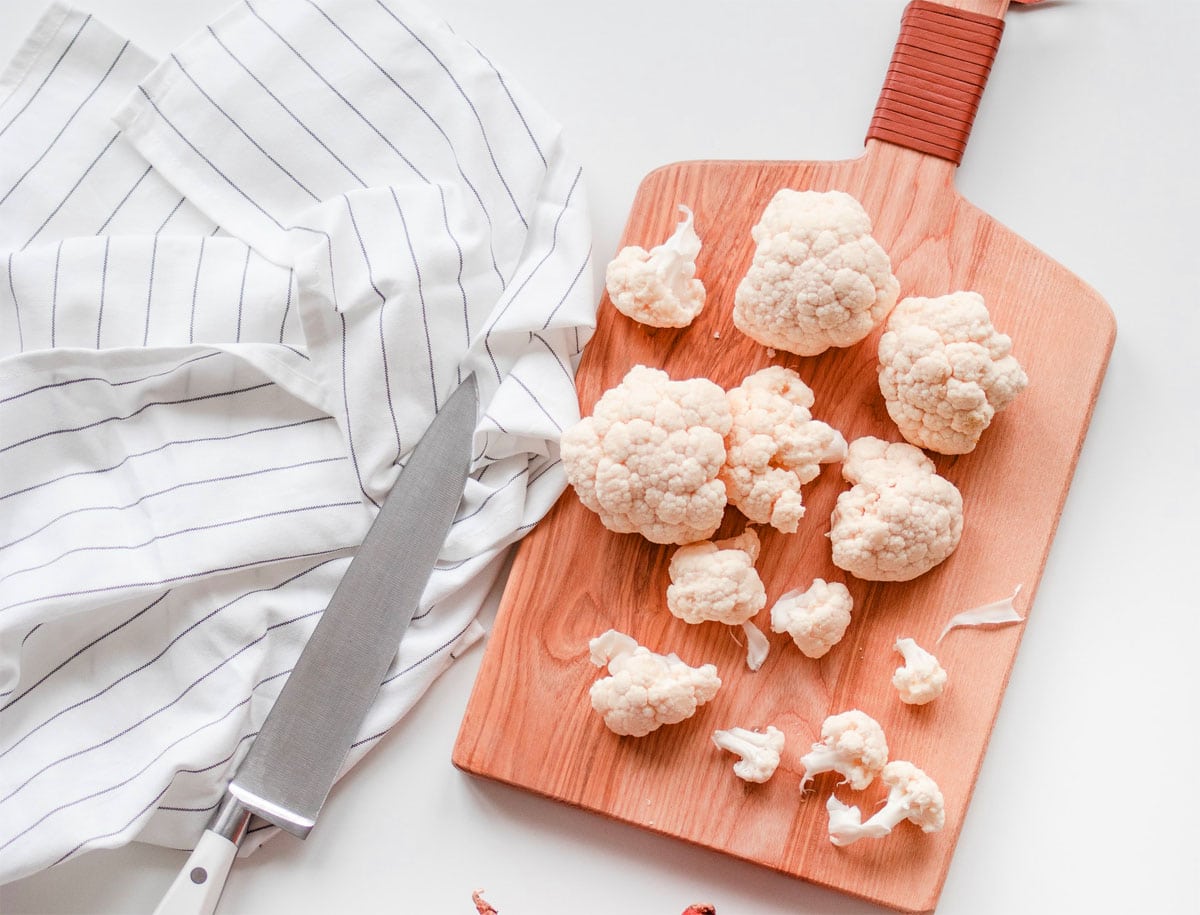 3. Cauliflower Steaks with Red Pepper
The nutrition profile of cauliflower is very impressive. It's high in fiber, full of antioxidants, vitamins and minerals. Apart from that, it is very easy to prepare and can substitute almost any animal-based food. Here is one recipe where cauliflower is your delicious stake combined with red papers.
Ingredients:
1 cauliflower
½ cups smoked paprika
1 roasted red paper
Pitted black olives
Handful of parsley
1tbsp red wine vinegar
¼ cup toasted almond flakes
Olive oil
Salt
Preparation:
Preheat the oven to 420°F
Line a baking tray with a parchment paper
Slice the cauliflower in thin pieces in preferred size
Place the cauliflower pieces on the parchment paper and drizzle with olive oil, paprika and salt
Cook in the oven for 20 minutes
While the cauliflower roasts in the oven chop the pepper, olives and parsley.
Put everything in a bowl and mix with the remaining oil and vinegar.
Season to taste.
When the steaks are cooked put them in a serving plate and pour the sauce on top
Sprinkle the toasted almonds on top and serve immediately
No-Cook Salmon Salad
If you enjoy the taste of raw salmon combining it with the right ingredients will make you enjoy it even more. Salmon is one of the foods praised for its deliciousness and nutrients. Rich with omega-3 fatty acids and antioxidants salmon is the perfect healthy bite raw or cooked. The following recipe can be prepared with raw or cooked salmon, pre preference.
Ingredients:
2 zucchini
100 grams of peas
8 radishes diced
Olive oil
Freshly squeezed lemon juice
1.2 cup yogurt
Handful of parsley
Salmon filets sliced in large chunks
Salt and paper
Preparation:
Cut the zucchini into long thin strips, preferably with a peeler
Toss the zucchini slices, peas and radishes together in a bowl
Add the olive oil, lemon juice and yogurt and combine all the ingredients together
On a large platter toss the dressed vegetables and toss over the salmon chunks
Finish with good paper grindings, salt, parsley and additional seasoning per preference
Serve immediately and enjoy!