In Vitro Fertilization (IVF) commonly known as Test Tube baby is one of the main segments of infertility treatments. IVF is a process wherein the women's eggs are incubated with thousands of sperms. This helps natural fertilization of the eggs. IVF treatment is the most advanced method that has been proved beneficial for childless and infertile couples.
For sophisticated treatments like IVF, the preferred destination is Mumbai. Here, you get innovative and reliable medical services for rare and critical medical conditions. For more detailed information on one of the most affordable IVF hospitals in Mumbai, i.e. Saraogi hospital, you can Click here.
Your search for the best IVF Hospital in Mumbai for advanced and affordable IVF treatment in Mumbai ends here at Iris IVF Centre at Saraogi Hospital.
Since 1986, the Iris IVF centre is providing the best and innovative reproductive techniques with excellent results. Professor Dr Rajendra M. Saraogi, the founder and chairman of Saraogi Hospital. His sole aim in starting this hospital was to serve excellent Gynaecological and Obstetric healthcare facility to his needy patients.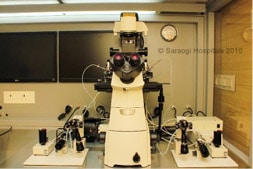 Saraogi Hospital is among the first IVF Hospital in Mumbai to perform innovative procedures such as Minimal Invasive Surgery, Thermal Balloon Ablation and Endoscopy. They have successfully followed this tradition with their sub-division, the Iris IVF Centre. Within a short span of time, this centre has established itself as the best IVF Centre in Mumbai.
They serve a wide range of innovative fertility treatments such as IUI, IVF, ICSI, Donor egginsemination, IMSI, Controlled Ovarian Stimulation, Facility of donor eggs and sperm and Surrogacy.
Moreover, it comprises of the state of art infrastructure and the latest and most advanced medical equipment. The hospital has ultra-modern IVF and Andrology labs which are the main criterion for an IVF hospital.
When opting for sophisticated treatments like IVF, people choose a hospital in nearby and convenient locations. This saves valuable time and money and stress-free treatments.
The Iris IVF centre in Mumbai is located in two major locations Andheri and Malad West which is easy to visit. Their most noteworthy achievement is the highest success rate of 70% for the IVF and ICSI treatments.
In major cities like Mumbai, medical treatments and services are highly expensive. But at Saraogi Hospital, they provide advanced treatments at a reasonable price. They provide IVF treatment at an affordable cost of Rs.90,000 to Rs.1,00,000 which includes medications and disposals also. Moreover, they have many more interesting budget IVF treatment packages. So that nobody remains deprived of this treatment due to its high cost. Hence, this centre has become the first choice for most of the people seeking IVF treatment.
Any medical or technical procedure gives positive/successful results until it is handled skilfully. The skill comes from extensive knowledge and years of experience.
Here, the Gynaecologists are immensely dedicated and have more than 35 years of experience in dealing with the most critical and complicated cases with ease.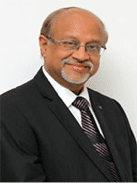 Dr R. M. Saraogi, the founder and chairman of the Saraogi Hospital is a Gynaecologist and Obstetrician. He was a University topper and Gold Medallist in MD and DGO examinations. At Dr R. N. Cooper Hospital, he was former Head of Department of Obstetrics.
He is an extraordinary teacher from the last 40 years and is invited to demonstrate live surgical workshops across India.
Dr Rashmi Saraogi is one of the best Gynaecologist and Obstetrician in Mumbai. She is part of the Saraogi Hospital's Gynaecology team. She has an experience of more than 35 years. She has received her M.D and M.B.B.S degrees from one of the prestigious institutes like KEM Hospital and Seth G. S Medical College.
The best part of IVF Centre is that it is headed by one of the best IVF Doctors in Mumbai, Dr Mohit Saraogi. He is a Triple Gold Medallist in FCPS, DGO and ICOG examinations. He has extensive knowledge and tremendous experience in the field of fertility. This makes him one of the best IVF specialists in Mumbai.
Dr Pooja Prasad has achieved M.D, D.N.B, M.B.B.S and M.N.A.M.S degrees from famous institutes. She is a renowned Gynaecologist, Obstetrician and Laparoscopic Surgeon at Saraogi Hospital. She has expertise in Minimal Invasive Surgery and high-risk Obstetrics.
At Iris IVF Centre, they have served more than 18,000 patients with their innovative and cost-efficient IVF treatments. Here the doctors give personal attention and patient-centric treatment in a friendly way. Due to which they have always been able to build a bridge of trust with the patients. Hence, patients always revert them back during medical need.
The Iris IVF Centre at Saraogi Hospital has all the features needed for successful IVF treatment and pregnancy. Hence, for the above reasons this IVF centre is one stop to fulfil your dream of enjoying parenthood.