This is a great way to teach your child motor skills and develop her imagination. These are color-coded blocks that your kid can turn into giant towers and fortresses. Imagine them building an entire city out of these fun and exciting tools.
They're magnetic tiles which means they stick no matter tall they are. So your child can construct an entire skyscraper probably as tall as her or even taller than her. These magnetic tiles are more than a great pass-time. Magformers or Magna Tiles keep your kid mentally and physically-stimulated.
Refining their spatial reasoning skills and grasping the basics of inertia and gravity. It's time to stop buying boring and noisy toys just for the sake of it. Especially since science suggests that interesting colors can stimulate your young child's brain. So why shy away from it?
What you need is trust. And the following information acquaints you with this excellent building toy.
Buying the Best Magnetic Tiles
There are 3 features that make Magformers or Magna Tiles so effective. They are durability, safety, and compatibility. I'm about to take you through all 3 factors of consideration. But not in the way you are generally used to.
The thing about these building tiles is that they are best defined by their champions. These include Magformers, Magna Tiles, and Picasso.
Magformers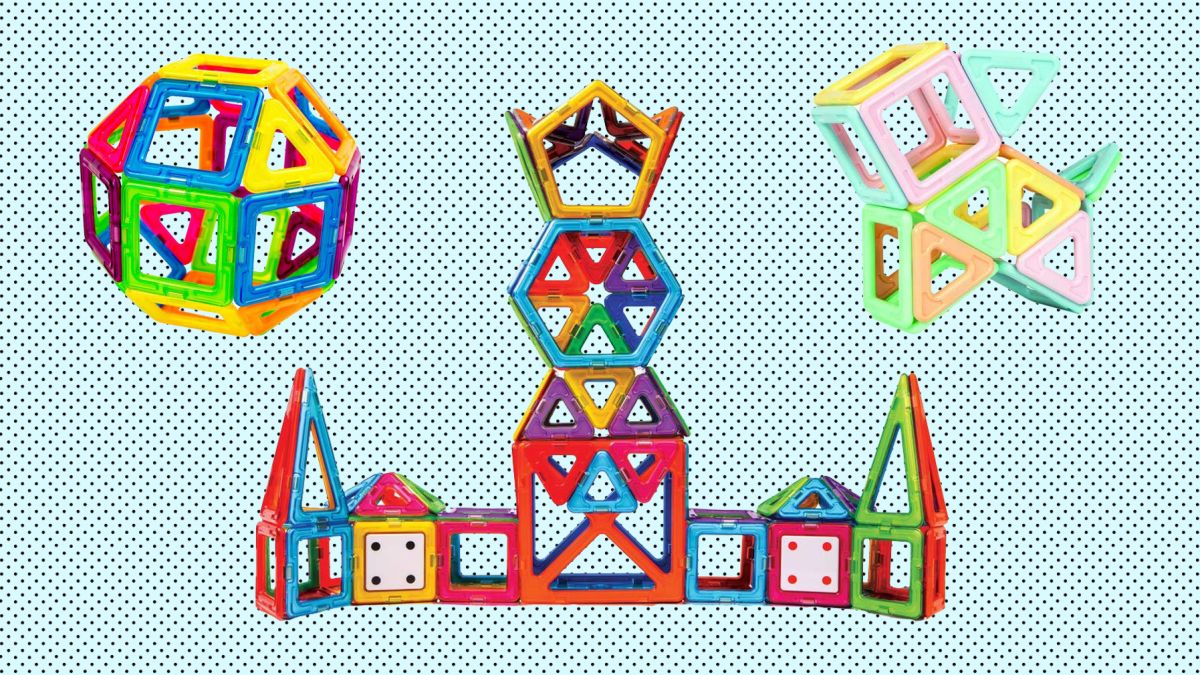 Two kinds of Magformers are available on the market today. Super Magformers and Magformers. Super Magformers are super large and are unique in their making. Although they come in a variety of sizes, they are supreme.
They look more like magnetic cutouts. Easier to hold, handle, and stick to other tiles. Allowing kids to construct bridges, buildings, towers, and even ships. Unlike Magna Tiles or even Picasso, they have rounded edges. This feature seems deliberate for safety purposes.
The rounded edges, though safe, have a notable drawback. And that is that they don't stand on their own. But the magnetic force inside each piece is not round but cylindrical. So they constantly spin to maintain a stronger grip as you build one on top of the other.
I prefer Magformers for their ease of use and user-friendliness. However, they're perfect for beginners. Since the tiles don't stack together, clean-up is time-consuming. And so is storage for that very reason.
If you want something smaller, to begin with, avoid buying Super Magformers. Magformers are best and can fit in anywhere like a diaper bag. The durability is satisfactory but they have zero compatibility.
This brings me to another important champion of magnetic tiles.
Magna Tiles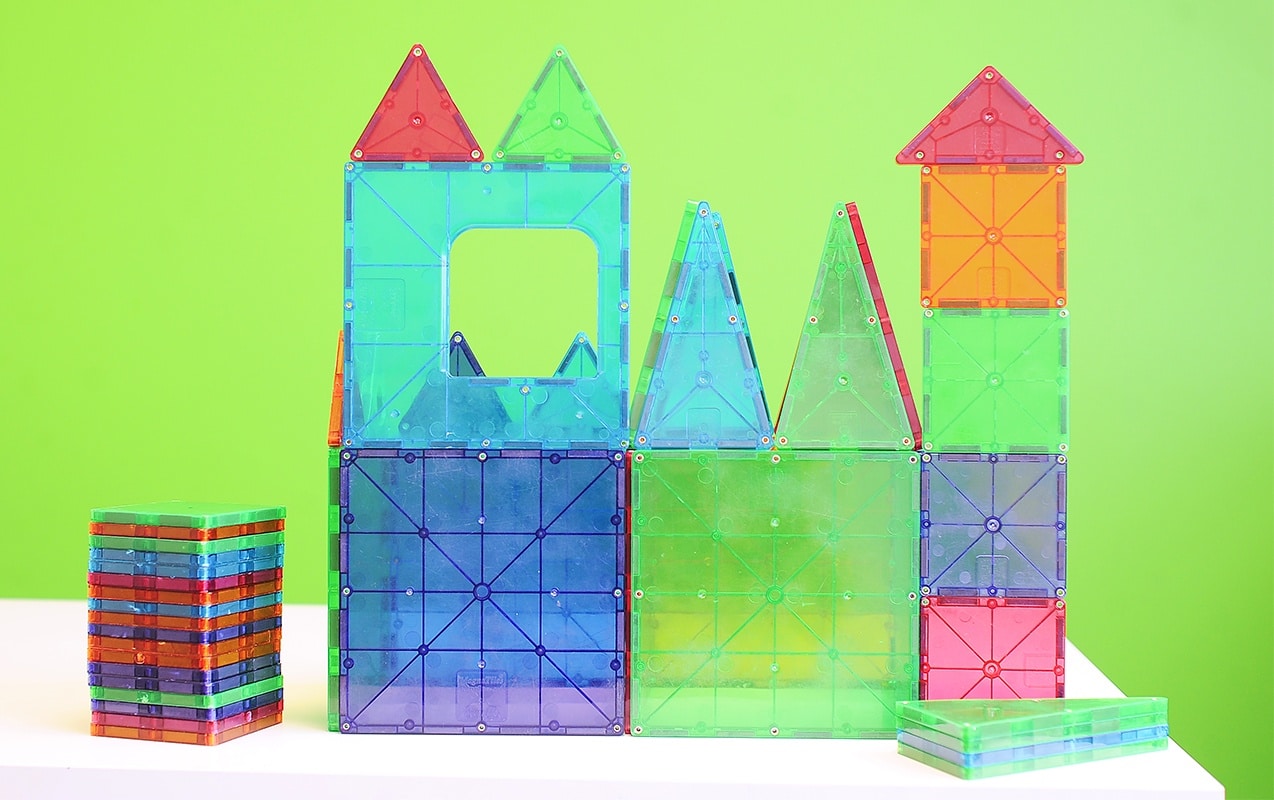 Everyone loves Magna Tiles! More expensive then Magformers, they're super high-quality. With extra-strong magnets, full flat magnetic tiles, and wonderful colors. Your kid will let her imagination go crazy with this one.
You can own all kinds of sets of Magna Tiles. They're versatile, accessible, and compatible. From basic to intermediate to advanced packages. You get shapes, windows, chassis, and all sorts of forms.
The riveted seams are very durable. Unlike Picasso tiles that use glue, metal rivets can endure rough use. This is really proof of how strong and effective magnetic tiles are. They ensure that each piece is as non-threatening as the next. So there's no chance your kid will injure herself trying to make weird and wonderful shapes out of 'em.
Picasso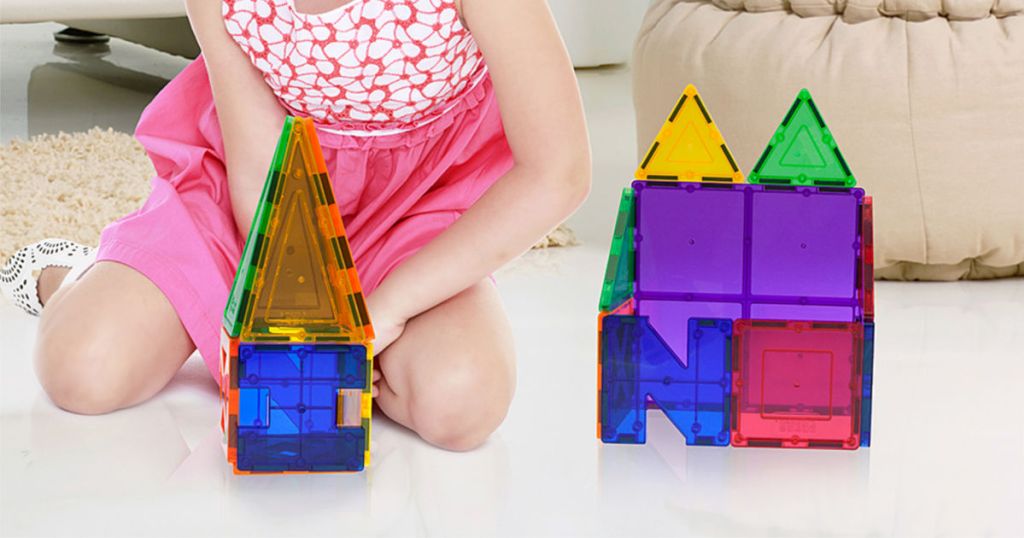 Picasso may not be as durable and versatile as Magna Tiles. But they do have a fan following among older kids. Younger kids are more curious about different shapes and stuff. So they are more likely to stick something in their mount or poke themselves in the eyes.
Older kids refrain from such habits so injury is much less likely. That's where the charm and ease of use of Picasso tiles come into the picture. They're lightweight, cheap, and accessible.
Use Picasso tiles if your kid still can't get over magnetic tiles. Magnetic tiles with 3D elements and colors are excellent. And kids love to create super-creative architectural designs with it. It engages their fine motor skills and keeps their mind engaged.
Factors of Consideration
From the comparison above, this is the yardstick for selecting magnetic tiles.
1. Design
It's not fun if it isn't accessible. The construction of any magnetic tile must be supportive. High-quality tiles use metal rivets to support the strength of the magnets. While cheaper options like Picasso use glue.
Magformers or Magna Tiles are in the top competing rank for design. They have super strong magnets which makes them slightly heavy. Especially Super Magformers that are heavy, broad, and bulky in size.
2. Ease of Use
Is your kid too overwhelmed with the size or number of the magnetic tiles? You may want to start with something that is beginner-friendly like Magformers. It's a good way to introduce your kid to building architectural shapes out of small tiles.
How you clean up after the tower or fortress has been built is also important. Some tiles, like Magformers, are difficult to take apart. But Magna Tiles are super easy in that the flat shapes offer easy detachment and storage.
It's not like the fastest to attach/detach wins. But when dealing with toys for kids, the level of complexity is a necessary factor to weigh in.
3. Size
Some magnetic tiles come with a thick outer layer for protection. Magna Tiles have metal rivets with such a protective layer. Just to ensure the magnets don't fall off or hurt your kid. Young kids often put little things in their mouths to chew or nibble on. So having this extra layer of protection is essential.
Such a safety feature increases the size of each tile. So in this case, size does matter when choosing magnetic tiles.
Conclusion
I think I've covered the gist of buying and using magnetic tiles like Magformers or Magna Tiles. And what features to look for when deciding between the two. Magformers come in a 30-piece set while Magna Tiles come in a 32-pieces set. Both are high-quality and popular.
What to watch out for is the price and complexity of use. Magformers come in a variety of shapes and sizes. Magna Tiles are more versatile but in terms of color and design.
I would recommend my readers to opt for Magna Tiles for a more fulfilling imaginative experience. Magformers and Super Magformers are for the less-interested kids. It's the best thing in the world to encourage your kid's creative side. And nothing does it better than these!