If you've ever pumped before, you know it takes a lot of time, patience and some luck (sometimes) ! On top of that, if you are exclusively pumping, you have to find time and places to meet your pumping schedule. Most moms are not a fan of pumping, it can be difficult to sit still not being able to do anything else but holding onto a bottle.
The Amaia Breastpump and Freestyle cups offer a discreet and handsfree way to pump milk for baby. You can pump anywhere and anytime. You can pump while driving, working , making dinner, going for a stroll, shopping and so much more. Its a life & time saver.
How Does the Amaia Freestyle Cup Work?
The Amaia freestyle is designed to give you flexibility in pumping. The milk collection cups replace the conventional breast pump bottles with a collection cup, which can be worn inside your bra for a seamless pumping experience. With the Amaia Freestyle cup, you simply connect the cords to your breast pump unit and power on for a full pumping session. The collection cup is discrete and seamless. Amaia also has an all in one handsfree and wearable breast pump which can be worn under your clothing for a unique & easy pumping experience.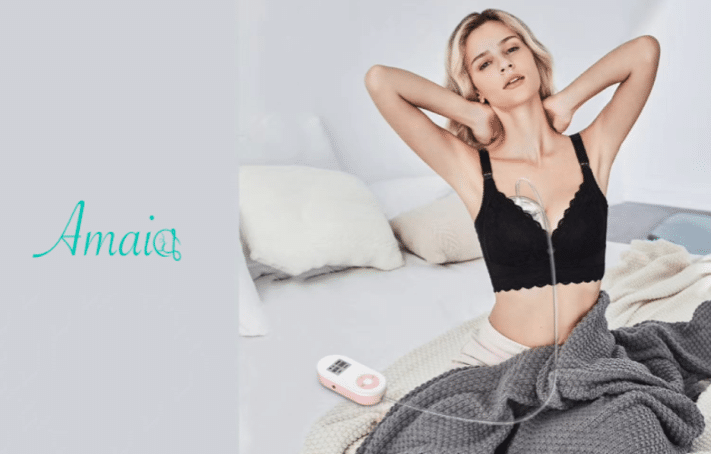 With the Amaia cups your hands are free to do other tasks while you pump.
The Amaia Freestyle cups can be used with most (if not all) breast pumps. The cups are great! But what's even better is the Amaia Wearable and handsfree breastpump. It's an all in one breast pump with rechargeable battery and is small enough to be worn without making it too obvious you have something under your clothing.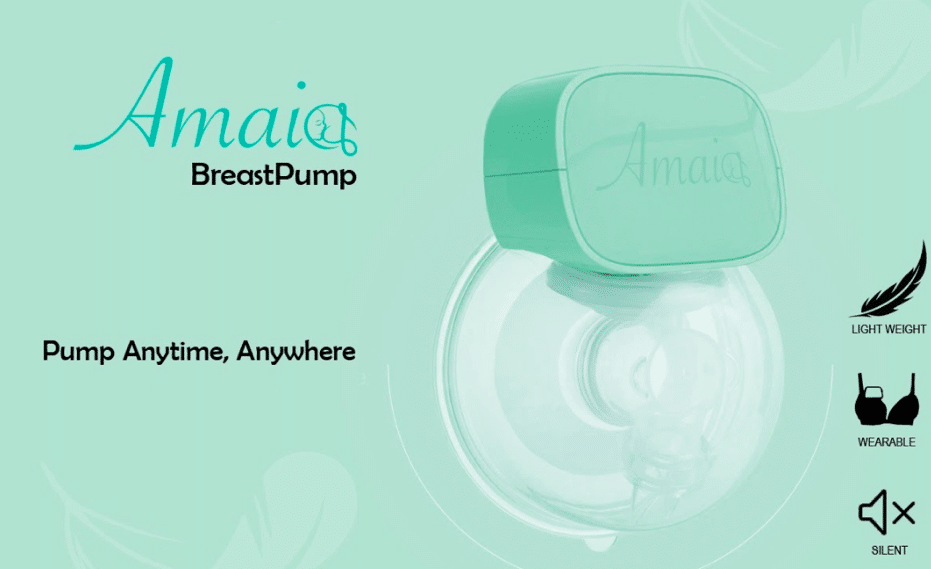 Both the Amaia freestyle cup and the Amaia Breast pump are made from 100% BPA free material, it doesn't hurt on the skin and the suction doesn't pull the nipple too much that it would hurt. It's just the right suction.
How Does the Amaia Breast pump Compare to Other Pumps
The first thing you'd noticed when I used this pump is it's incredibly quiet! The Amaia Breastpump is designed with low noise technology and it is by far the quietest pump ever.
It's been found that the Amaia breastpump pumps out just as much milk as most breastpumps including Medela flex pump does. For the flexibility it offers, the Amaia breast pump more preferred to Medela and the likes.
The Amaia Breast pump is so easy & convenient to use. Because it works just as good as other breast pumps, It can't faulted it . On average, you pump anywhere from 5 to 6 times a day with the Amaia pump. There's great joy knowing you can pump anywhere anytime; in the car, on the bus, at the park, while making dinner, while running after the minions! Once the cup is full, just pour into a bottle or milk storage bag and it's ready for the next feeding.
We can't get over just how easy and convenient the Amaia breast pump is compared to how pumping was in the past. No more planning pumping around schedules or errands.
Below are some questions and answers to give you a better idea of how the Amaia Breast pump and Freestyle cups works. If you have any questions that aren't answered below, please leave me a comment letting me know!
Amaia Breastpump Q & A
How Many Ounces Can Each Cup Hold?
Each collection cup holds up to 180ml/ 8 oz of milk. If using the freestyle cups you can pump up to 320 ml/ 16 oz total at a time before having to empty them.
Is it a single or double pump?
The Amaia breast pump itself is a single pump but you can buy two for double pumping experience. The freestyle cups are double and include a single tube for use with single sided pumps .
How Long Does the Battery Last?
You will need to fully charge the Amaia Breast Pump before use. The freestyle cup doesn't require charging. The all in one breast pump lasts up to 2hours. It can be charged using a standard USB cable .
Can You Use the Pump While It's Charging?
Ideally its best to let the pump charge before using.
What Size are the Funnels that Come with the Pump?
The Amaia breastpump and freestyle cups have two funnel sizes 24mm and 27mm.
Is it Painful to Use?
The Amaia breast pump is made from 100% BPA free silicone material. It is incredibly comfortable to use without any pain. If you find it hurts, it would be worth checking the funnel size you are using and start on the lowest speed or suction till your body gets used to it.
How Often Does the Amaia Breast Pump Need to Be Cleaned?
The collection cups should be sterilized before the first use. Afterwards, they need to be washed with soap and hot water after each use.
Can You Lie Down While Using It?
You should be in an upright position to use but you can be somewhat 45degree to use but be careful of spillage.
Is This a Closed Pumping System or an Open One?
The Amaia breastpump is a closed system breast pump and collection cups. This is better for you and your baby because it means there is a barrier between the pump and the milk collection kit that prevents contamination by bacteria, mold, and viruses.
How Many Speed/Suction Settings Does This Pump Have?
There are 5 settings for suction and 5 settings for speed. 1 = Low Speed/Suction while 5= High Speed/Suction.
Is It Really Discreet? Can People Tell When You're Using It?
This is relative, generally they are designed to be discreet but I find they are not 100% discreet. You can also use scarf so nobody will be able to tell you're using it. it is very quiet so with a shawl, you can be sure no one will notice a thing.
Amaia Breastpump Bonuses You'll Love
Shutoff Timer: The Amaia Breastpump has a shutoff timer, it automatically shut down after 20mins,I love this because instead of watching the clock, I can set it to run for 15-20 minutes. Once the time is up, it shuts off by itself.
Memory function: When the breast pump shuts down it remembers the last settings and picks up from there.
Silicone shield: The silicone shield makes the breast cups gentle on the skin. Its non non-invasive.
What Would Make it Better
There aren't many complaints about the Amaia breast pump. It is by far the most convenient pump ever used and really gives you the freedom you need to be a mother and still pump! However it would be great if there were more sizes of flange for different nipple sizes.
You'll Never Go Back to Your Old Pump
After using the Amaia breast pump and the Freestyle cup, you may never use another pump that requires you to sit and hold breast shields in place for the entire pumping session.
Amaia Breastpump can be purchased at www.amaialove.com