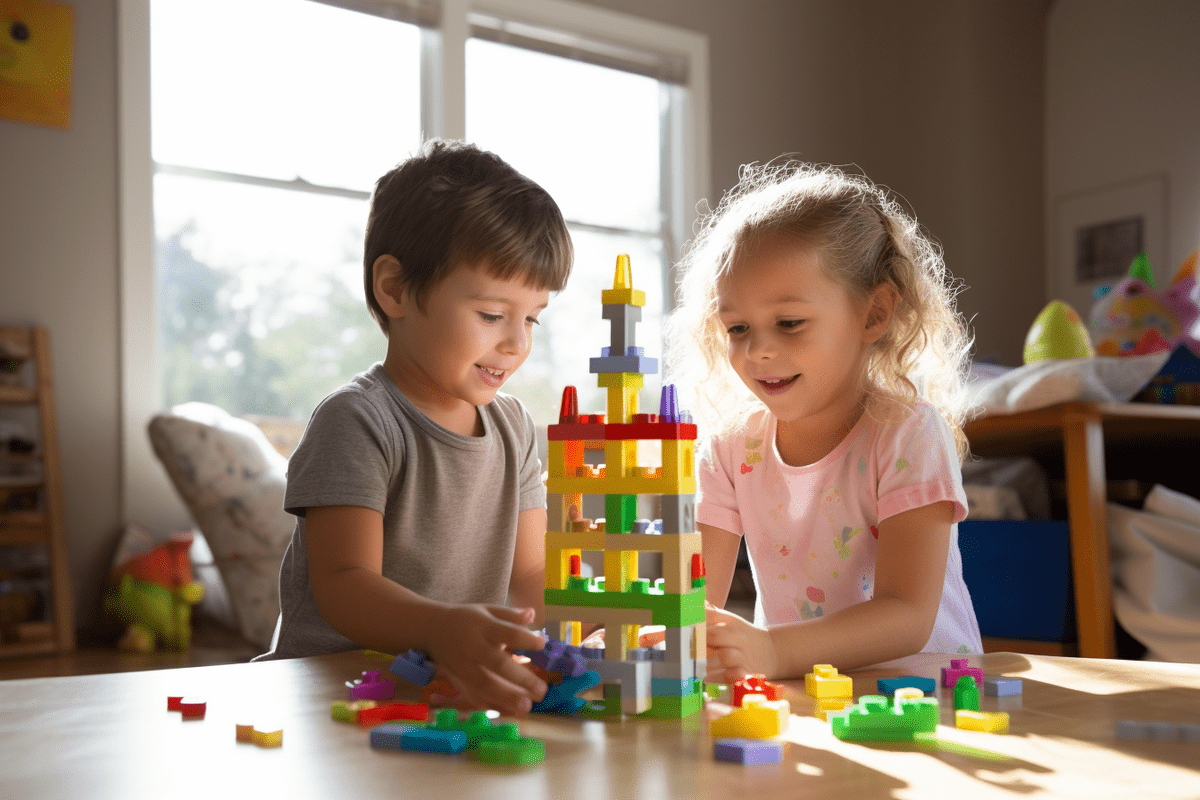 Puzzle games are fantastic way to engage, entertain, and educate kids of all ages. Not only do they provide hours of fun, but they also help develop your child's cognitive and problem-solving skills. From jigsaw puzzles to brain teasers, there are many options for all ages and interests.
However, for your child's strong foundation in learning, it is essential to choose the right puzzles that are both challenging and enjoyable. To help you out, we have shared a list of the top 21 best puzzles for kids that will keep them entertained for hours on end. So, scroll down to find out more!
How Many Types of Puzzles?
Puzzling fun comes in a variety of forms, and it can be hard to keep track of all the different types. Here are some of the most popular puzzles for kids that will engage their brains and enhance their learning.
Jigsaw Puzzles: These puzzles are made up of a picture that is cut into small pieces. The goal is to put the pieces back together to form the complete image. Jigsaw puzzles are great for developing spatial awareness and problem-solving skills.
Crossword Puzzles: Crossword puzzles for kids challenge players to fill in white squares with letters to create words based on clues. They are not only fun but also improve vocabulary, spelling, and general knowledge.
Sudoku: This number-based puzzle requires players to fill in a grid with numbers so that each row, column, and region contains all the digits from 1 to 9 without any repeats.
Word Search Puzzles: These puzzles involve finding hidden words in a grid of seemingly random letters. They are excellent for improving visual scanning, concentration, and word recognition skills.
Logic Puzzles: These types of puzzles often involve deductive reasoning and critical thinking to solve challenges like riddles or brain teasers. They are great for stimulating cognitive abilities and lateral thinking.
3D Puzzles: These puzzles involve assembling and building 3D structures using interlocking pieces. They not only promote problem-solving skills but also improve fine motor skills.
Mazes: Mazes are a classic type of puzzle that involves finding your way through a complex network of paths to reach the goal.
Sliding Puzzles: These puzzles involve sliding tiles or blocks around to solve a picture or pattern. They are excellent for developing spatial reasoning and strategic thinking skills.
Math Puzzles: Maths puzzles for kids come in various forms, from number sequences to geometry challenges, and they help develop critical thinking and problem-solving abilities while making math more fun.
Cryptic Puzzles: These puzzles involve deciphering codes, symbols, and hidden messages. They are great for developing logical thinking skills and can be found in various forms, such as ciphers or cryptograms.
Puzzles by Age Group
Puzzle games are suitable for children of all ages, but it is important to choose the right level of difficulty based on their age and development. For proper child's development, it is recommended to start with simple and easy puzzles and gradually increase the difficulty level as they grow older.
Generally, learning puzzles not only enhance a child's problem-solving and critical thinking skills but also help them learn various concepts such as shapes, colors, numbers, and more. Look at the below table of puzzles based on age group to find the perfect fit for your child:
| | | |
| --- | --- | --- |
| Age Group | Number of Pieces | Type Of Puzzles |
| 0-12 months | 2-8 pieces | Wooden Knob Puzzles |
| 1-2 years | 4-12 pieces | Knob, Wooden, & Chunky Puzzles |
| 2-3 years | 8-26 pieces | Knob, Wooden, & Chunky Puzzles |
| 3-4 years | 6/10/12/16 pieces | Peg & Frame Puzzles |
| 4-5 years | 20/25/48 pieces | Frame & Wooden Puzzles |
| 5-6 years | 30/50/80/100 pieces | Frame, Floor, & Wooden Puzzles |
| 6-7 years | 100-125 pieces | Frame, Floor, & Wooden Puzzles |
| 7-8 years | 125/150/200 pieces | Frame, Floor & 3-D Puzzles |
| 8-11 years | 200/240/400 pieces | Floor & 3-D Puzzles |
| 11 years and above | 500+ pieces | Floor & 3-D Puzzles |
What are the Educational Benefits of Puzzles?
For young minds, puzzle games provide an excellent opportunity to learn and develop various skills. Some of the key benefits include:
Developing problem-solving skills: Puzzles require children to think critically and strategize to find solutions, promoting logical thinking and problem-solving abilities.
Enhancing hand-eye coordination: By manipulating the pieces and fitting them into place, puzzles help improve hand-eye coordination and fine motor skills.
Boosting self-esteem and confidence: Completing a puzzle provides a sense of accomplishment, promoting self-esteem and developing confidence in children.
Encouraging socialization: Puzzles can be a collaborative activity, encourage children to work together and communicate effectively, promoting teamwork and social interaction.
Improving memory and concentration: Engaging with puzzles enhances memory retention and concentration, as children need to remember shapes, colors, and patterns to complete the puzzle.
Spending quality time together: Solving puzzles as a family or with friends creates opportunities for bonding and quality time, developing positive relationships.
Improving visual perception: Picture puzzles help develop visual perception skills by requiring children to analyze and differentiate shapes, colors, and sizes.
Building perseverance and patience: Completing a puzzle may take time and effort, teaching children the values of perseverance and patience as they work towards a goal.
Best Puzzles for Kids
Puzzle games for kids are an excellent way for cognitive development and problem-solving skills. Puzzles for kids can be based on different themes, such as animals, space, geography, and more. The key is to find the right puzzle that will not only entertain your child but also encourage them to think critically and creatively. Here are our top picks for puzzles that your child will love:
How to Choose the Perfect Puzzle for a Child?
Parents always want to provide the best learning tools for their children, and puzzles are no exception. When choosing the perfect puzzle for a child, consider the following factors:
Puzzle Type: Decide between inset puzzles (foam or wooden puzzles) or jigsaw puzzles (interlocking pieces) based on the child's preferences and motor skills.
Number of Pieces: Choose a puzzle with an appropriate number of pieces that match the child's age and skill level.
Topic: Select a puzzle featuring a theme or subject that aligns with the child's interests and age. Animal or geometric puzzles work well for younger children, while older children may enjoy puzzles with art or space themes.
Size of Pieces: Consider the child's age and motor skills when selecting the size of puzzle pieces. Younger children may require larger, thicker pieces that are easier to handle.
Material: Wooden puzzles, especially inset or frame puzzles, are great for younger children due to their safety and durability. Cardboard and foam puzzles can be suitable for older children.
Image Type: Opt for puzzles with high-contrast images and vivid colors to make them more engaging and accessible for young children.
Puzzle Shape: Explore puzzles with unique shapes related to the topic to add interest and challenge, particularly for older children.
Age Appropriateness: Consider the recommended age range for the puzzle and choose one that aligns with the child's developmental level.
Safety: Always ensure that the puzzle pieces are safe and non-toxic, especially for young children who may put them in their mouths.
What Skills Are Involved in Puzzles?
Solving puzzles requires a combination of various skills, making it an excellent activity for developing well-rounded individuals. Some of the key skills involved in solving puzzles include:
Logical thinking: Puzzles require players to think logically and use deductive reasoning to solve challenges.
Problem-solving: Finding solutions to puzzles involves critical thinking and problem-solving abilities.
Spatial awareness: Puzzles like jigsaws and 3D puzzles require players to understand spatial relationships and how different pieces fit together.
Fine motor skills: Manipulating puzzle pieces helps improve hand-eye coordination, finger dexterity, and fine motor skills in children.
Patience: Completing a puzzle requires patience, perseverance, and the ability to stay focused until the goal is achieved.
Memory retention: Puzzles often involve remembering patterns, shapes, or colors, enhancing memory retention in children.
Creativity: Solving puzzles also involves thinking outside the box and coming up with unique solutions, fostering creativity.
Pattern recognition: Many puzzles rely on pattern recognition skills, allowing individuals to make connections between different pieces or elements of the puzzle.
What are the different complexities and sizes available in kids' puzzles?
When it comes to kids' puzzles, there are various complexities and sizes available to cater to the different age groups and skill levels of children. Let's take a look at some of the common complexities and sizes that you can find in these puzzles.
Puzzle Sizes: Puzzle sizes can range from small to large, depending on the age and abilities of the child. Common puzzle sizes include:
Small puzzles: Typically have around 8-20 pieces and are suitable for younger children or beginners.
Medium puzzles: These can have around 50-100 pieces and are suitable for older children who have developed basic puzzle-solving skills.
Large puzzles: Have more than 100 pieces and are designed for older children or advanced puzzlers.
Complexity Levels: The complexity of kids' puzzles can vary based on factors such as the number of pieces and the intricacy of the design. Some common complexities include:
Simple puzzles: These have fewer pieces and straightforward designs, making them suitable for younger children or beginners.
Intermediate puzzles: Feature more pieces and slightly more intricate patterns or images. They are ideal for children who have mastered simpler puzzles.
Advanced puzzles: Have a higher piece count and more complex designs, challenging older children or experienced puzzlers.
However, it's essential to keep in mind that every child is unique, and their puzzle-solving abilities may not always align with their age or the suggested complexity level. It's best to consider your child's skills and preferences when selecting a puzzle size and complexity.