Are you a new mom looking for a hassle-free way to decorate your little girl's nursery? If yes, then you have obviously considered using peel and stick wallpaper? In this article, we will talk about the advantages of using peel and stick wallpaper in a girl's nursery, and its safety. We will equally explore reasons why it might be a better option than traditional wallpaper. Lastly, we will list and explain five nursery peel and stick wallpaper designs that are perfect for girls nurseries.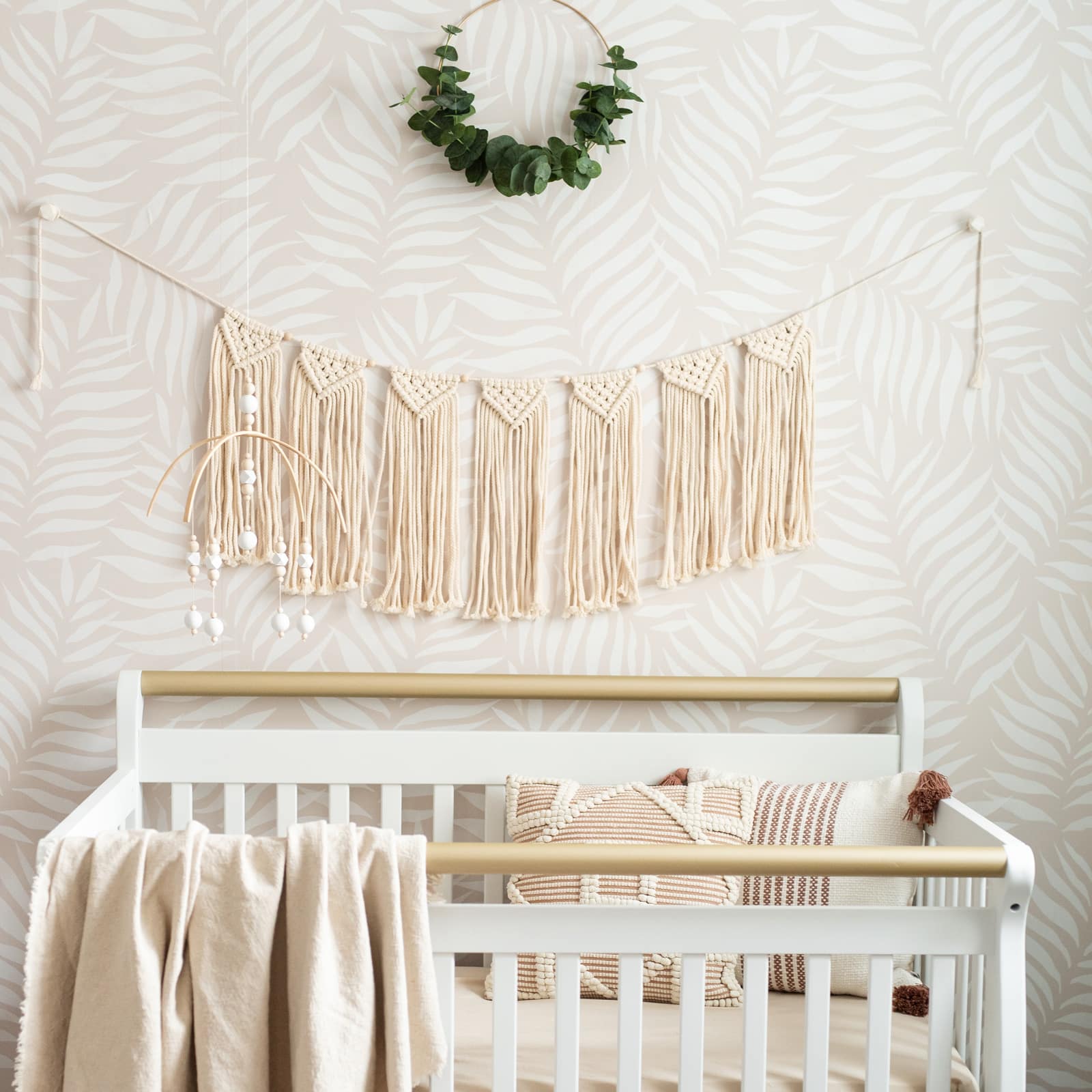 Advantages of Peel and Stick Wallpaper in a Nursery:
Over the years, peel and stick wallpaper has become increasingly popular for many reasons. One of the biggest advantages of using peel and stick wallpaper in a nursery is that it is easy to install and remove. Parents will not have to spend a lot of money to install or look for professionals to help through. Additionally, a nursery makeover with peel and stick wallpaper is an easy DIY project. This is especially beneficial for parents who may not have a lot of experience with wallpaper installation. It is equally great to parents who want to change the look of the room frequently.
Applying peelable nursery wallpaper is less messy compared to traditional wallpaper. This is because it does not require any adhesive paste. There are less chances of damaging the walls or making a mess during the installation process.
Is Peel and Stick Wallpaper Safe for Nursery?
Peel and stick wallpaper is safe for nursery. However, you should only pick options that are made from non-toxic materials. Luckily, most peel and stick wallpapers on the market today are made from PVC-free materials that are safe for children. It is equally important to follow the manufacturer's guidelines during installation to ensure safety and durability.
What is Better for Nursery: Traditional Wallpaper or Peel and Stick?
Both traditional wallpaper and peel and stick wallpaper have their advantages and disadvantages when it comes to nursery décor.  While traditional wallpaper may be peel that is more durable, and stick wallpaper is often the better option for a nursery due to its ease of use and safety. Applying peel and stick wallpaper doesn't require any special tools or adhesives. This is what makes it a better option for DIY parents in rental spaces.  The peel and stick wallpaper is often more affordable than traditional wallpaper.
When removing peel and stick wallpaper, you only have to pull it off the walls, which makes it a great option for you if you want to change the nursery looks more often.
These two wallpaper for a nursery options come in a wide range of designs and patterns. However, peel and stick wallpaper may offer more design options for the nursery, as it is easier to create intricate designs.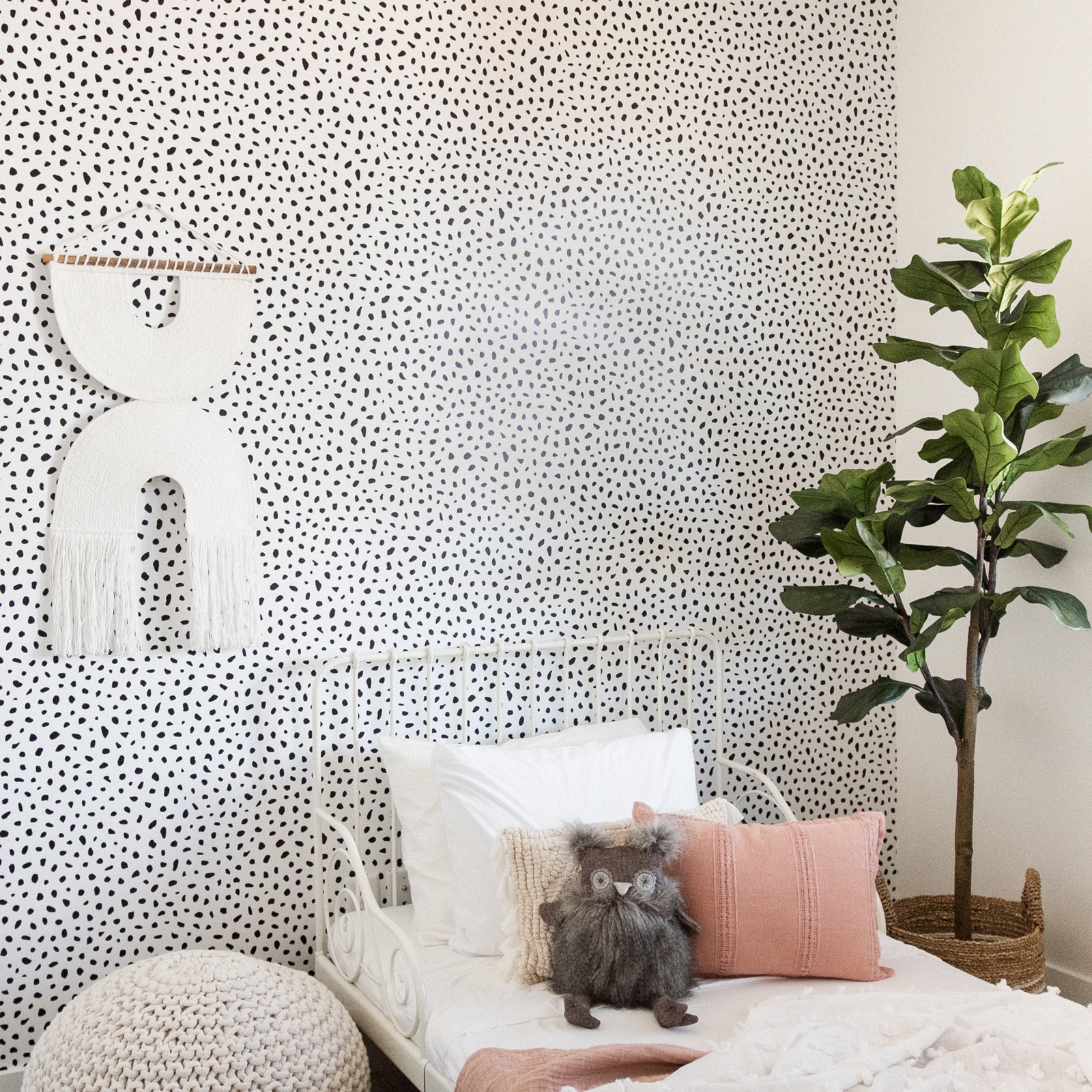 Five Nursery Peel and Stick Wallpaper Designs Perfect for Girls:
Floral wallpaper designs
Floral wallpaper designs are a popular choice for a girl's nursery. This is because it adds a soft and feminine touch to the room which is exactly what most parents are looking for. You can pick designs ranging from simple flower patterns to more complex arrangements with a variety of colors and shapes. Parents can try the watercolor floral peel and stick wallpaper, flower power wallpaper or outlined peonies wallpaper among many other options available online. These wallpapers come in different colors and patterns creating a calming and peaceful atmosphere.
Polka Dot Wallpaper
Polka dot wallpaper designs are a classic choice for a girl's nursery. The main advantage is that they add a playful and whimsical touch to the room. These designs are available in a wide range of colors and sizes. The doodle dots, the soft dots, playful dots or lined dots nursery wallpapers are a great option. They feature multi-colored dots on the white or pink background which adds colorful touch and fun to the nursery.
Animal-Themed wallpapers
These designs are a great choice for a girl's that has a unique natural preference.  They add a cute and playful touch to the nursery. Parents can choose wallpapers that feature a variety of animals such as elephants, giraffes, or even unicorns. Great examples includes swimming sharks nursery wallpapers, parrot jungle, Flying alicorn, Tropical fish, sea life and Charming birds nursery wallpapers. These and many others features animals that adds a natural comfort to the nursery.
Geometric wallpaper designs
Geometric wallpaper designs are a modern and stylish choice for a girl's nursery. They often  feature a variety of shapes such as triangles, hexagons, or diamonds. Parents can choose from a range of colors and wallpapers such as geometric petals, geometric lotus, retro geometric and geo starburst wallpapers. These options feature a simple yet stylish pattern of shapes on a white or pink background.
Striped
Lastly, you can go with striped wallpaper designs. These designs are a classic choice for a girl's nursery. Parents love the stripped designs because they add a timeless and elegant touch to the room. They are equally available in a range of colors and sizes. The Pink Stripe Peel and Stick Wallpaper, vintage stripes wallpapers, tribal stripe or organic stripes wallpapers can work greatly in a girls' nursery. They features soft pink stripes on a white background, creating a calming and peaceful atmosphere in the girl' room.
Conclusion
If you are a parent that wants to decorate the nursery without the hustle of installation, hiring experts, or the hustle of removing to change, then this option is the best for you. These options are great because of their ease of installation, the ease of removing, the majority of colors, designs and patterns that makes it easier for parents to customize the nurseries. However, should take your time when picking a design for the wallpaper because you will have to factor in the gender, the child's preferences and many other factors.  Luckily, you can pick from many design options. In this post, we have listed, explained and gave examples of each of the designs that you can pick for your baby girl.